Some of my friends call me a globetrotter, photographer, gourmet investigator, culinary art obsessor, foodie, kitchenista, macaronista, or other cool names that I have to look up in the dictionary…You can call me whatever you like; it doesn't matter to me…I just like to cook, bake, eat, read, travel, take pictures and other things that I don't know about it yet…
I'm a Thai born and bred, grew up in Bangkok but rebelled myself out of the country some decades ago and reside in beautiful Manhattan Beach, California now.
I love to cook and entertain at my house, and sometimes the guests will ask for the recipes. So for a while I put recipes on Facebook, but that didn't go well. You know, I had to accept their friend requests, then point them to the right album. And of course they still couldn't find it! So now here I am, trying the blog platform to get my recipes out there to my friends and to you, too.
I've found that since Thai food became so popular, there are a lot of people claiming to know how to cook Thai dishes, but they're just guessing. The result is they ruin many of my favorite Thai dishes. ABOUT.com, which, when it comes to Thai recipes, should be prefixed with "Something we don't know…", is not only my biggest enemy but also my inspiration. Despite their amazing SEO, they decided to put up the shittiest Thai recipes that would make a Thai person barf just by reading them, never mind actually cooking and tasting them! My mission here is to salvage our national heritage, one plate at a time.
I also travel and eat out a lot, so I have my culinary adventure journal here too.
I am the sole owner of "The High Heel Gourmet". All the pictures and recipes are copyrighted. You need my permission to publish my recipes, but I don't allow my photos to be used. I welcome your link if you want to blog about your result from a recipes.
I'm trying my best to keep this blog site as clean as possible, meaning no flashing banners and no advertisements as long as I can avoid it. Advertisers, if you don't offer anything better than half a dollar per click, please don't contact me. Also, if you are not related to the food industry, or you are related but don't care about non-GMO, or organic food, please, don't contact me. I will only consider advertisers who care about the consumers, thank you.
The High Heel Gourmet also consults for recipe and menu development for restaurants, when I'm traveling to sample delicious food all around the world. My specialty is Thai cooking, but I cook many other different cuisines as well. Also, I love small, pretty things, so I do custom-designed French macarons and chocolate bon bons for special occasions. I've also custom-designed multi-course macaron-tastings, which start with appetizer macarons, followed by an array of savory macarons, then finish with dessert macarons.
Thanks to my wonderful husband who, as my editor, makes my Thinglish sound closer to English…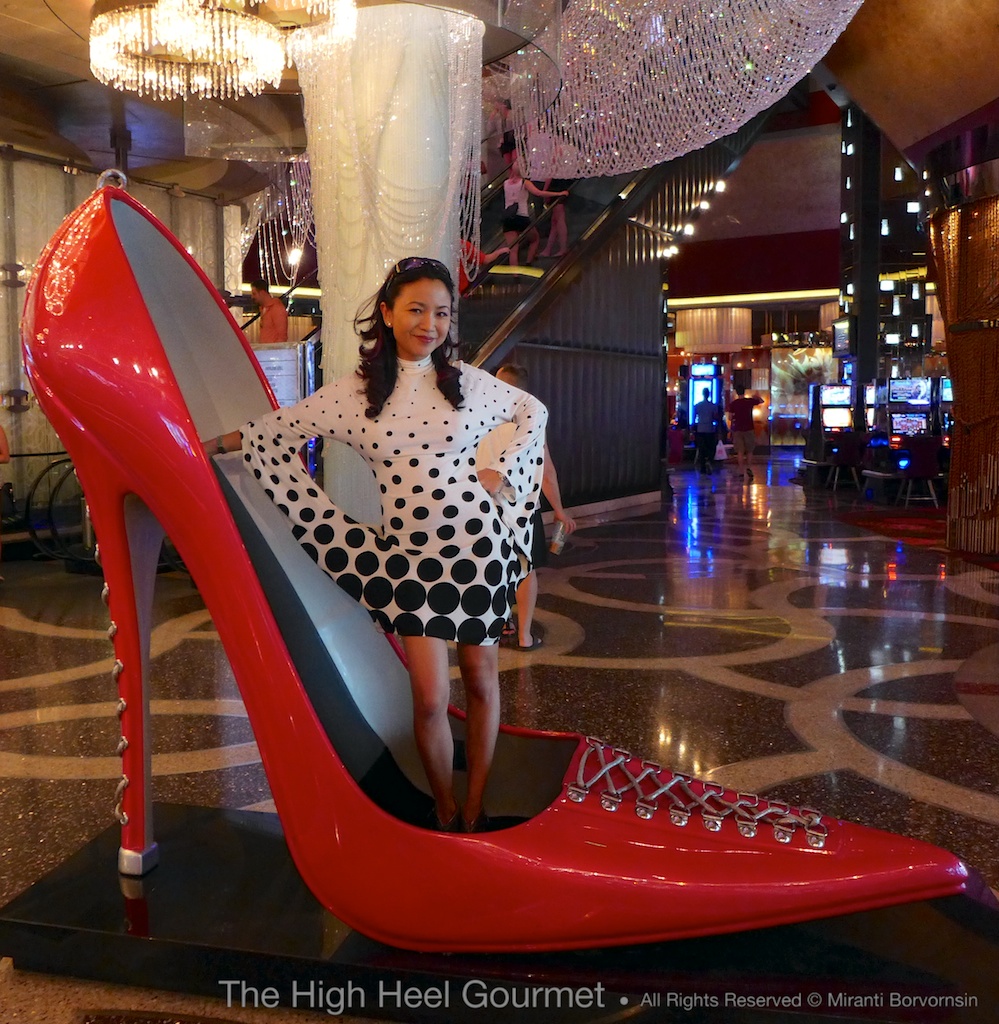 By the way, "The High Heel Gourmet" really is a cook in high heels. I'm not making any fashion statement here. I've struggled all my life to put 5 feet, or 150 cm, as my height somewhere officially. I finally successfully have it on my CA driver's license, but that didn't really make me taller, you know. So I do NEED my heels in the kitchen–not stilettos, but sensible platforms. However, "The High Heel Gourmet" who's glamorously traveling to eat all those yummy foods never leaves home without heels. Those sensible heels don't make it out the door…Who wants to be seen in them?…Fashion statement is needed there. So, if you see someone on unreasonable platforms or stilettos, standing in line at a famous food truck or street vendor's food cart, that might be me.