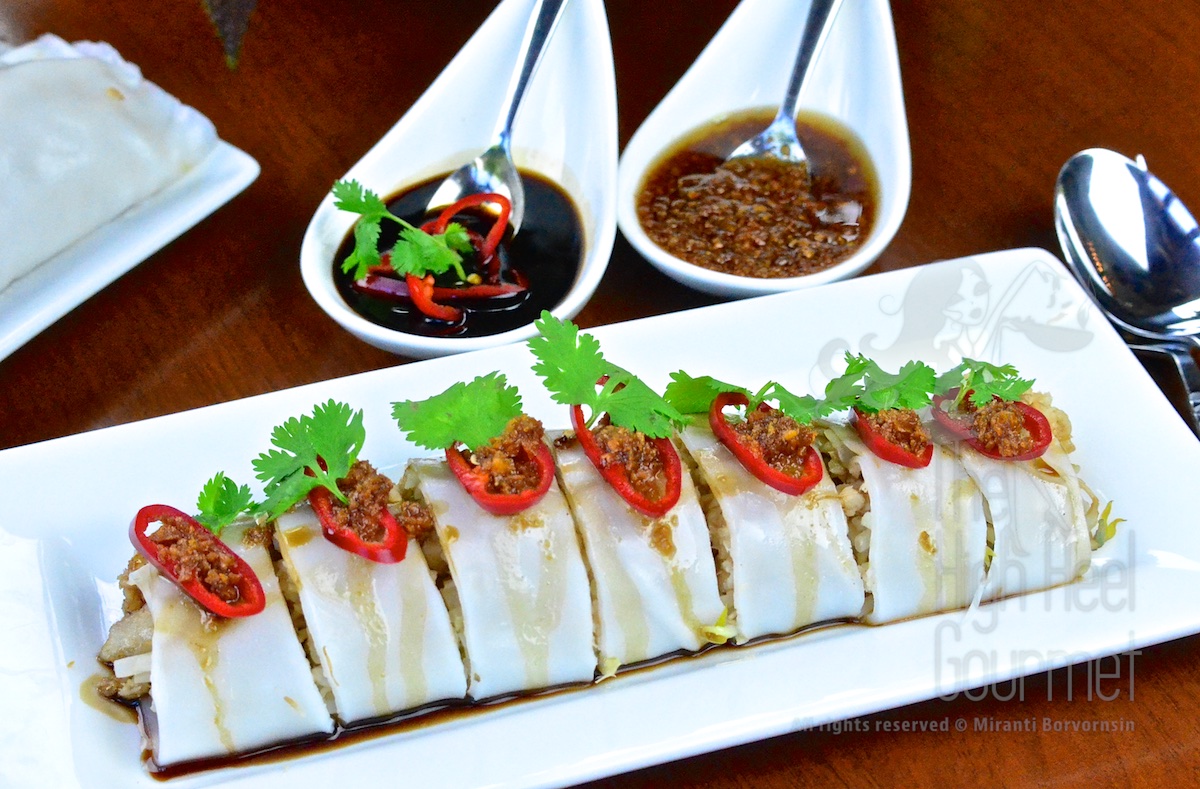 The title of this recipe might not be that exciting but this is something my editor—who is usually the recipe tester—said, "It's wonderful, eight flavors together all at once. Especially when wrapped with crunchy lettuce." This is a real explosion of flavors. Also, it's a dish that's not so well known to the non-Thai.
This is also one of the noodles dishes. Did you see from the name? The word Guay Tiew means noodles, both in Thai and Teochew Chinese. Guay Tiew Lhord is one of the most popular snacks of all time in Thailand. Unfortunately, you will not see this dish fully wrapped in cannelloni style any more. It has been de-constructed a long time ago. Since my childhood, the Guay Tiew Lhord were not wrapped around the filling the way it should be.
Then how do I know it used to be wrapped tube-like?
Well…the name gives the original shape away. Lhord isn't any royalty title but means 'tube' in Thai. The straw which is used to suck the coconut water from a whole coconut is also called a Lhord as well.
Guay Tiew Lhord is one of the Teochew dishes that came with the migration of the Teochew Chinese to Thailand. No, the Chinese didn't call it Guay Tiew Lhord, but the Thai named it from the way that the Teochew used the uncut rice sheets, the same type as Guay Tiew Sen Yai just never cut into strips, to wrap all the other accompaniments: bean sprouts, tofu pork, dried shrimp, mushrooms, etc.
Later on, wrapping every tube before serving was abandoned, and Guay Tiew Lhord became a plate with noodles cut into strips, and all the other accompaniments would be thrown together with the noodles, and all will be tossed until they were well blended before eating.
I will give you the recipe for that type of Guay Tiew Lhord some time later. This week let's focus on this yummy Guay Tiew Lhord Sai Pla, or the Thai cannelloni with fish, first.
This is not seen at any restaurants in Thailand anymore these days. I don't know why. It's so delicious and healthy, but Thai people still do make it at home. This is one of my favorite weekend lunch meals, too.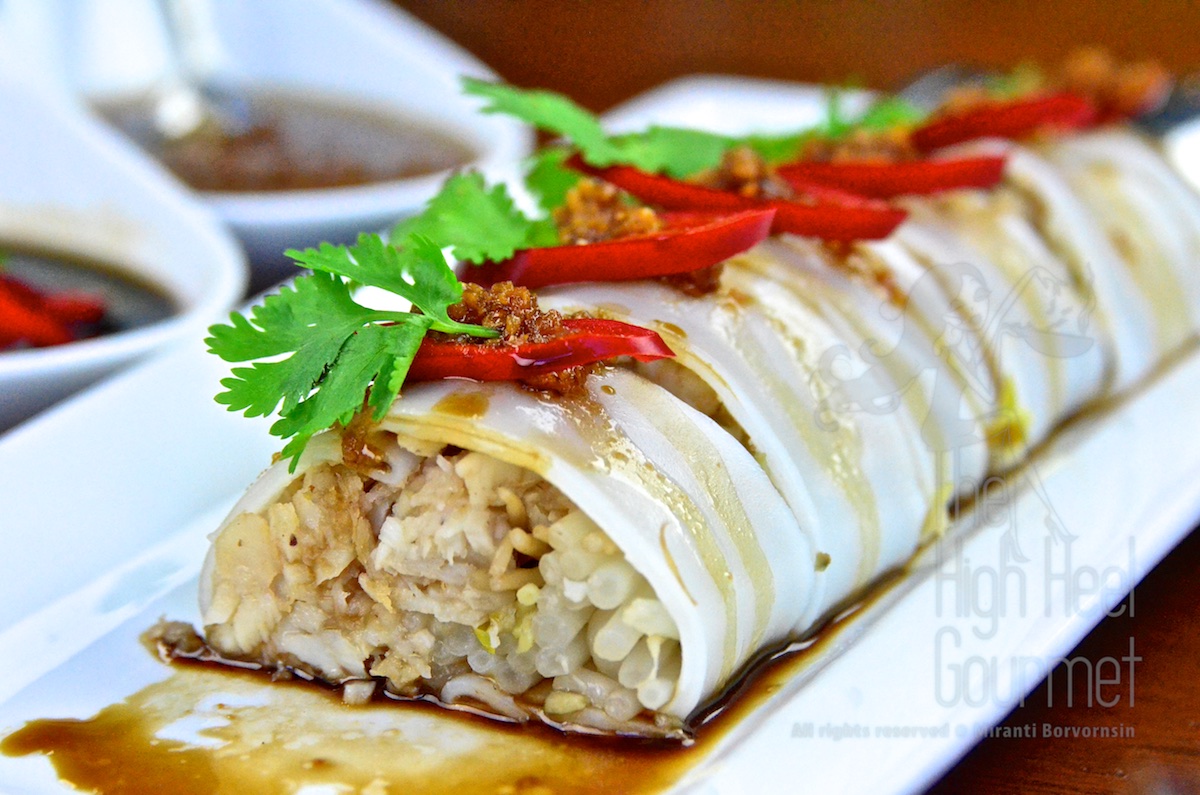 As I described earlier, Guay Tiew=noodles, Lhord=tube, Sai=filling, Pla=fish. The fish used here can be any fish: catfish, tilapia, cod, salmon, etc. You just have to discard the skin and cook the fish. I started by cooking the fish in a microwave oven; it will be cooked again later not only one time but two more times.
Ingredients for the fish
For fish meat I used cod, 2 filets, equalt to about one medium-sized fish, or about 10 oz. (280g) by weight. You can measure it as about 2 cups (You can also use grounded chicken or grounded pork. If you want to use pork or chicken, omit the galangal and use 2 tablespoons of Thai Trio.)
Galangal 4-5 chips or 1-1/2 tablespoons, chopped
Thai Trio, garlic, white pepper, cilantro root all in equal part mush them really well 1-1/2 tablespoons
Salt 1 teaspoon
Sugar 4 teaspoons
(Optional) Fish sauce 1 tablespoon
Oil for frying 1-2 tablespoons
Method for the fish
1) Put fish in a bowl or plate and wrap the plate with Saran wrap, put it in the microwave oven and set it to high for 2 minutes. Take the plate out, turn the fish over and wrap it again, put it back in the microwave again for another 2 minutes, or until the fish is cooked through. (The cooking time will be vary depending on the power of your microwave oven) You could also steam the fish.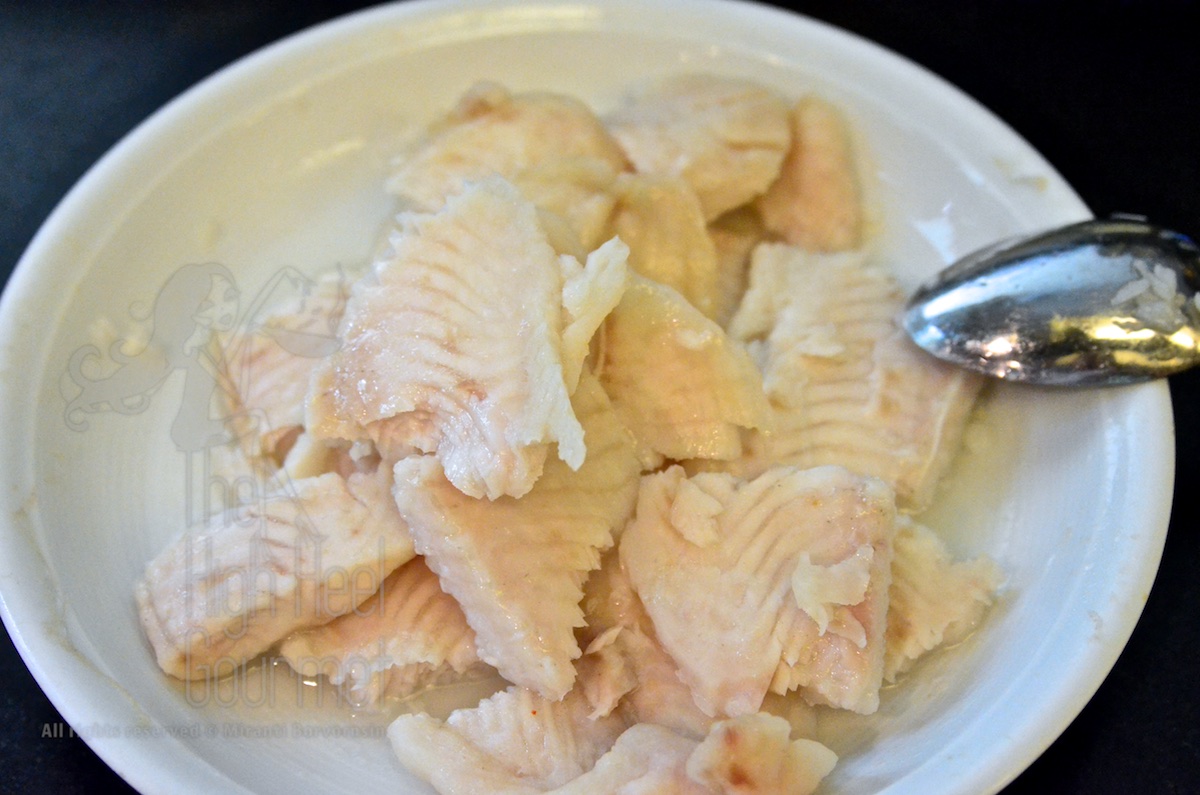 2) Mush the galangal into a paste.
3) Put a wok or a pan on the stove at medium high, add oil,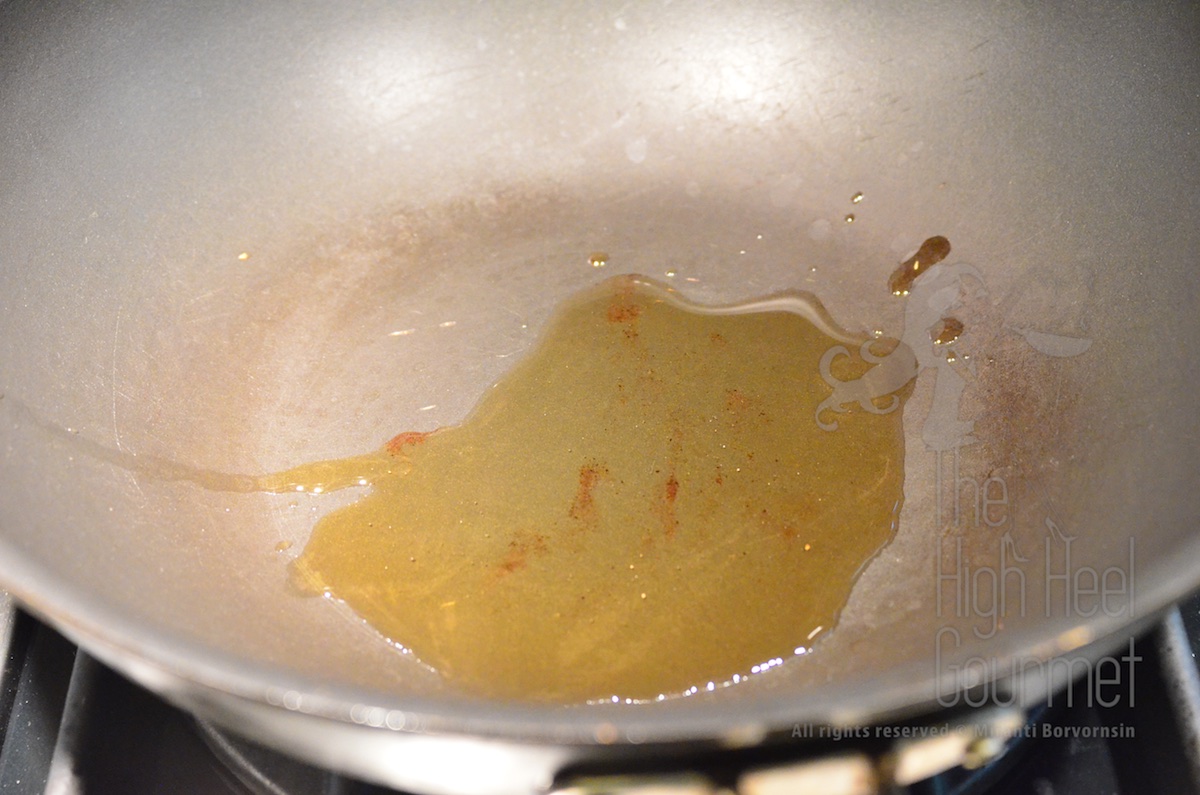 wait until the oil gets hot and add the galangal and the Thai Trio, then stir-fry briefly until they release their fragrance.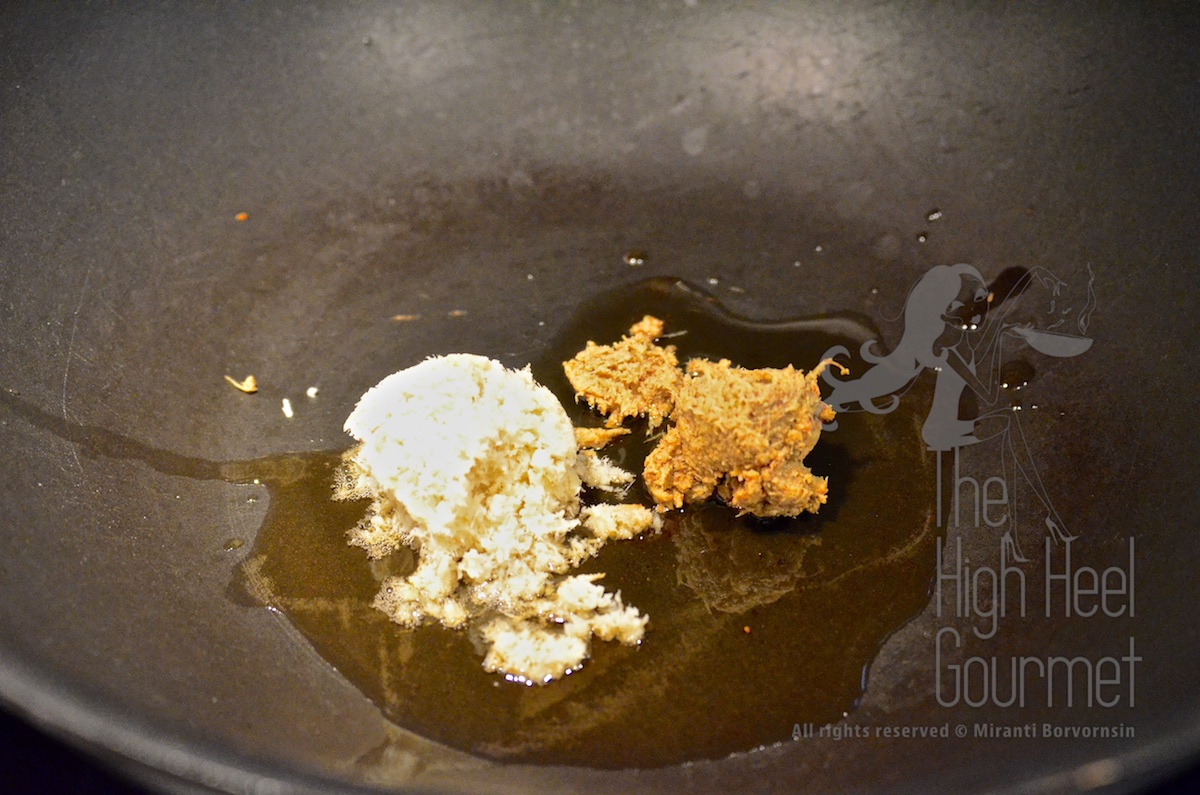 4) Add the fish, including the water that cooked out of the fish, into the wok,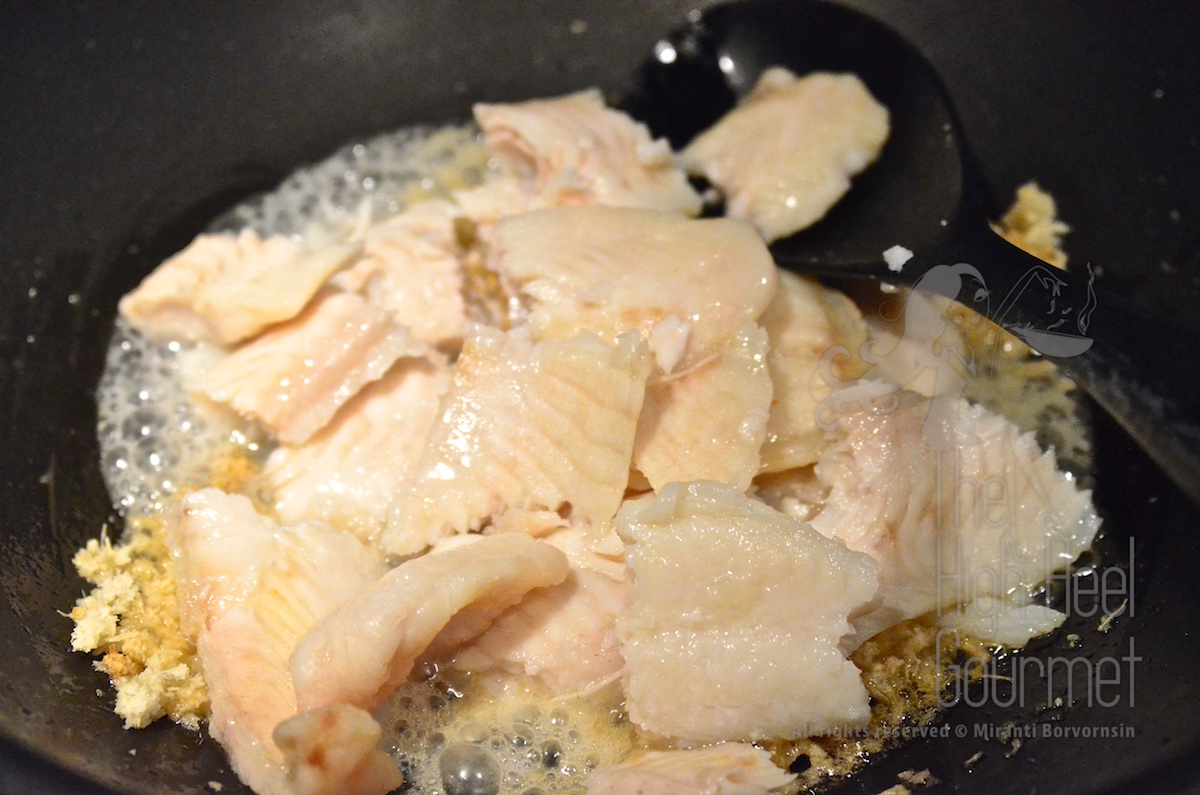 lower the heat to medium and use a spatula to break the fish into small pieces and stir-fry them, then adding salt, fish sauce and sugar, and stir-fry until everything is broken down to small pieces.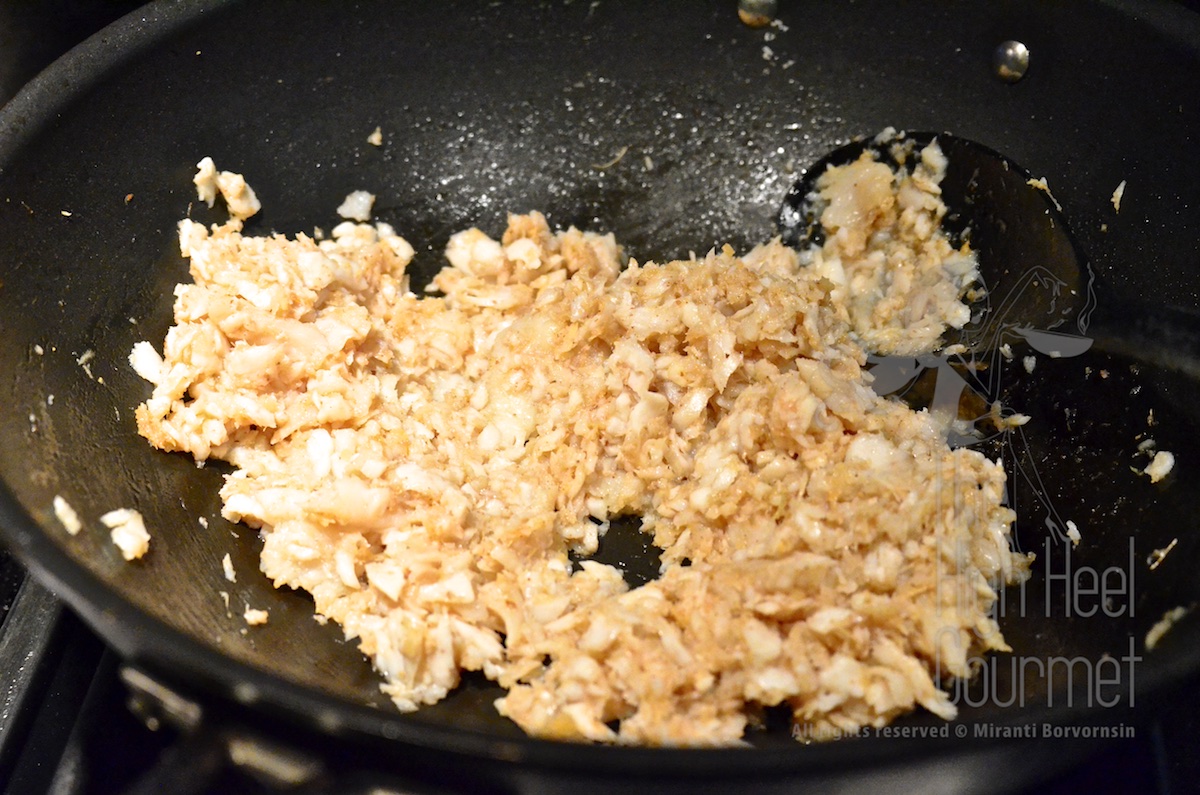 5) Taste test the fish. Make sure that it tastes good to you. If not, add salt or sugar as you prefer. You can add a little more water if it gets too dry or sticks to the wok. It should be somewhat dry, but not crispy or extremely dry.
6) Once the spices herbs and the fish are blended well, turn off the heat.
Ingredients for the cannelloni (for 4)
Rice noodles sheets, 1 package (You have to make sure that the rice noodles sheets are fresh and soft or they will break when you're wrapping. You can check the freshness by lifting the package. If the package curves down and feels really soft, that's fresh. If the package is stiff and bends only a little, don't buy it.  Go to another store or make your own.
Fish, stir-fried from the recipe above 2 cups
Bean sprouts, 3-4 cups
Fried garlic in oil 1/4 cup (see how to make it in the microwave here)
Red leaf lettuce, Green leaf lettuce or Romaine lettuce
A bunch of cilantro
Several other vegetables that you like
Method
1) Wash and put the bean sprouts in a bowl, cover with Saran wrap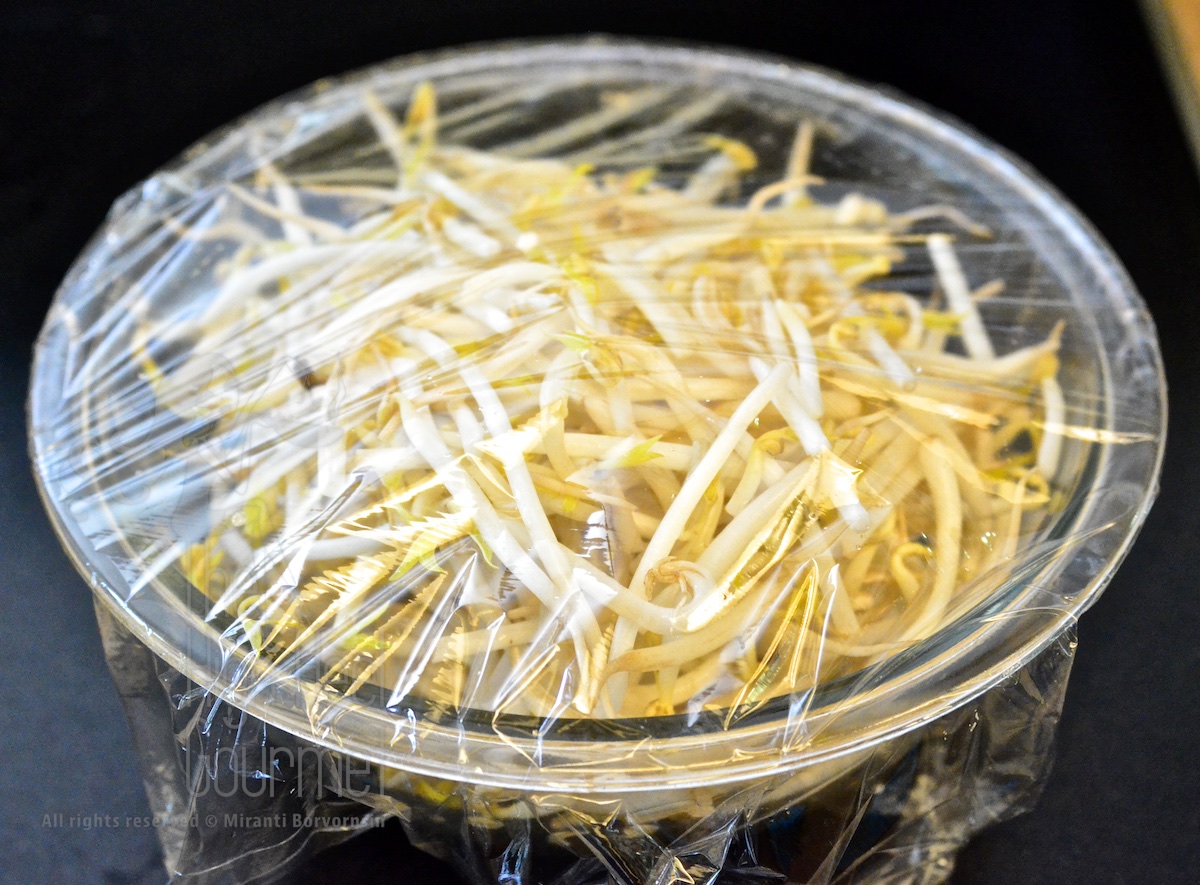 and microwave for 2-4 minutes until the bean sprouts are cooked. You can steam or blanch them too.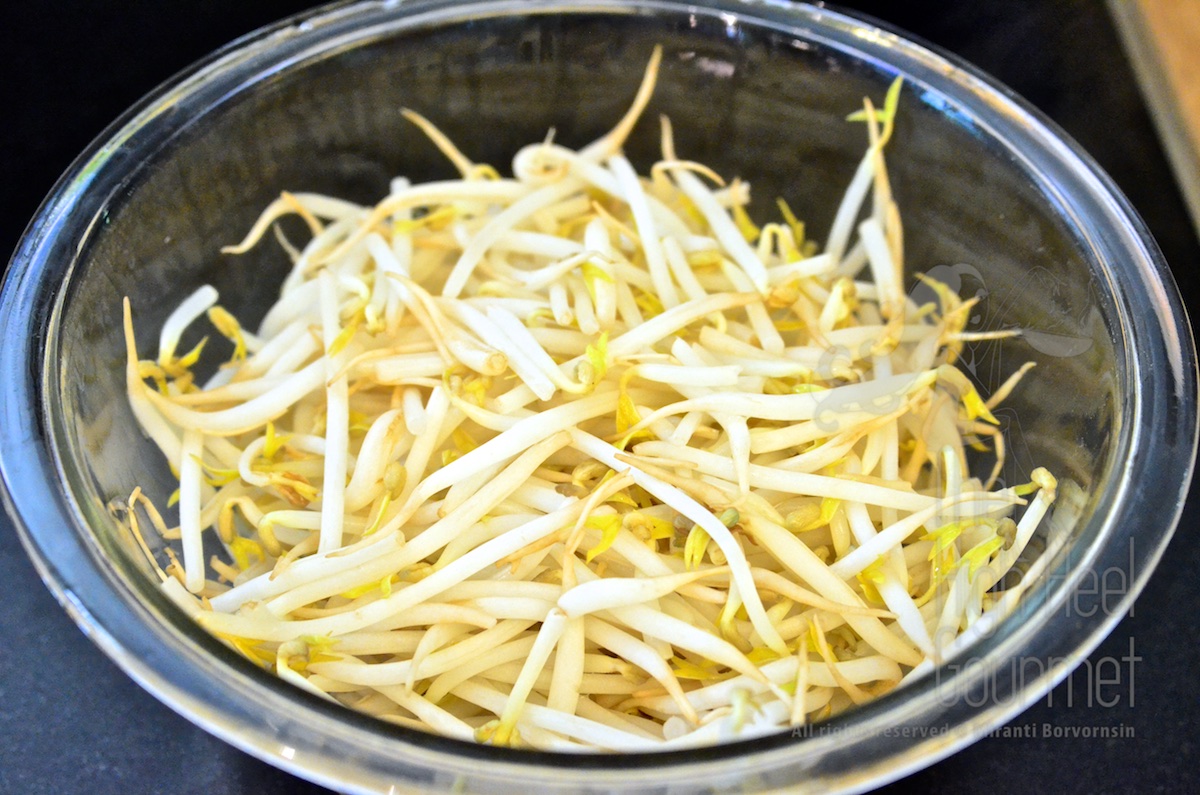 2) Unfold the rice sheet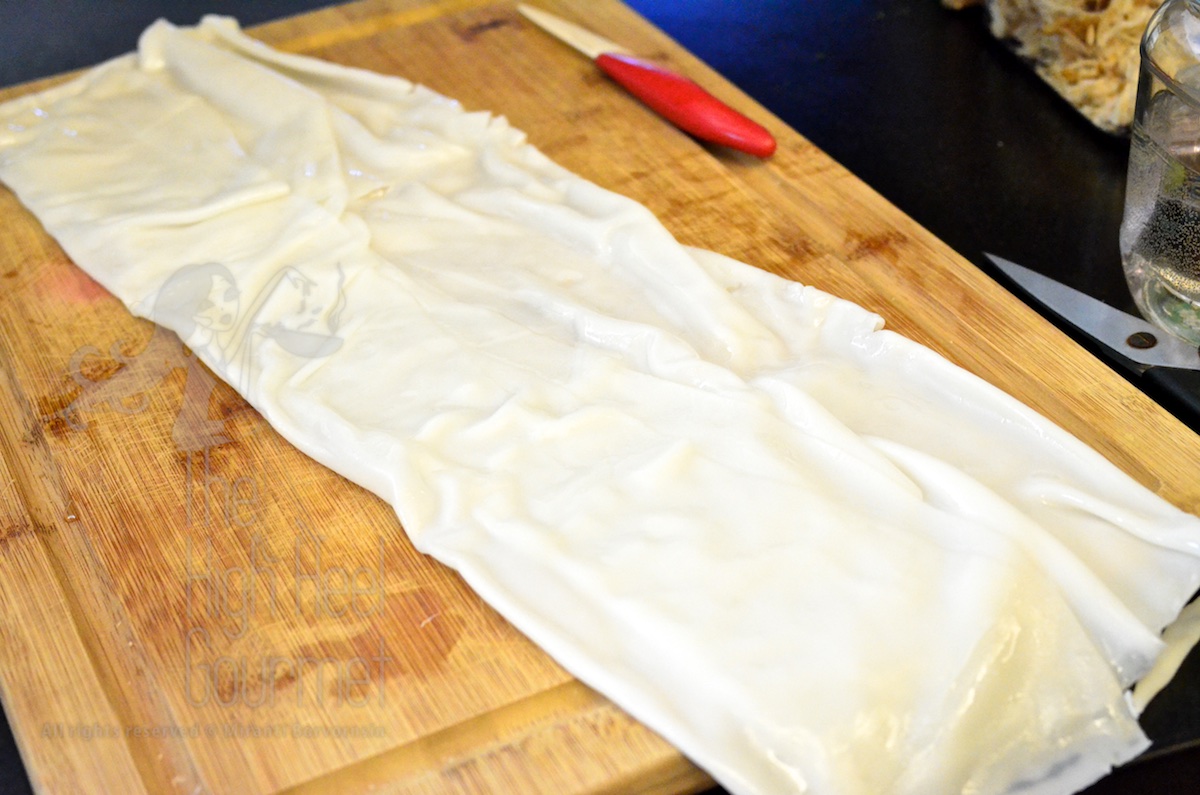 and cut to size.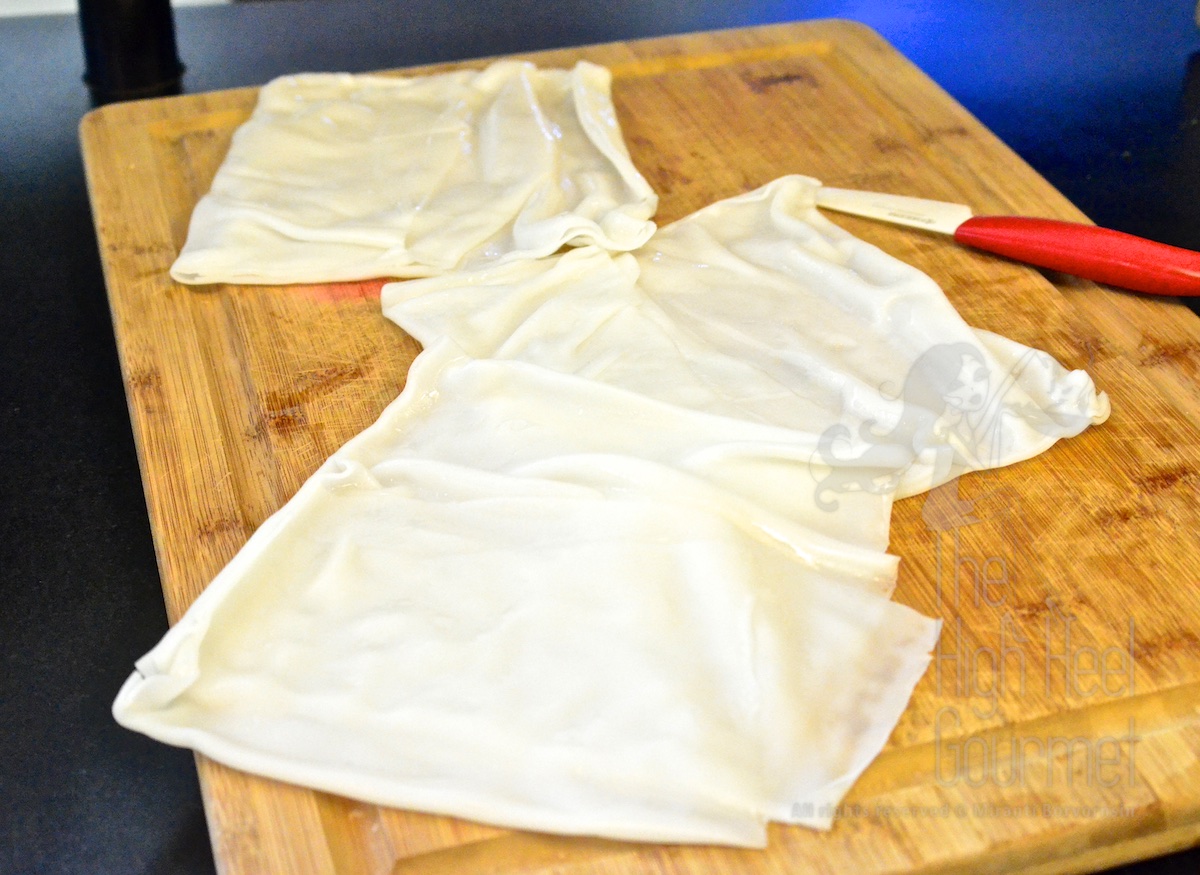 You will need sheets about 10" wide and about 12" long.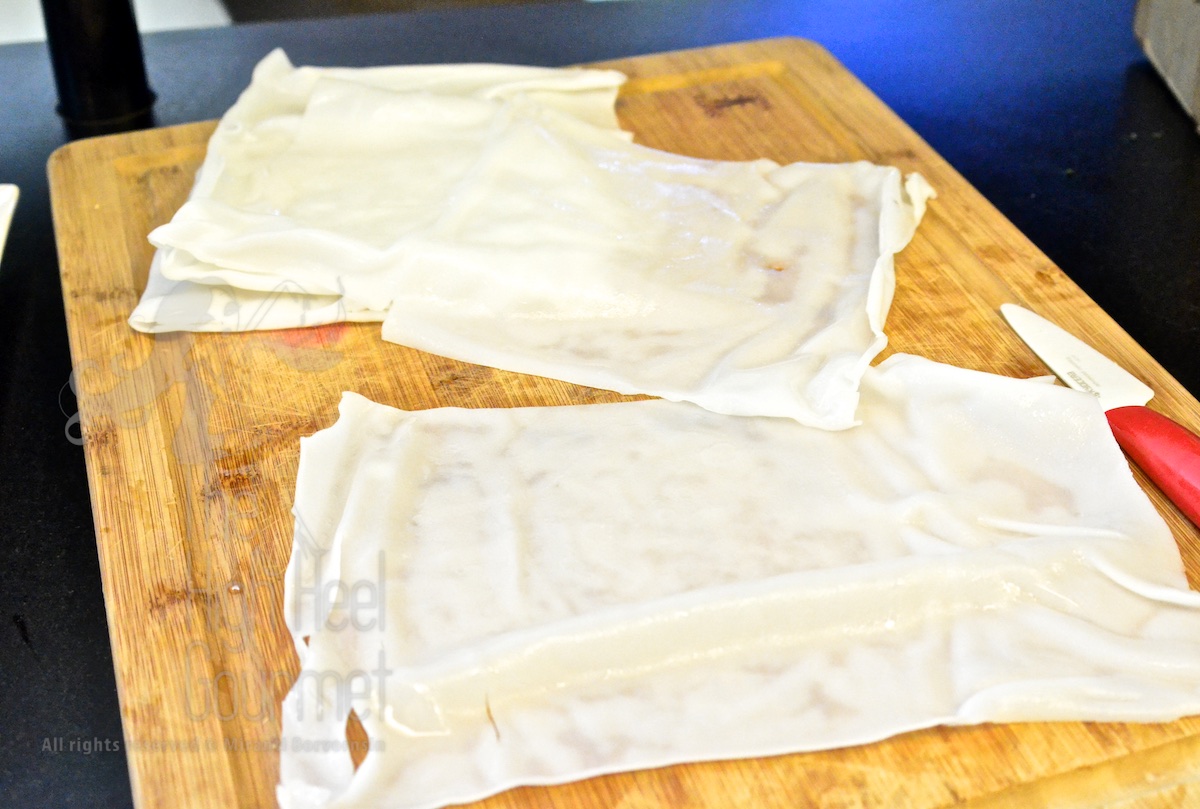 3) Put the cooked bean sprouts on the sheet, add half a cup of the stir-fried fish and spread them all evenly.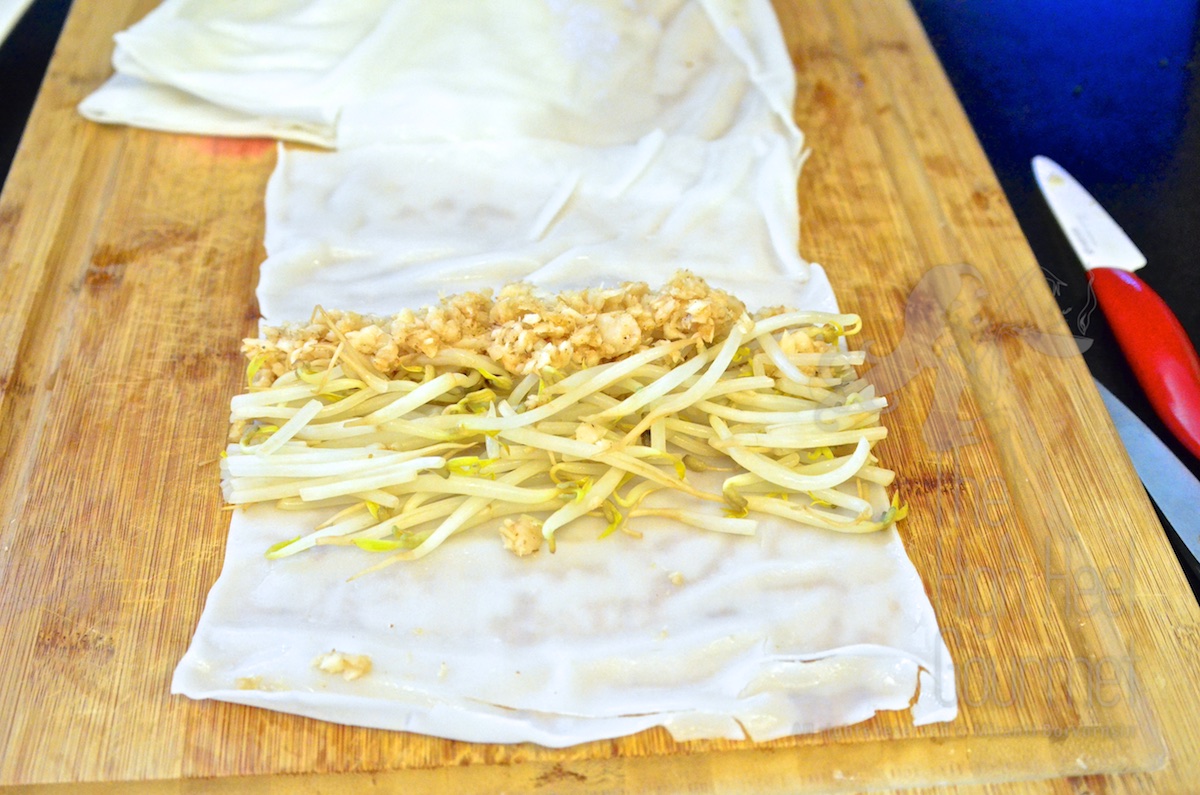 Roll the rice sheet around the filling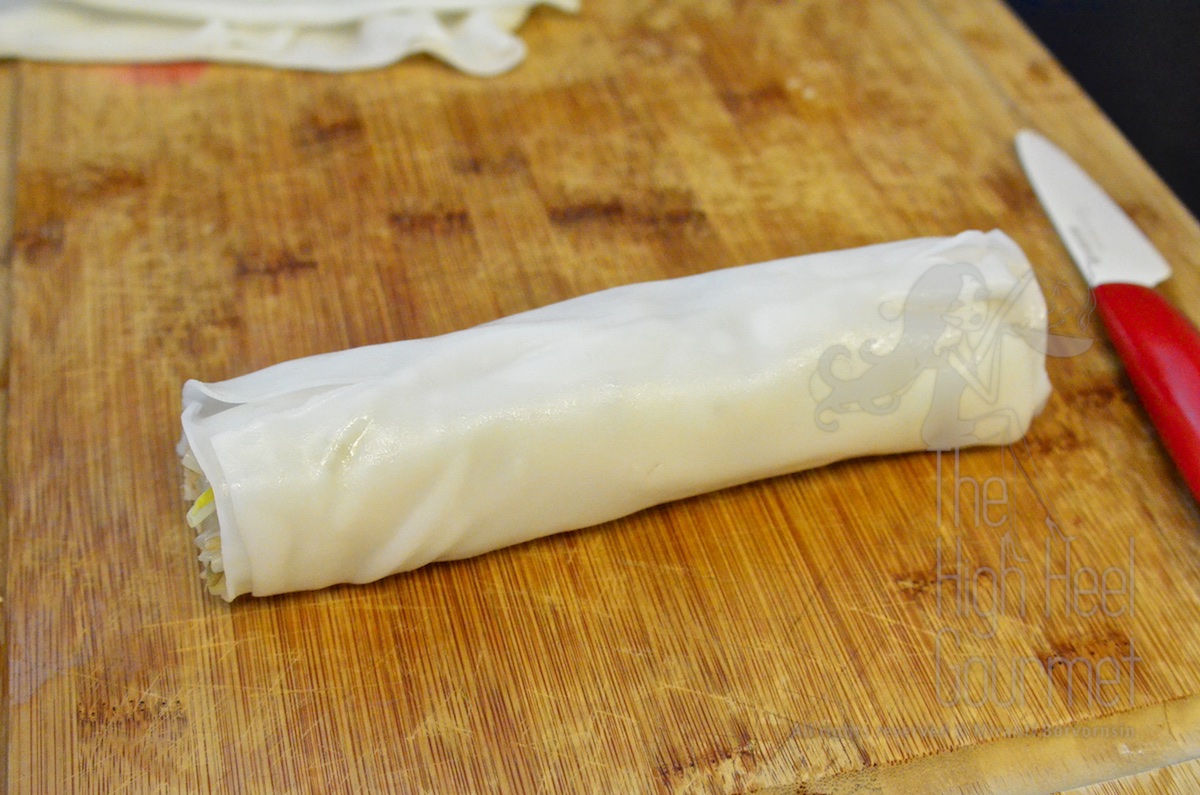 roll as tight as you can.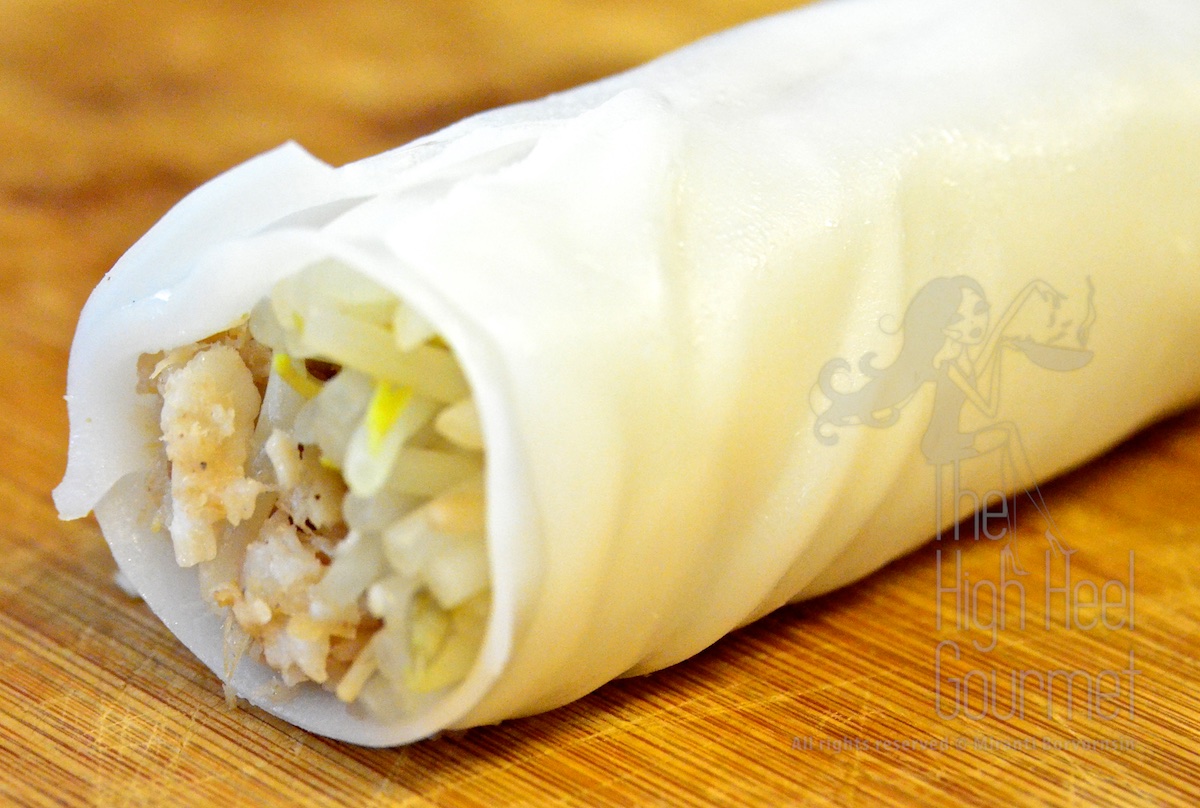 Then move the tube onto a plate.  Repeat until you use all of the bean sprout and the fish. You should get about 4 cannelloni.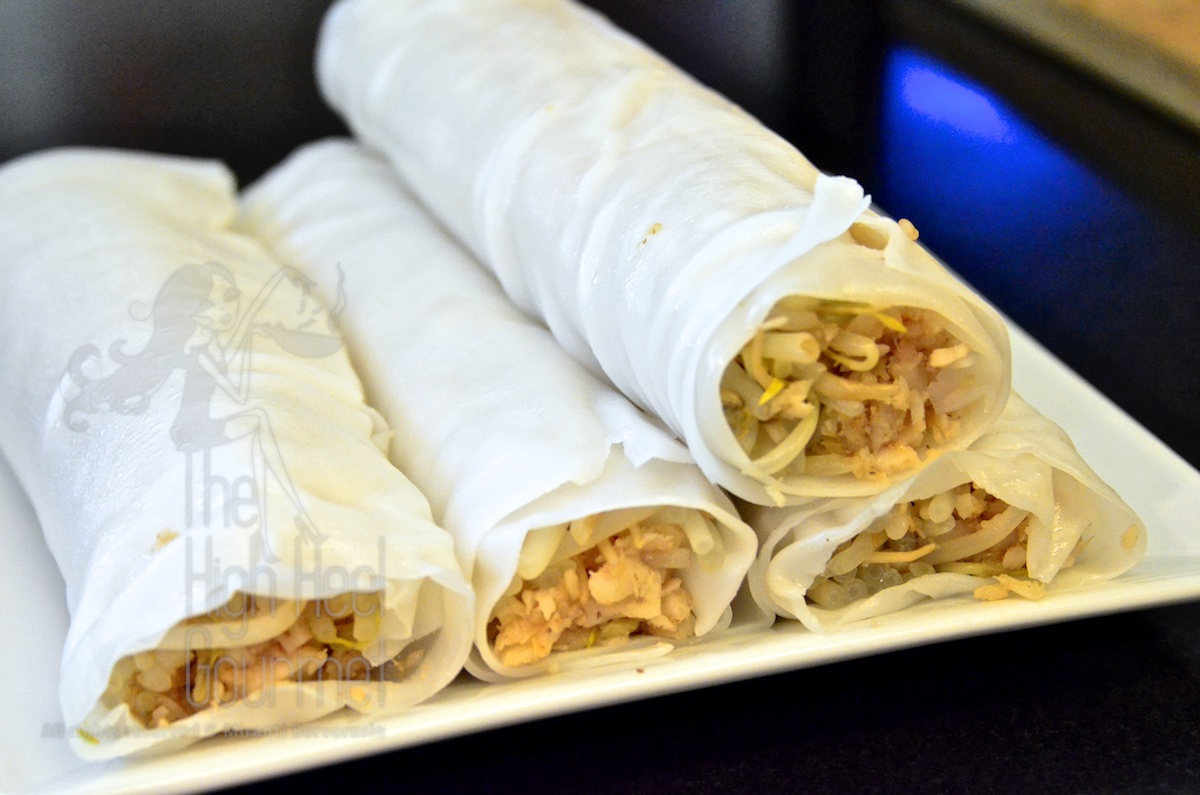 4) Wrap the plate with Saran wrap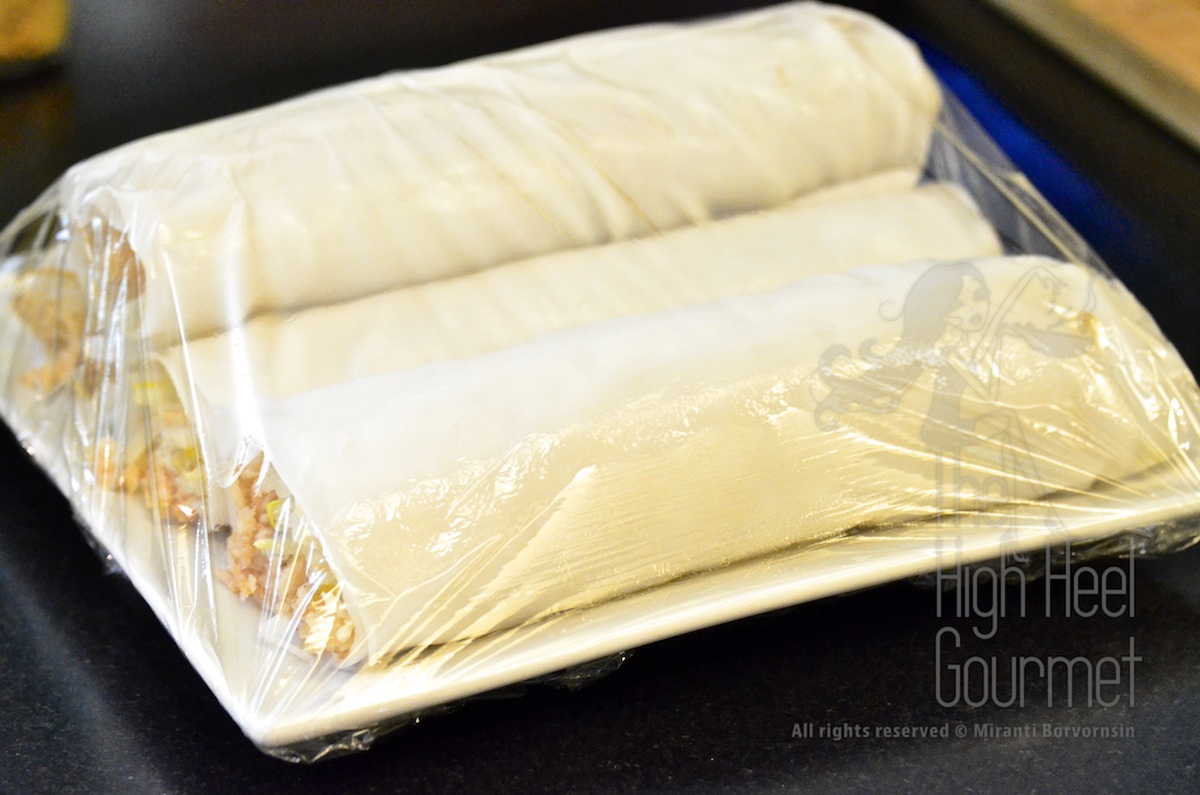 and put it in the microwave for 4-5 minutes, or steam for 10 minutes until the noodles are cooked.
5) Put the cannelloni on a plate, cut, dress with the fried garlic and its oil. Drizzle with the sweet and spicy soy sauce (recipe below).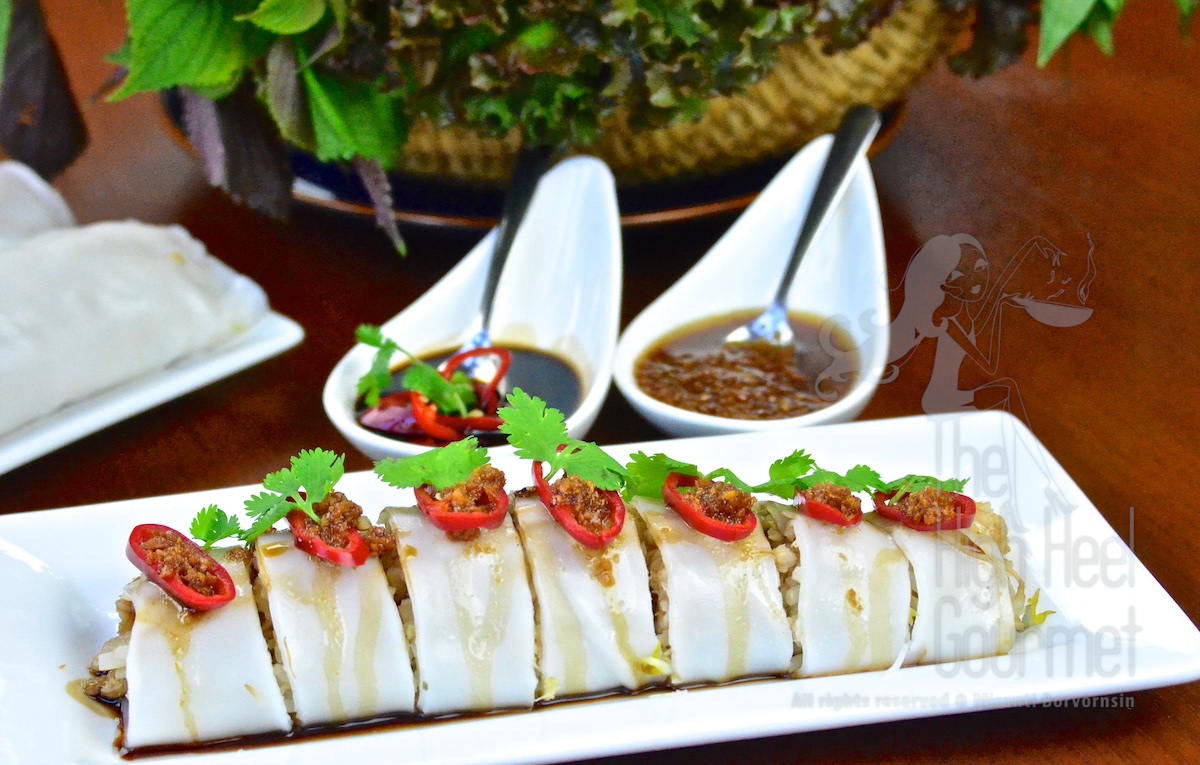 You should use the lettuce to wrap each piece of cannelloni and eat with other vegetables.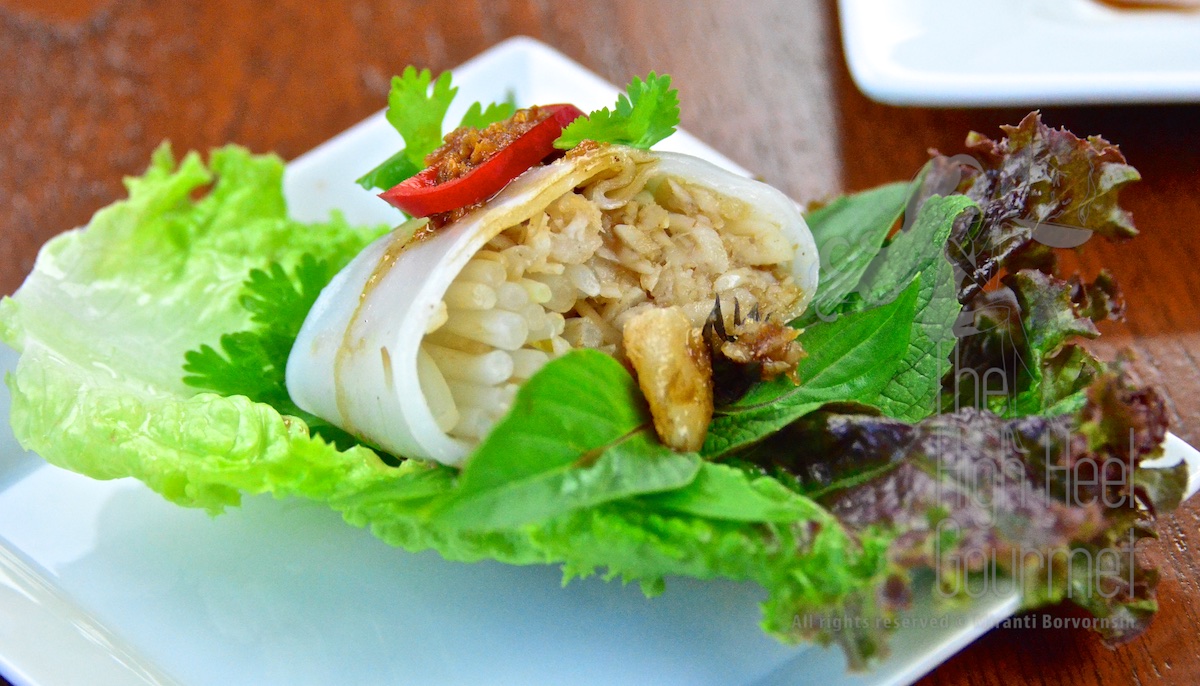 Sweet and spicy sauce
Sweet dark soy sauce 3 tablespoons
Black vinegar or Worcestershire sauce 1 tablespoons
Light soy sauce 1 teaspoon
Sriracha sauce 1 tablespoon
Method
Mix everything together, taste it and adjust.
ก๋วยเตี๋ยวหลอดไส้ปลา

เครื่องปรุงไส้ปลา (สำหรับกินสักสองสามคน)
ปลาหนึ่งตัวใหญ่ เอาให้ได้เนื้อสักสามขีดหลังจากตัดหัว ขอดเกล็ด ถลกหนังเรียบร้อย ปลาน้ำจืด น้ำเค็ม น้ำกร่อยได้หมด ขอให้มันว่ายน้ำเป็น
ข่าตำละเอียด 1-1/2 ช้อนโต๊ะ จะใส่มากกว่านี้ก็ได้แต่อย่าให้เกิน 2 ช้อนโต๊ะมันจะขื่น
สามเกลอ รากผักชี กระเทียม พริกไทย ตำ 1-1/2 ช้อนโต๊ะ
เกลือ 1 ช้อนชา
น้ำตาล 4 ช้อนชา
น้ำปลา 1 ช้อนโต๊ะ
น้ำมันสำหรับผัด 1-2 ช้อนโต๊ะแล้วแต่ว่าใช้กระทะแบบไหน
วิธีทำ
1) นึ่งหรือเอาปลาเข้าไมโครเวฟจนเนื้อปลาสุก ใช้ช้อนตัดเป็นชิ้นเล็กๆรอไว้ อย่าทิ้งน้ำที่ไหลออกมาจากปลา
2) เอากระทะตั้งไฟ ใส่น้ำมันแล้วเอาสามเกลอกับข่าลงไปผัดสักครู่ ไม่ใช่เจียวนะ แค่ผัดพอหอม
3) เอาเนื้อปลาและน้ำที่เก็บไว้ใส่ลงไปในกระทะ ใส่เครื่องปรุงทั้งหลายตามลงไป แล้วยีให้เนื้อปลาแตก ผัดจนเครื่องเข้าเนื้อและเนื้อปลาแห้ง ถ้าเนื้อปลาแห้งแต่เครื่องยังไม่เข้าเนื้อหอม เติมน้ำลงไปนิดนึงแล้วผัดต่อ ชิมรสแล้วปรุงตามชอบ คนไม่ชอบน้ำตาล อย่าใส่น้ำตาลจนหมด ค่อยๆเติมทีละนิด ปิดไฟ ทิ้งไว้พออุ่น
เครื่องปรุงก๋วยเตี๋ยวหลอด
แผ่นก๋วยเตี๋ยว
เนื้อปลาผัดที่ทำไว้
ถั่วงอกลวก ประมาณเท่าๆกับเนื้อปลา
กระเทียมเจียว
ผักสารพัดชนิด ขาดไม่ได้คือผักกาดหอม ผักชี
วิธีทำ
1) แผ่แผ่นก๋วยเตี๋ยวออก ใส่ถั่วงอกลวกและเนื้อปลาผัด ม้วนให้เป็นแท่ง ใส่จานรอไว้ ทำจนหมดไส้ น่าจะได้สักสี่อันถ้าชอบไส้มาก ถ้าชอบเส้นใส่ไส้ให้น้อยๆอาจจะห่อได้สักหกอัน
2) นึ่งให้เส้นสุกสักสิบนาทีหรือเอาพลาสติกห่อทั้งจาน เอาเข้าไมโครเวฟประมาณห้านาทีก็สุกกินได้ โรยกระเทียมเจียวก่อนกิน
3) กินกับผักทั้งหลายและน้ำจิ้มซีอิ๊วหวาน
น้ำจิ้มใส่ซีอิ๊วหวาน น้ำส้มหรือจิกโฉ่ว ซีอิ๊วขาว พริกแดงตำ น้ำตาลนิดหน่อยถ้าชอบหวานมาก
ตามเคยนะคะ สูตรแจกฟรีเป็นวิทยาทานให้ไปทำกินกันที่บ้านหรือจะทำขายก็เชิญ แต่ห้ามคัดลอกทั้งสูตรและรูปภาพ ทั้ง blog นี้จดลิขสิทธิ์ไว้ทั้งหมด หากพบว่าใครคัดลอกสูตรหรือขโมยรูปภาพ จะดำเนินคดีขั้นสูงสุด จะลองดูก็ได้นะ รับรองว่าถ้าเขาเอาใครเข้าคุกเรื่องละเมิดลิขสิทธิ์นี่ก็ได้เข้าแน่ๆคุก ไม่สงสารพวกไม่เคารพทรัพย์สินทางปัญญาของผู้อื่นหรอกไม่ว่าจะโง่ งี่เง่า หรือขี้เกียจ โดนเท่ากันหมด แล้วจะแช่งแถมให้ด้วยนะ แช่งแบบคลาสสิคครอบคลุมขอให้ผัวทิ้ง เมียมีชู้ เป็นมะเร็งตับ มะเร็งต่อมลูกหมาก มีลูกก็ขอให้มันไม่รักดี มีหลานก็ขอให้มันไม่รัก  มีเมียน้อยก็ขอให้เขามีชู้ มีกิ๊กก็ขอให้เขาเบื่อหน่าย ประมาณนั้น ถ้าคิดจะเอาสูตรไปสอนก็ไปลองทำดูก่อนจนชำนาญแล้วก็ไปเขียนสูตรใหม่เอาเองนะ ถ้าไม่มีปัญญาเขียนสูตรเอง ก็อย่าสะเออะไปสอนใครเขานะคะ คิดจะเป็นครูทั้งที ก็ควรจะเป็นตัวอย่างที่ดี ไม่ใช่เป็นได้แค่ครูกากๆลอกสูตรตามเน็ทแล้วไปสอนคิดตังคนอื่นเขานะคะ