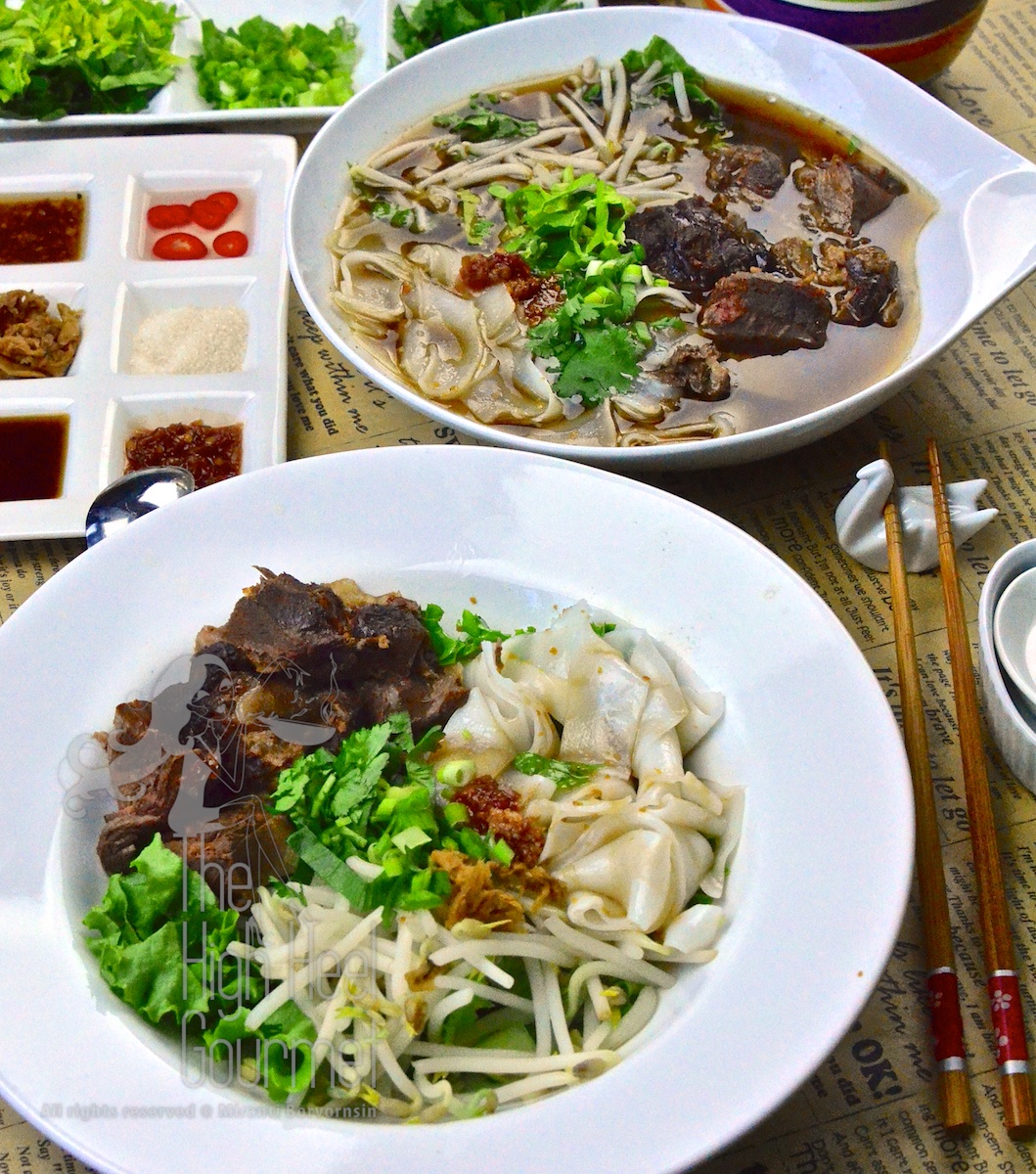 I hope you enjoyed your Thanksgiving, and I secretly hope that someone used my street fried chicken (Hat Yai fried chicken) recipe to deep-fry a turkey. 😉 Well if you did, you deserve a shipment of High Heel Gourmet jam for Christmas. I'm serious. Pictures as proof, please. (My jam has been a source of family fights before; you shouldn't miss it!)
We are now up to the fifth episode of Thai noodles already. After you've been eating so much poultry, it's time to switch the source of protein, don't you think? I do. This time I offer an easy recipe for slow-cooked beef with noodles that I actually want to call beef stew, but I'm afraid that it will set the wrong expectation for you.
The Thais won't eat the thick beef stew with noodles. In fact, there are really no noodle dishes with thick, stew-like broth except for curry with noodles, of which we only have two kinds. One is the Northern Thai Curry Noodles that I already gave you the recipe for. The other one is coming soon.
I blame it on the hot Thai climate that doesn't make eating hot, thick broth seem appealing. Most of our noodles are in a thin broth. When we have noodles with thick gravy we normally eat them with Kanom Jeen—the rice noodles—more than Guay Tiew. The dish looks and feels more like pasta. Kanom Jeen Sao Nam, Kanom Jeen Nam Ya Tai are good examples.
Back to our slow-cooked beef then. Yes, we are going to make a thin broth full of herb and spice aromas. This dish is good for any time of the day, but especially right after clubbing or a party where you might be drinking and dancing a little too much. Anytime I went out to a club, at the end of the night I always wished I were in Bangkok where I could find a street vendor selling beef noodles, or noodles with dumplings.
How can you identify Guay Tiew Neau Toon on the aroma-filled streets of Bangkok? You will see a pot filled with the slow-cooked beef on the cart. Or after you cook this recipe, you will remember the aromas…mmmmm.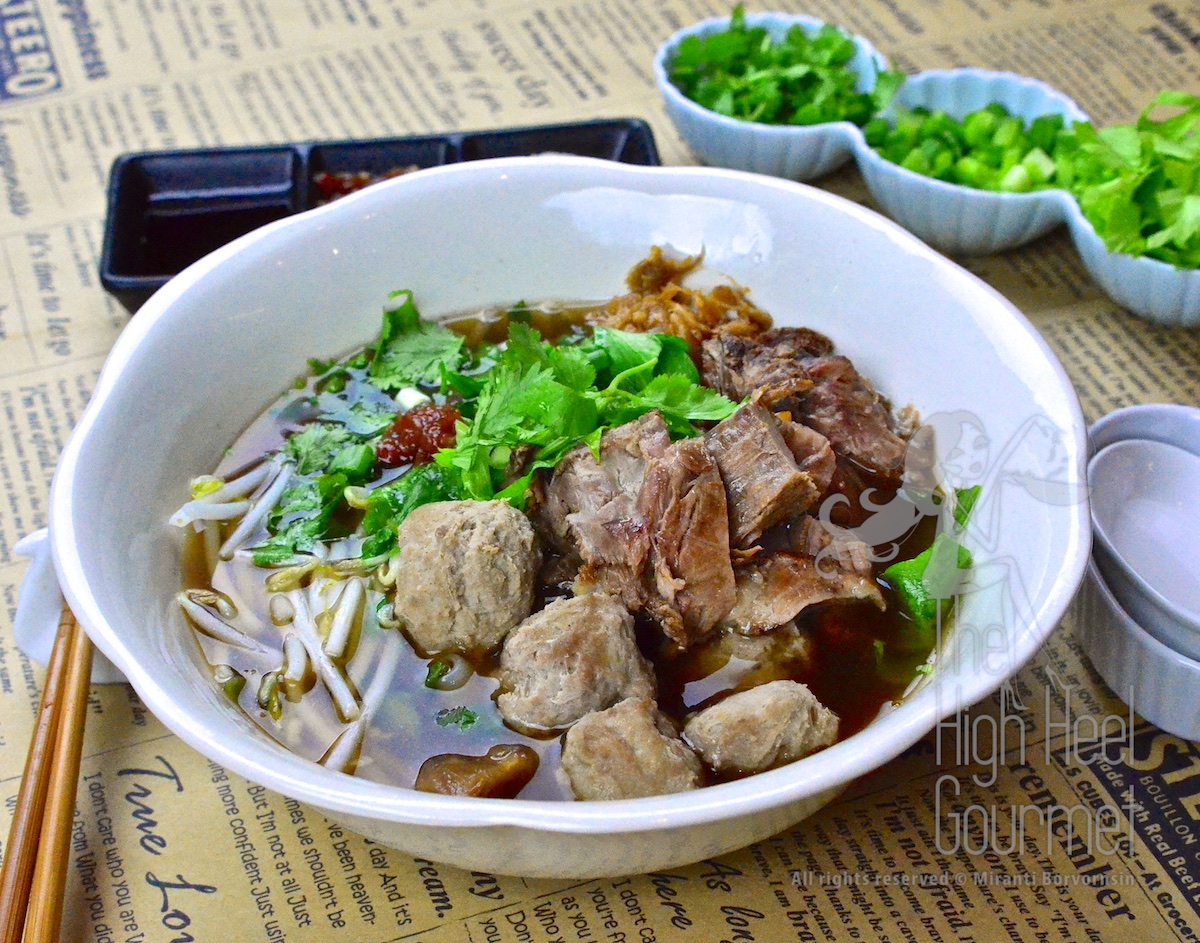 I listed a lot of "optional" ingredients because they are actually your own preference. Some vendors might put different spices or herbs, and some just stay with the basics. You can invent your own, but I recommend asking me or some other Thai person nearby first just to see if it is okay to serve it that way.
Don't just guess at it like Bon Appetit's recipe developer. Her so-called "Thai Beef Stew with Lemongrass and Noodles" calls for unsweetened coconut flakes…aghhhhhhh. We NEVER use that crap in our Guay Tiew, alright? (Let alone using "reduced-sodium" soy sauce then adding fish sauce. So confusing! That's like ordering a non-fat mocha with whipped cream. What's the point of reduced-sodium in a soup base? Can't you just use less of the regular soy sauce?)
Another violation is carrots. If we want to sweeten our soup base naturally, we will use turnips or onions, but not carrots. Do you know why? Because the carrot is not part of our heritage vegetables. We only started growing them a short time ago. Less than forty years ago carrots were still labeled as "Western vegetables".
Please don't just think anything with a combination of lemongrass, kaffir lime leaves, fish sauce and coconut flakes all together will be approved by the Thais as "Thai food". I'm not even talking about what is authentic; if your dish can't even be accepted as Thai food by the Thai, may be you should respectfully consider dropping the country name from it. (When I say "Thai food" I mean the food that Thai people would cook and serve in their household–I'm not being pretentious.). I can guarantee with all my Thainess that the recipe that was published and labeled as "Thai Beef…blah blah…" mentioned above was SO NOT Thai food. We have our principles in our culinary art and we hope that it will be respected. This is one of the main reasons why I write my blog.
You can always add or subtract the ingredients as you prefer. But if it is far from this recipe, you can call it your own noodles dish; no need to add "Thai" to the name.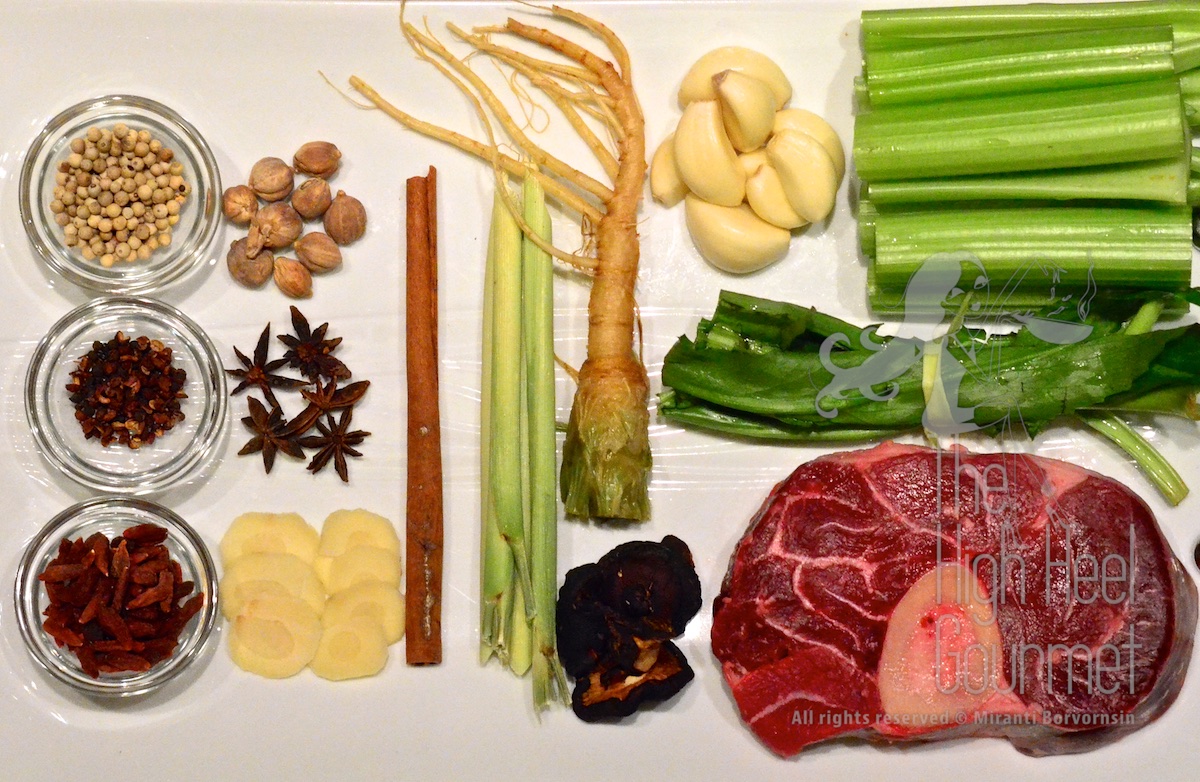 Ingredients for the beef and the broth:
Beef shank, about 2 lbs. (Including bones. If you are using some leftover steak bone and or other leftover beef, you can adjust it accordingly. I only used  1lb. of beef shank, and added other stuff.)
Celery stalk   3 stems
Garlic, whole clove  2 tablespoons
Cinnamon stick  1 whole (about 6" long)
Star anise  5 full pieces
White pepper 1 tablespoon
Cilantro root 1 big root or 2 smaller roots (If you can't find it just use a bunch of cilantro stems. Pick the leaves off to use for garnish.)
Seasoning sauce  1/4 cup (Maggi is just fine)
Salt 1 tablespoon
Rock sugar  3 tablespoons (Or 1-1/2 tablespoons brown sugar)
Water  1 gallon
These are acceptable optional ingredients:
Leftover steak bones (I used a T-bone and mutton bone here)
Galangal slices  about 6-8 thin slices
Sichuan (or Szechwan) pepper  1 teaspoon
Dried Shitake mushrooms  1/4 cup
Lemongrass  1 whole stalk or 2 of the tips (You will use the bottom part to make curry paste)
Goji berries  2 tablespoons
Whole white cardamom  2 tablespoons
Pandan leaves  4 whole leaves
These are also the optional ingredients that I didn't use in mine:
Mace
Nutmeg
Onions (just for the sweetness)
Shallots
Dried orange peels
Ginger
Cilantro
Turnip
Pineapple
Dried fish
Shrimp paste
Method for the beef and the broth:
1) Place all the broth ingredients in a pot with the water and bring to a boil. Once it reaches a boil, lower the heat and simmer until the meat falls off the bones, about 2-3 hours. If the water level drops below all the ingredients, you can add more water, but I didn't have to add to mine. The broth should be clear, not cloudy. If it is so cloudy, you are using too high a temperature. Reduce the heat next time, but it's still okay to use what you have now.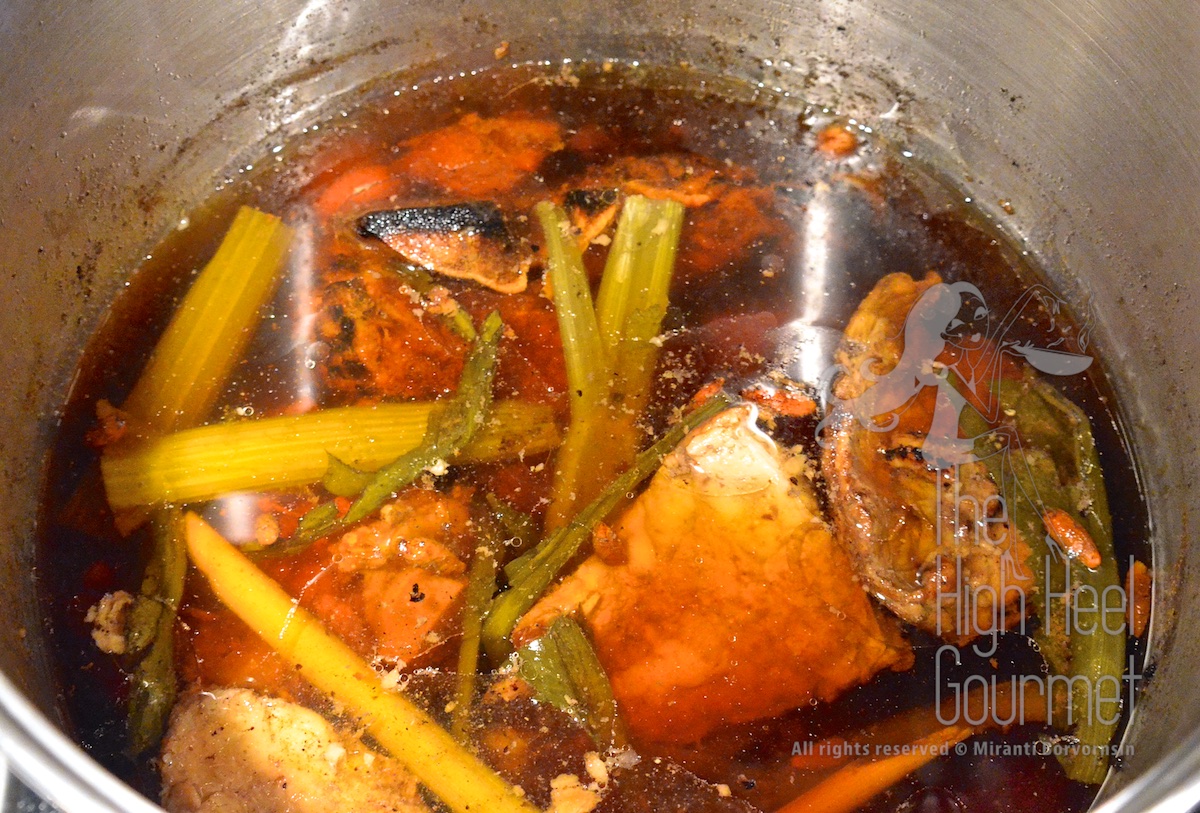 2) Turn off the heat, cover the pot with a lid, and leave it overnight.
3) The next morning skim all the fat off the top. If some herbs or spices come with it, it's okay too. We're about to strain all of them out.
4) Take the meat out of the soup and cut into bite-size pieces.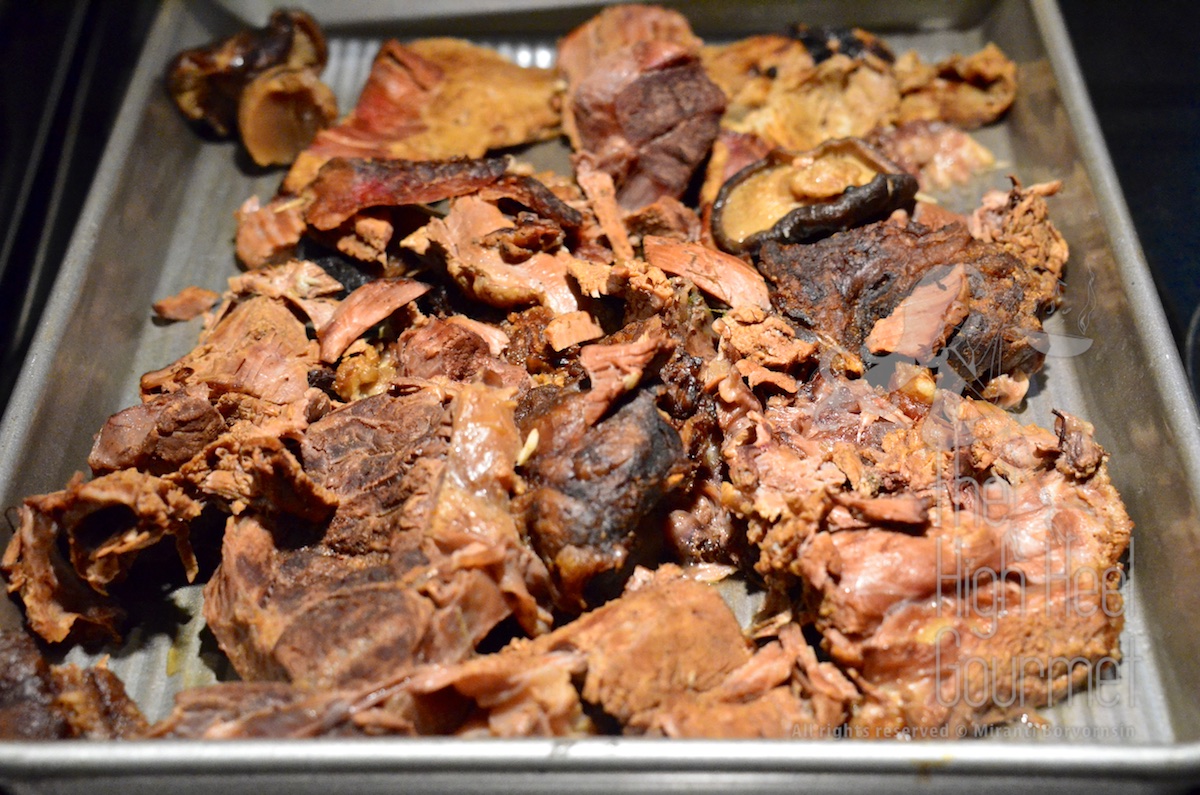 Strain all the herbs and other ingredients out of the soup,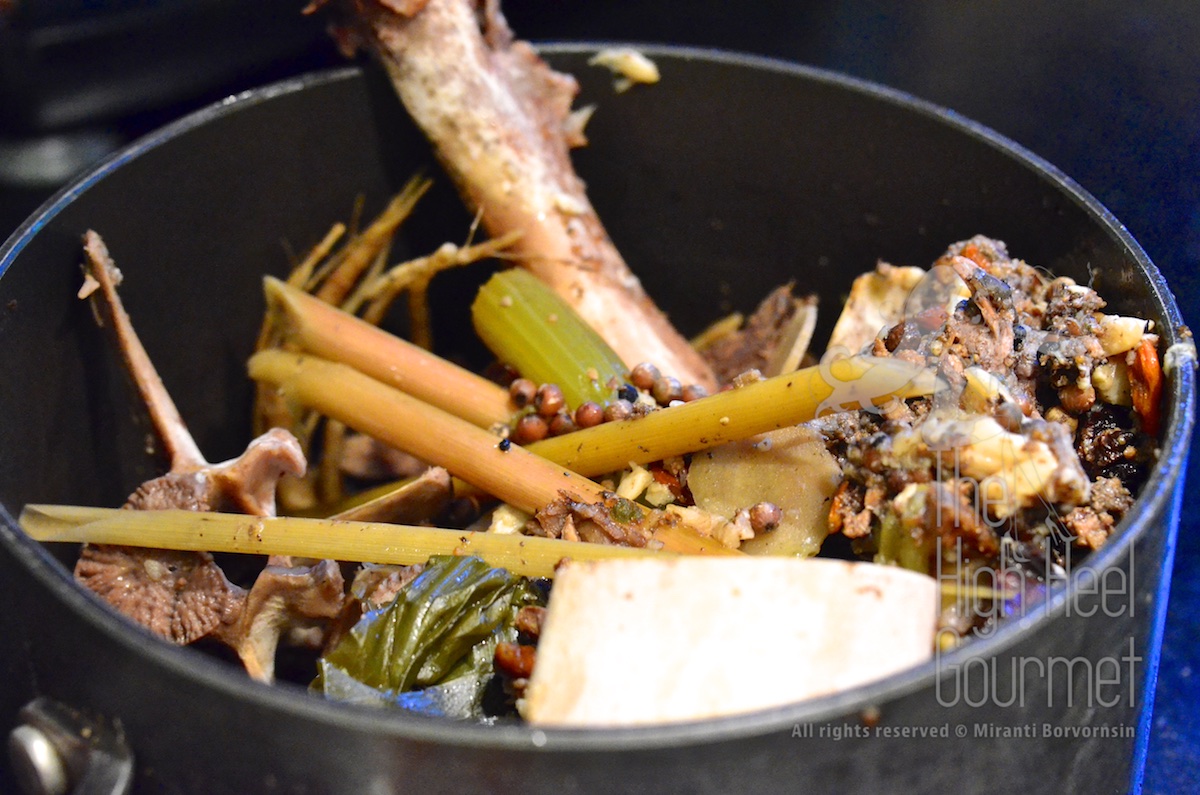 keeping the broth and discarding the rest. You can keep the mushrooms in if you like. You should end up with a soup that is brown but semi-transparent or clear, with a full herbs and spices aroma. You can also season the soup to your personal preference, but I keep mine pretty mild tasting.
5) Put the cut-up meat in a separate pot and add broth, just enough to cover the meat. Heat until it reaches a boil, then turn off the heat. You shouldn't let it simmer any longer, but try to keep it warm for the noodles.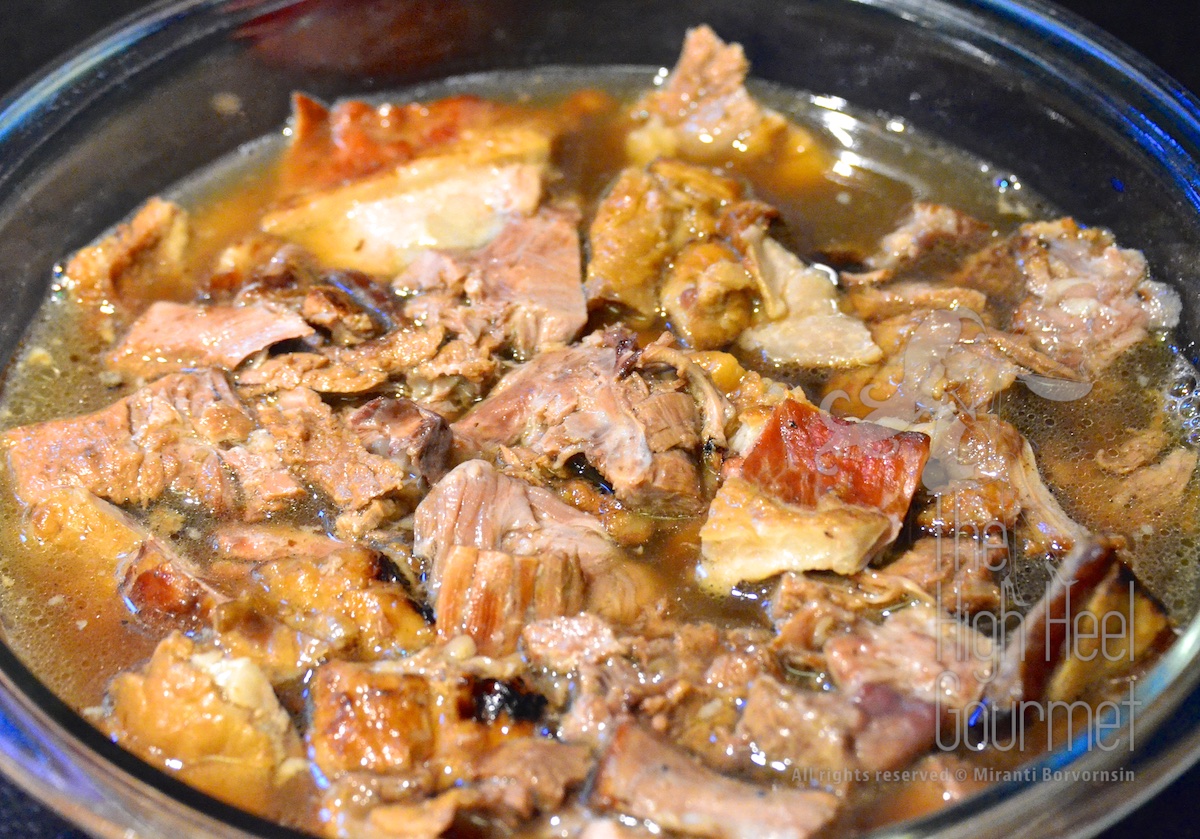 Ingredients for the noodles:
Bean sprouts about 2-3 cups
Green leaf lettuce, cut up in chunks, about 2-3 cups
The broth and slow-cooked beef
(Optional) Beef meat balls (I will give you the recipe next week. Just use the store bought for now.)
(Optional) Sliced beef
Noodles of your choice, as much or as little as you want, or none at all.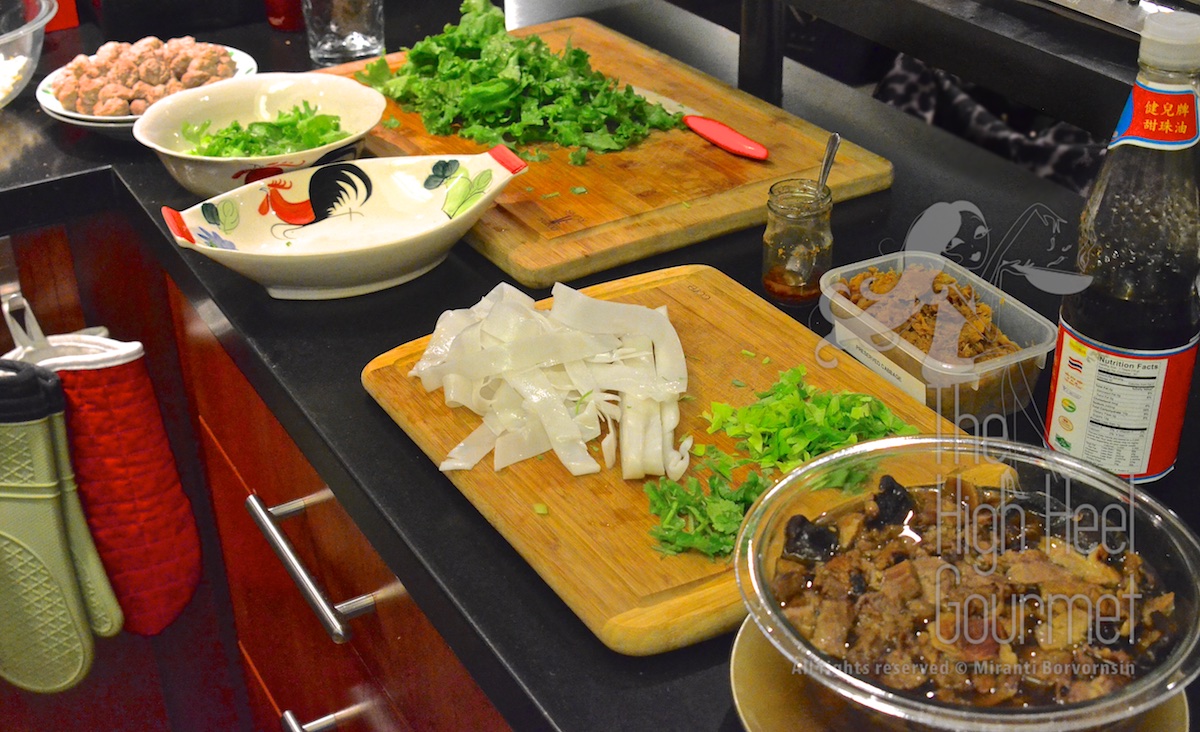 Accompaniments:
Fried garlic in oil (If you don't know how to make this, look in Episode II)
Celery leaves, chopped
Cilantro and green onion, chopped up
Fish sauce
Sweet dark soy sauce (You can mix dark soy with molasses if you can't find it)
Granulated sugar
Crushed fresh chili in vinegar (Sambal Oelek is a good substitute)
Sliced red chili in vinegar
Tang Chai (preserved cabbage, look for it in Episode II if you don't know what it is)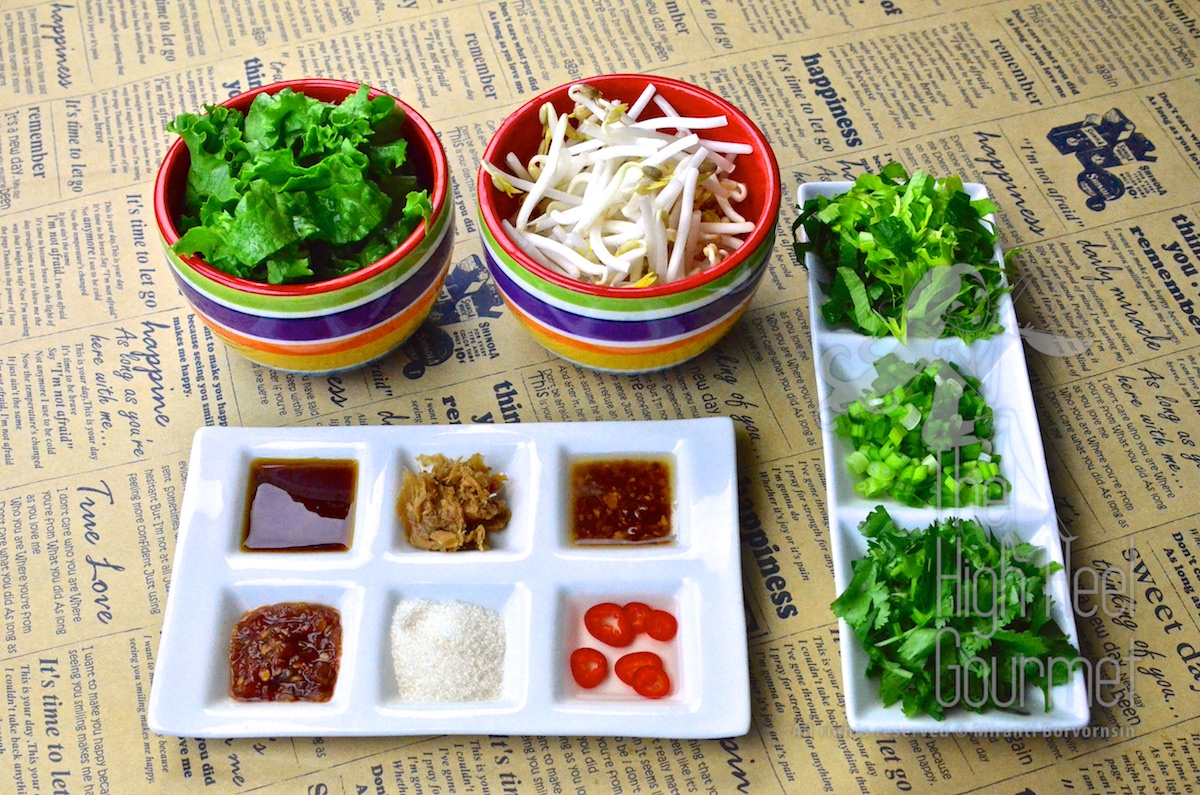 Method for making the noodles:
1) Boil a separate pot of water, and also heat the remaining broth that you already strained all the herbs out of.
2) Put chopped green leaf lettuce in a bowl. Once the water reaches a boil, cook the bean sprouts and the noodles, then add them to the bowl.
3) If you like to add meatballs or sliced beef, cook them in the broth and add them to your bowl.
4) Take the slow-cooked beef and add to the bowl.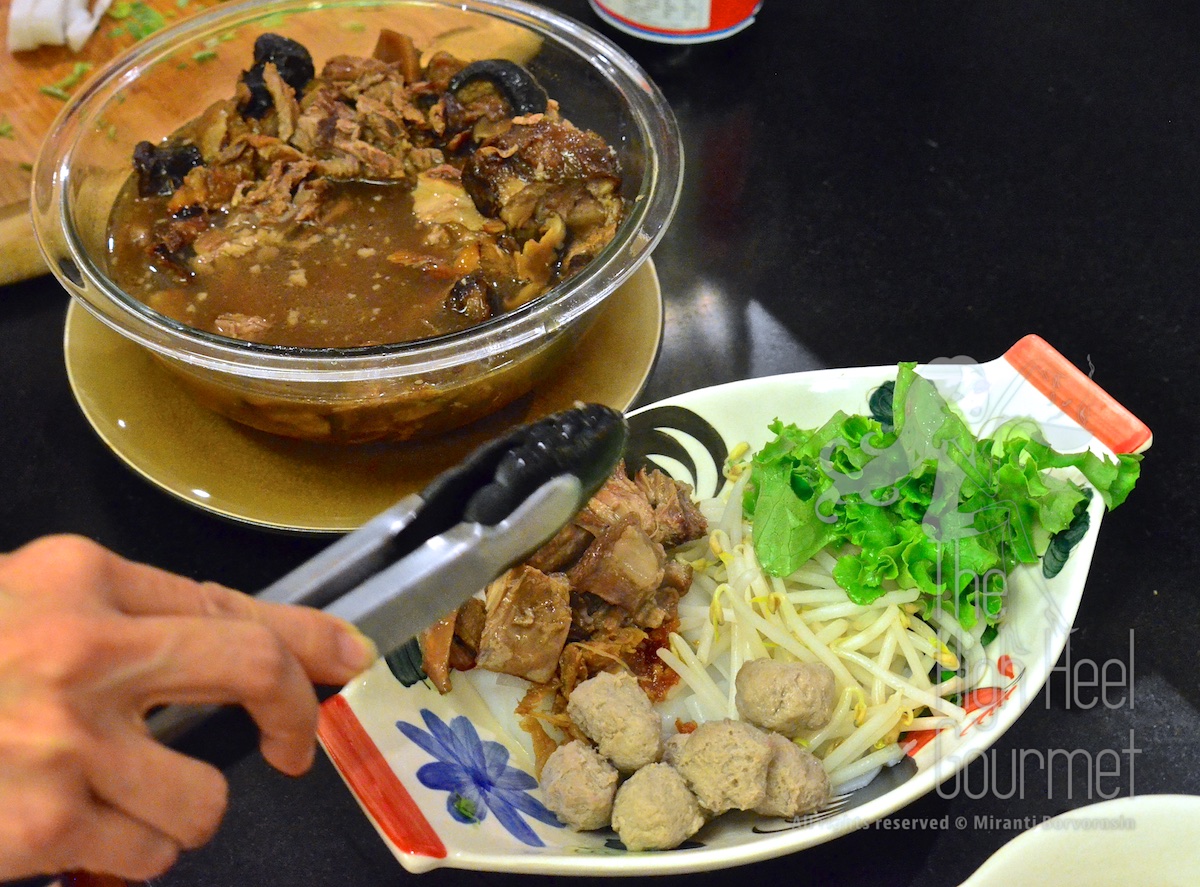 4.1) If you want to eat your noodles soup style, add the broth to the bowl and add the accompaniments, except the sweet dark soy sauce, then season to your preference.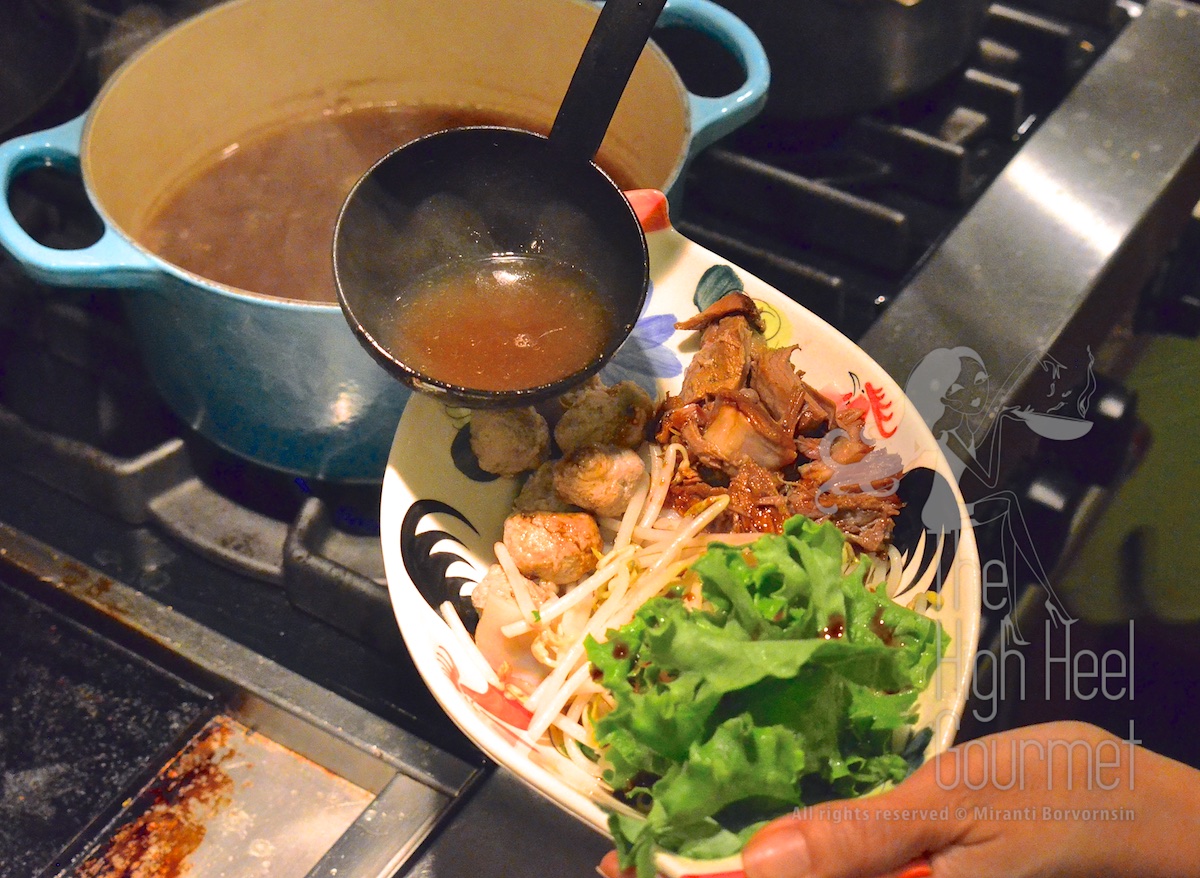 4.2) If you want to eat your noodles salad style, add the sweet soy sauce first then add all other accompaniments. Season to your preference.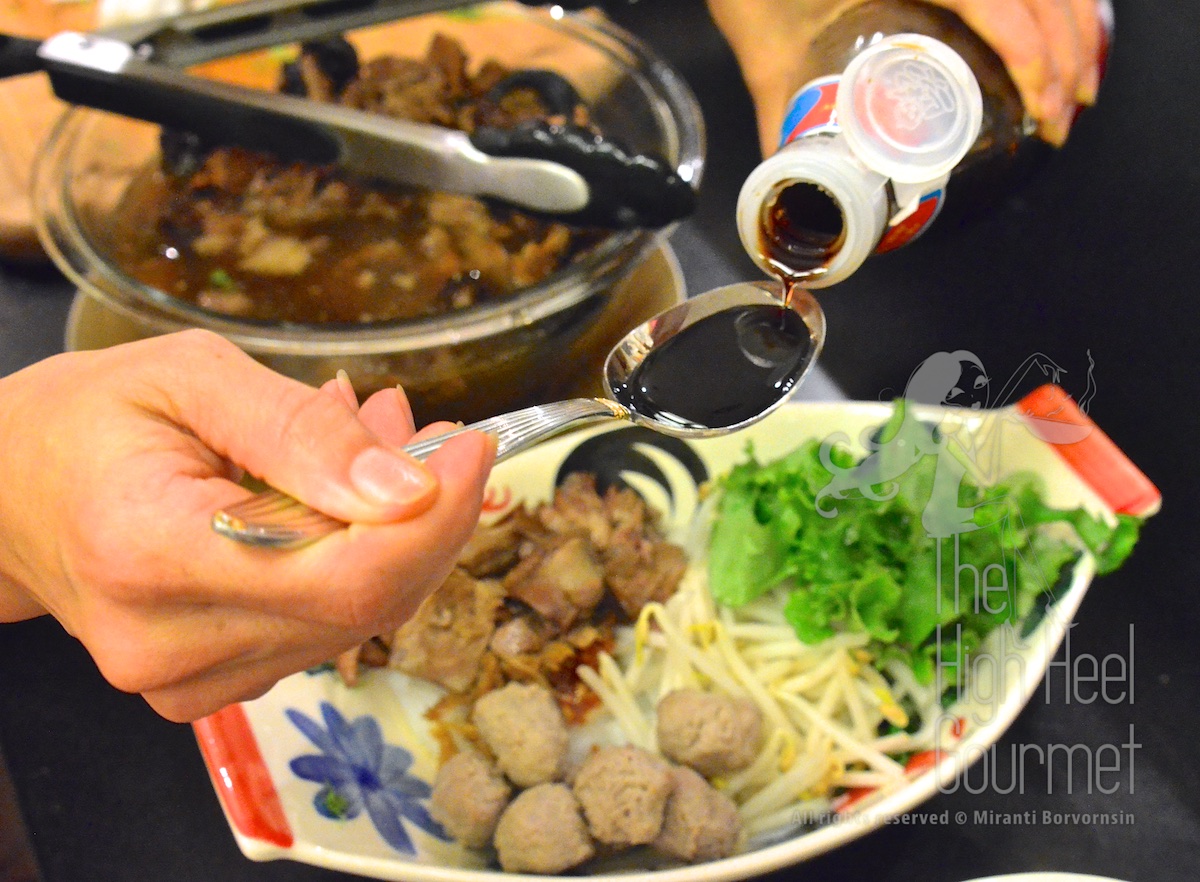 Low carb option: Of course, you can prepare this dish without the noodles. It's called Gao Lao Neau Toon. Of you can swap the noodles for steamed rice as well.