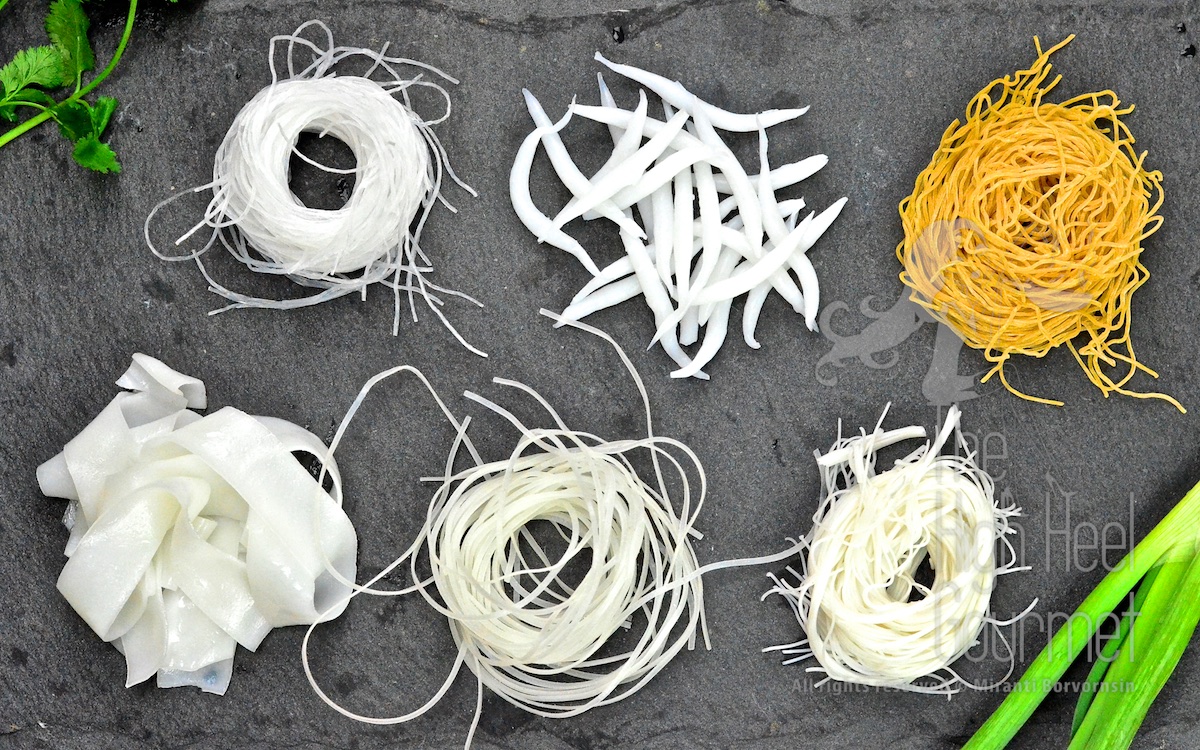 I just took some time off to celebrate an event which acknowledges that I've officially grown a year older, even though I'm constantly growing a day older every day but that doesn't count until it totals a year. To celebrate the year, I would like to offer a present to my readers, which are recipes of my favorite food in the world, the various different kinds of noodles in Thai cuisine.
I've actually been wanting to write about this for a long time, but I chose to write about curries first before the non-Thais out there ruined my country's heritage even further with their know-it-all (that really should be called "don't know a thing") attitude. I'm about 80% through with my curry paste recipes, so now I can start a new subject.
I love all kinds of noodles and I could live on noodles for months before I even thought about rice. Thai noodle are something you would consider as a "one plate food", or อาหารจานเดียว, because you don't need multiple dishes to have a meal, as you would with rice. You get all the food groups together in one bowl.
Are you thinking this is starting to look like a series?
You're correct. If you've ever been in Thailand and walked the streets, you would have seen noodle vendors on almost every corner. If not, then there would have been many vendors bunched together on one corner. They're all selling noodles, but all different kinds.
So that's why this is becoming a series on its own. You will get recipes for several different kind of noodles, almost like you're walking the streets of Bangkok. I can't guarantee that you will get every kind, but you are going to get as many as I know and love to eat.
And by the way, I'm not completely done with the curry pastes or the omelets. You will see them pop up here from time to time. I am a true gemini; I can't be satisfied with just one of anything. You get to experience how confusing life with a gemini can be without having to be married to one, like my poor husbanditor!
Before we even begin, I need to prep you first because we have our shared ingredients that are found in every kind of noodles, and then there will be the different ingredients in each kind.
Wait…I almost missed one step due to my excitement writing about my favorite food of all time..the history! (Yeah, yeah, yeah, you can skip the next six paragraphs then, if you don't care.)
I'll start with what we say noodles in Thai. We call them "Guay Tiew", ก๋วยเตี๋ยว. All noodle names start with guay tiew, such as guay tiew moo = noodles with pork, guay tiew neua = noodles with beef, guay tiew tai = noodles with chicken and so forth. The words are from the Teochew Chinese word 粿條/粿条 pronounced "guotiao", meaning cooked rice strips.
Guay Tiew arrived in Thailand probably since King Narai Maharat or King Ramathibodi III of the Ayutthaya Kingdom from 1656 -1688. Ayutthaya was the former capital city of Thailand before Bangkok. King Naria was the most famous Ayutthayan King, and he allowed trading among several international merchants. He opened the population's eyes to the existence of other countries overseas and accepted their cultures, including food cultures.
However, there is no written evidence regarding the penetration of the most important food culture to Thailand (and to me), the noodles invasion. It could be hidden somewhere in those dusty documents in the "control room" of the Thai National Library but I have not come across one yet. I need to take Claratin and go back there someday to do more research.
The written evidence of the second noodle invasion happened during the King Taksin era, in 1734 – 1782. Thon Buri, the capital city in his era, was on the right (West) bank of the Chao Phraya River and was combined as a part of Bangkok during the current era, the Rattanakosin Kingdom. During his time, just as in the King Narai era, Thailand traded with several foreign merchants who brought their own food cultures to the Thai people.
Guay Tiew is the simple dish that Chinese people cook and eat in their boats.  You boil noodles, the meat of your choice and vegetables, you put them in a bowl, add broth in the bowl together with seasonings, then you are done, ready to eat. This is a dish eaten with chopsticks, not the fork and spoon of the typical Thai etiquette.
Of course, the Thai adopted the dish but they twisted it to fit their palate. So, the noodle dishes these days are quite different than the guay tiew of the old time. If you ever paid attention to the noodle dishes you saw in each country, you would have observed that they each have their own character. You can also tell the origin of that particular noodles dish by the ingredients.
We're now going to discuss the character of said Thai noodles. Are you ready?
1) The leading characters, The Noodles.
The first thing we need to talk about is the noodles themselves. We can't talk about the plays without talking about the lead characters, right? The noodles that are popular in Thailand are rice noodles and wheat noodles. I can tell you the four staples noodles that we eat, but it's really not limited to just four. I will introduce you to the rest as I expand the Noodles series.
1.1) Sen Yai (Sen=line or noodles, Yai=big), the big fat rice noodles that the Cantonese Chinese called ho fun, or shahe fen in Mandarin Chinese.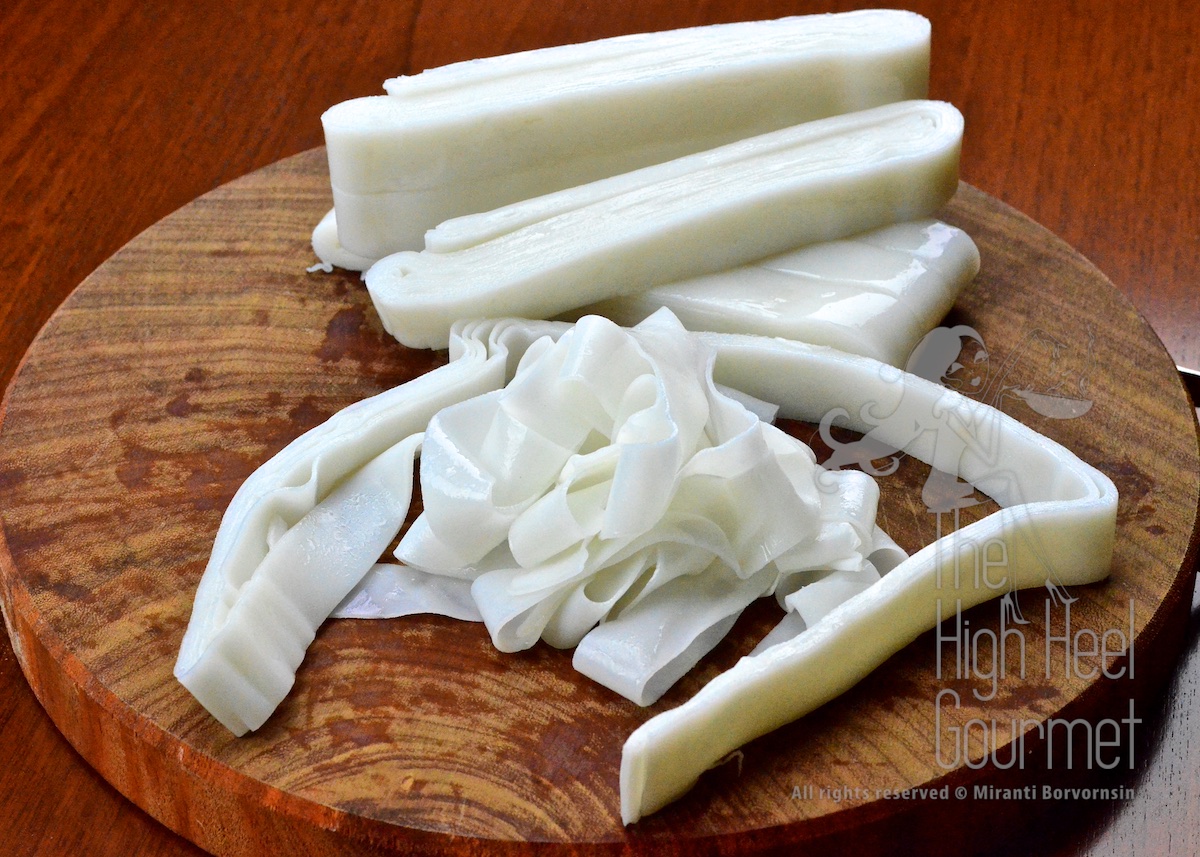 These are the noodles made with rice and tapioca flour. They have been mixed with water, then steamed to cook and greased with oil to prevent sticking to each other while they stack them like this before they are packed in a bag and sold to you at the Asian market.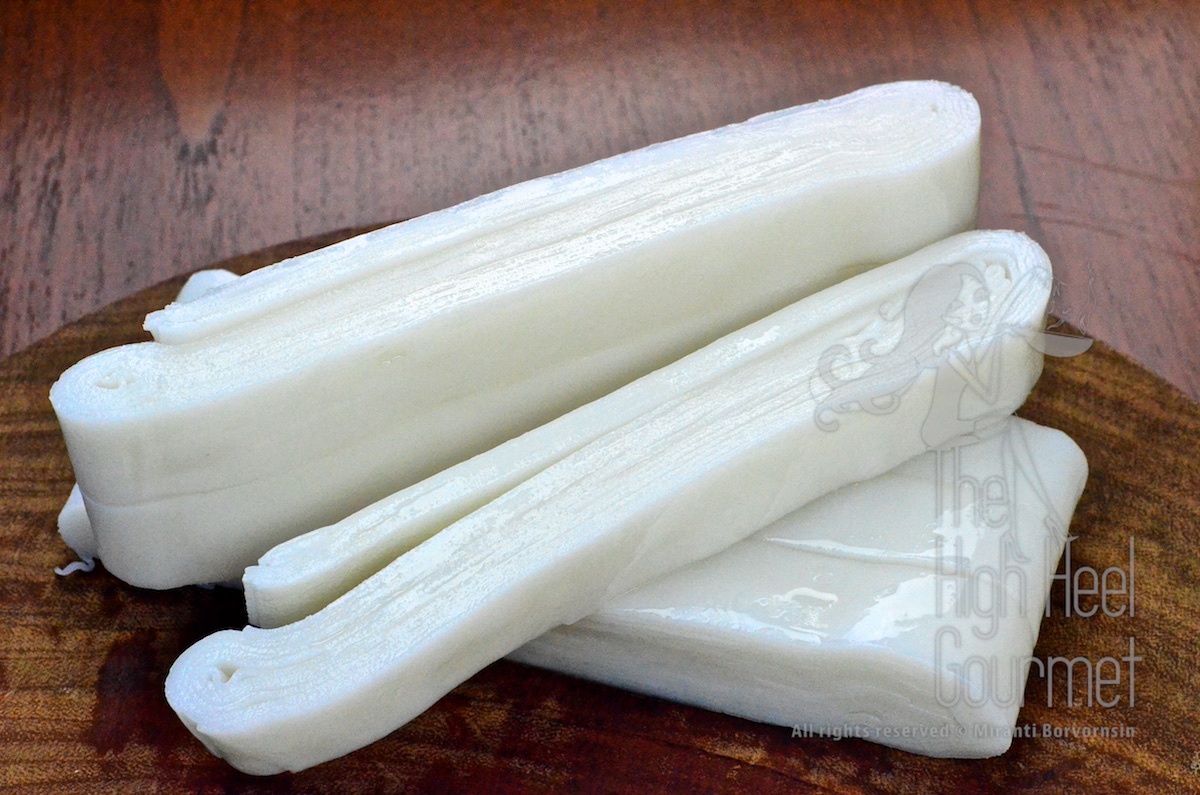 What do you need to do? Of course, separating them is a must.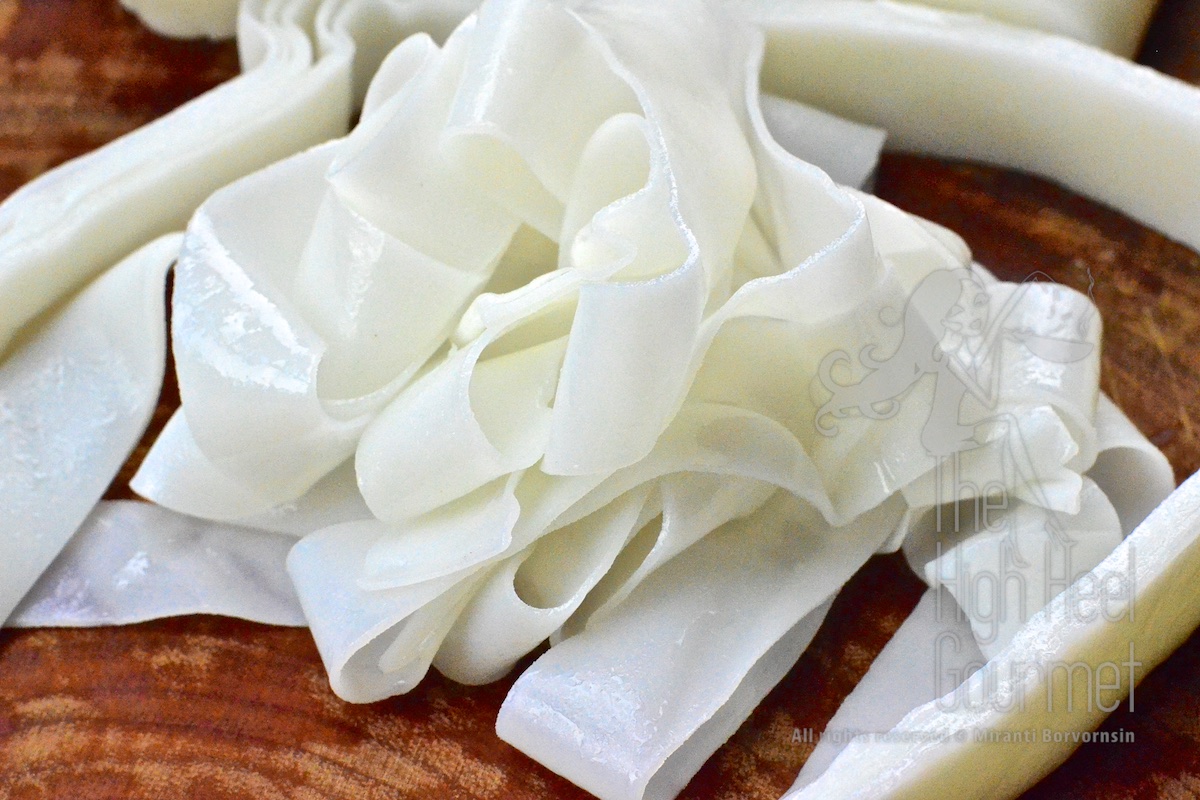 You will have to peel them apart, which is not difficult, before you use them, or else you will get the whole stack stuck to together, which is not pleasant to eat.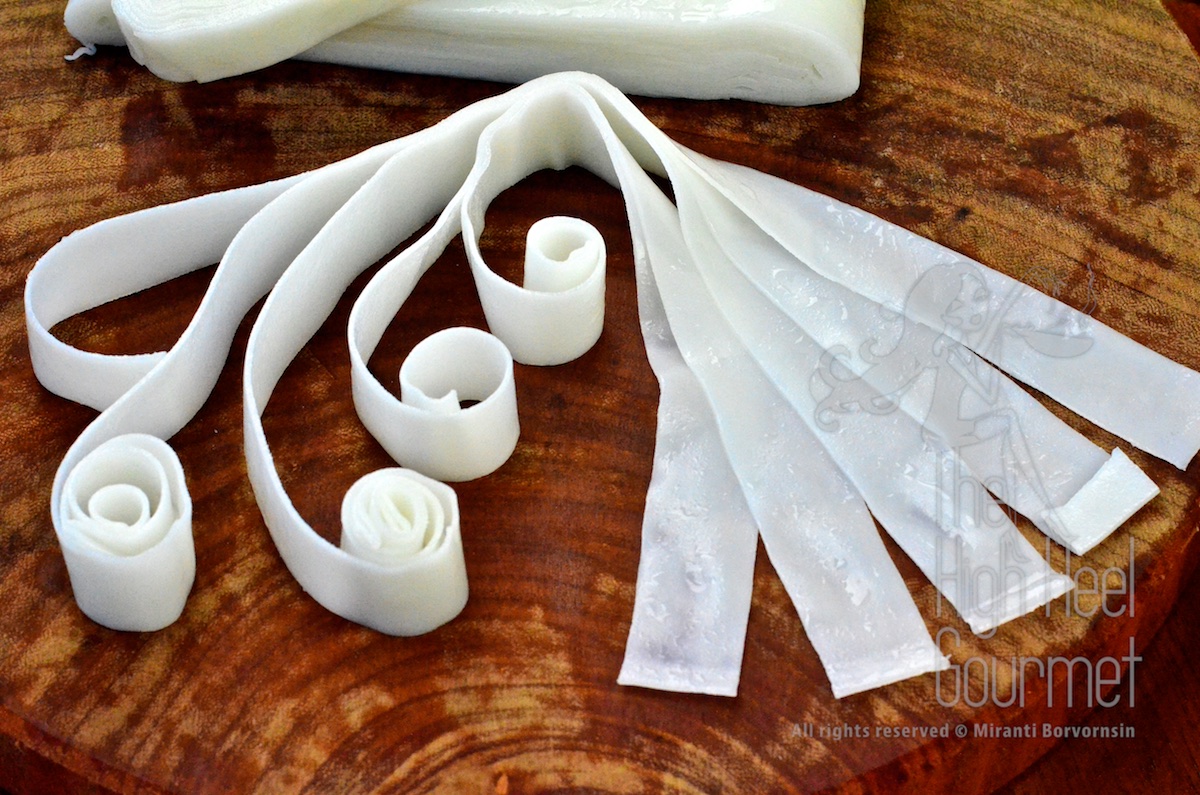 This is the same noodle I used for Pad See Ew, Pad Kee Mao, the drunken noodles, and in the future I will give you more recipes that use these noodles: Guay Tiew Rad Nah – the rice noodles with meat, chinese broccoli and gravy sauce, Guay Tiew Neau Sub – noodles with ground beef and curry powder, Cha Guay Tiew – noodles stir fried with many ingredients Singapore and Malaysian style, Guay Tiew Kua Gai – noodles stir-fried with chicken, and much more.
Do I need to tell you that this is my favorite type of noodle?
How do you buy and store Guay Tiew Sen Yai?
Fresh noodles are recommended. You can buy them at any Asian market.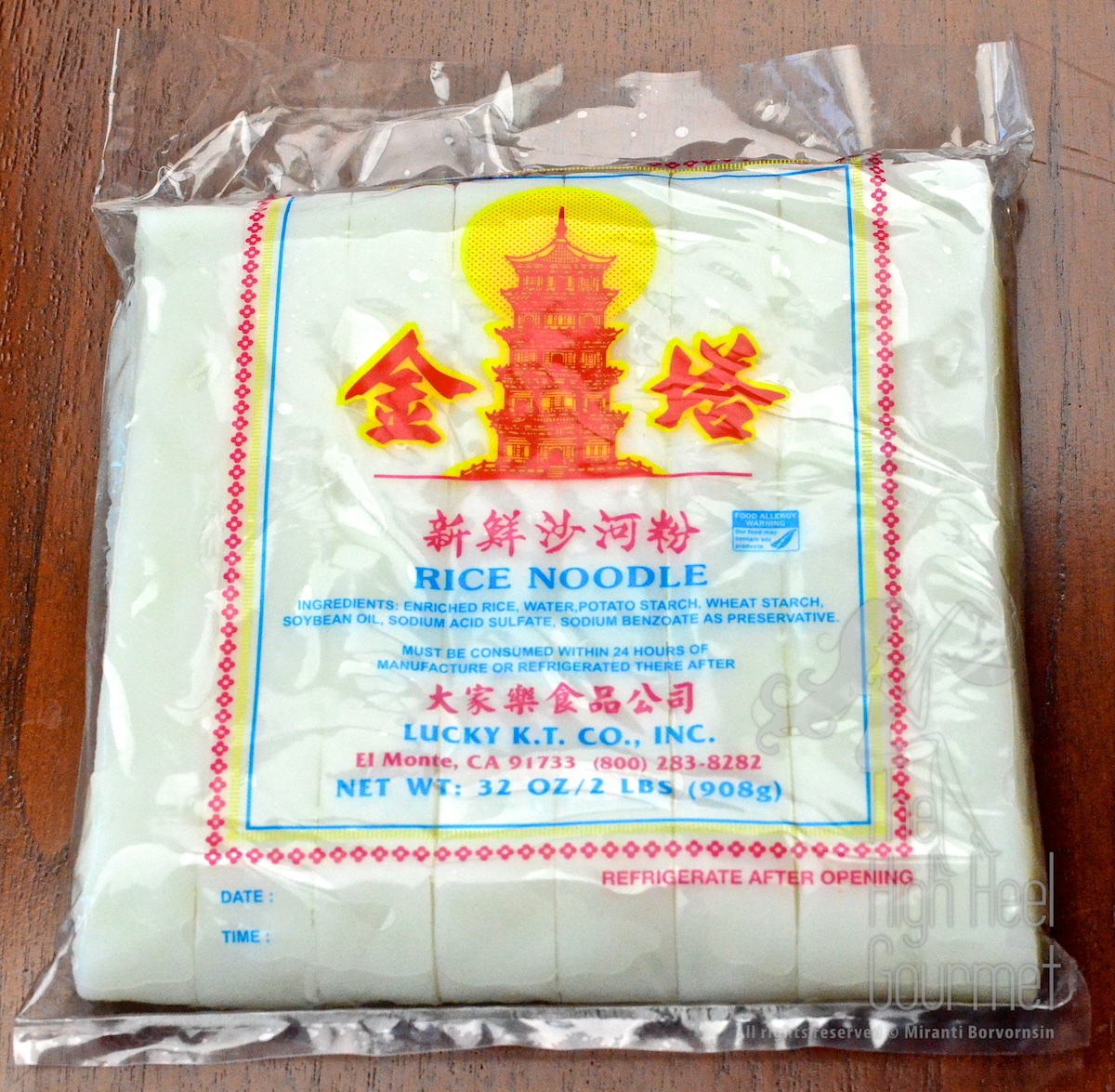 You can store them outside the refrigerator for a day or two and after that you have to store them in the fridge to keep them another week or longer. The noodles will turn in to a hard brick once you put them in the fridge. You'll need to pop them in the microwave for a minute or two or steam them again for another 5 minutes to soften them up before peeling them apart. If you don't warm them up you'll end up breaking them in pieces. Not good.
You can also buy the dry ones, too. I don't use them at all because I can always find the fresh ones. The dry ones need to be soaked in water (room temp) for a while before they can be used.
I can also give you a recipe to make your own fresh noodles. If you care to know, ask me.
1.2) Sen Lek (Sen=noodles, Lek=small), the small rice noodles about the size of linguini. This kind is sometimes called Sen Chan or Guay Tiew Chantaburi, and also rice sticks.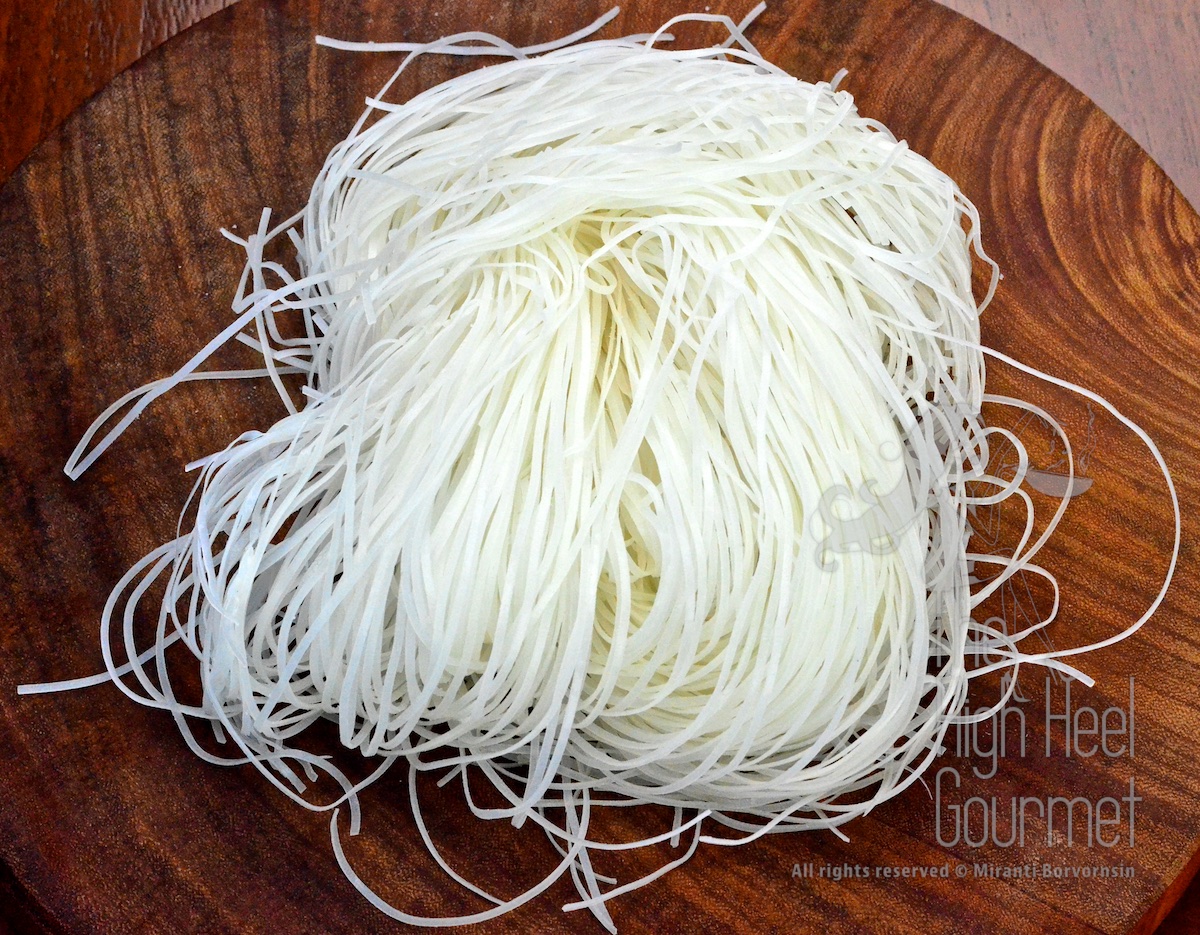 These are also cooked rice noodles that have been dried partially before being packed in a bag for sale as fresh rice noodles. These noodles are more stretchy and chewy than Sen Yai. I used Sen Lek in my posts for Pad Thai and Sen Chan Pad Pu (Easy Pad Thai). You've probably seen them in Pho, the Vietnamese noodles soup too.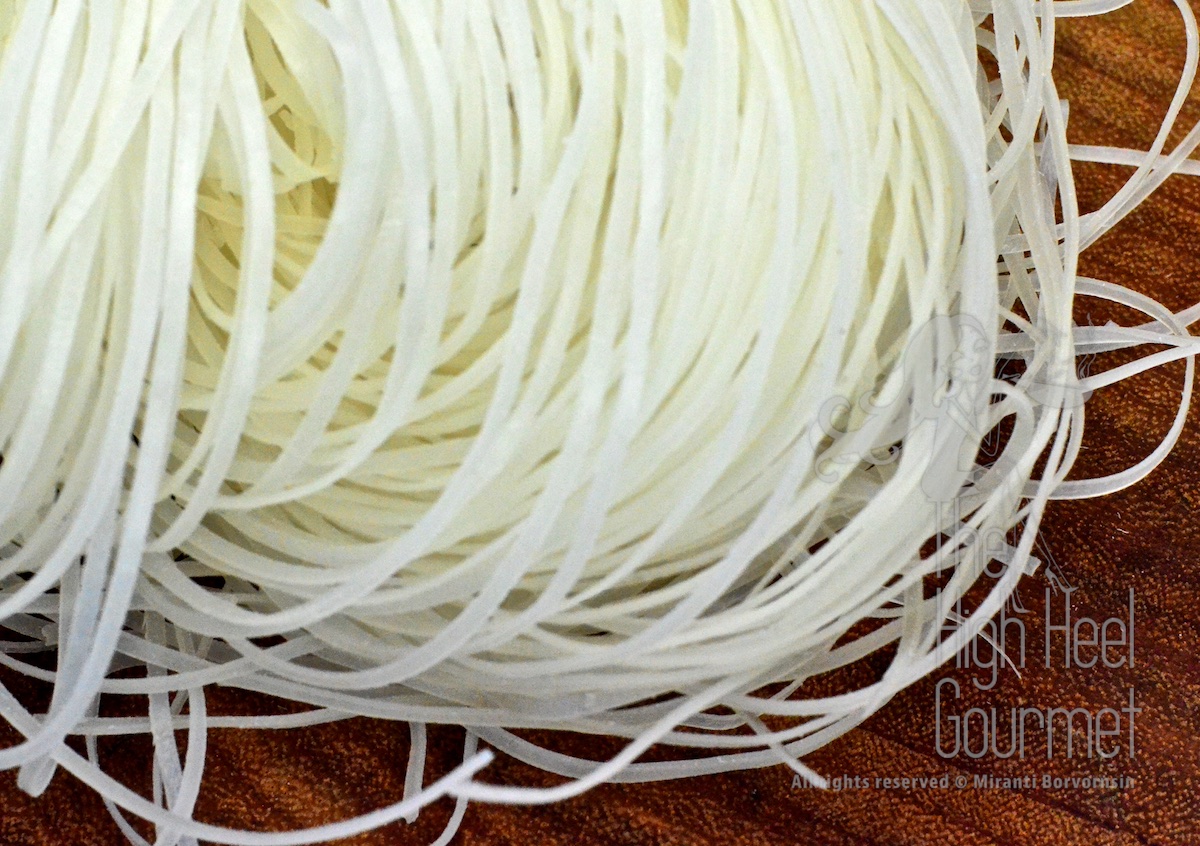 Sen Lek are also available both fresh and dried. I don't object to the dried Sen Lek as much as dried Sen Yai because their quality and texture doesn't deteriorate as much. You can buy dried Sen Lek if you can't find fresh ones and just soak them in water before use. Where to buy Sen Lek? Same place as Sen Yai, an Asian market. This is the same brand and usually they store them in the fridge.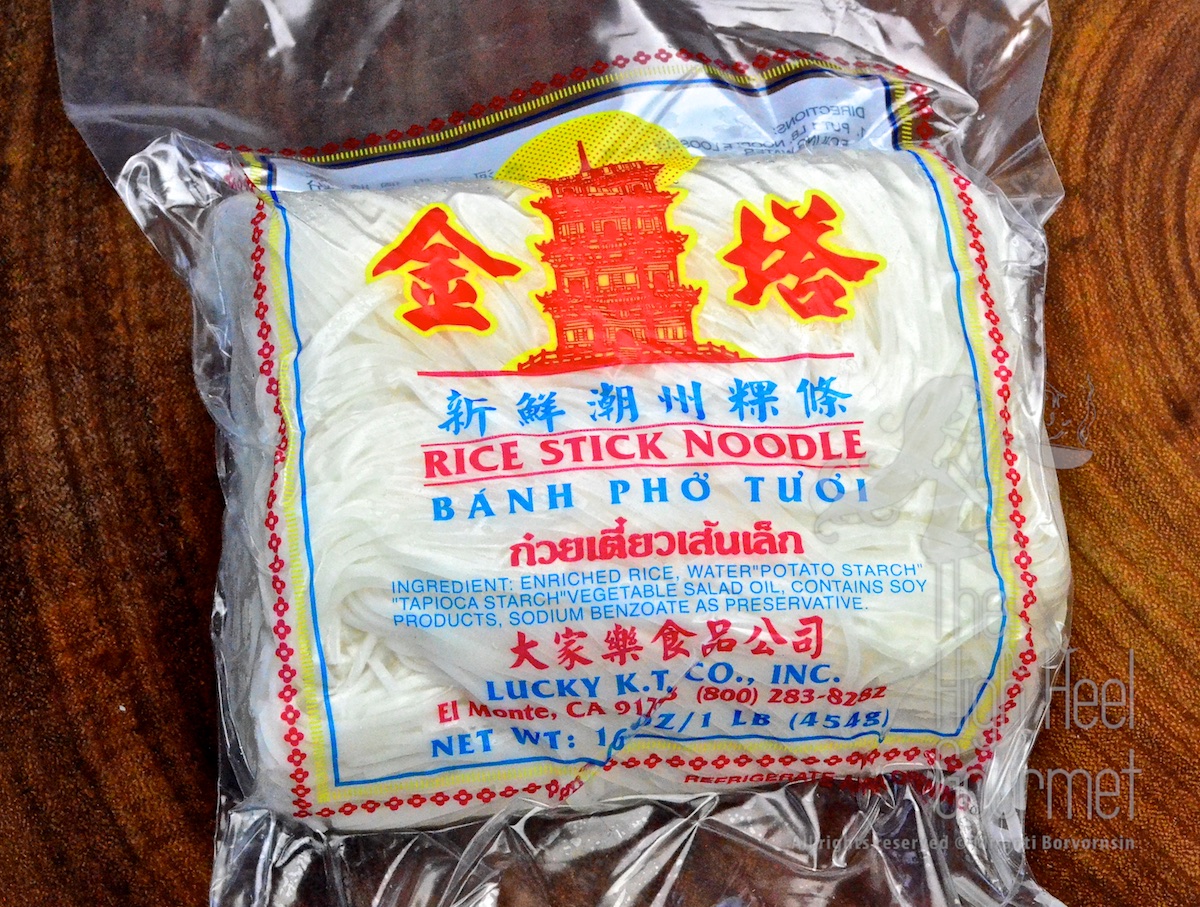 You should store these in the fridge. They can be stored up to a month or longer. Before use, just see if the noodles have some moldy spots. If you know you are not going to use them for a long time, you can dry them out and store the dried Sen Lek outside the refrigerator.
1.3) Sen Mee, the rice vermicelli. This is a very, very thin rice noodle that makes angels feel like their hair is too rough and coarse. They are so fine and the texture is so delicate. These are the noodles that I use to make Mee Krob and Mee Kra Ti (Those are two very popular Thai dishes among foreigners. Please remind me to share those recipes here in the future in case I forget).
These are also called Mee Hoon or Bi Hun in Malaysia, Singapore and Indonesia. I think in Hong Kong they call this type of vermicelli Singapore noodles. (Please advise if I'm wrong here. I'm not so sure about it since I don't speak Chinese.)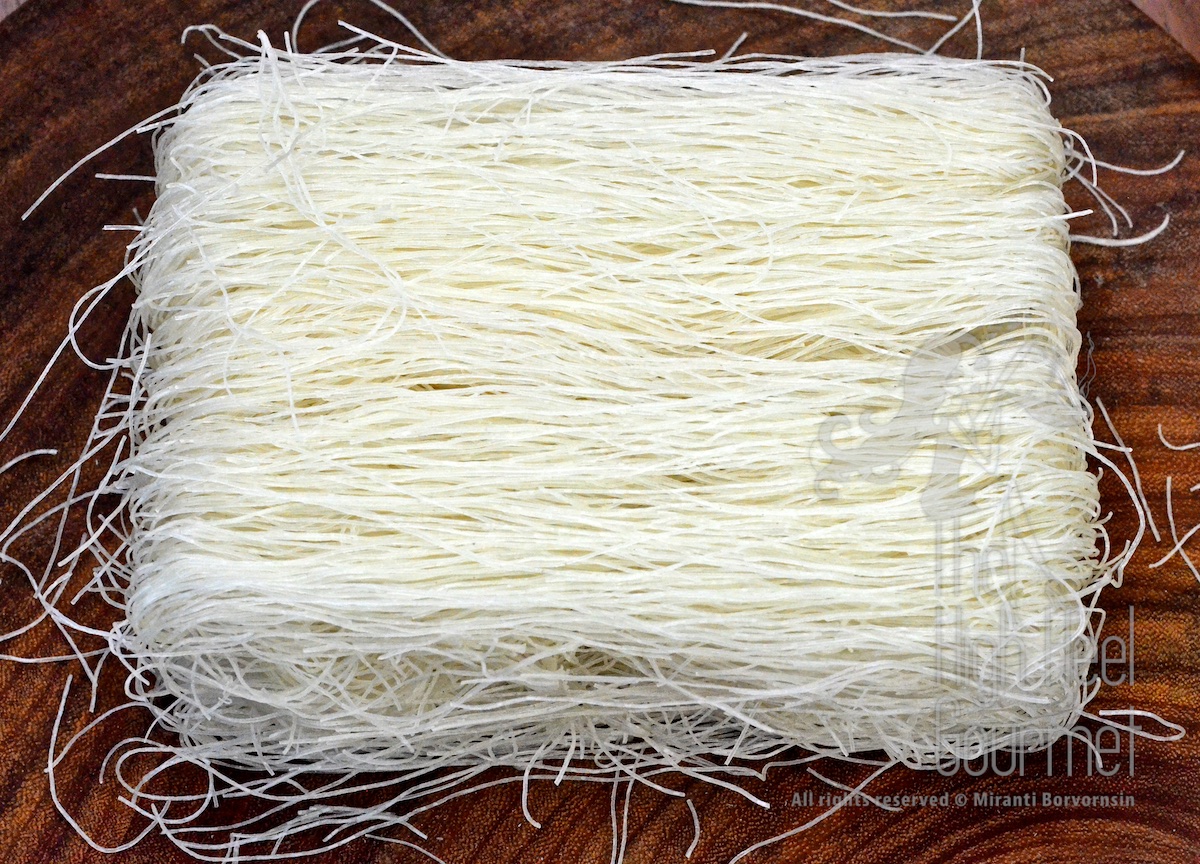 They are white, fine and delicious. This type is not my favorite, but that's just me. My sister loves Sen Mee so much. Sen Mee don't come fresh, but always in a dried form. I like the brand Wai Wai the best because I've eaten this brand since I was a kid. Noooooo, not because the manufacturing company just happens to belong to my friend's family, not at all…(I can't be lying through my teeth when I didn't "say" the words past my teeth, I typed them).
I really am telling you the brand I prefer. (Again if they're weren't good, they wouldn't be able to sell Sen Mee all over the country and all over Asia, right?) I BUY my Sen Mee from the store, too; No one gives them to me for free or anything.
Anyhow, you have to soak the vermicelli in water before you use them.
1.4) Ba Mee, the egg wheat noodles. I am introducing the first wheat noodles here. Do not get confused between Sen Mee and Ba Mee. Ba Mee is the Chinese egg noodle, so they appear to be yellow, either by food coloring or by egg yolk. I gave you the recipe of fresh egg noodles here in the past, if you want to make the fresh ones.
If you don't want to make them fresh, you can buy them from the Chinese market.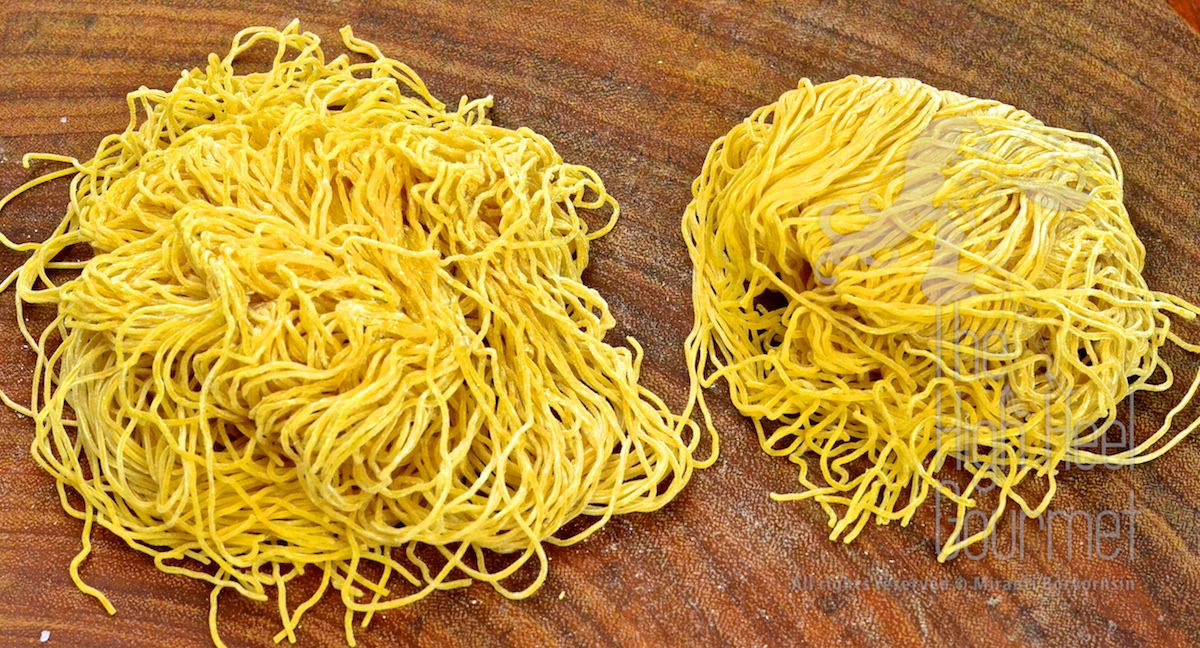 I also don't like the dried ones because they seem to lose their stretchy and chewy properties once they're dried.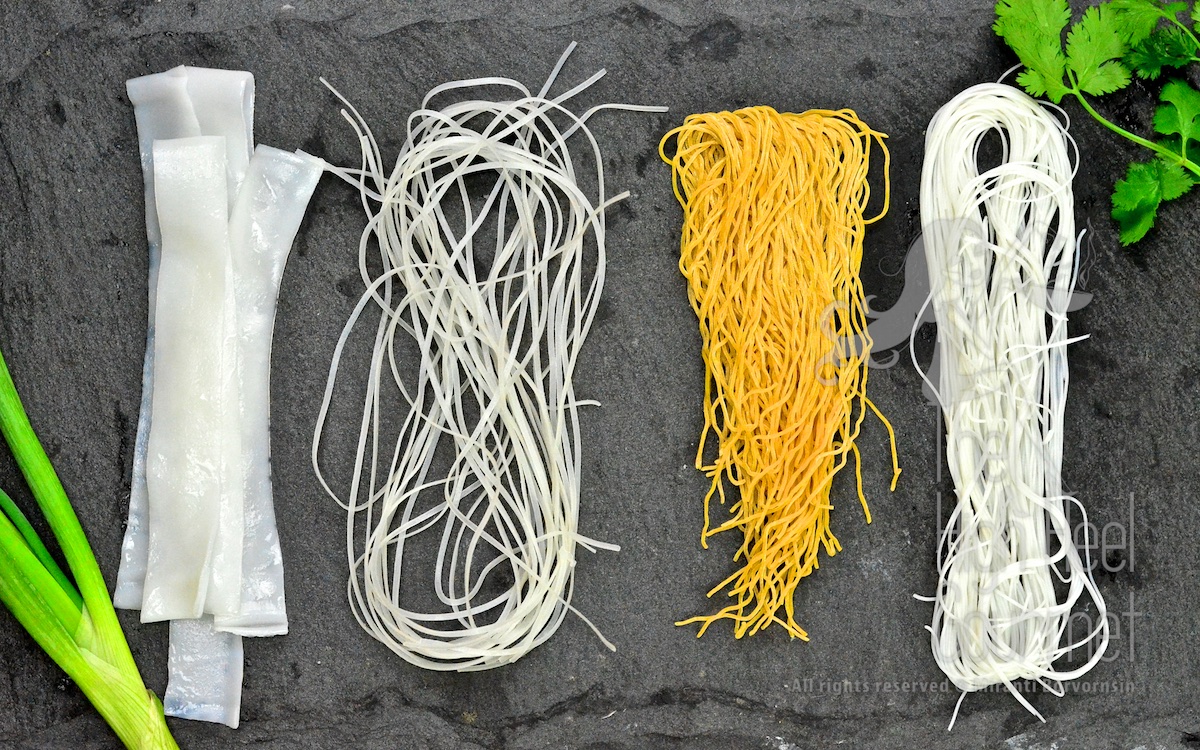 These four are the staple noodles in the Thai noodles market. The rest of them here are not as popular, but since I'm going to write about all kind of noodles, I might as well list them all here.
1.5) Woon Sen, the cellophane noodles made from mung bean flour, are also another popular choice. I have a recipe for Yum Woon Sen, or cellophane noodle salad, here and in the near future I will have more recipes. You can use Woon Sen to make Pad Thai too. It's delicious.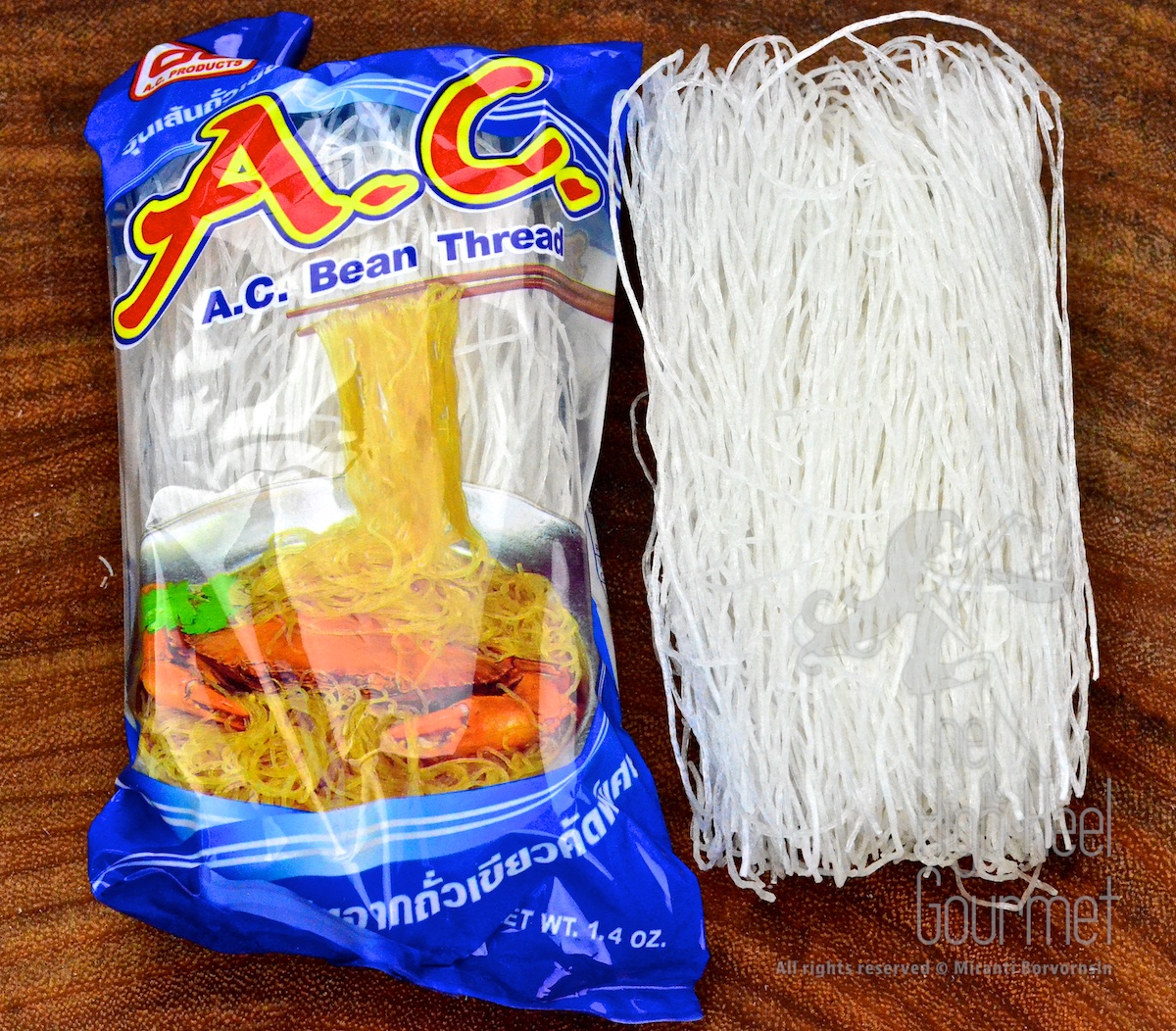 Cellophane noodles also don't come in fresh form. They're always dried and packed in a bag. You have to soak them in water before use.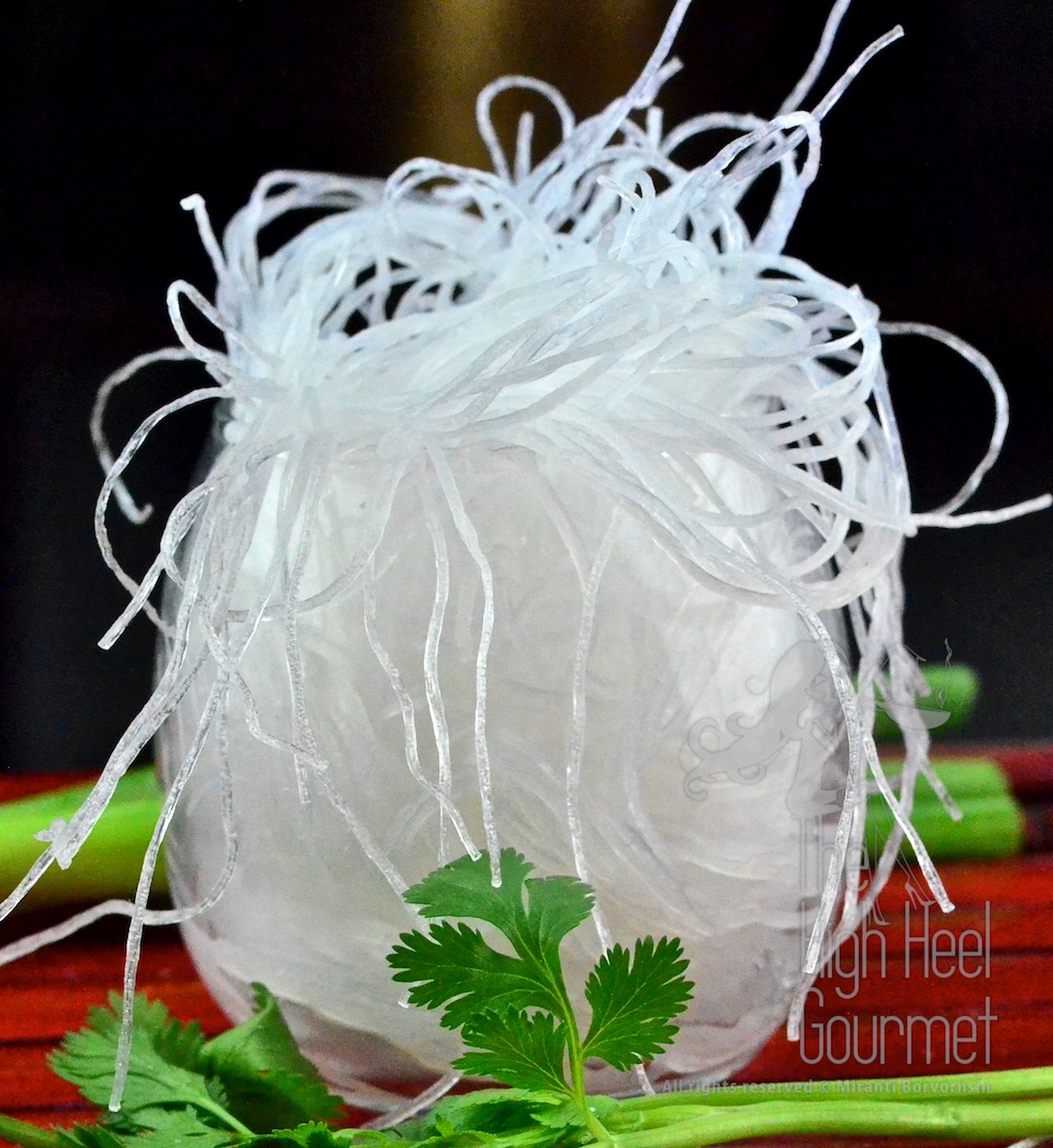 1.6) Guay Jub, the rolled rice chips or rice flake sheets, is another rice noodle that is rolled together in a tight tube.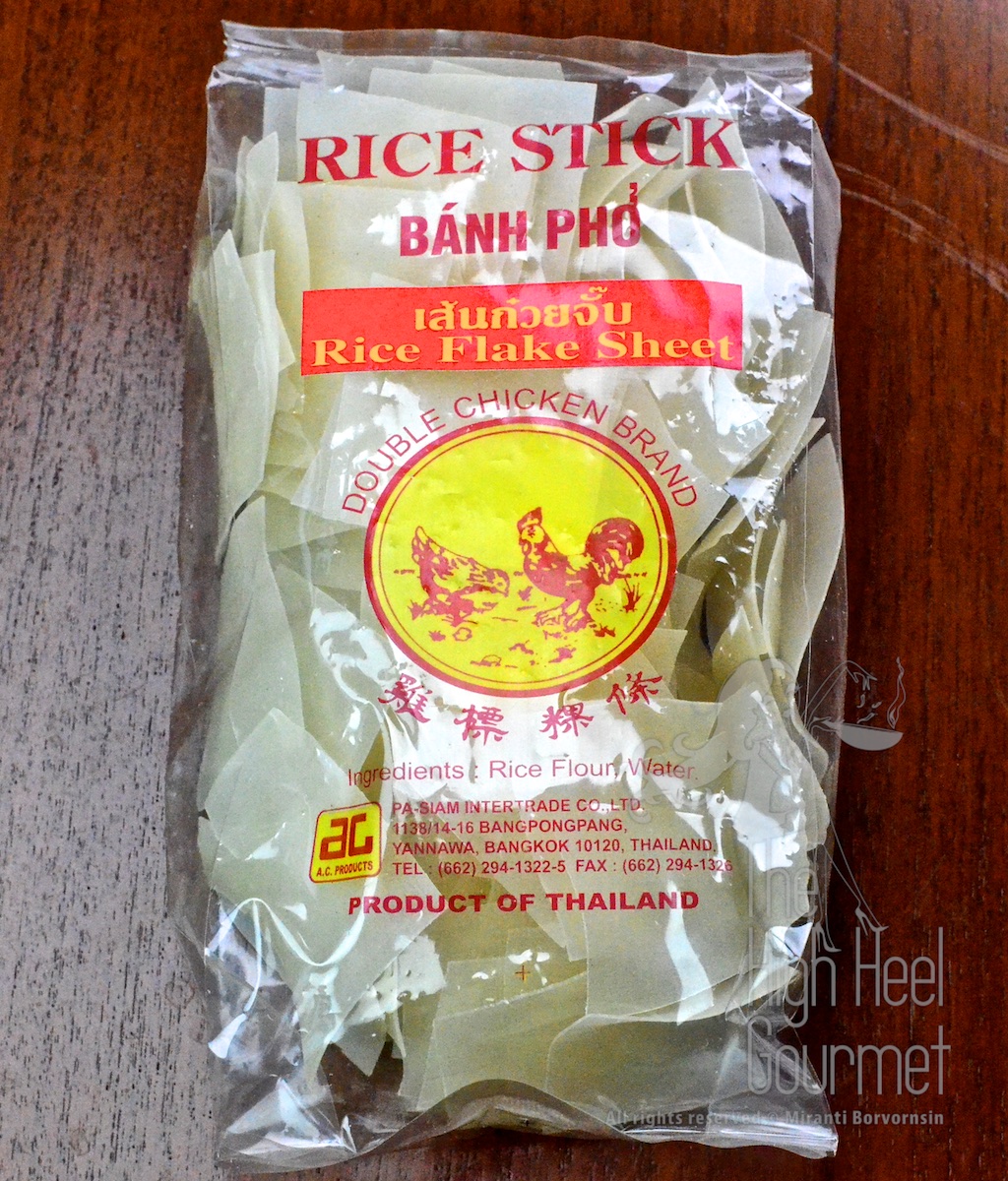 When you buy the noodles they look like chips, but once you boil them, they will get rolled in together. This type of noodles would be served with two types of soups in Thailand. One is a clear broth, and  another one is a dark soup filled with Chinese spices.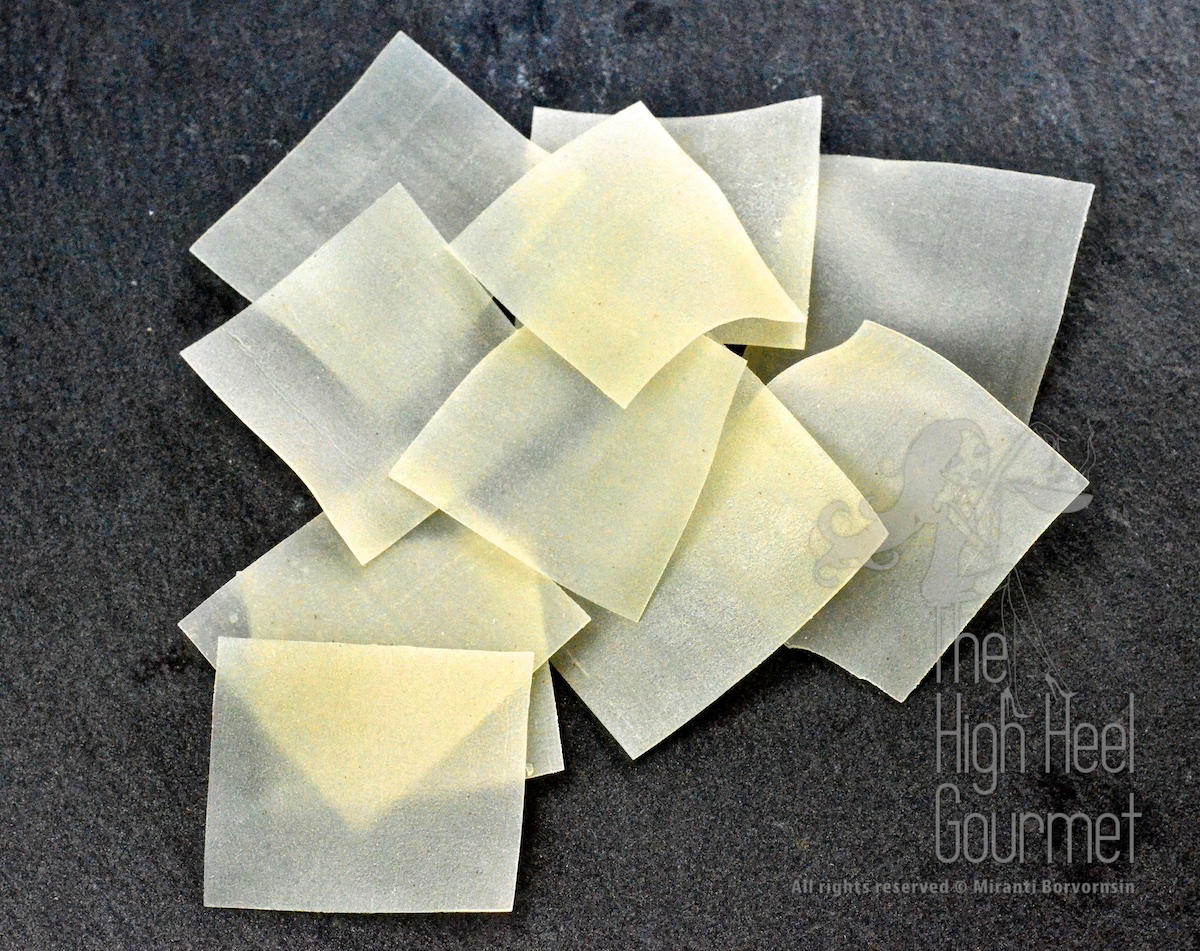 I'll show you photos of this type of noodles in cooked form when I get around to the recipe. 1.7) Giam Ee noodles, the rice pin noodles, are rice noodles that have a diameter about 1/4", round, are short, about 2" long, with pointed tips on both ends.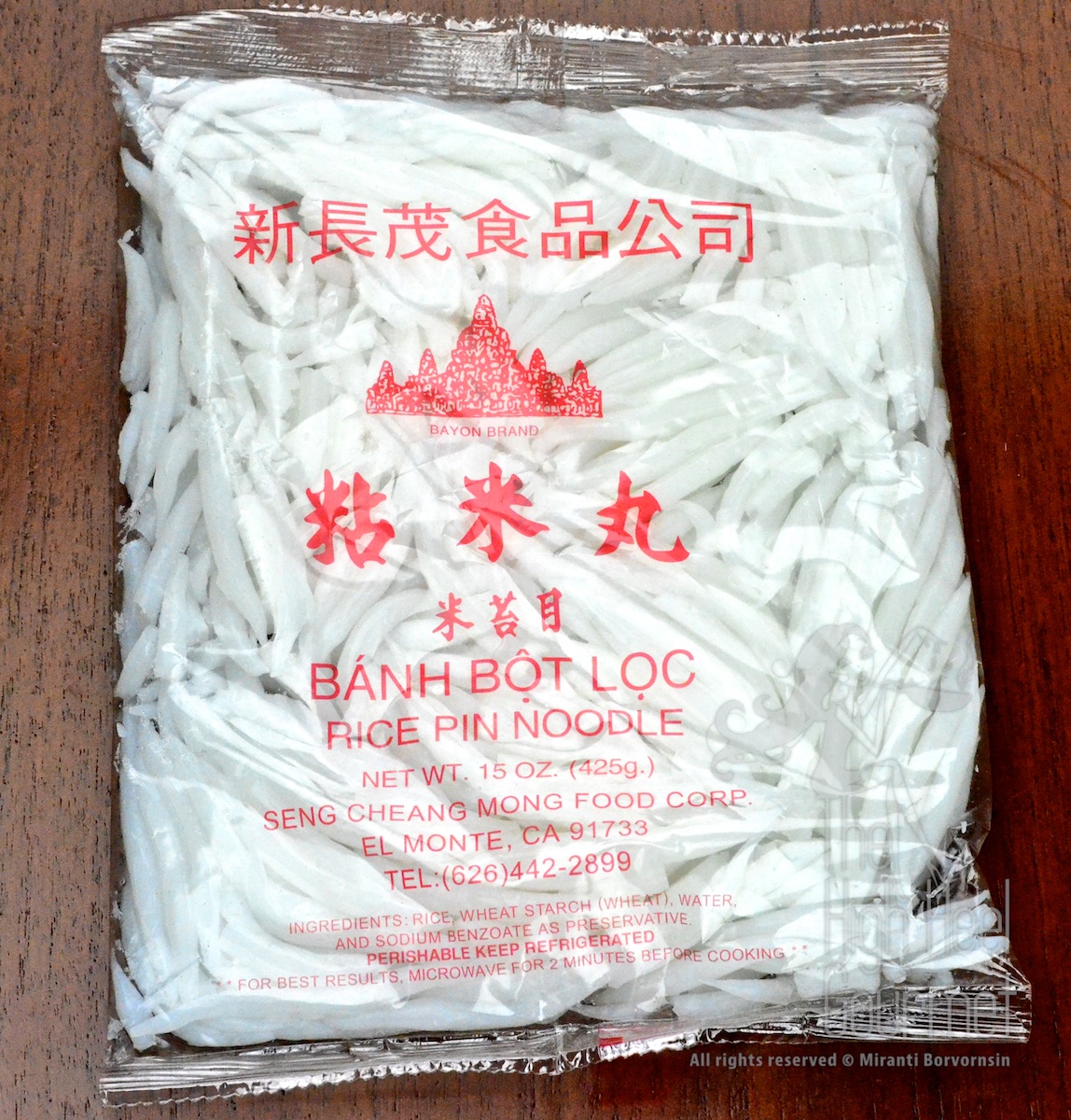 This is really a unique noodle but you still see it at street vendors from time to time. It's not as popular, but also not forgotten.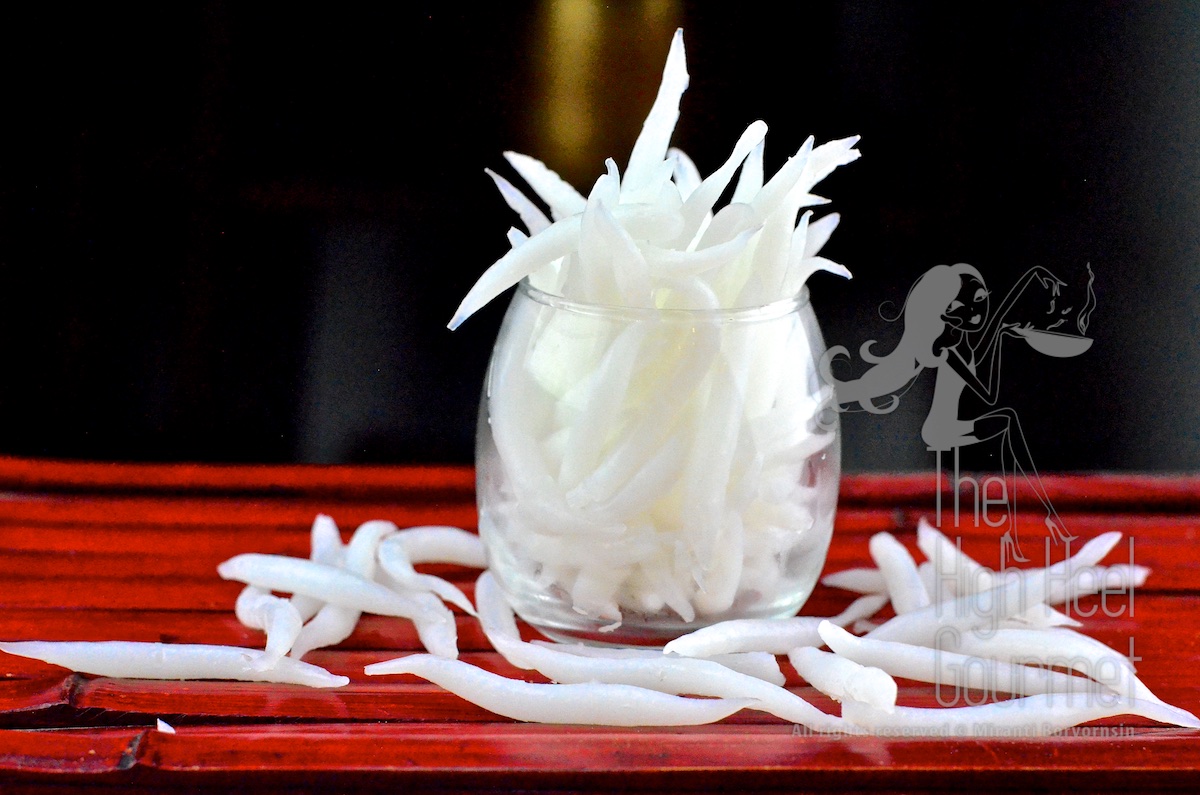 1.8) Mi Sua, the extremely thin salty wheat noodles, only eaten in the Southern part of Thailand. This type of noodle is made by pulling the dough and stretching it so, so super far until the dough comes out very thin and fine. This link is showing the picture of the factory who makes these noodles.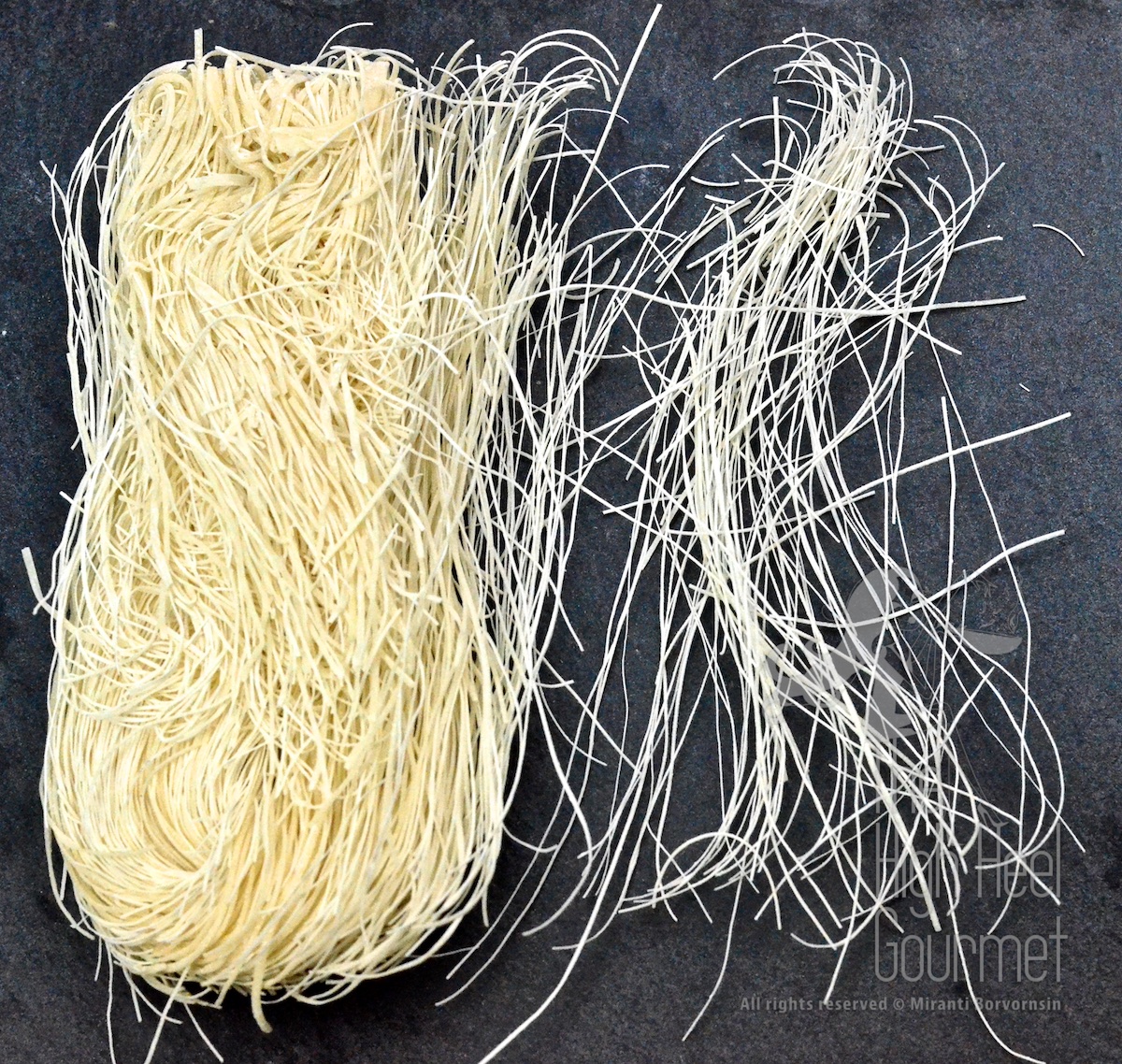 Think about how thin the Sen Mee are, and Misua are even thinner!
1.9) Kanom Jeen; I think I've mentioned all of the noodles that we use in Guay Tiew, but I don't want to omit these rice noodles even though we don't normally eat them in the category of Guay Tiew, but we make a specific sauce to eat them with. I gave you a few recipes already to eat with Kanom Jeen, Kanom Jeen Sao Nam, Kanom Jeen Nam Ya Tai. You will find that people eat green curry, Kaeng Khiao Wan, with Kanom Jeen as well, or even eat them with Som Tam, the green papaya salad.
All right, now I've really completed the noodles list. You now officially know the lead characters of Thai Noodles, Guay Tiew. In the next episode I will tell you more about Krueang Guay Tiew. Sorry, you have to put up with me for another episode before I even give you any recipes.