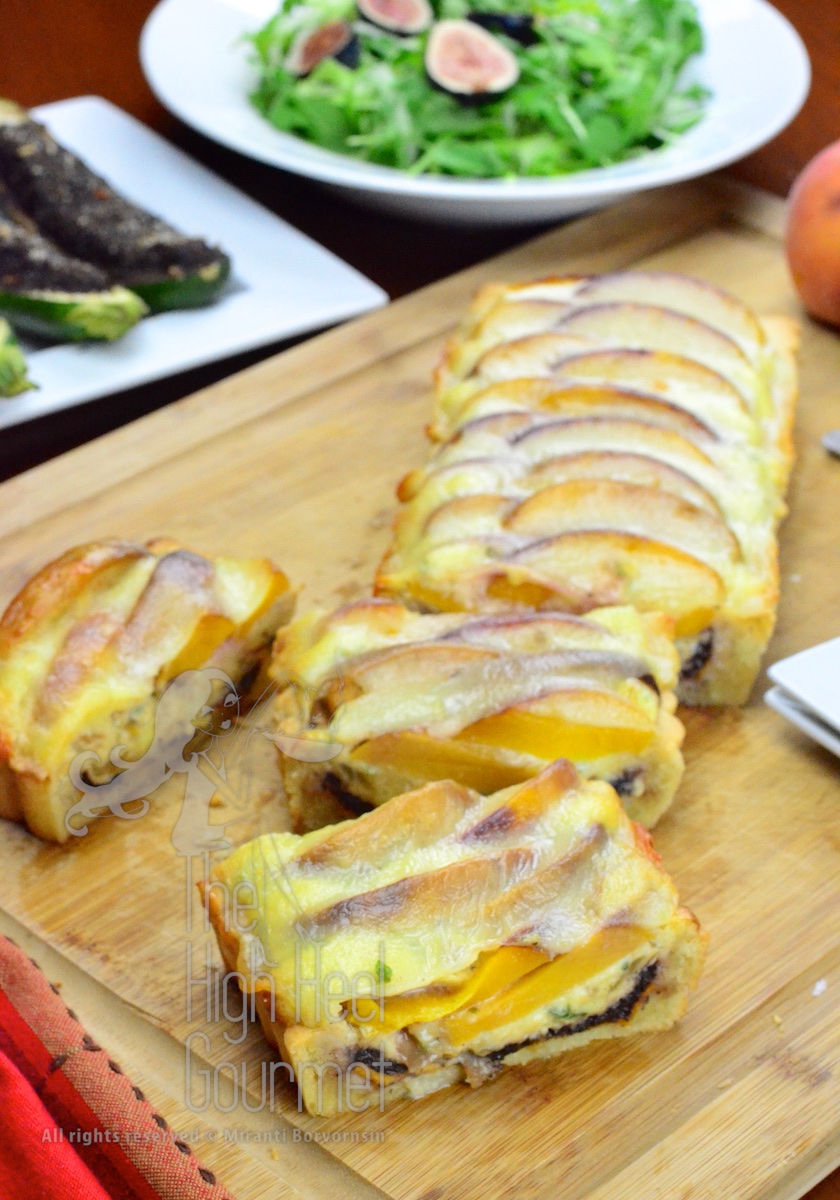 Have you ever thrown something together with the main intention of eliminating some ingredients in your refrigerator and it turned out to be an amazing creation?
Do you know what's the result?
You then have to re-stock your fridge with the stuff that you wanted to get rid off in the first place!
This is one of those incidents. I recently had a burger night for about half a dozen guests. I bought so many different kinds of cheese and fruit that we couldn't finish them in one meal, so I came up with this quiche tart, and it become a hit. I wanted to share the recipe before the fresh fruit season is over. Don't worry, I will get back to the curry and noodles and all other Thai recipes soon after this.
Okay, let's start with the ingredients.
Ingredients for the tart shell:
(You can also use my other tart shell in the tomato tart recipe here if you are allergic to almonds or don't want to use almond flour.)
Almond flour  140g
All purpose flour or cake flour  70g
Confectionary sugar (Icing sugar)  50g
Cold butter  75g
Cold jumbo size egg  1 (about 50-55g)
Salt  2g
Oil or butter to grease the tart shell
Method for the tart shell:
1) Measure all the flour, sugar, salt, and butter into a large bowl and turn on the oven at 350ºF.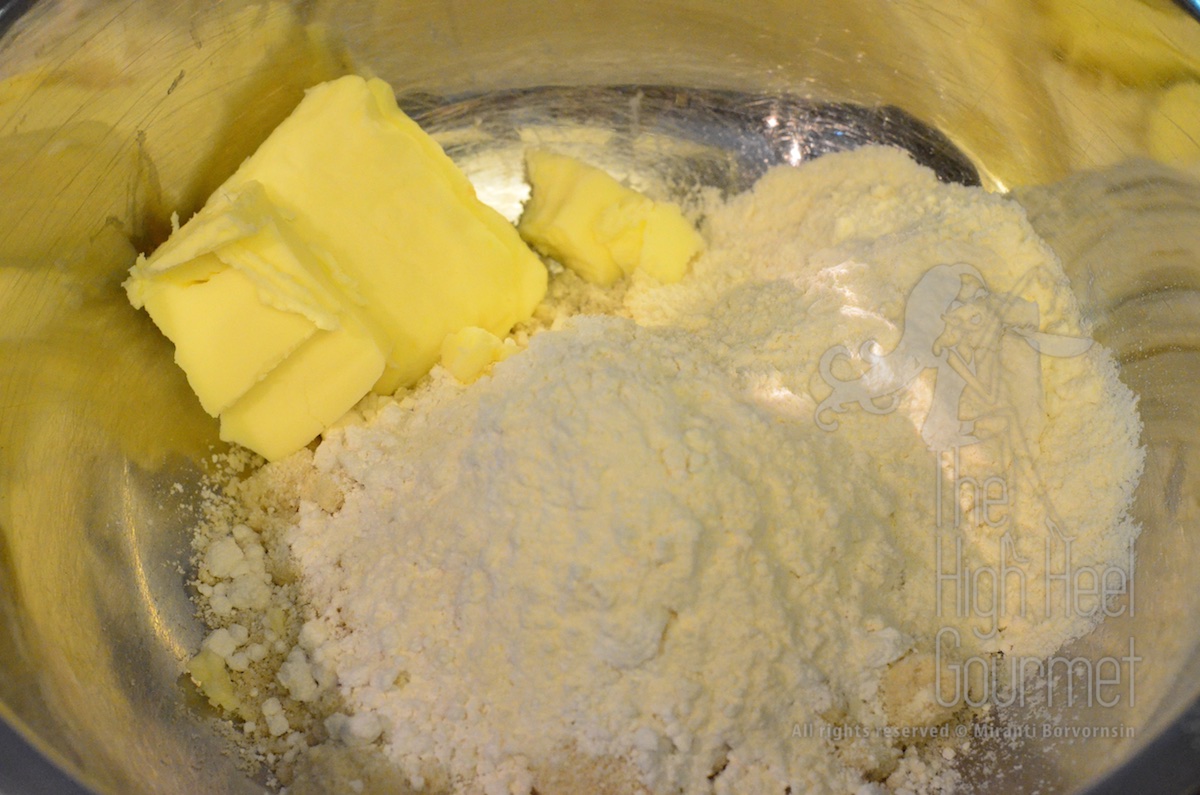 2) Use a fork, pastry blender or food processor to blend the mixture by cutting the butter in to the flour.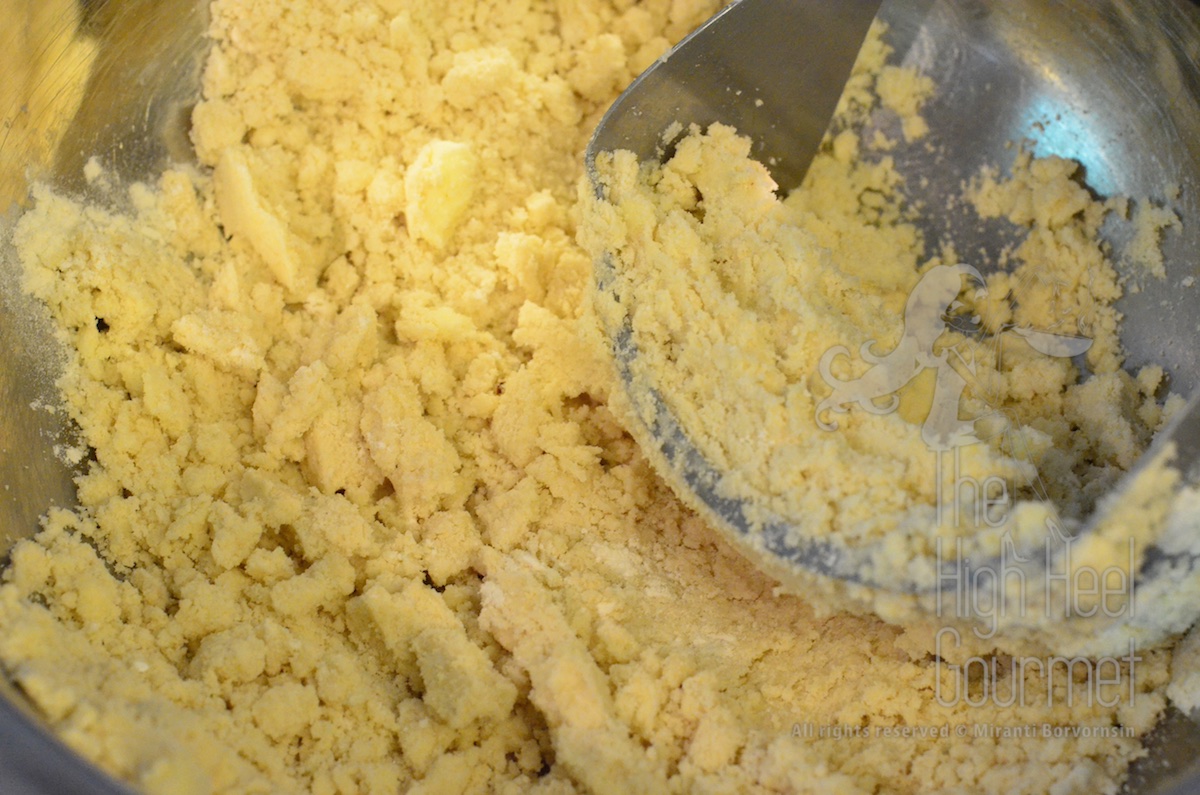 3) Once the mixture is all blended well, then you add a cold egg. Combine it with the previous mixture until it forms a ball.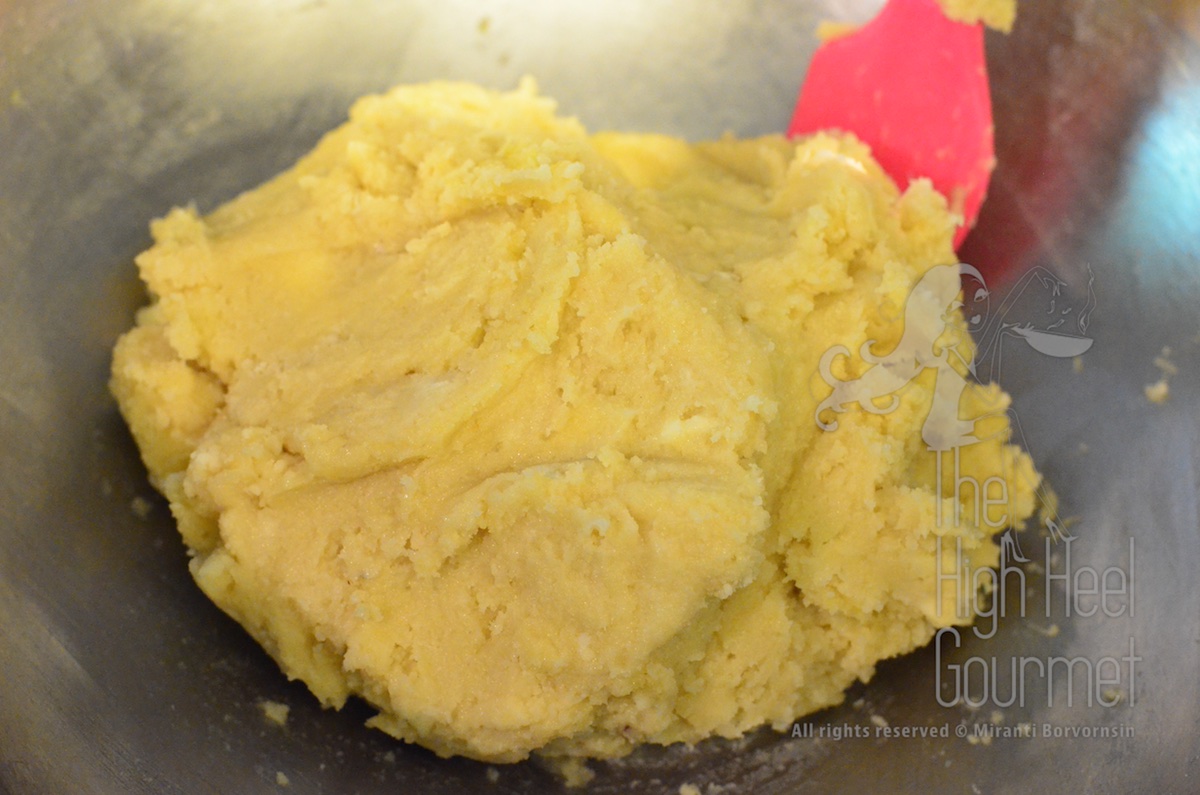 You can refrigerate the mixture if you like, but I didn't. I use almond flour to help make my tart shell flaky without having to fuss with it so much.
4) Spray the tart shell (I used an oblong one, 13-3/4"x4-1/4") with oil or brush butter on it, then evenly pat the dough onto the bottom and the sides of the tart shell.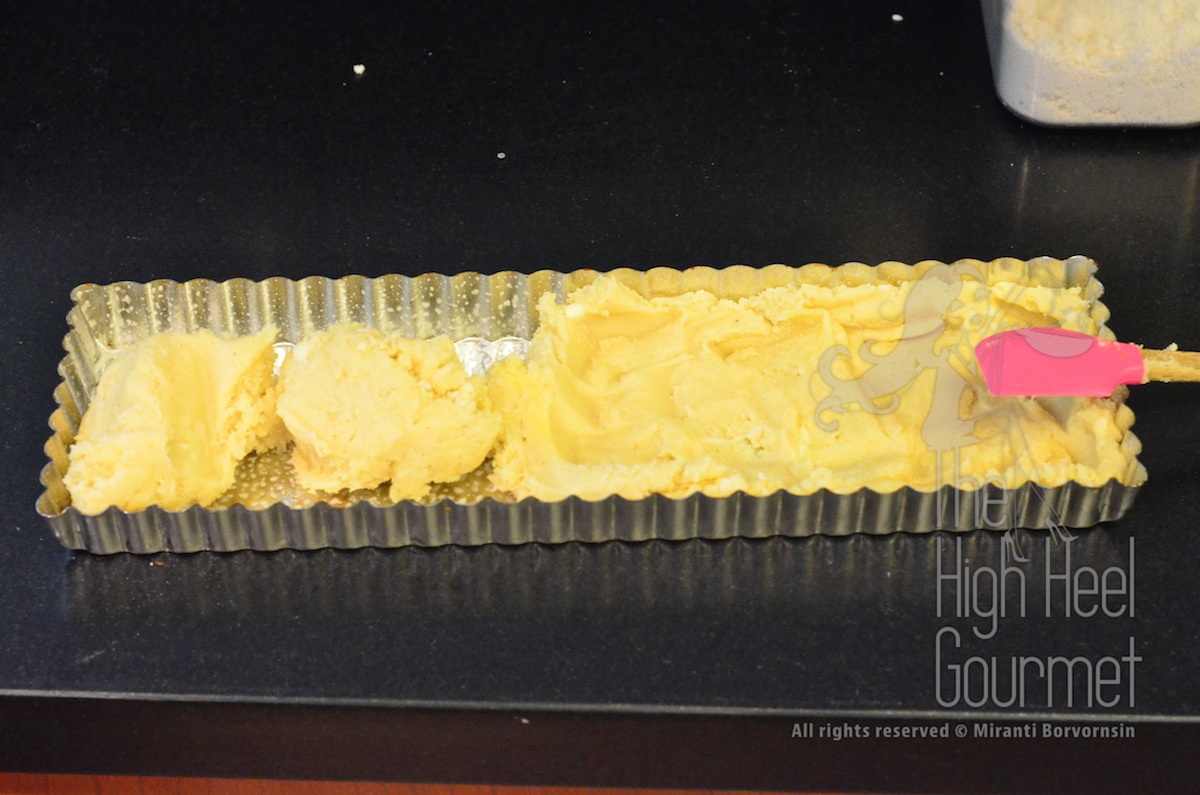 5) Lightly prick the bottom of the crust with a fork to prevent the dough from puffing up as it bakes.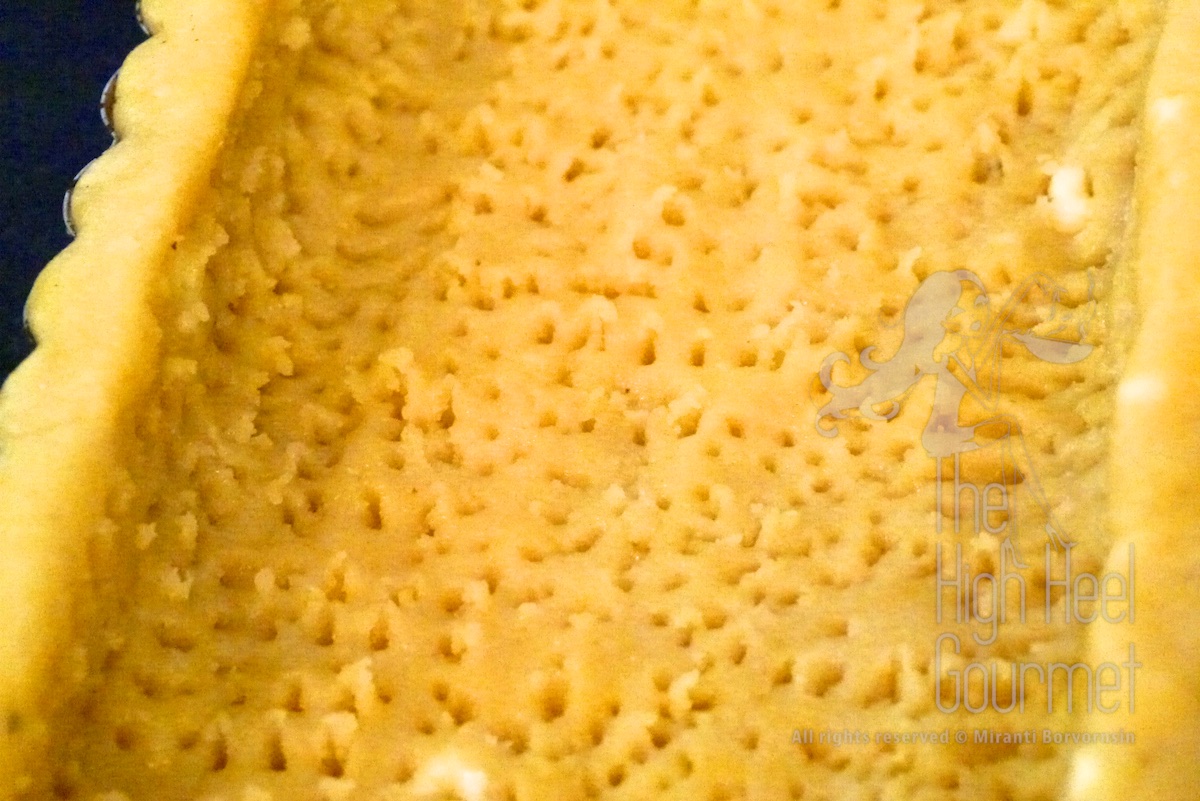 6) Bake for 20 minutes. While you're waiting for the crust, make the filling.
7) Once the crust is cooked, take it out and let it cool (you are probably in the middle of making the filling anyway,) and leave the oven on. You will need it again soon after you fill the crust. Also, you won't need to seal it with egg white or apricot glaze 😉 Wait and see my "sealing method" in the next section.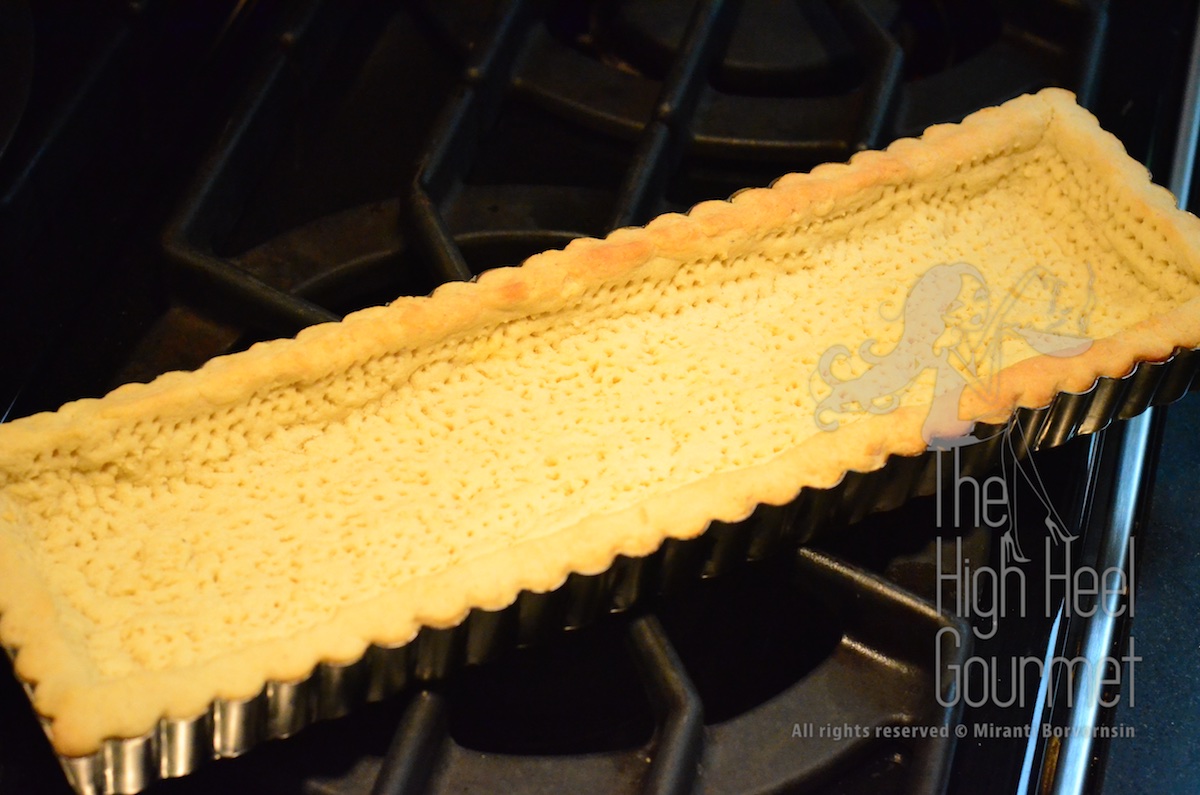 Ingredients for the filling:
American cheese, sliced (I used the organic one from Trader Joe's) 3 slices
Cream cheese  125g
Jumbo egg  2 eggs
Prosciutto  2 slices cut in to strips about 1/4" wide and no more than 1" long (total about 2 tablespoons)
Caramelized onion, roughly chopped  2 tablespoons
Crumbled or grated cheese of your choice (I used gorgonzola, smoked gouda and cheddar)  1/3 cup
Salt  1/2 teaspoon
Ground pepper  1 teaspoon
Green onion, sliced thinly (You can use other herbs of your choice too) about 2 tablespoons
Sliced provolone cheese  3 slices
Cut up fruits of your choice (I used figs and peaches last time. They both turned out so good. A friend reported using apricots and that was good, too.) 2 large peaches or 1/2 lb. of figs
Olive tapenade  2-3 tablespoons (This actually can be omitted if you don't like it, but it adds wonderful flavors to the tart. If you don't want to use this, add more salt to the cream cheese and egg mixture.)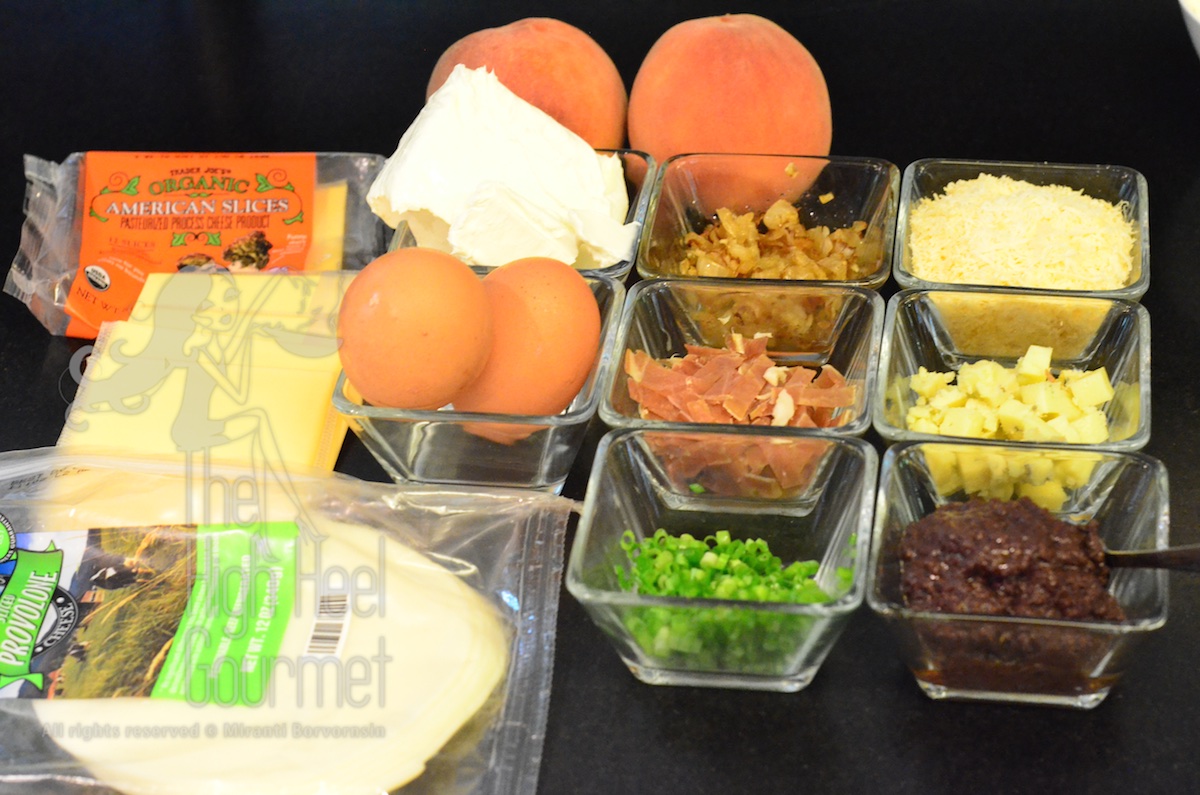 Method for the filling:
1) Start with the cream cheese, using a mixer, either handheld or KitchenAid; your choice. I used my handheld. Cream the cream cheese.
2) Add the eggs and salt and mix until well-blended. This would normally take quite a while. Don't be alarmed if it doesn't blend right away—keep mixing.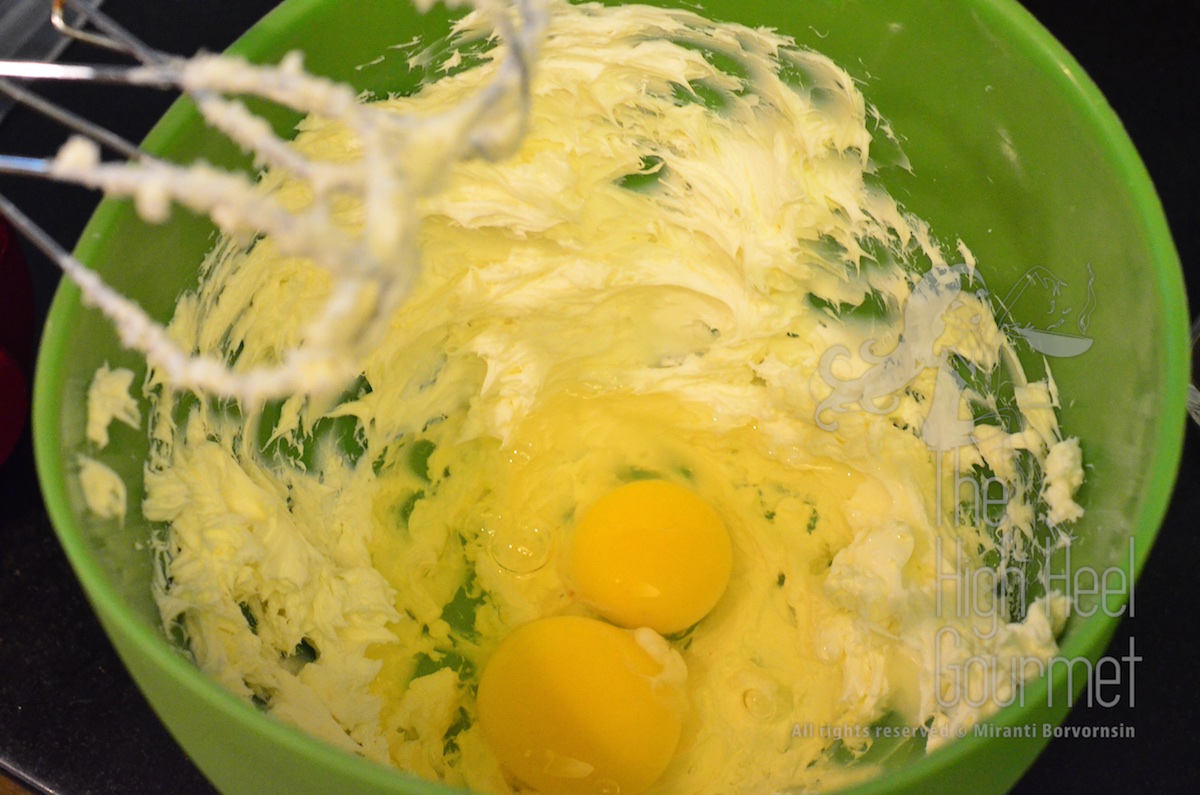 3) Once the mixture is all smooth, fluffy and creamy, then you can stop using the mixer. From now you only need a spatula. Add the prosciutto, caramelized onion, crumbed cheese or grated cheese and green onion; mix well.
4) Now you are ready to assemble the quiche. First, line the crust with American cheese slices. This is to protect the crust from the moisture in the filling. (Yes, this is my sealing method…yummy, isn't it?)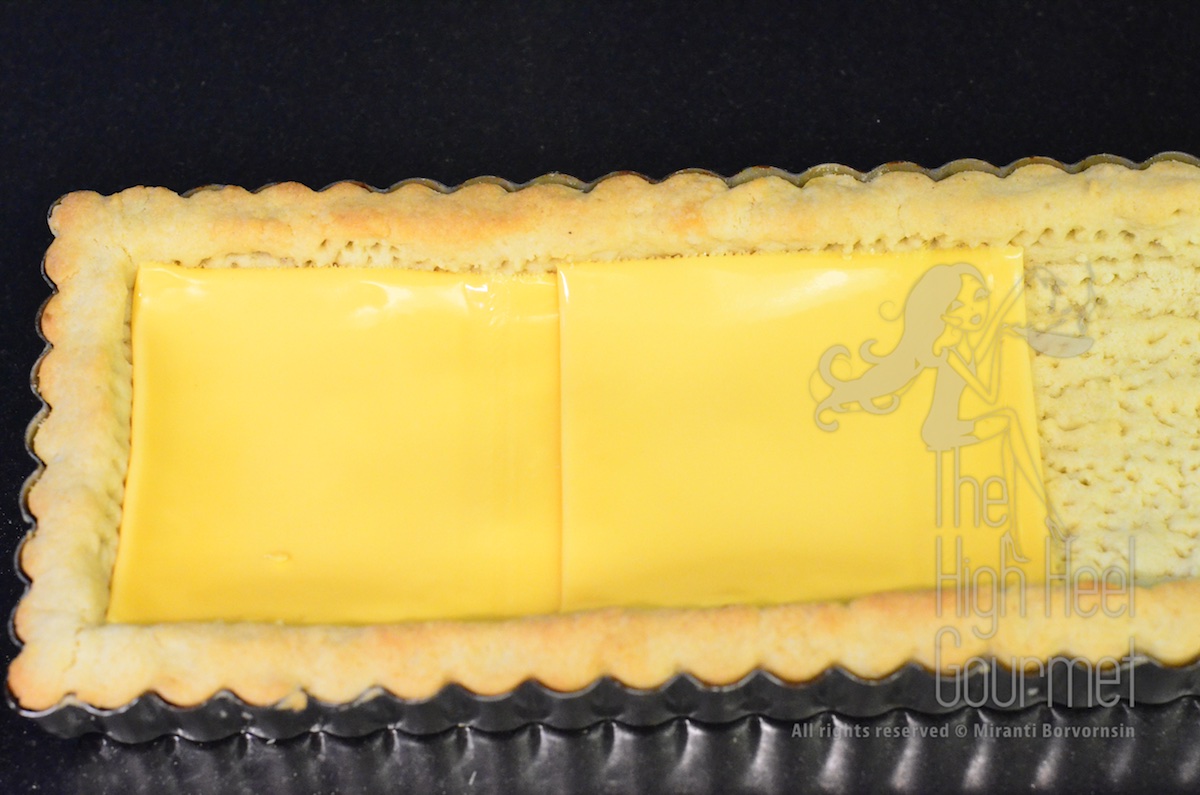 5) Spread the olive tapenade on top of the cheese slices.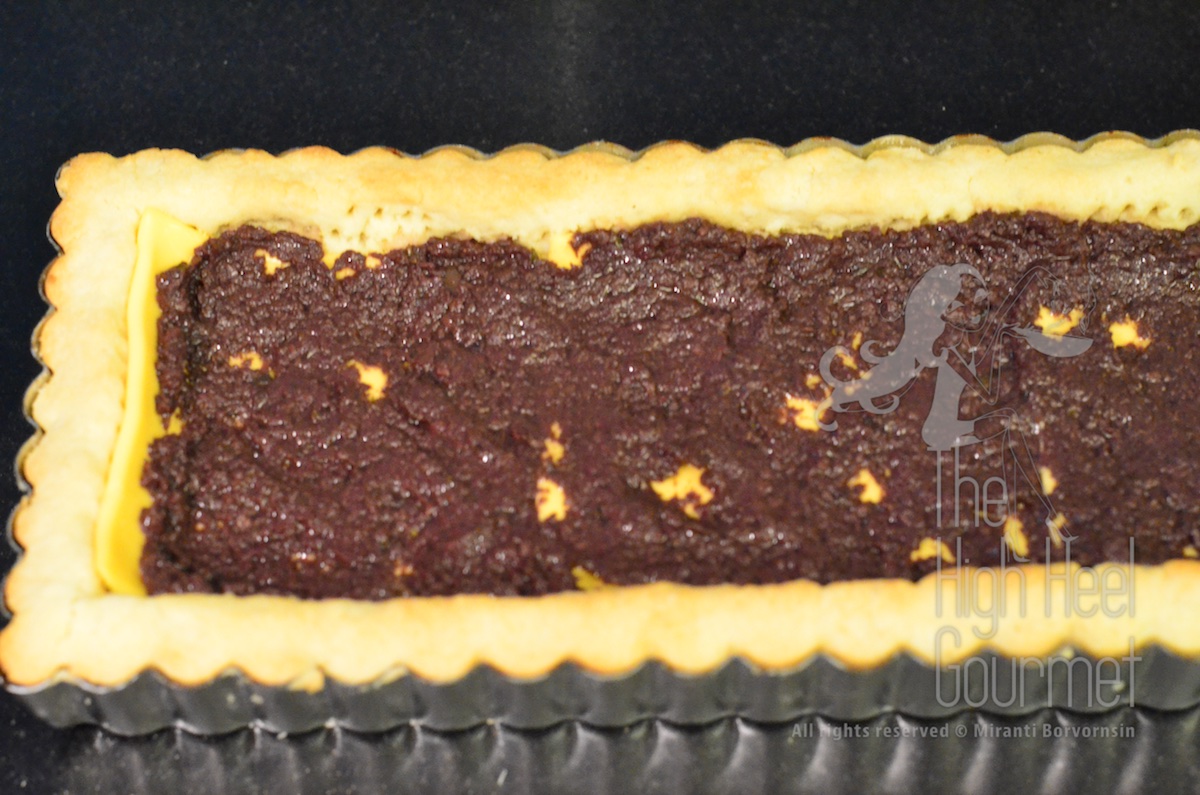 6) Put the cream cheese and eggs mixture inside the rest of the space.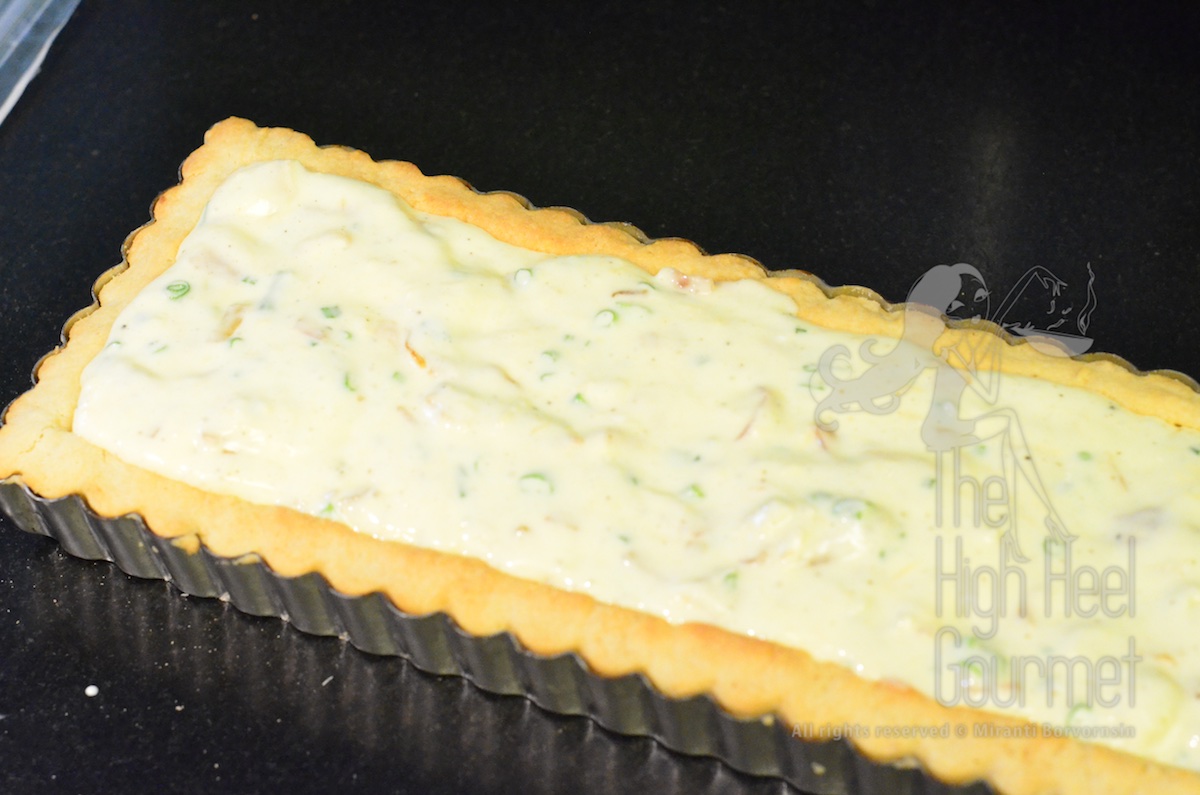 7) Put the fruit on top of the cream cheese and eggs mixture. (No, I've not forgotten about the provolone slices. Just wait, and please don't eat them while waiting!)
8) Bake at 350ºF for 30 minutes.
9) Open the oven and lay the provolone cheese slices on top of the fruit. (I hope you listened to me about NOT eating them while you waited!)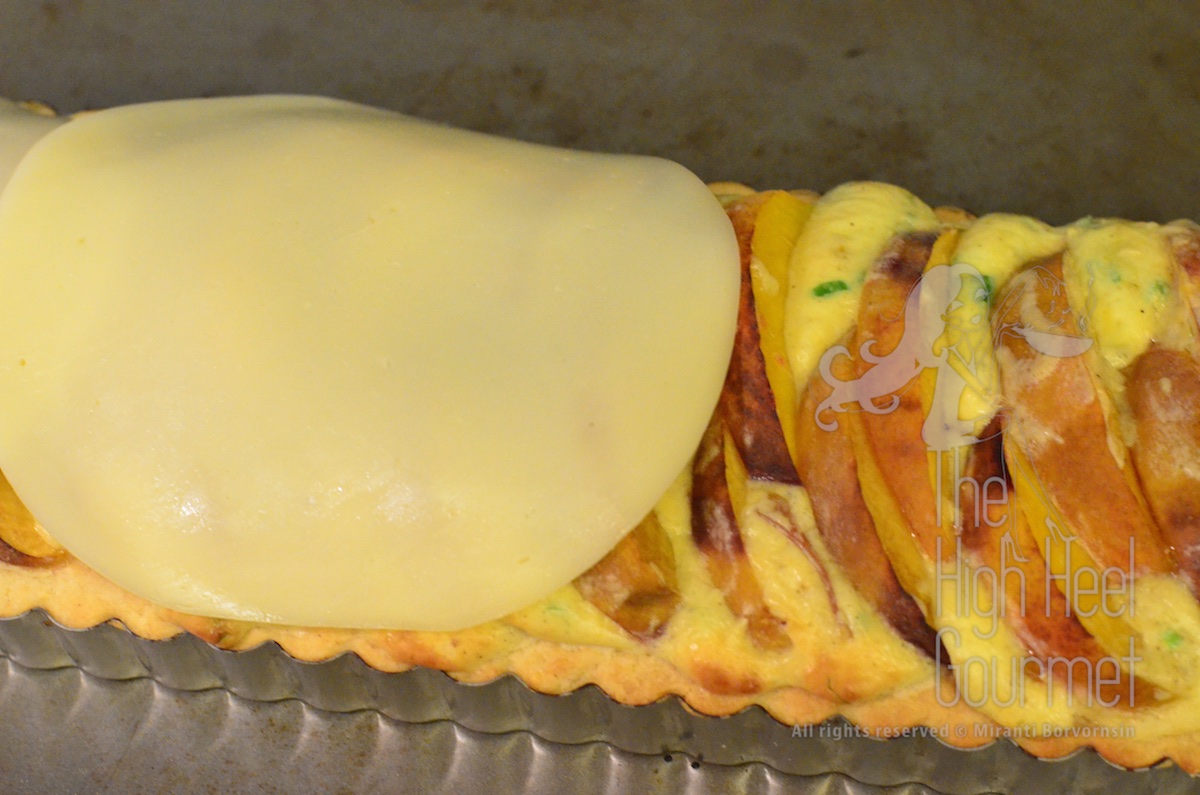 10) Drop the temperature down to 300ºF and bake another 15 minutes, or even 20 minutes. This is to make sure that the quiche sets properly.
11) Take it out of the oven and let it cool down a little before you slice it out of the tray and cut, or the whole thing will be very runny.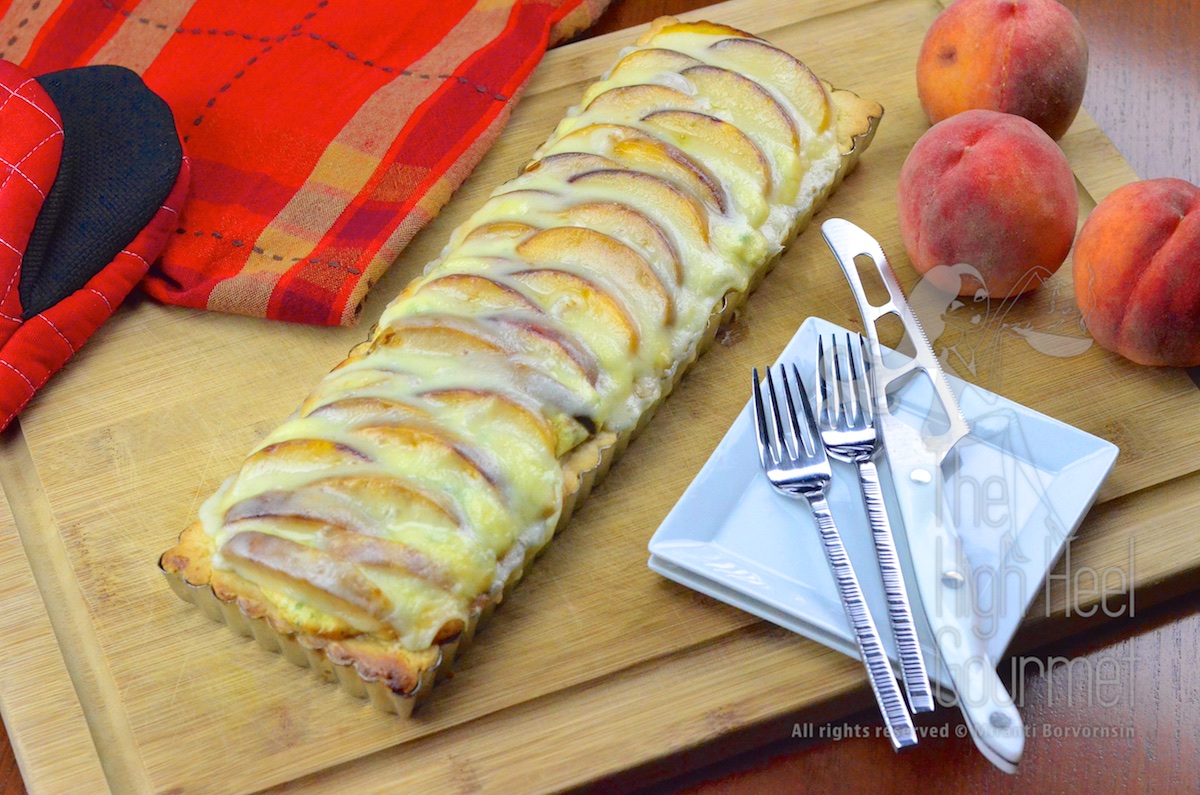 As a variation, you could replace the fruit with mushrooms. A friend already tested this recipe and used BACON on top instead of fruit. How can any food taste bad with this amount of cheese and bacon, right? Be creative and enjoy your invention 😉