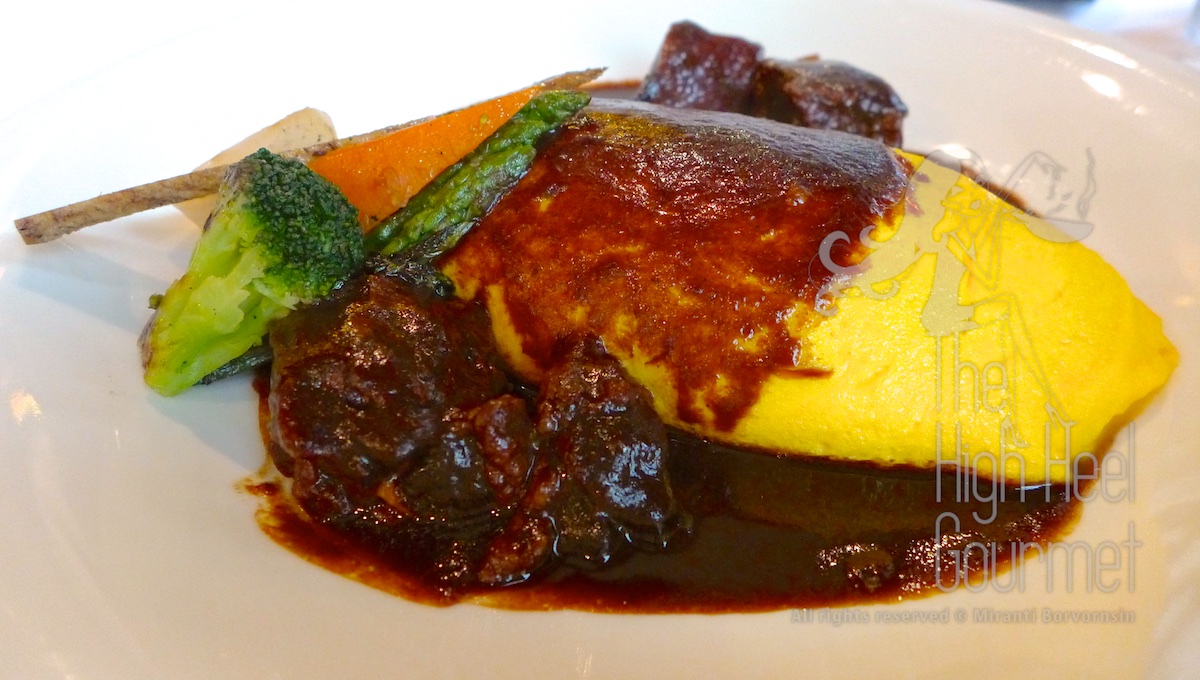 I haven't been blogging lately. It's been so many weeks I can't even remember because I've been in many time zones both within the country and internationally until I've become quite confused. I even get the date wrong. I'm now in Tokyo, one of my most favorite cities on earth. If you are following my Facebook fan page, you probably already knew of my culinary adventures, so don't miss my next two stops, Bangkok and Singapore.
I am here in Tokyo with no set destinations this time, and I've found two interesting restaurants. I discovered both on the same day, so I gave myself 6 stars on that day. I usually find something interesting if I am on my own, not needing to worry about anyone or anything. I just loosely set a destination and explore the route in between my hotel and the destination.
Tokyo is quite rainy in the late August. My initial destination was the Hara Museum of Contemporary Art in Shinagawa, but I changed course to go to the National Museum of Modern Art instead, due to the rain. Going to a museum is indoor activity but on the way from Shinagawa station to this museum there is a beautiful Japanese garden at the Takanawa Prince hotel that I didn't want to miss.
Anyhow, my next destination required me to stop at Nihombashi station to change trains. So I decided to do a stopover at Nihombashi for lunch and exploring. If I wasn't alone, I probably couldn't do this freely. I highly recommend giving yourself some leisure time with a loose schedule during your vacation. I can guarantee that it's going to pay off, just like my detour adventures. Do you remember my discovery two years ago, "Mr Danger", the little restaurant serving "Humburg steak"?
I exited from Nihombashi station to the street and started walking around—luckily the rain had stopped. Nihombashi is the financial district, hosting the Tokyo Stock Exchange (Tokyo Shoken Torihikijo), Bank of Japan (Nippon Ginko) and even the Currency Museum (Kahei Hakubtsukan).
Nihombashi is quite busy during the weekday but so nice and quiet during the weekend, almost serene even. I walked across the courtyard of a building called Coredo and there I saw a long line.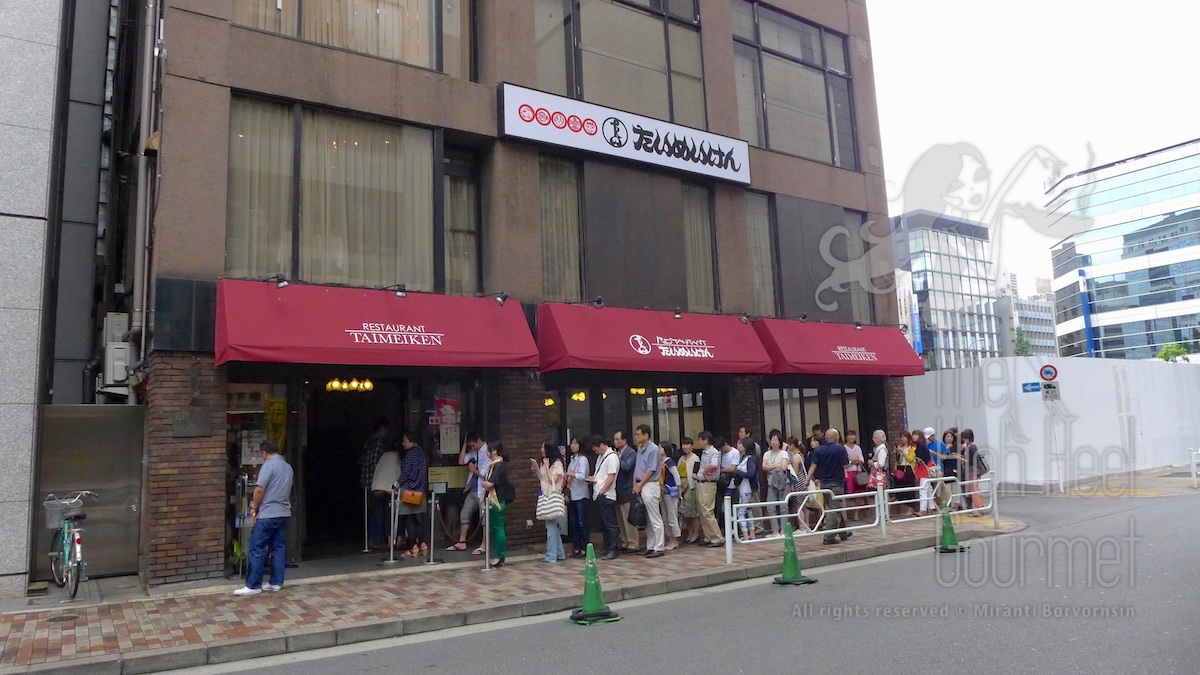 You wouldn't line up in the rain for no good reason, would you? So I moved closer and I could smell something yummy happening, and that was the reason for the long line for sure.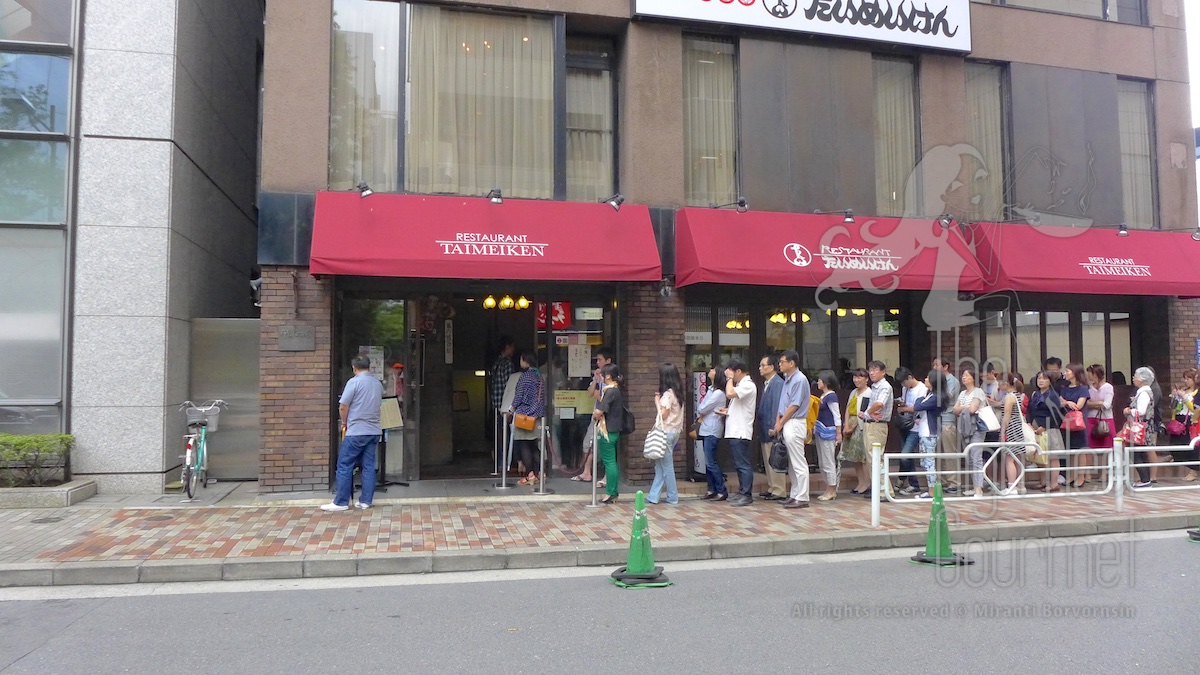 Before I entered the building, I inspected my surroundings and saw a brass plate for a "Kite Museum" on the entrance, but cooking kites wouldn't give this yummy smell. I'm sure of that. I peeked through the restaurant door and all the Japanese who were quietly waiting in line were eyeing me suspiciously. Sorry, even though I'm a half Chinese my other half was taught to wait in line; I just wanted to know if the line was worth the wait.
The restaurant itself didn't look that interesting to me, to tell you the truth. It was just a casual style restaurant serving a "Yoshoku" type meal. (See NOTE below) Omurice or omuraisu, the Japanese omelette wrapped around fried rice, was on every table of medium size restaurant (large for a Japanese restaurant) and I was too hungry to wait in line for a plate of omurice, but I had to check out the kite museum first. Near the entrance of the restaurant there was stairs leading to the second floor. I took them.
Up on the second floor was another restaurant! There were two young men sitting there smoking in front. Yeah, that's really horrible, rude, inconsiderate, and simply unacceptable. I think Japan would be a much better country if the indoor smoking is banned but I guess it won't be, as the Japanese's average lifespan is always in the top ten in the world! I understood that their government has to find a way to decrease their population somehow. The island isn't going to grow, you know. So, the cigarettes there are sold at under $5 per pack. Smokers from New York, you should consider moving to Japan, they like Americans there 😉
I asked them how to get to the kite museum, and they said the 5th floor and there I went. I purchased a ticket and asked the ticket seller (who later I've found is the head of the Japan Kite Association and also serves as a director of the Kite Museum, Mr. Masami Fukuoka himself) about the restaurant on the first floor. He pointed to another gentleman who had just came out form the elevator, and told me to talk to him because he happened to be the owner!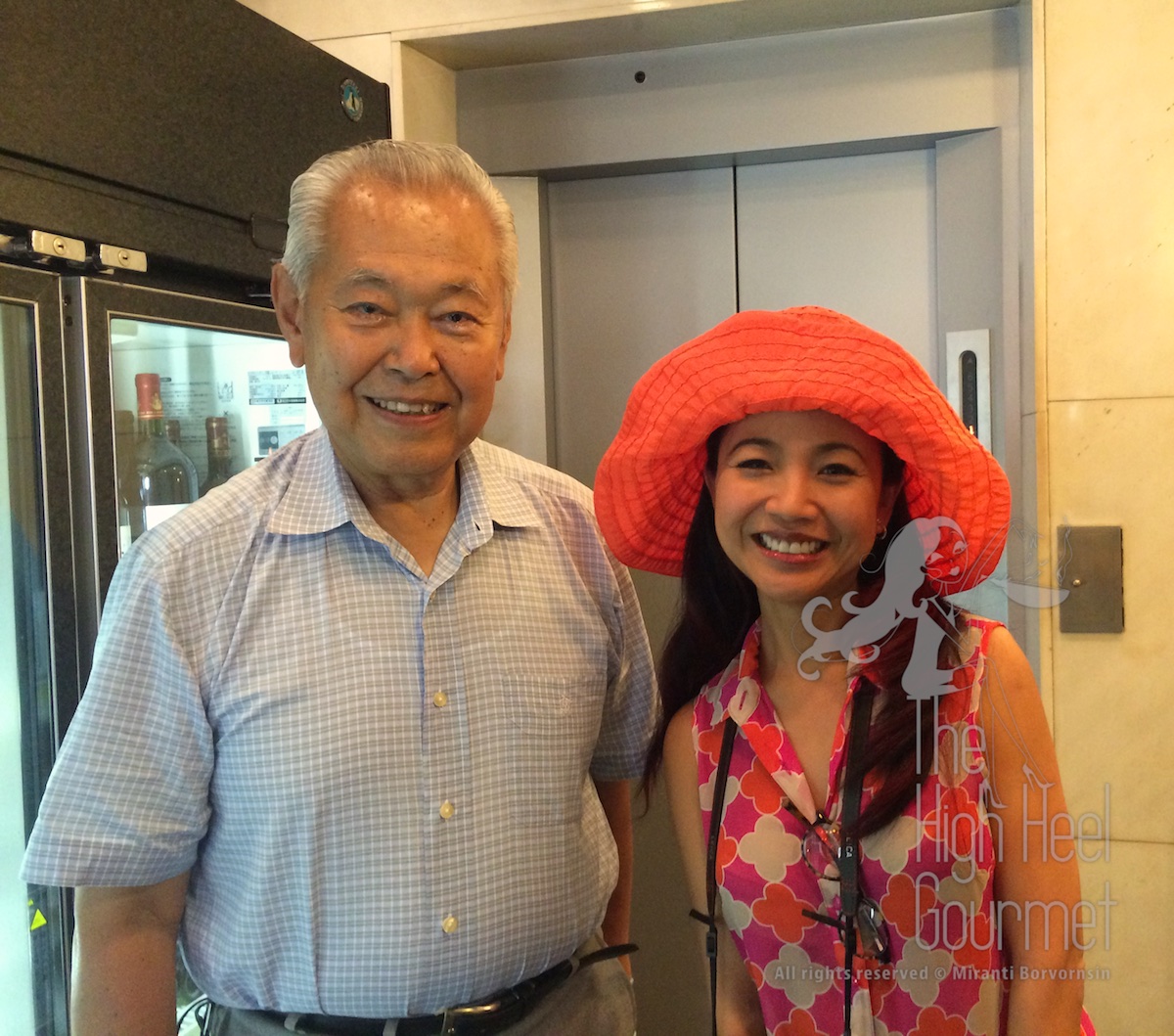 Wow, talk about luck! I was not doing bad here at all. He also walked me down to the 2nd floor restaurant too.
The explained (in English!) that BOTH the restaurants I saw were named Taimeiken. The first floor is a cafe style with slightly lower prices, but packed with all the fun and frantic energy of an open kitchen, while the second floor is fine dining with no line, but both use the same kitchen.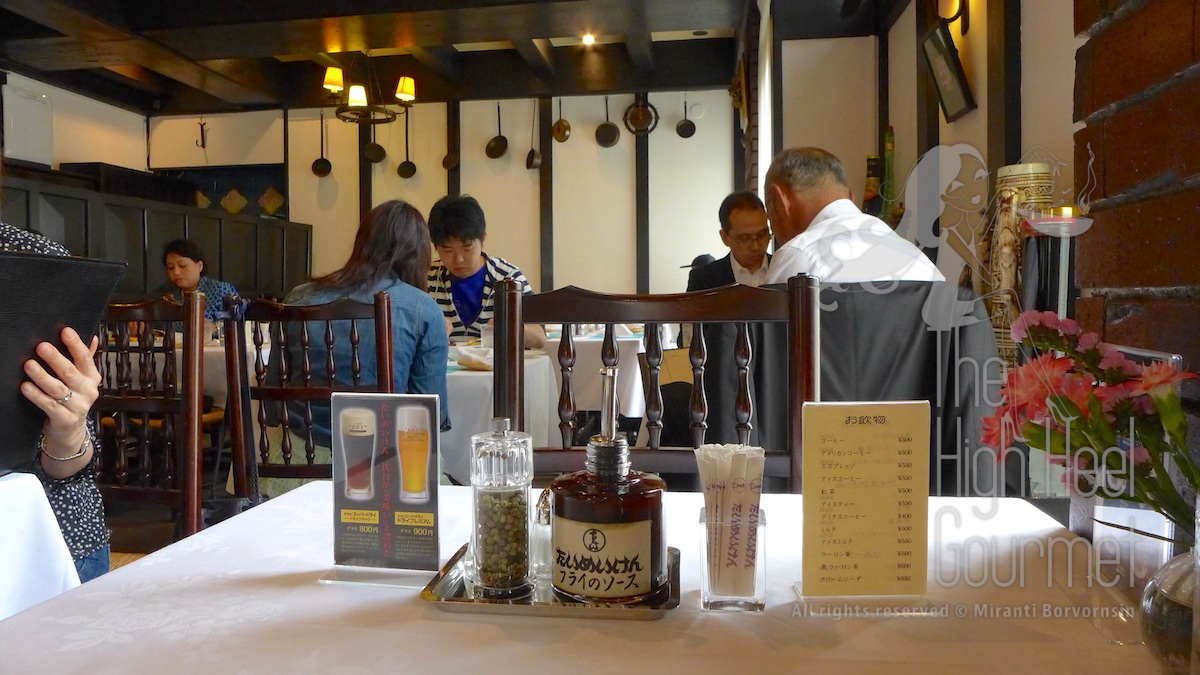 Bingo, a very hungry woman, and one restaurant with no line but cooking from the same kitchen as the restaurant with the line this long on Saturday, come on. I just have to pay more for the meal. Why not? Extra time to explore would be worth every penny.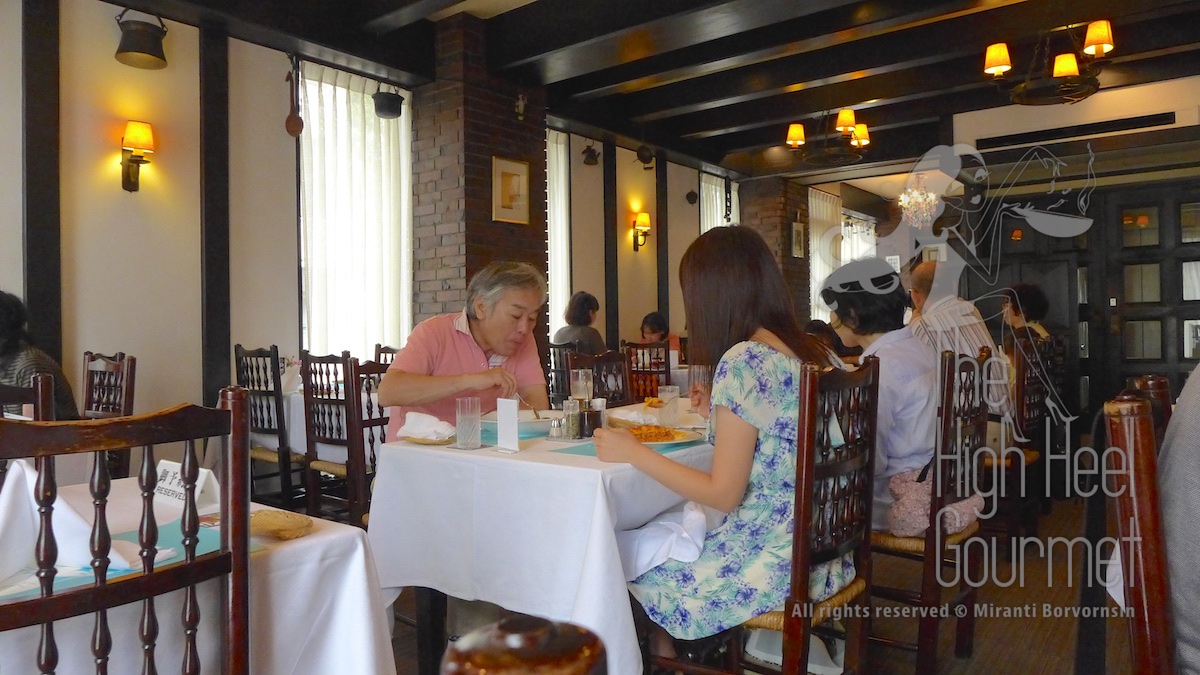 Taimeiken is sure to be one of the most popular places for omurice in Tokyo. They served many different types of omurice, including their famous one, the "Tampopo" style, or the dandelion style. This is from the Japanese movie "Tampopo"  that was made in the eighties. My Japanese friend told me that this dish was developed by the director of that movie with cooperation from the Taimeiken restaurant chef team because Taimeiken was an old and well-respected Yoshoku restaurant in Tokyo since 1931. I had seen the movie, and found this clip on YouTube. (You have to skip to about 1 minute in order to see how the omurice is made.)
The "Tampopo" style fried rice is this: the base fried rice is ketchup-flavored fried rice with chicken. It's laid lazily in a simple pile underneath what seems to be a plain marquis-shaped omelette. Before you eat, you would use a knife to lightly slice the omelette not so deep in to the center of the log, or just half way from the top lengthwise from one tip of the marquis shape to the other. The egg omelette then would crack open due to the creamy soft center. Then, with almost no effort, you open the slightly wet and creamy omelette to uncover the fried rice underneath. This is why you sliced the omelette only half way down and not all the way to the plate. Then you add the ketchup on top and eat. You can opt-out of the ketchup choice by asking for demi-glaze sauce or curry sauce, but believe me it's best with ketchup.
Well, now there is bad news–I have no pictures for you! I learned about the "Tampopo" rice after I had already placed my order. The restaurant has an English menu, of course, but it didn't look any different than any other menu in English. No pictures in the menu either. Maybe because this was the fine dining section. The wait staff had tried to point me to the "Chicken Omurice" by saying that this is the most popular one. Sorry, I'm not a big chicken eater. I, in fact, avoid chicken unless it is really interesting or proven an organic chicken. I'm allergic to the hormones added to meat of all kinds, and chicken is the worst in term of hormones. So, the plain "chicken omurice" passed me by.
My order was the omurice topped with demi-glazed beef stew.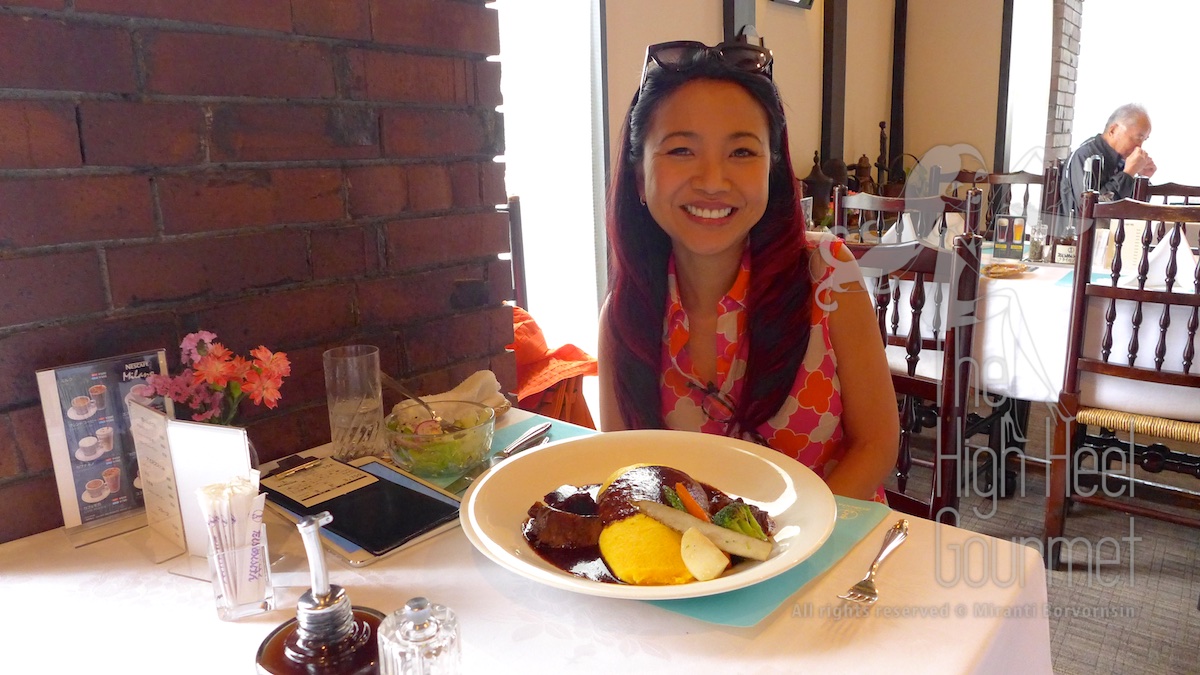 The rice was ketchup-flavored ham fried rice wrapped with an omelette and dressed with beef stew in a demi-glaze. The stew was very tender and rich. The demi-glaze was excellent, not bitter, not too salty (as the way I've found it here in the US), and slightly sour, which made it interesting.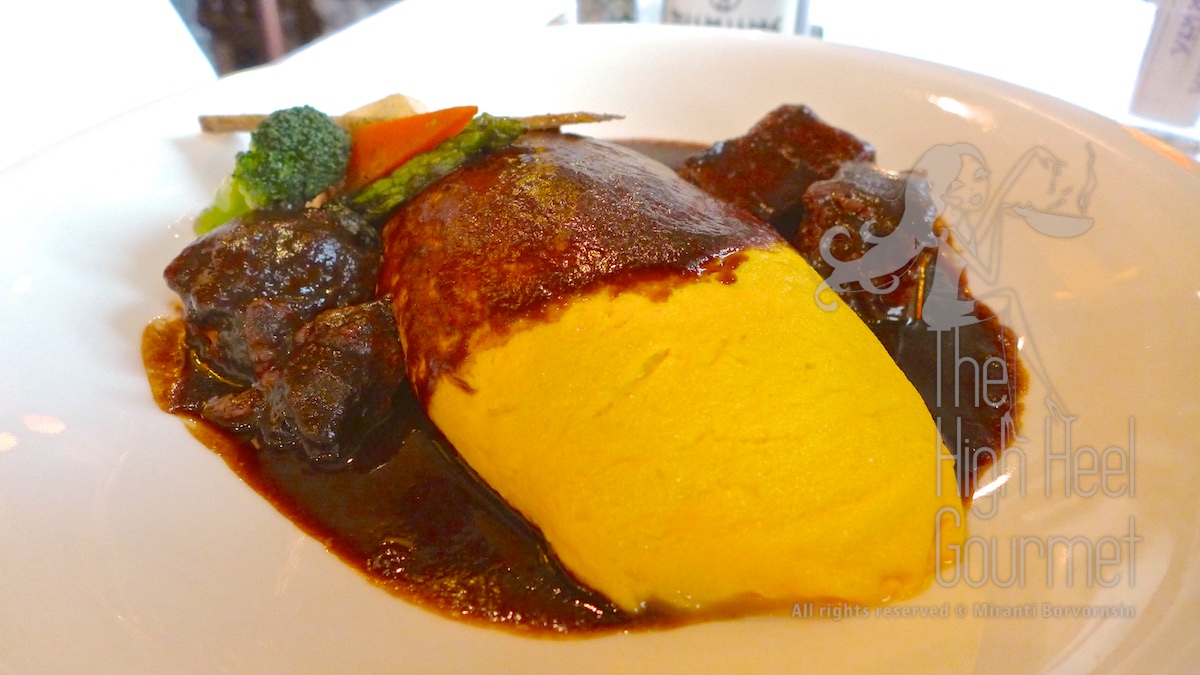 The omelette was soft and tasty. I wish I could finish the whole plate.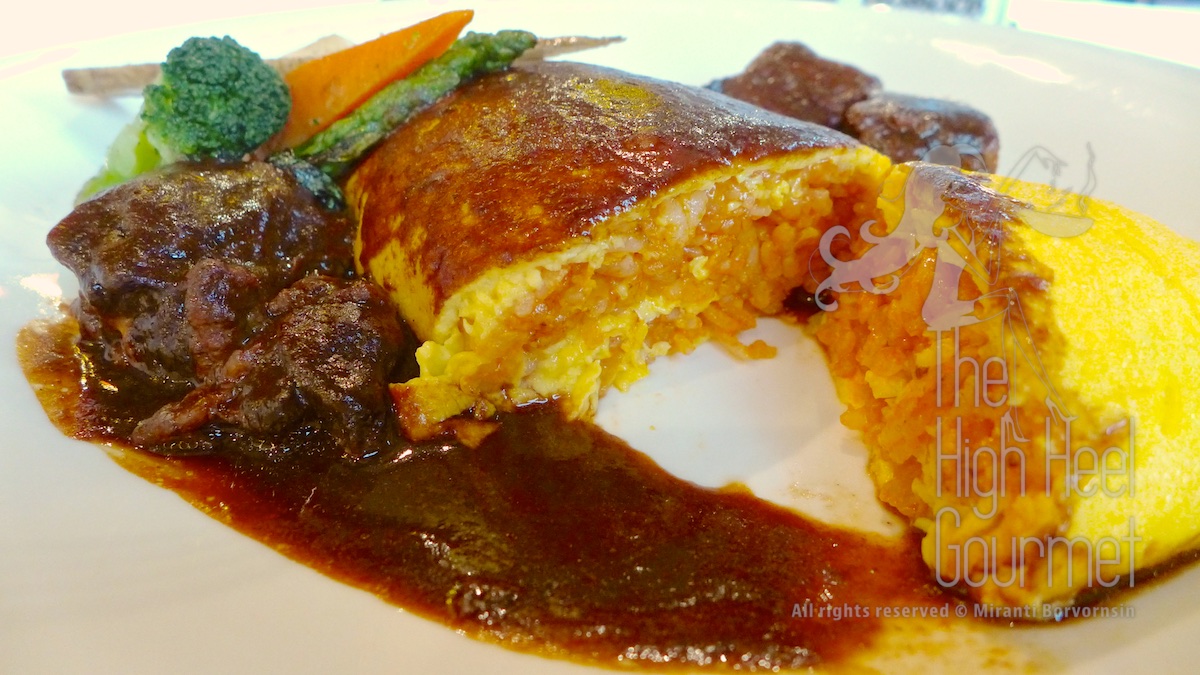 I found myself trying to stuff more of the omelette into me even though I was already full. This was my old habit that I no longer do for a long time now. It's easier to put in than it is to take off the weight, so I usually stop eating as soon as I'm approaching full, but the omelette here was so good I wanted more. Especially with the demi-glaze and the ham fried rice. I ended up walking out of the restaurant over-stuffed.
I made a mental note to come back to this restaurant on my next trip to Tokyo. I was wishing that I had I taken my beloved husbanditor to try this lovely restaurant. This is a great sign, because I haven't felt that urge about a restaurant in a long time, that is, one I was impressed enough that I want to take people to try. I don't know if it is something that happened to my palette, or if something happened to the food industry in the US, but I've lost interest in restaurant food lately.
This is the link to the google image of the Tampopo omurice at Taimeiken. You get an idea why they called it dandelion style. Taimeiken has several other different dishes, including a tasting menu. The price I paid for the omurice was really high though, about $30 or over for an order. (Sorry, I should have paid more attention to the price on the menu but this girl was hungry, you know!) If you don't want to pay that price, simply wait in line at the cafe-style restaurant. The same thing is served for around twenty dollars or less.
Also I searched for this restaurant on the internet, and people raved about their soup, borsht and coleslaw too. Apparently,  their borsht isn't the one with beets, and the coleslaw isn't shredded cabbage drenched in creamy dressing, but I didn't get to taste them. Well, good enough that I stumbled across this restaurant and went blindly in and ordered, guessing my order as blindly as finding the place. This is a great find and there will definitely be a next time!
WHERE:
Taimeiken
Nihombashi 1-12-10, Chuo-ku, Tokyo
Website: http://www.taimeiken.co.jp
Tel for the 1st. Floor cafe style restaurant: 03-3271-2463
Tel for the 2nd. Floor fine dining restaurant: 03-3271-2464
WHEN:
1st. Floor
Monday – Saturday  11:00am – 9:00pm (Last Order 8:30pm)
Sundays, National Holidays   11:00am – 8:30pm (Last Order 8:00pm)
Never
2nd. Floor
Monday – Saturday
Lunch   11:00am – 3:00pm (Last Order 2:00pm)
Dinner  17:00pm – 9:00pm (Last Order 8:00pm)
Sundays, National Holidays   CLOSED
WHAT
Omurice no doubt
NOTE:
Yoshoku is the Western-style Japanese food. That would be how I would describe it, even though some might argue that it is actually "Japanese-style Western food".  I still insist that Yoshoku is thoroughly Japanese even though it uses imported ingredients and is influenced by the style of Western food. I think at the least a Japanese food writer, Norimitsu Onishi of The New York Times, agrees with me on this (I don't know him, but his name seems Japanese to me). This is the article published on March 2008 in the Dining & Wine on the New York Times (just click on this link).
Why do I say it is thoroughly Japanese? You might be interested, but before I answer that question, answer these set of questions for me.
Where in Western cuisine would you see spaghetti boiled and rinsed in cold water, then "stir-fried" in ketchup?
Where in Western cuisine would you see ground beef mixed with ground pork then covered in bread crumbs and deep-fried and eaten with demi-glaze sauce or another magical sauce, ketchup?
Where in Western cuisine would you see an omelette stuffed with ketchup-fried rice or a soft, creamy omelette lying next to the said fried rice with even more ketchup squeezed generously on top?
Any respectable chef in a French restaurant would die five times over at my three questions and probably need at the least about a dozen reincarnations to be able to "cook" those dishes voluntarily. I'm sure the ketchup would be a gigantic issue there. How about British chefs? What do you think? Swedish? Finnish? German? Dutch? Anyone want to admit that as a professional chef, you  put ketchup in your food? American chefs might be the closest to imagine those dishes but no, they don't cook them either. "Those are rice dishes." the American chef might have said. "We have nothing to do with it!"
Now, do you believe me that Yoshoku is thoroughly Japanese? And I like it even more than American fried rice, Thai style. I'm telling you that much.
Don't stop exploring. The adventure makes your life worth living!
Underneath are the pictures from the Kite Museum on the 5th floor of the same building.