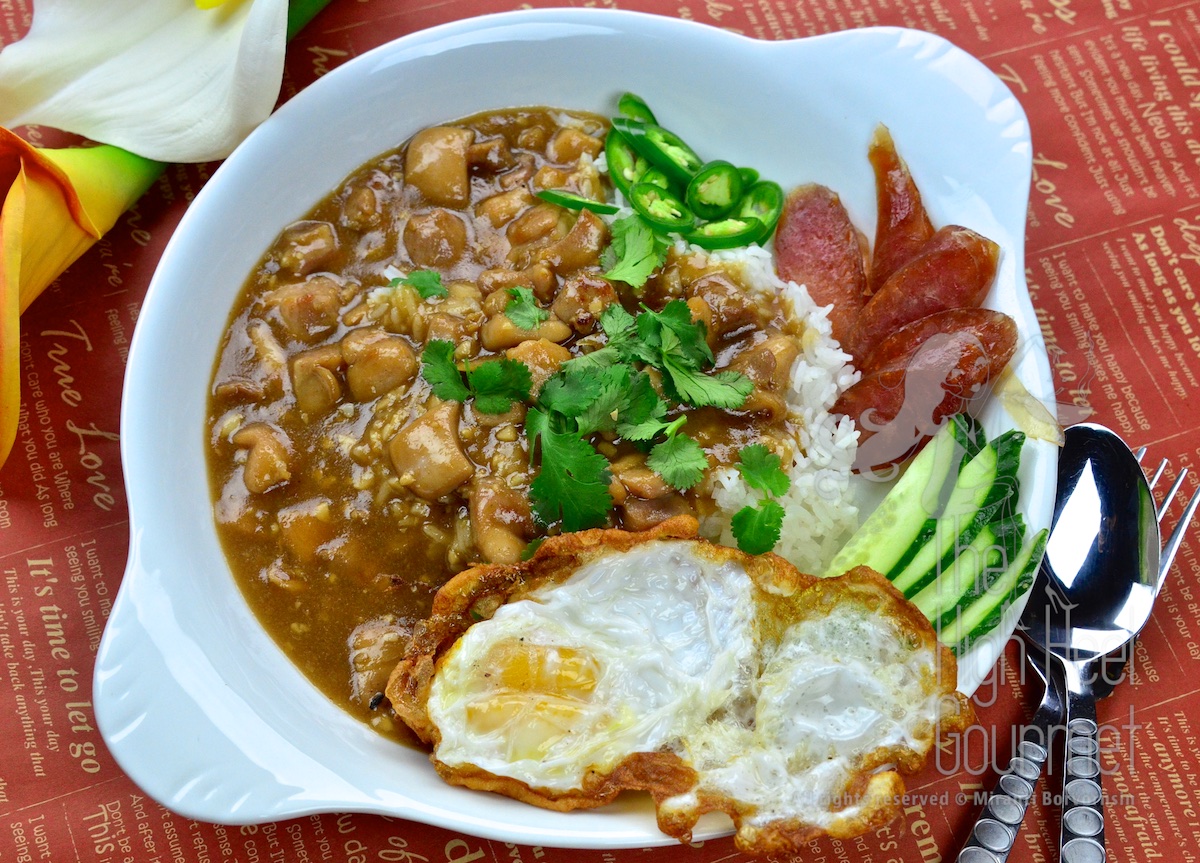 I think if you look in the "comfort food" arena and try to find the most popular ingredients there, I bet that chicken and rice would find their way on the top ten list. There are not only so many ways to cook chicken and rice but also many different cuisines preparing them quite differently. So the variety of chicken and rice dishes is beyond one person's capacity to collect them all, in my opinion.
I'm not sure if the recipe that I'm about to give you is the recipe that's served all over Thailand or only in Bangkok, because I've never eaten this dish outside of Bangkok. It's one of the old-fashioned Thai-Chinese dishes that is very well known by many generations of Bangkok's residents.
The original restaurant that served this particular version until it became famous is the Poonlert Restaurant (Lo Nga Thin Chao Kao). This restaurant doesn't have a place to park but it's still packed around lunch time and dinner time every day, and on every table you will see this chicken in gravy over rice or noodles.
It isn't that popular here in the US, but it's the dish that most Thai people would know about, if it's not their favorite already. You can ask people who came from Bangkok, if they know "Khao Na Gai?" The name variation is only Khao Rad Na Gai or Khao Nah Kai Khao=rice, (or Rad=pour) Na=topping (Remember Rad Na recipe?), Gai=Chicken. I'm sure, they at the least would have heard that name if they never taste it. However, there are many, many vendors selling this dish and you can find them at the food courts in the malls in Bangkok.
It is a one plate dish, simple but full of nutrients your body needs. Hot steaming white rice, dark gravy full of chicken essence, and hints of garlic and ginger. The sesame oil aroma really makes your mouth water. You taste the burst of extra spice from the chili, then cool your tongue down with the cucumber. Before you know it, the whole plate is empty.
This is not a breakfast item like Hainanese Chicken and Rice, Khao Man Gai, the other chicken and rice dish version which is more popular all over my country and in other countries. The Bangkokians eat this dish mostly for lunch and maybe dinner.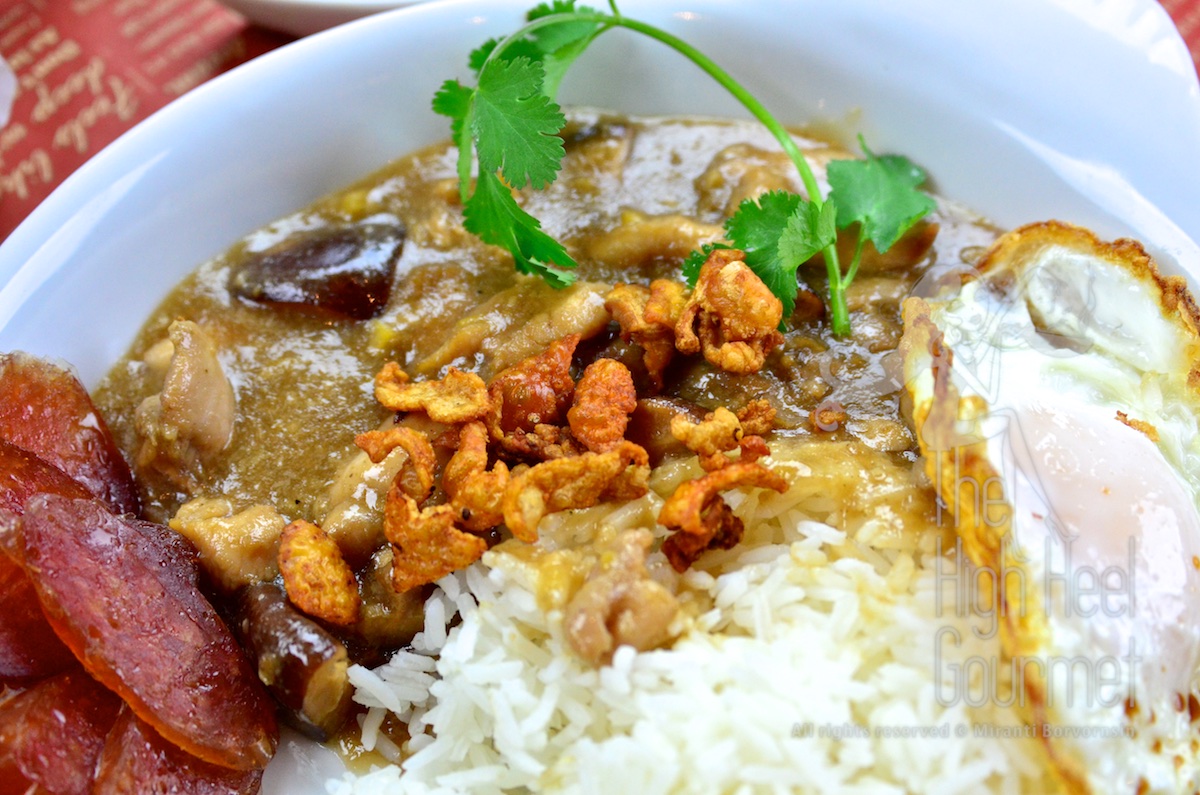 Even if this dish is a debut to you, I encourage you to try to make it. It's simple and easy, but the flavor is just so well worth it and then you'll have another recipe for chicken and rice that will take only 15 minutes to cook. Who knows, this might become another one of your comfort foods.
Ingredients for 2
Cut up chicken meat to a bite size 1 lb. (I used the thigh meat but you can use white meat if you prefer)
Chopped garlic 3-5 tablespoons
Sliced ginger about 1/2 cup (30-50g) or chopped ginger 3-5 tablespoons
Sweet dark soy sauce 3 tablespoons
Light soy sauce 3 tablespoons
Oyster sauce 1 1/2 tablespoons (can be substituted with seasoning sauce)
Chinese wine 1 1/2 tablespoons
(Optional) Cilantro root about 1 tablespoon
White pepper 1 tablespoons for the marinade and 1 teaspoon at the end
Sesame oil 2 tablespoons for the marinade and 1 teaspoon at the end
Vegetable oil 2 tablespoons
Corn starch 2 tablespoons plus 2 teaspoons
Soup stock or water 2 cups (if you use water add 1/2 teaspoon of salt)
Cucumber
(Optional) Jalapeno pepper or Serrano chili
Cilantro for garnish
(Optional) Chinese sausage
(Optional) Fried egg
Rice 1 cup
Water 1 cup and 1 tablespoon (If you have old rice add more water)
Method
1) First thing first, wash the rice, put it in a pot, add water to the rice and set on the burner and boil it at high.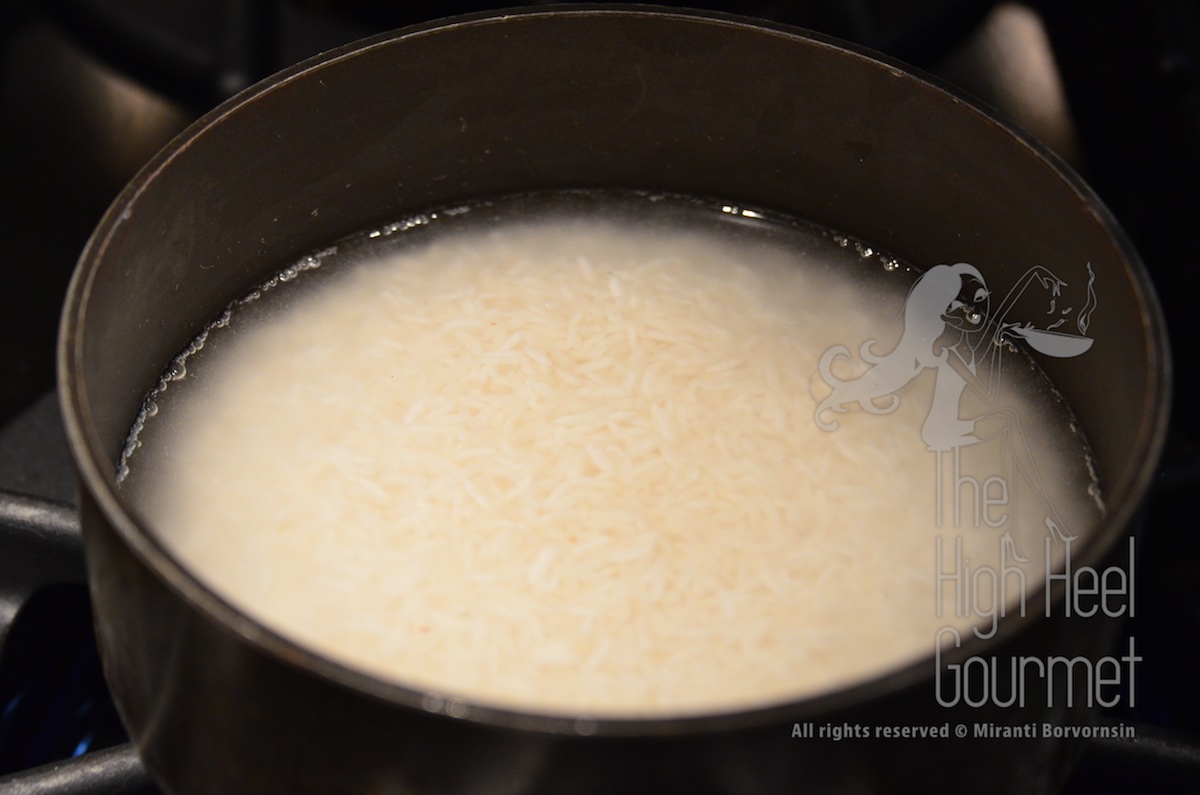 It shouldn't take more than 2-5 minutes for the water to reach a boil.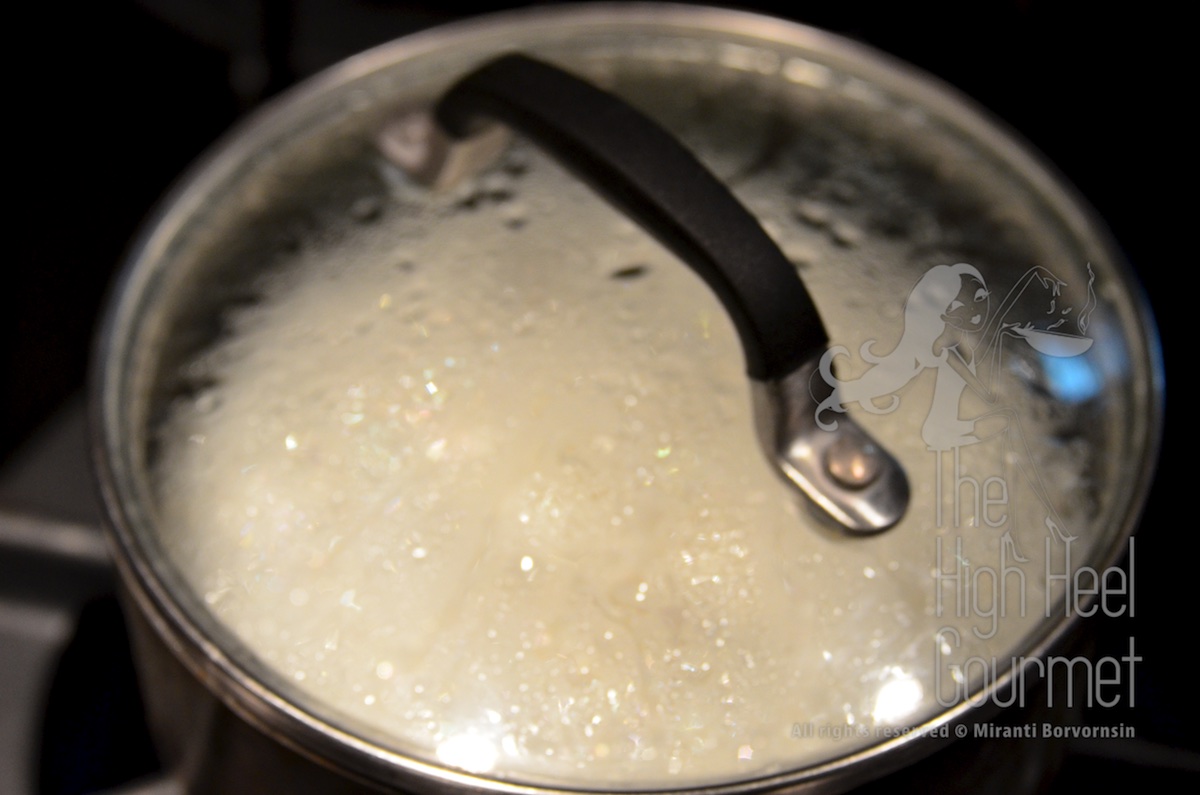 As soon as it does, lower the heat down to the lowest level and cook for another 15 minutes. Then turn off the burner, but let the rice sit in the pot undisturbed for another 5 minutes before serving.
Why didn't I use a rice cooker?
Because I like rice cooked this way better. That's all. You can use your rice cooker. I have no objection. Someone asked me how I cook my rice, so this is how. Yes, I'm one of those Asians who knows my rice well enough to be able to cook it without a rice cooker. In fact, I didn't own one for a long time. A non-Asian friend thought this is not okay so she bought a rice cooker for me, which still looks pretty brand new these days.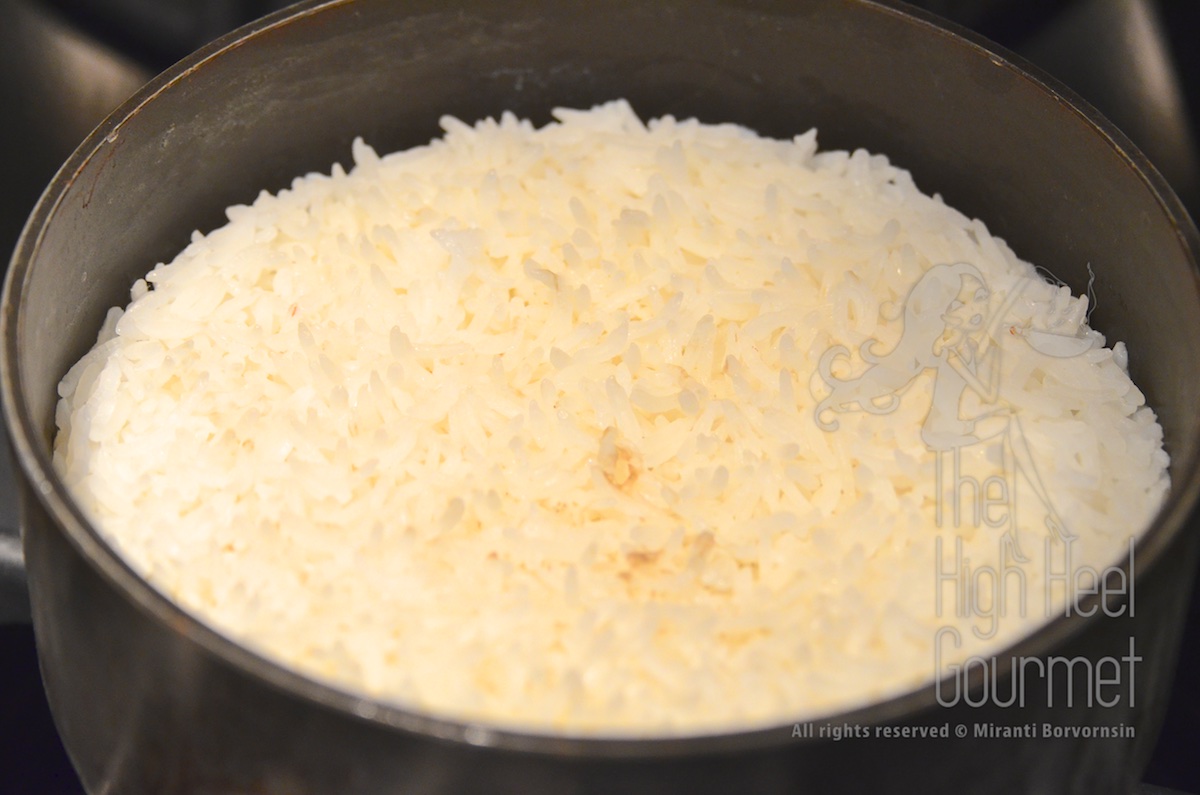 2) While you're waiting for the rice to cook, cut up the chicken and marinate it with light soy sauce, dark soy sauce, oyster sauce, half of the chopped garlic, white pepper, and sesame oil.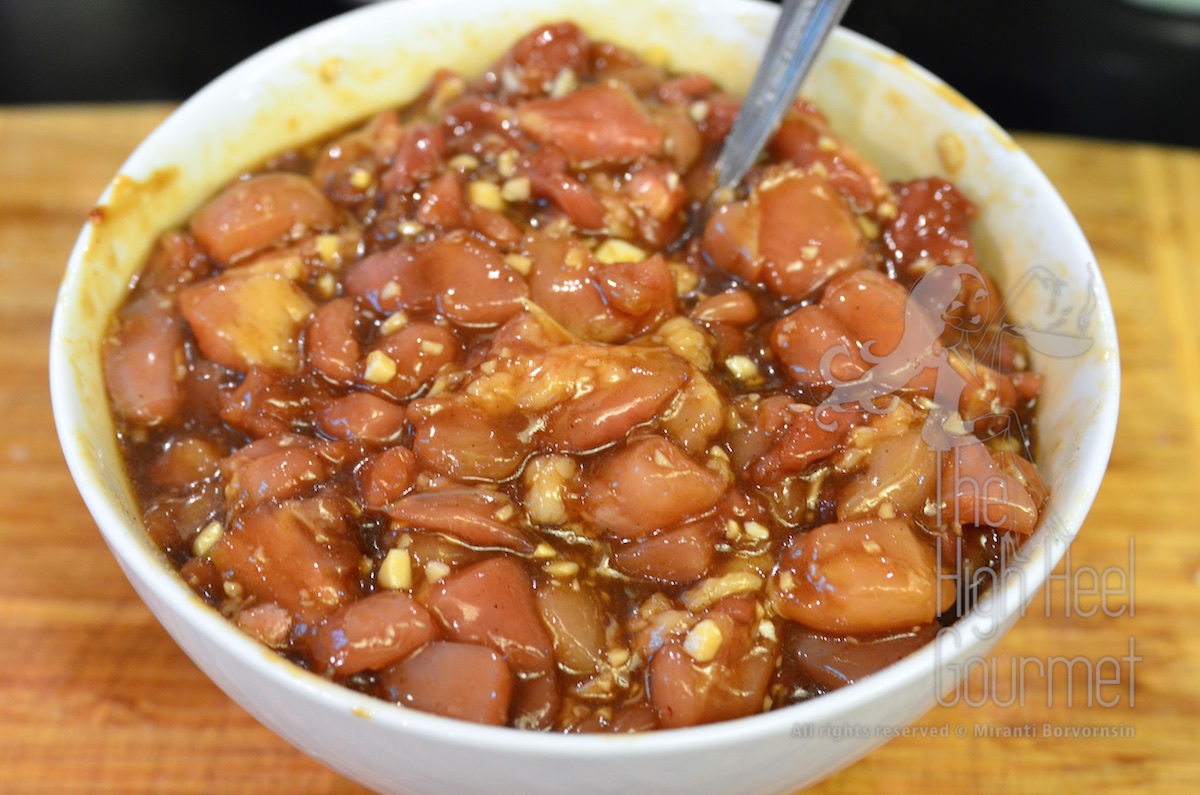 3) Back to the test of the ingredients. You are not done prepping yet. You need to peel and sliced the ginger,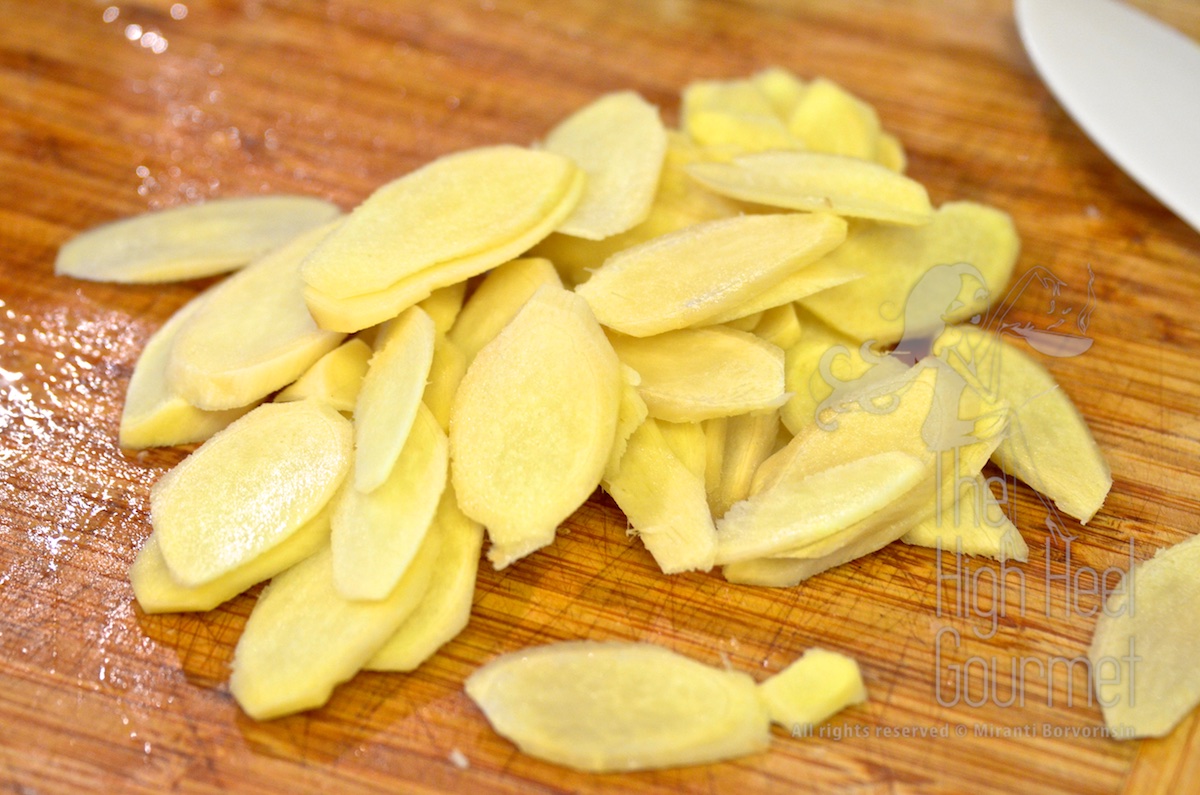 mix the corn starch with the soup stock (or water), slice the cucumber, the chili and pick the leaves off the cilantro.
4) Now you are ready to cook the chicken. The rice is probably nearly done. If you choose to have extra accompaniments such as Chinese sausage or fried egg, this is the time to prep them too. You can fry the egg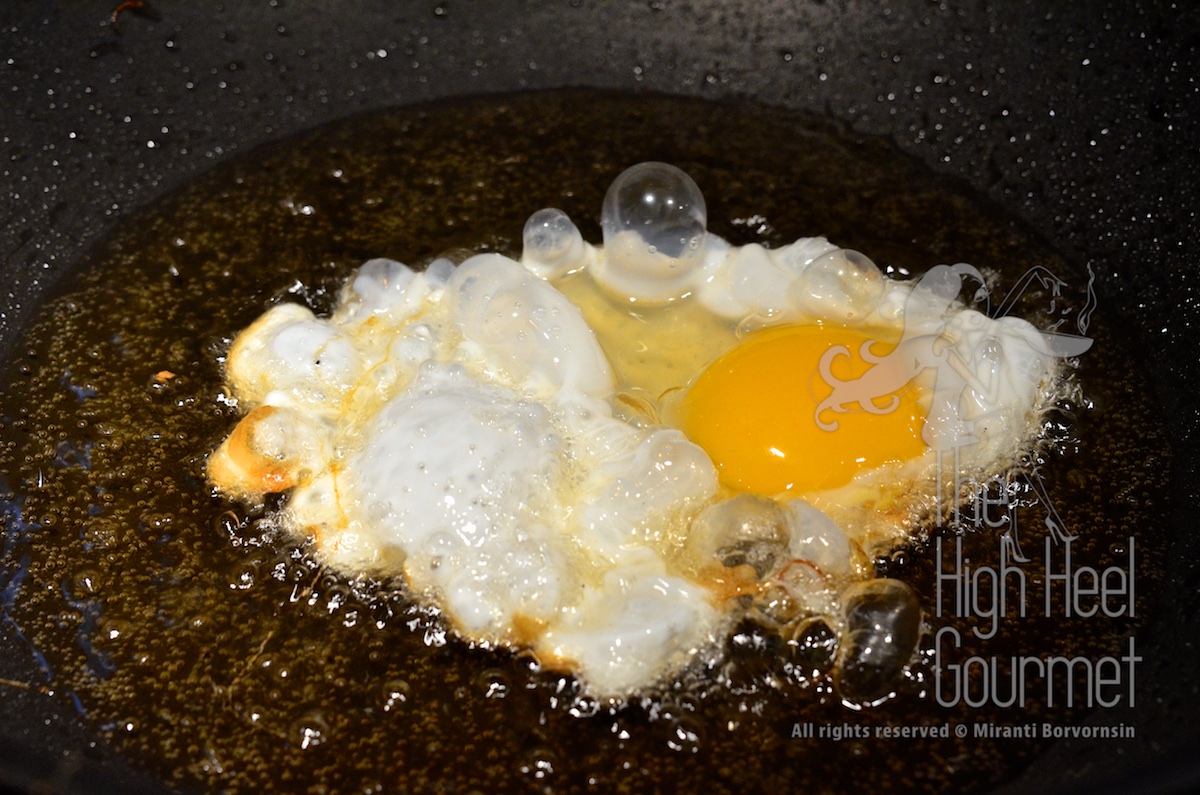 and the Chinese sausage, or fry the egg and put the Chinese sausage in the microwave. (Be very careful. They burn very easily.) You will need oil in the wok and the leftover oil can be used for cooking the chicken.
I normally do this: I buy chicken with skin and peel the skin off, cut them up into pieces 1"x 1" and I cook them until crispy. This is just for garnish.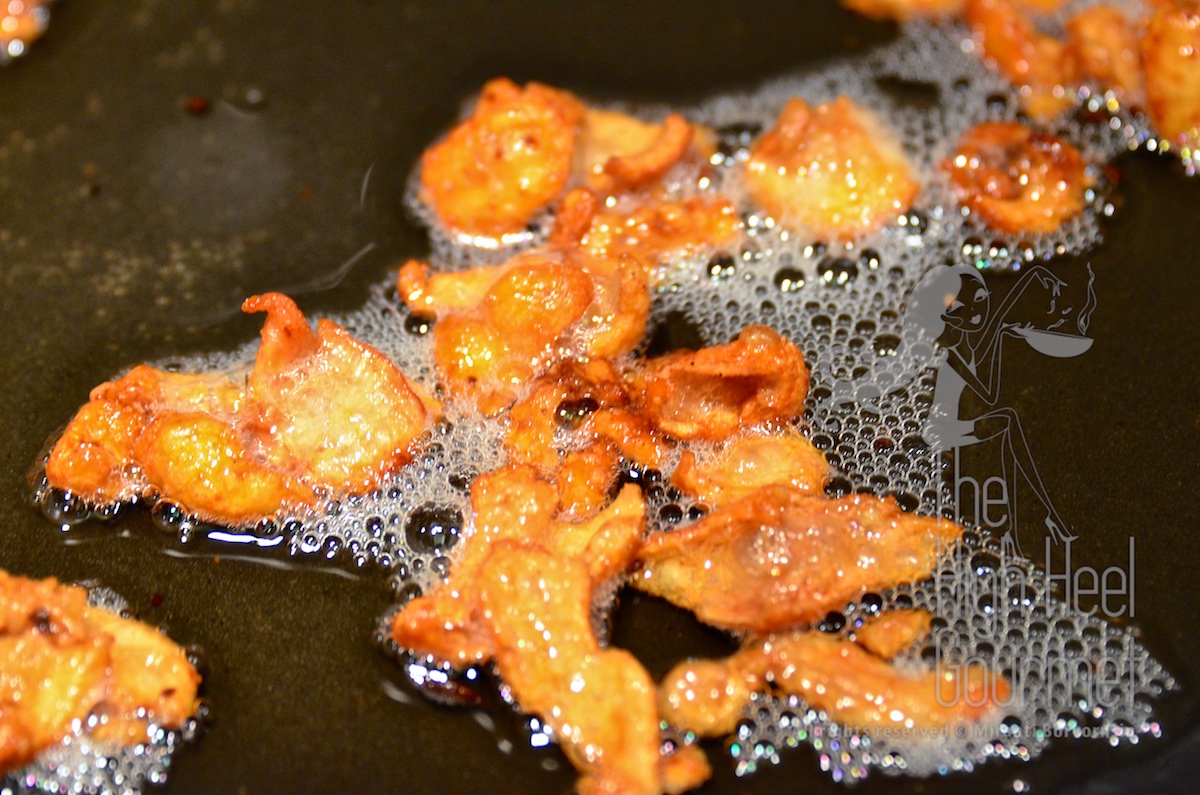 5) With the oil already in the wok set the heat to high, add the sliced ginger and half of the garlic to the hot oil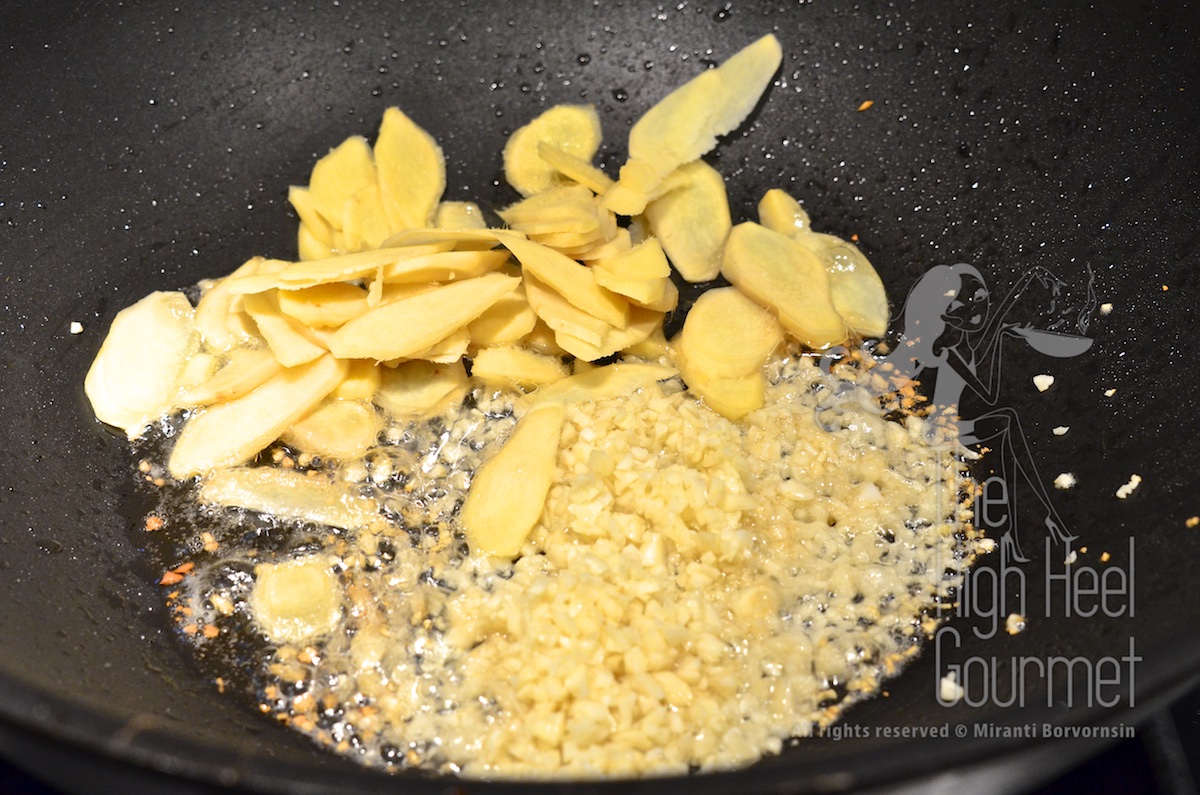 and stir-fry until fragrant.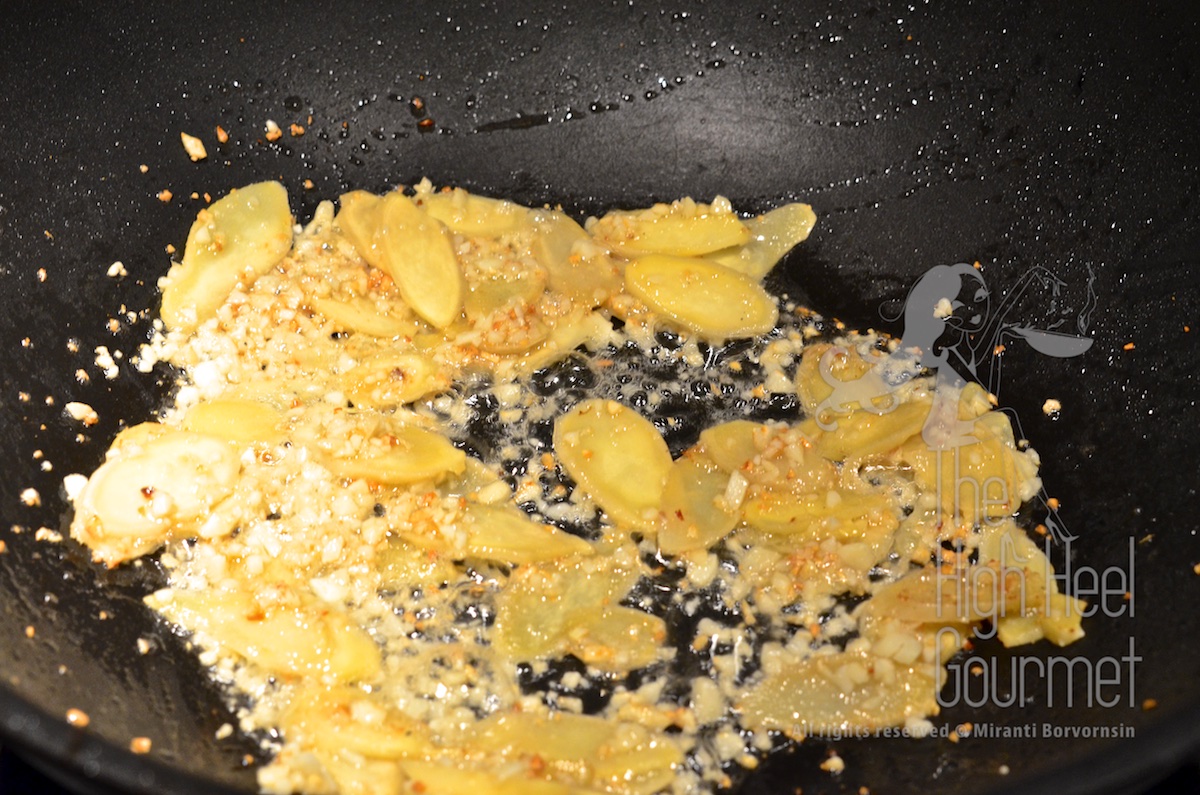 Then add the chicken that you already marinated into the wok.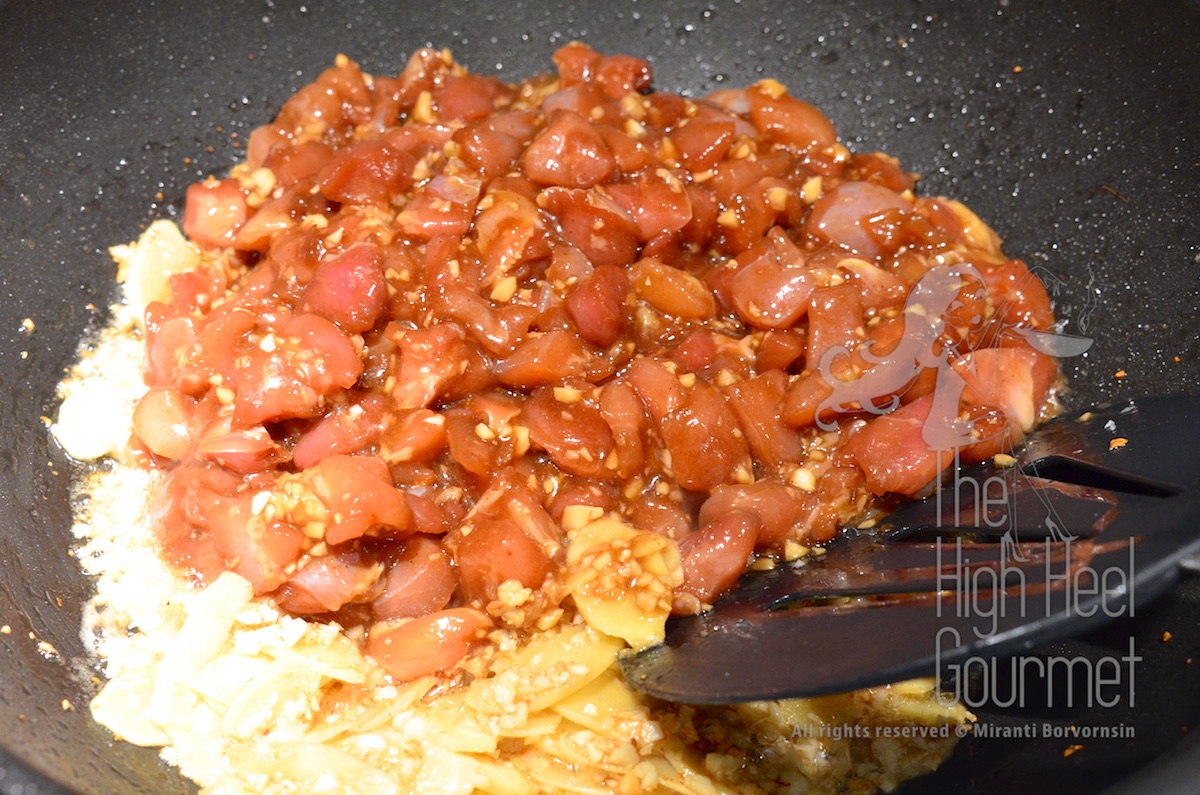 Keep pushing the pieces around until they're all seared.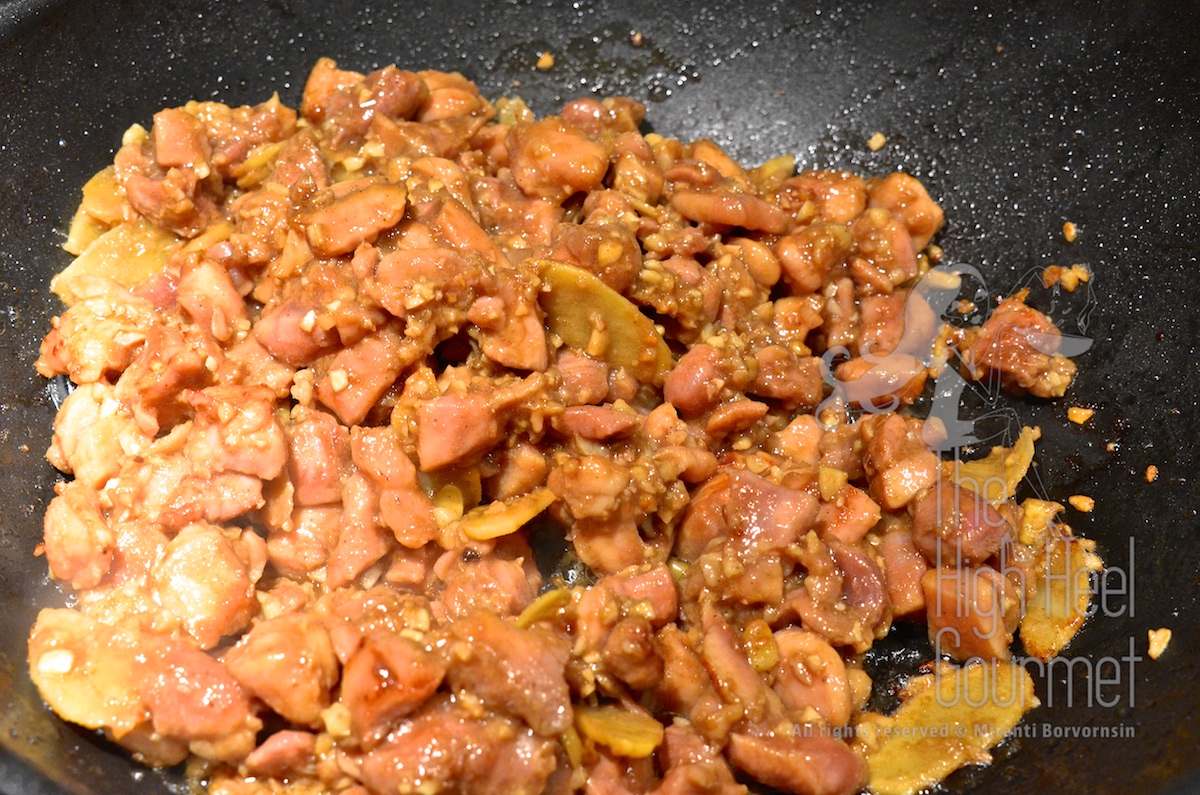 I like the taste of ginger so instead of slicing them like chips, I chopped them as fine as garlic.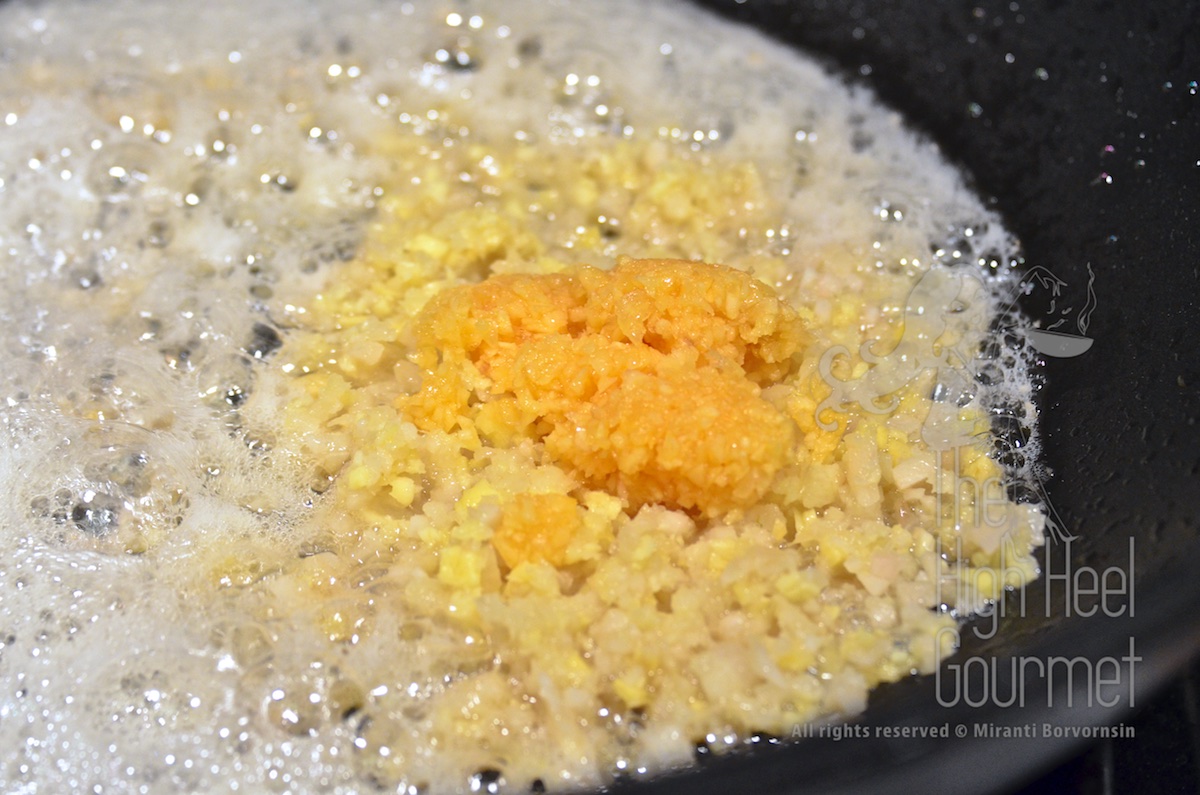 This way I will get chopped ginger in every bite. You can do that too, if you like. The original will have a much clearer gravy than mine but I like my version, especially when I have a cold or indigestion.
6) Add the soup (or water) and wait until the contents in the pan reach a full boil.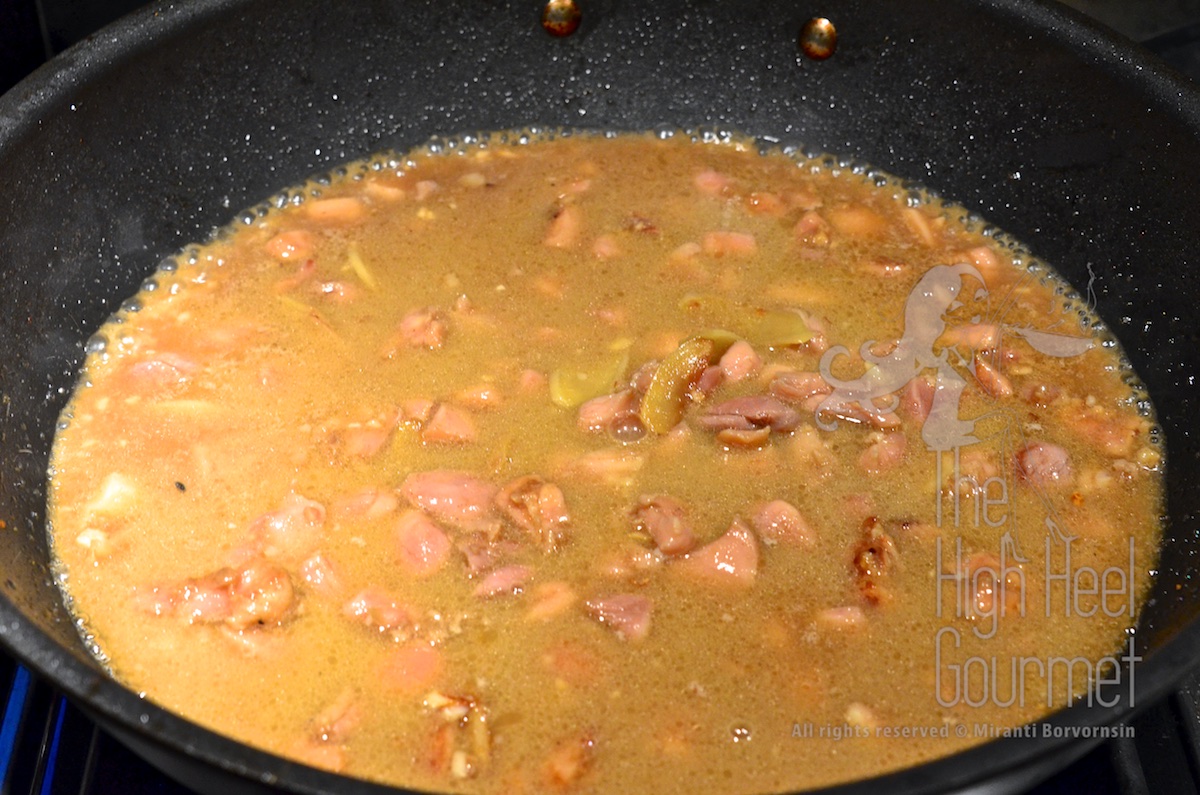 Lower the heat to medium and pour the cornstarch mixed with soup (or water) into the pan and stir quickly. You need to stir non-stop until the contents thicken.
If you don't stir continuously,  the starch will form big lumps, and that's unfixable.
7) Stir until the contents reach a full boil again,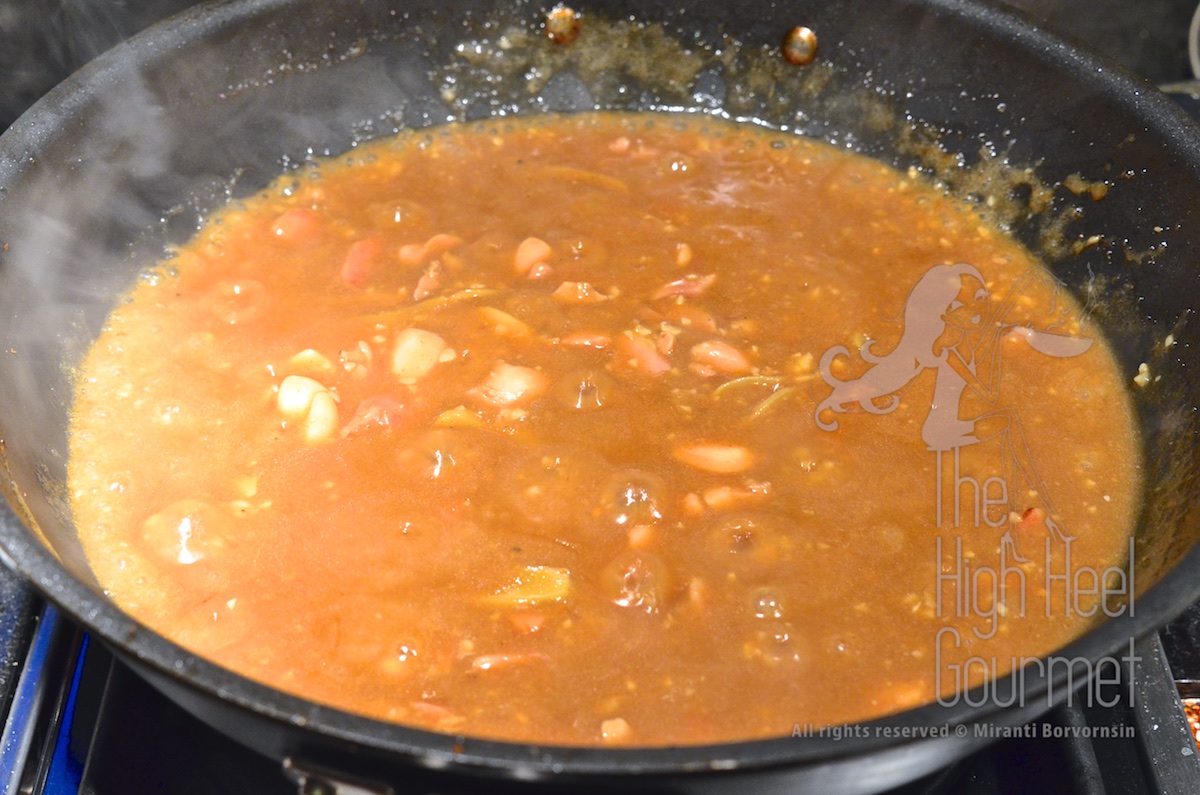 while you waiting don't forget to TASTE THE GRAVY to see if you need to adjust the seasonings. If you don't like the taste, add sugar, more soy sauce until you like it, then you are done. Turn the heat off before you add the reserved sesame oil and white pepper.
8) Put rice in the plate, pour the gravy over the rice, drizzle with cilantro, and pile cucumber and jalapeño on the side. If you want to, add sliced Chinese sausage and the fried egg, topping the plate off with them.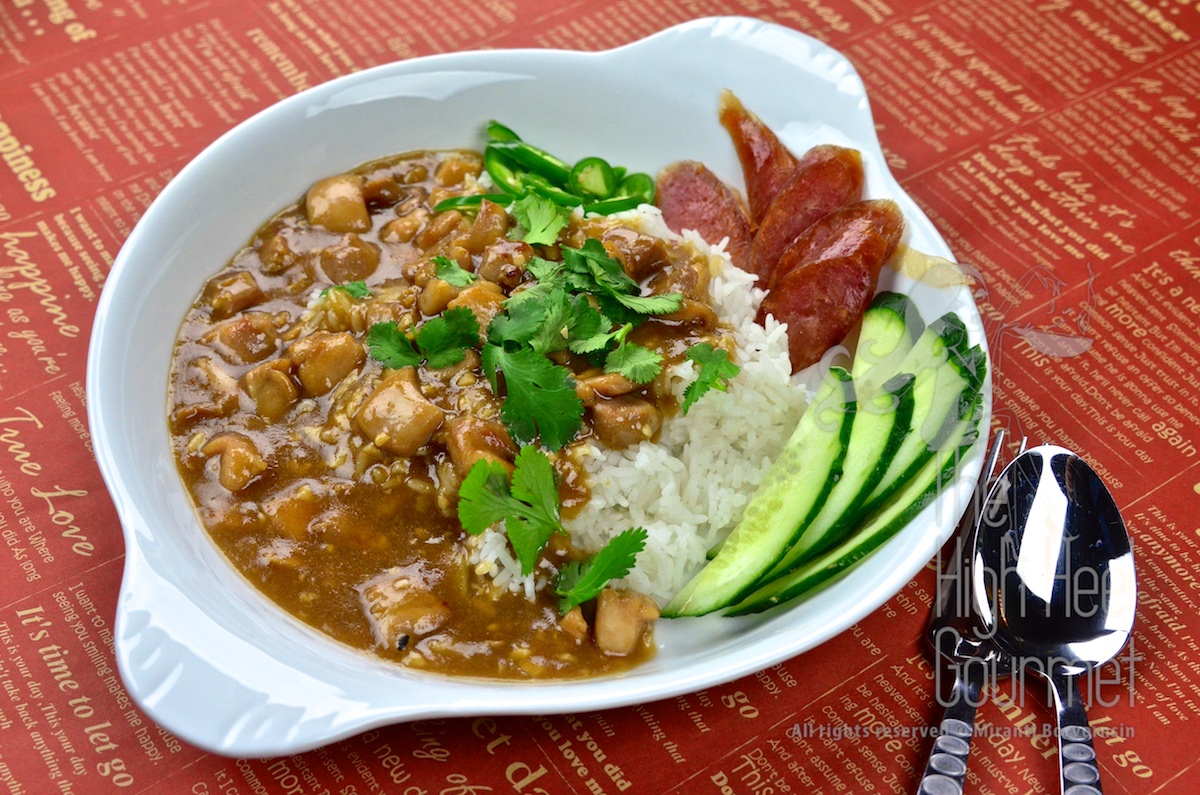 You can serve it over the noodles as well as rice too.