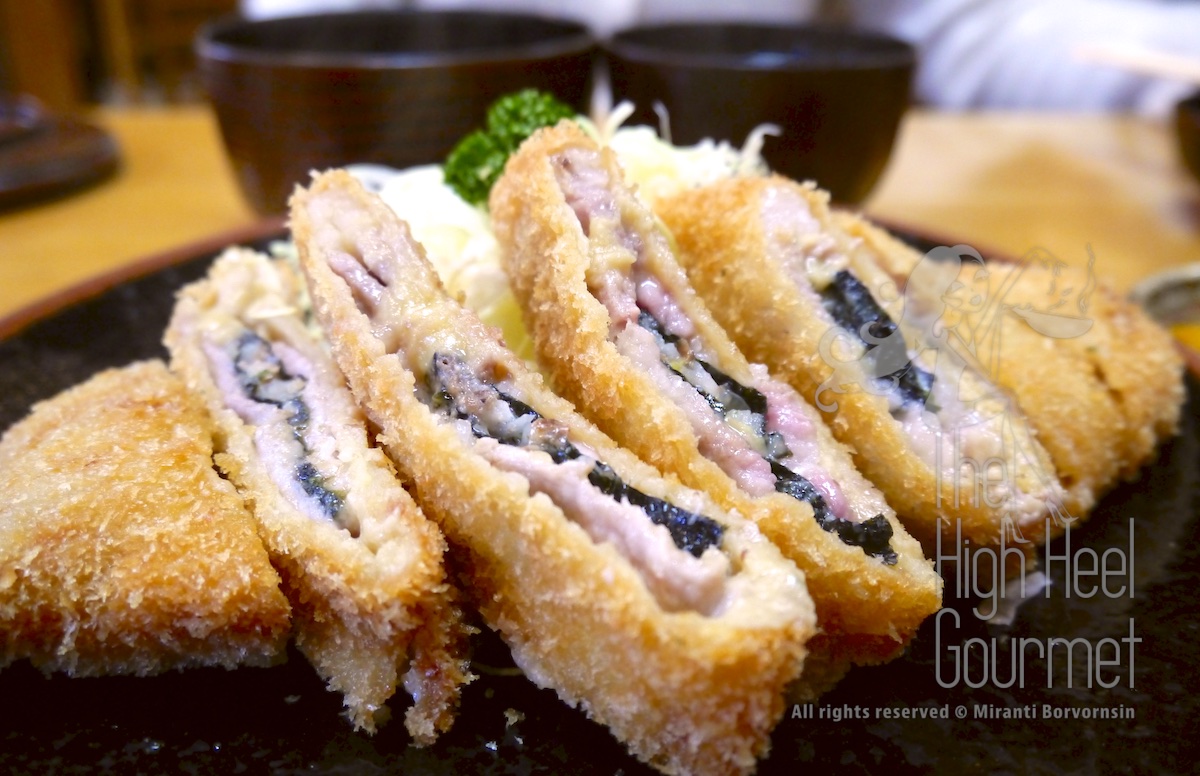 This will be the last post about my Japanese food adventures on my trip there. For those of you who like my Thai recipes, stay put. I am still on many trips at this time of a year but should be back in my kitchen for a little bit. Yes, I get to stay at my own home for twelves days this month, two days more than last month, and that should be improving toward the end of the year.
The last spot is not any new adventure. I was at this restaurant last time I was here, and wanted to go back there again. The restaurant's name is Katsukichi. Does that name give away the type of food they would be serving?
Katsu means fried pork…or at least that's what I think. My clues are Tonkatsu is fried pork with bread crumb crust, and Katsudon is the rice bowl topped with fried pork. And Katsukichi is a small restaurant in Asakusa that serves only fried pork.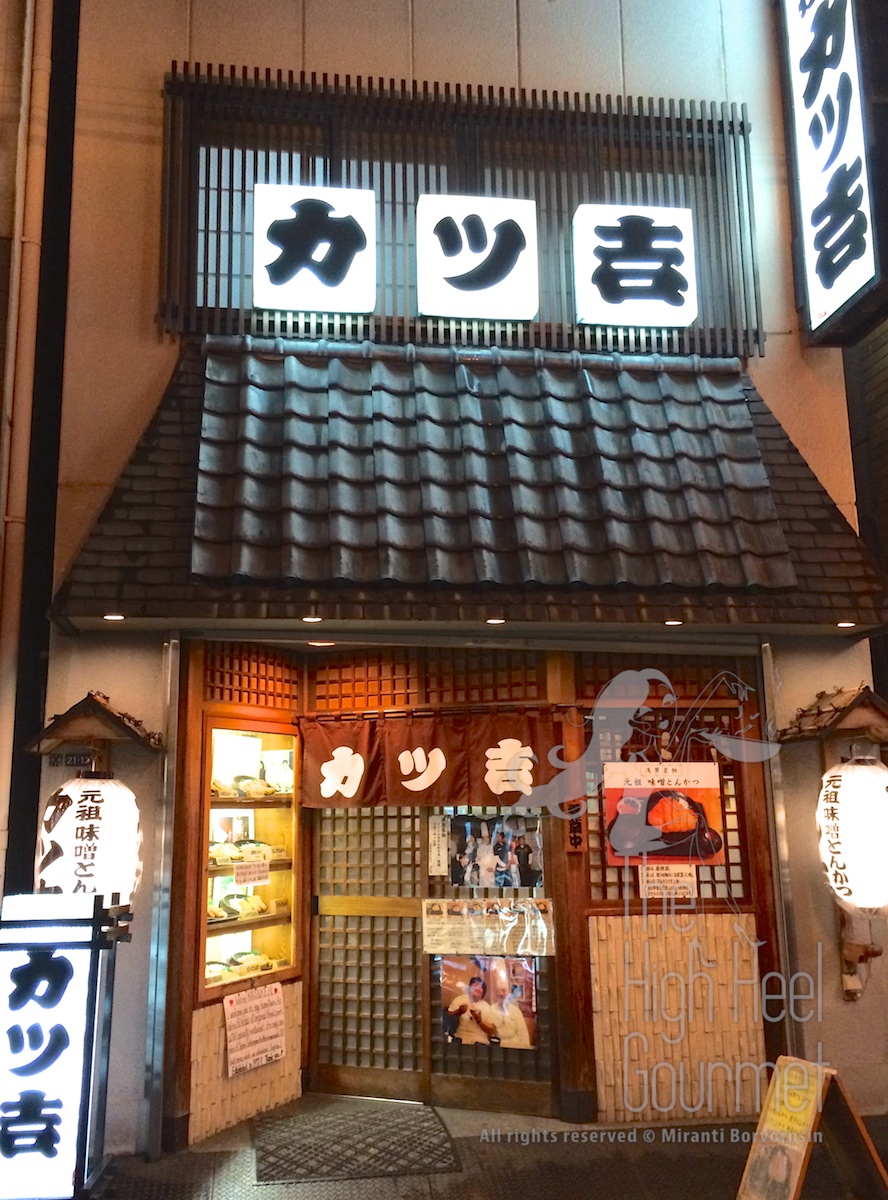 I know pig isn't the most popular meat in the US. There is a large Jewish population (the ones who keep kosher don't touch it, plus all the Islamics who don't eat pork because it is also taboo in their religion.) and I have to admit that the pork in the US doesn't taste that good. It tastes almost like chicken to me, really bland.
The Asians love to eat pork a lot more than any other kind of meat. Their beef is too tough and normally they keep the cows or buffaloes to work in the field, and eating a tractor isn't a good idea. Chickens are always abundant, but they don't taste as good or as meaty as pig.
Believe me, pig tastes really great when you can get the tasty one, but not the ones eating garbage and raised in the pen, though. The wild roaming pigs who search for fresh bamboo shoots, mushrooms, eating whatever they find, taste so much better, as do free range chickens.
The pigs in Japan, Greece and Australia taste nearly the best in the world, in my mind. When you visit these countries I recommend at least try a meal with pork—you won't be disappointed. Japan has the black hog pig—Kurabuta pig— (Berkshire pig) as the best pork, but the regular pork also tastes very good.
Tonkasu is one of the most popular dishes in Japan. You would see a lot of restaurants only mastering this one dish. They would serve only breaded fried pork, or may be Chicken kutsu, breaded fried chicken, for the foreigners, and that's it.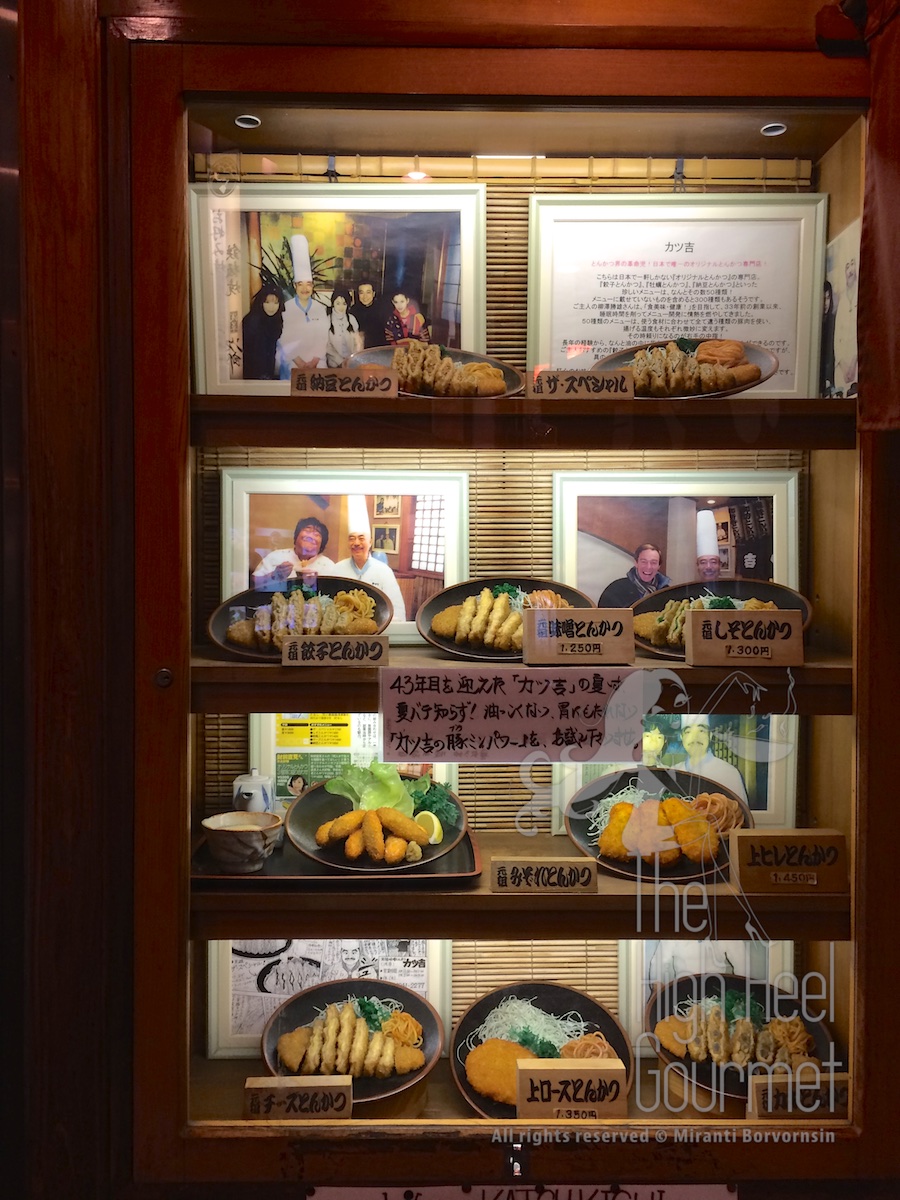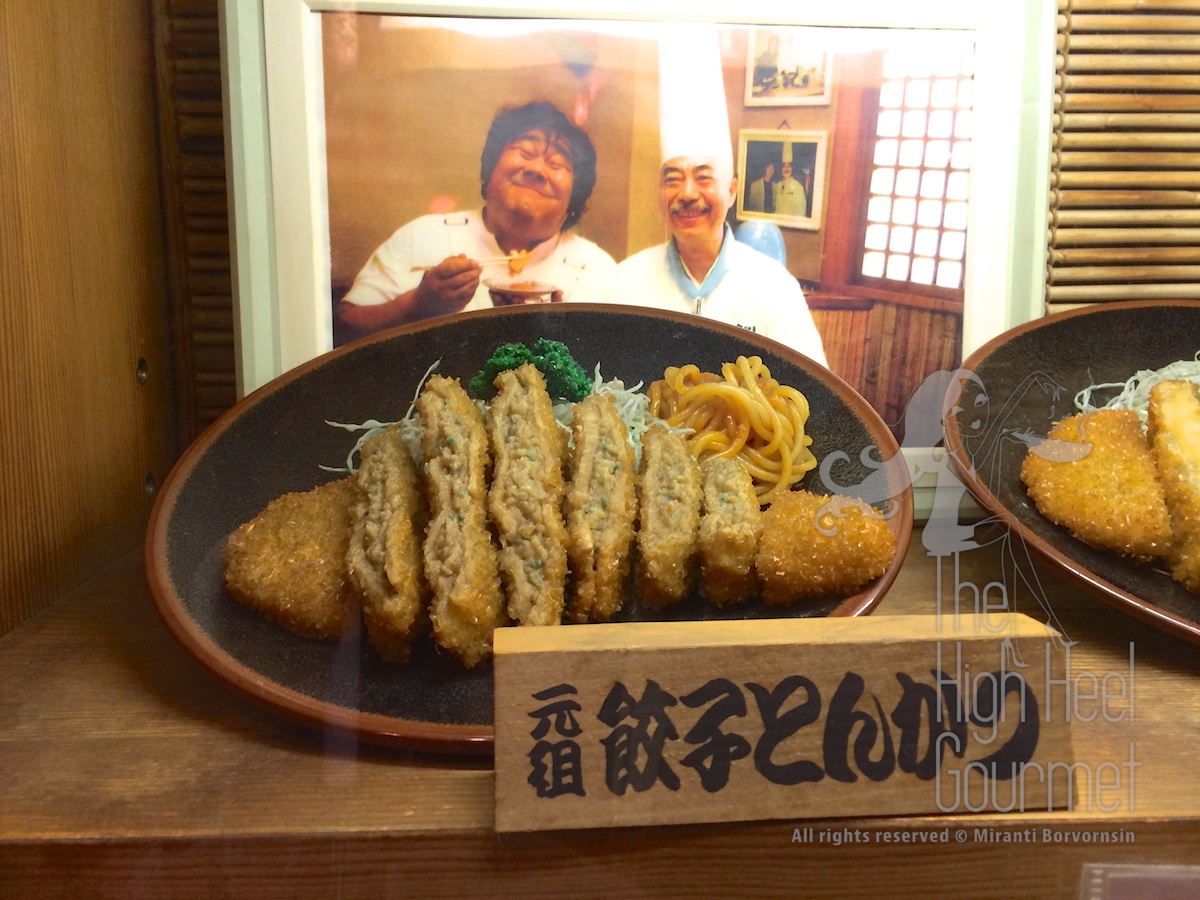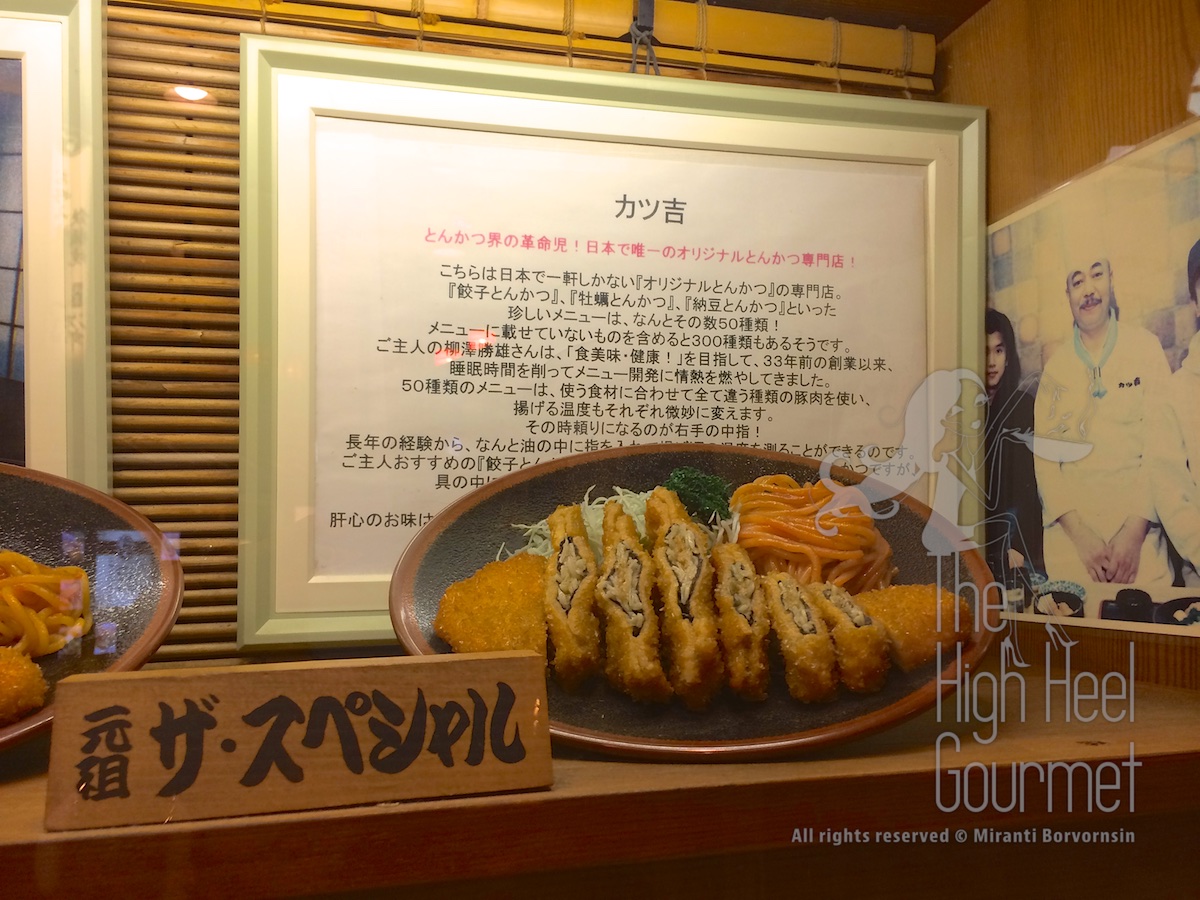 I can't imagine this kind of restaurant would be a success in the US, where a lot of people are afraid of fried foods, "Ewwwww…that is such a tremendous amount of calories," or "No, they might use old oil. I don't want trans-fat." They say, "Oh, I don't eat fried food," and they turn around and eat pasta Alfredo with extra cheese, or a bacon double cheeseburger with "fries" (hello…they don't actually bake them, I hope you know this!) or barbecued beef short ribs. They got this calories things all wrong, babe, ALL WRONG!
There are so many different ways to fry pork and even if you want to limit it to just breaded fried pork, there are still so many different ways. The first is just slice the pork about half an inch thick, season it with salt and pepper, roll it in all the goodies: flour, beaten egg and coat with Panko bread crumb (see NOTE #1), then fry. This type requires a very, very tender pork such as Kurobuta pork or black hog, which is the same breed as Berkshire pig.
The straightforward pork cutlet is still divided in two types, the pork filet (Hire) and the pork loin (Roosu). These are the types that a very famous restaurant chain that is popping up all over Japan and many other countries named "Maisen" is serving. They serve a tender breaded fried pork, so tender you can cut it with chopsticks, believe it or not. I ate at Maisen almost every time that I was in Tokyo, and now they've opened two in Bangkok.
The other fancy way of frying the breaded pork is to slice and pound the pork until it becomes very thin, like ham for a sandwich. I'm talking about 1/8-1/16 of an inch thin, not the usual quarter inch thin here. Then roll them up in many layers. This way many other flavor enhancers can be added such as cheese, shiso leaves, miso, etc.,  before the pork roll up goes into the flour, eggs and Panko bread crumbs. They would call it mille-feuille Tonkatsu.
I have found a restaurant called "Kagura" in Torrance, California, who serves this type of Tonkatsu. If you follow me on my Facebook page or my Instagram, you've probably seen the pictures of the Tonkatsu already. So I didn't really search for it in Tokyo because Kagura is THAT good.
So, why am I blabbing about all of these Tonkasu, then?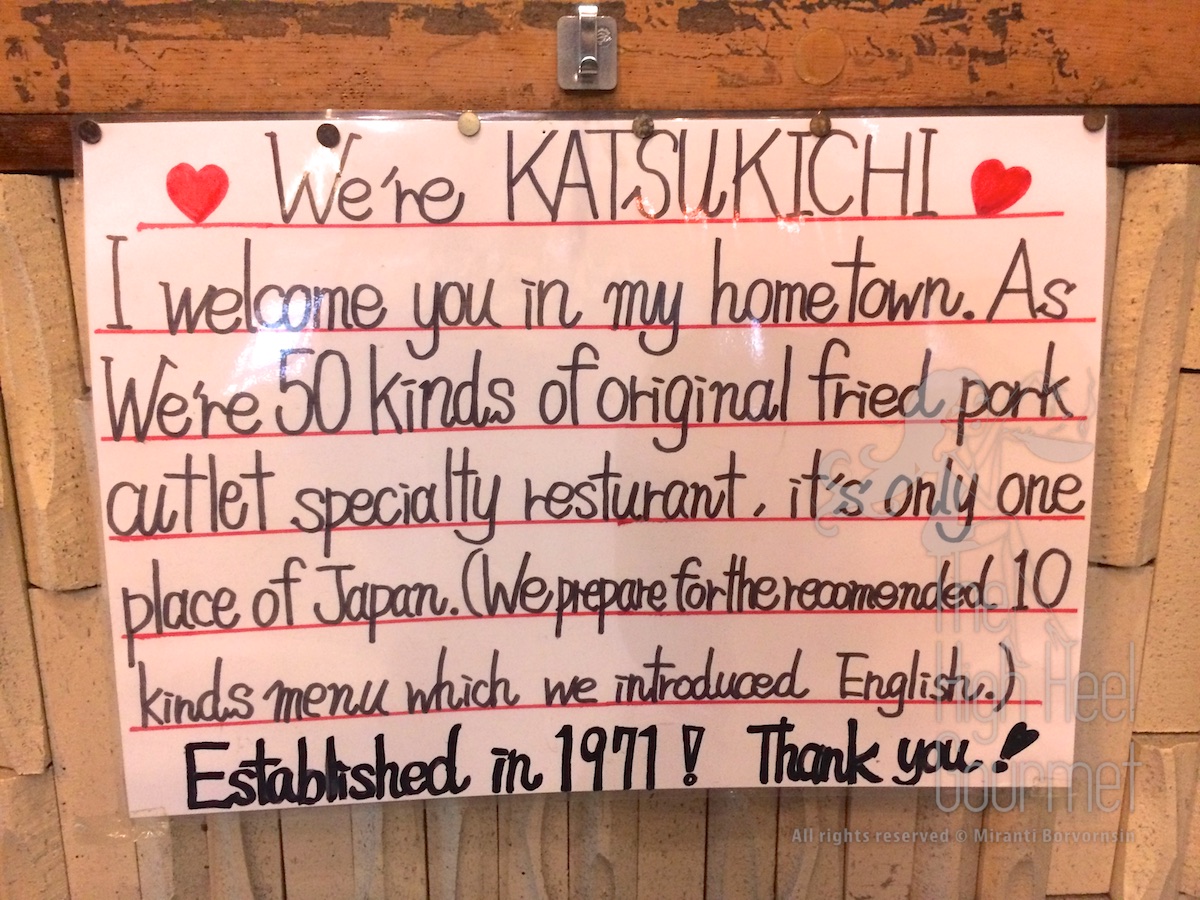 Because I just want to point it out that Katsukichi is really unique, even to the Japanese cuisine. Their Tonkasu is neither thick cut nor mille-feuille style. On top of it, the Tonkasu at Katsukichi doesn't even need any sauce the same way others do.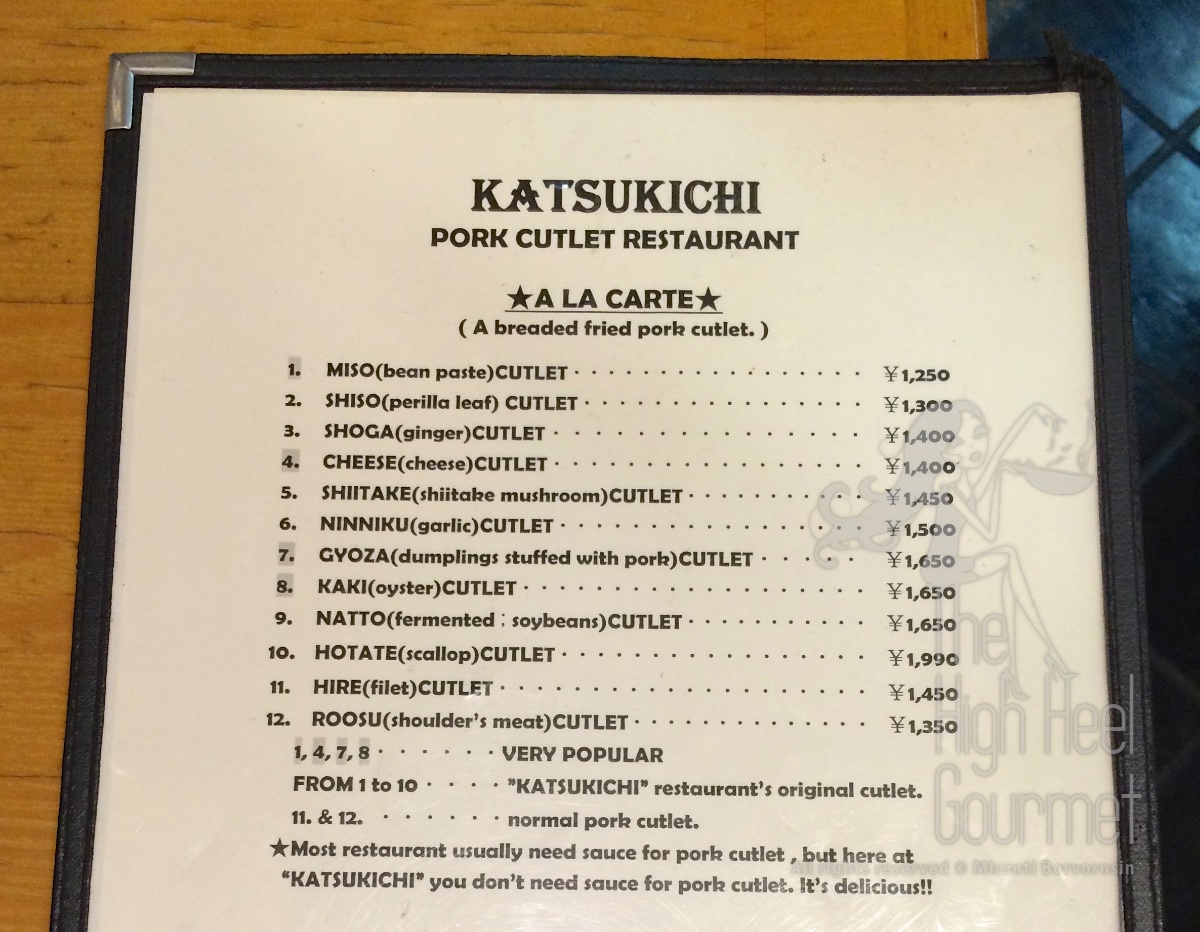 Tonkasu sauce is usually sold pre-made in a bottle at a Japanese grocery store, and some regular supermarkets carry it. If you want a quick Tonkasu sauce when you don't have a bottle at home, you just have to mix ketchup with Worcester sauce and soy sauce, and add a bit of mustard into the mix, then you'll get something quite similar.
Actually, there is much more to Tonkasu sauce than my simplified version. Some chefs use the demi-glaze, some don't, some would use lemon juice, some would add allspice, etc. Each Tonkatsu restaurant has their own sauce, but Katsukichi proclaims, "Most restaurants usually need sauce for pork cutlet, but here at "KATSUKICHI" you don't need sauce for pork cutlet. It's delicious!!" That's quite bold for this type of dish.
So what do they serve there?
Tonkatsu at Katsukichi is quite thin but sandwiches some interesting fillings in the middle. There is a wide variety of fillings, but I couldn't read the Japanese, and the English menu only had 10 choices, of which I tried about five. Number 11 and 12 on the menu are regular pork cutlet.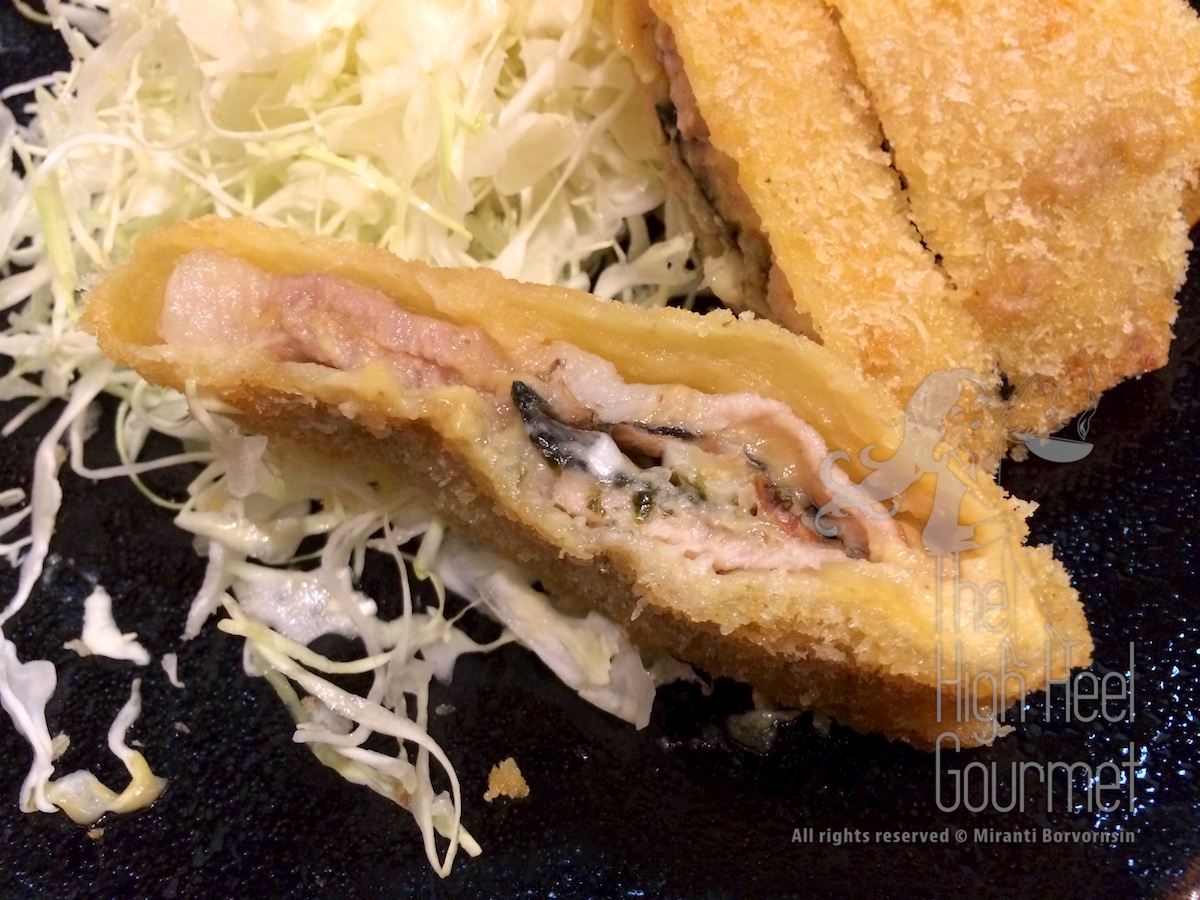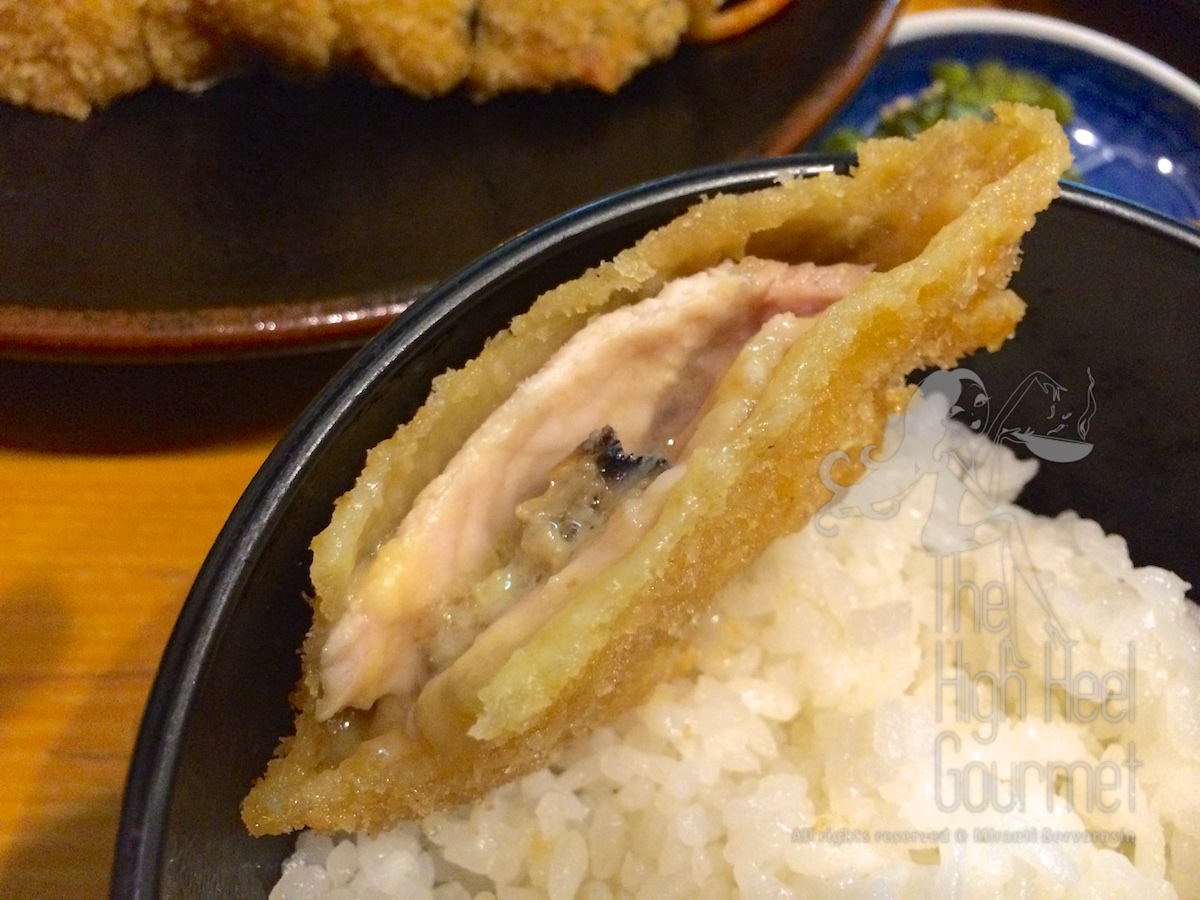 This restaurant seats about 18-20 people at the most in the downstairs section but they have the upstairs room for a large group too. They also have a sign saying no cellphones, and there is an old lady waitress who's the cellphone police, so be careful! I took photos with much difficulty because I had to wait until she couldn't see that I was snapping a picture.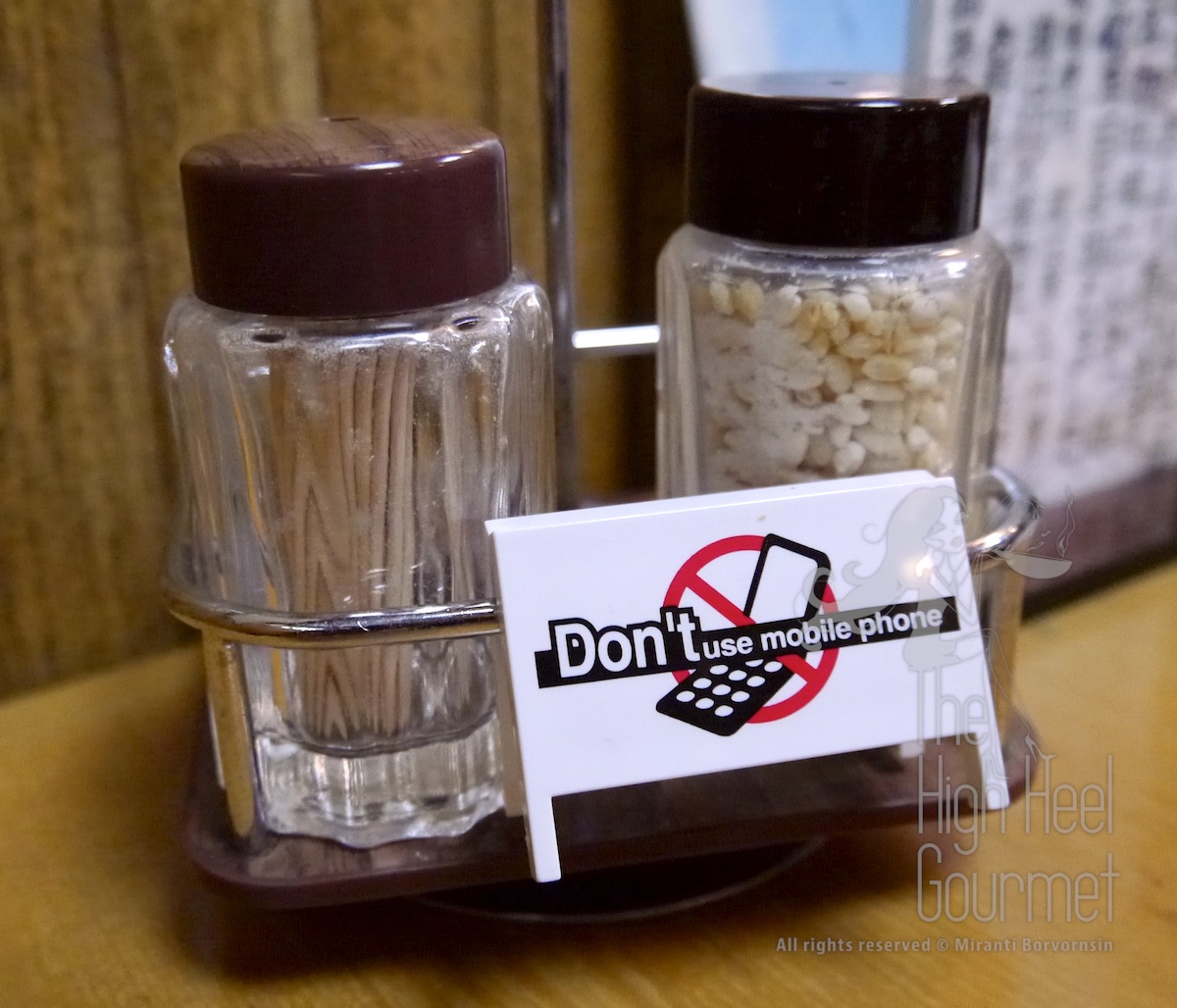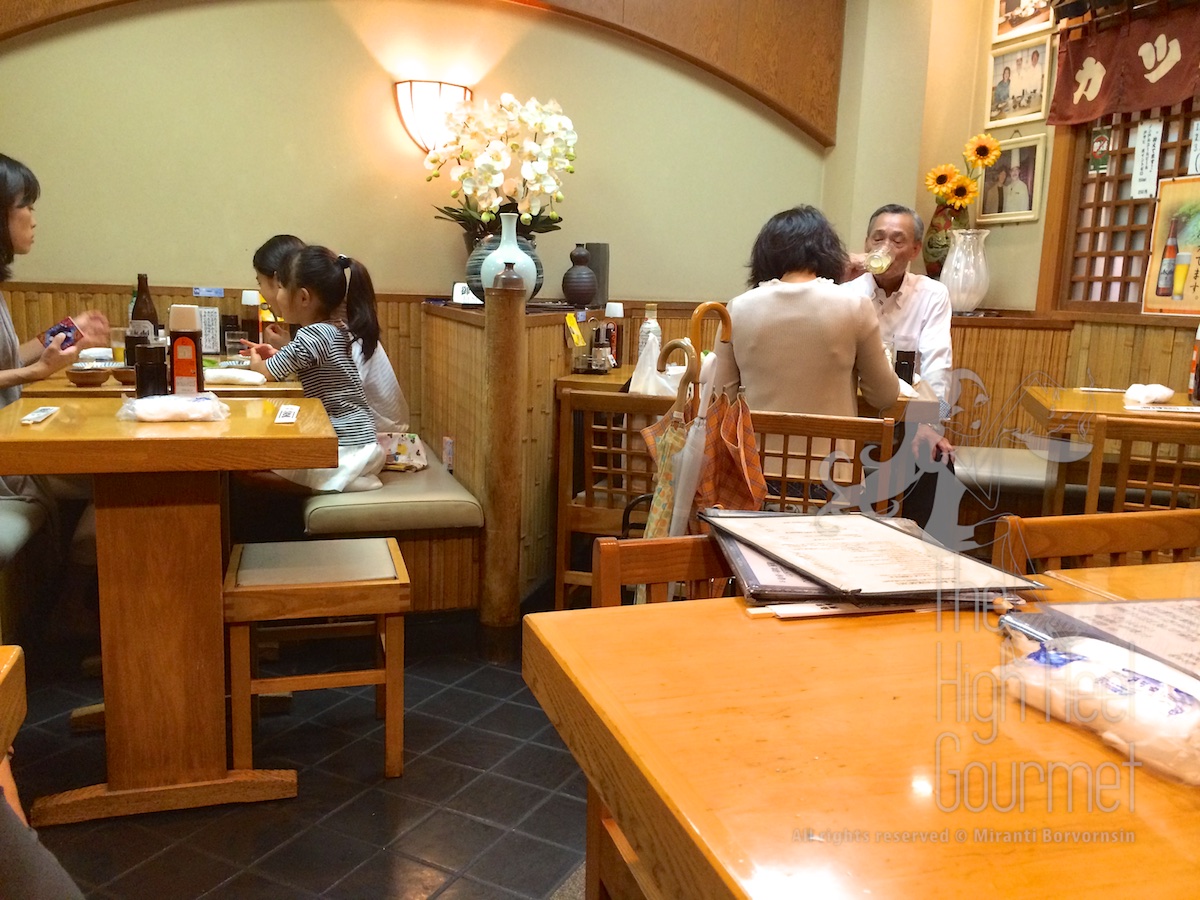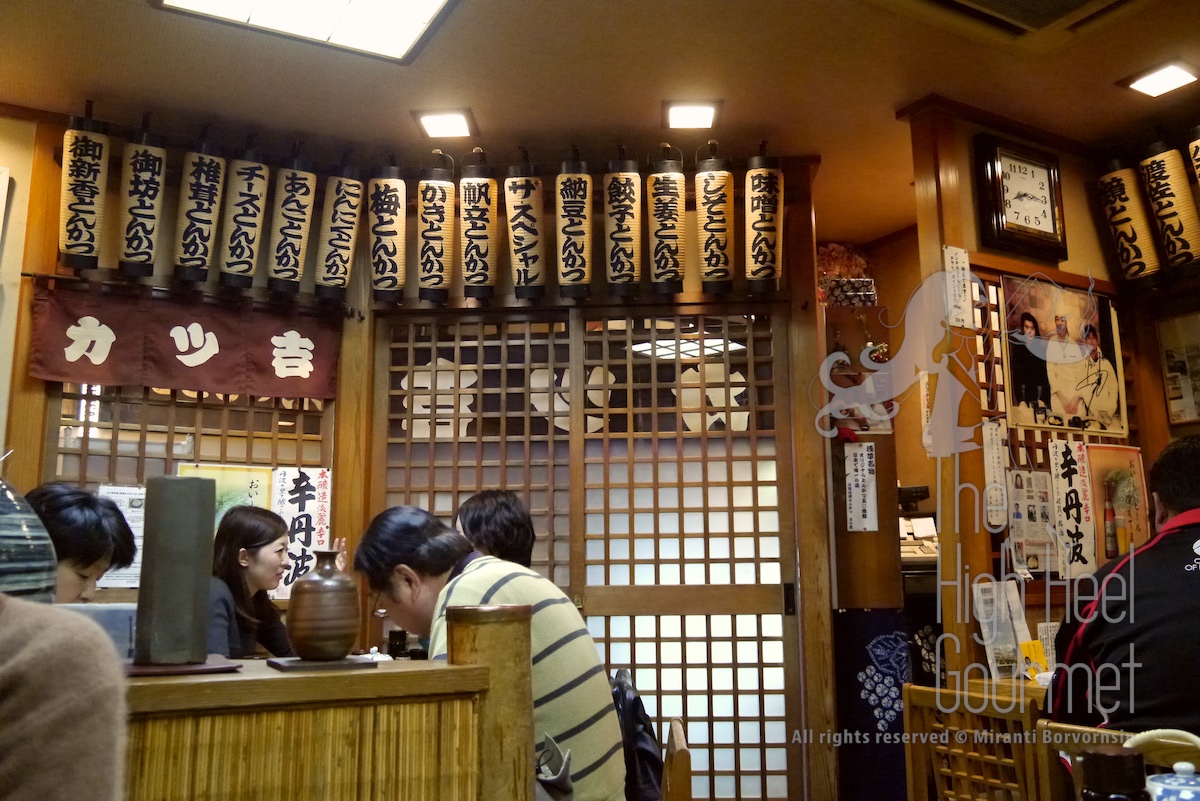 I found this restaurant on the last trip I took back in 2012, but I didn't get good pictures. This time, I managed to get enough good one so you can see the dishes. There is a waiter there who has such a vivid memory. He remembered me TWO years later, amazing!
I had tried the Miso, Shiso, Cheese, Kaki (Oyster) and Natto. My favorite is the oyster (Kaki) and Miso but all of them are so good. I wish I could try more but I will definitely try this place again next time.
WHERE: Katsukichi
1-21-12 Asakusa, Taito-Ku, Tokyo
Tel: 03-38441-2277
http://asakusa-katsukichi.gourmet.coocan.jp/top.html#
WHEN:
Friday – Wednesday CLOSE ON THURSDAY
Lunch 11:00am – 14:30pm (Last order 14:00)
Dinner 5:00pm – 9:00pm (Las order 8:30pm)
WHAT: Tonkatsu, what else?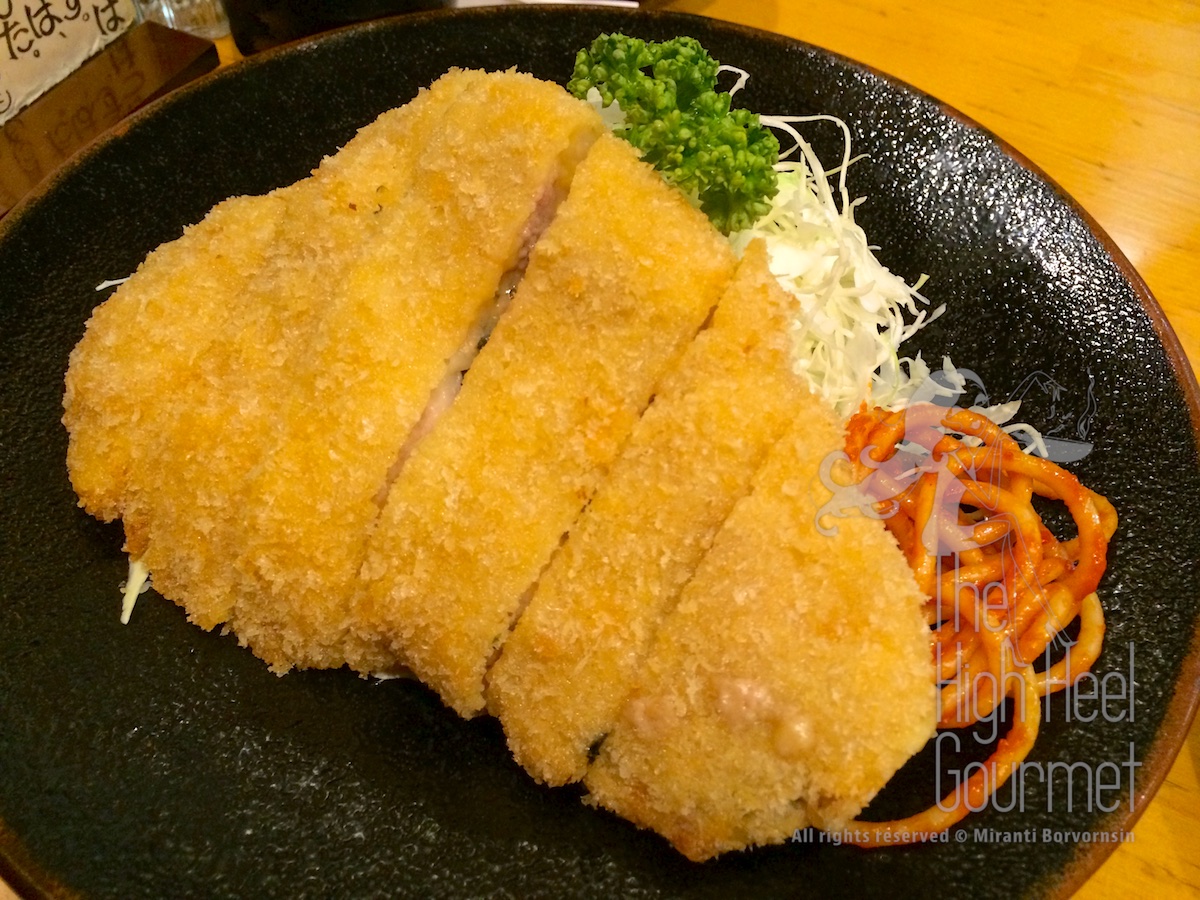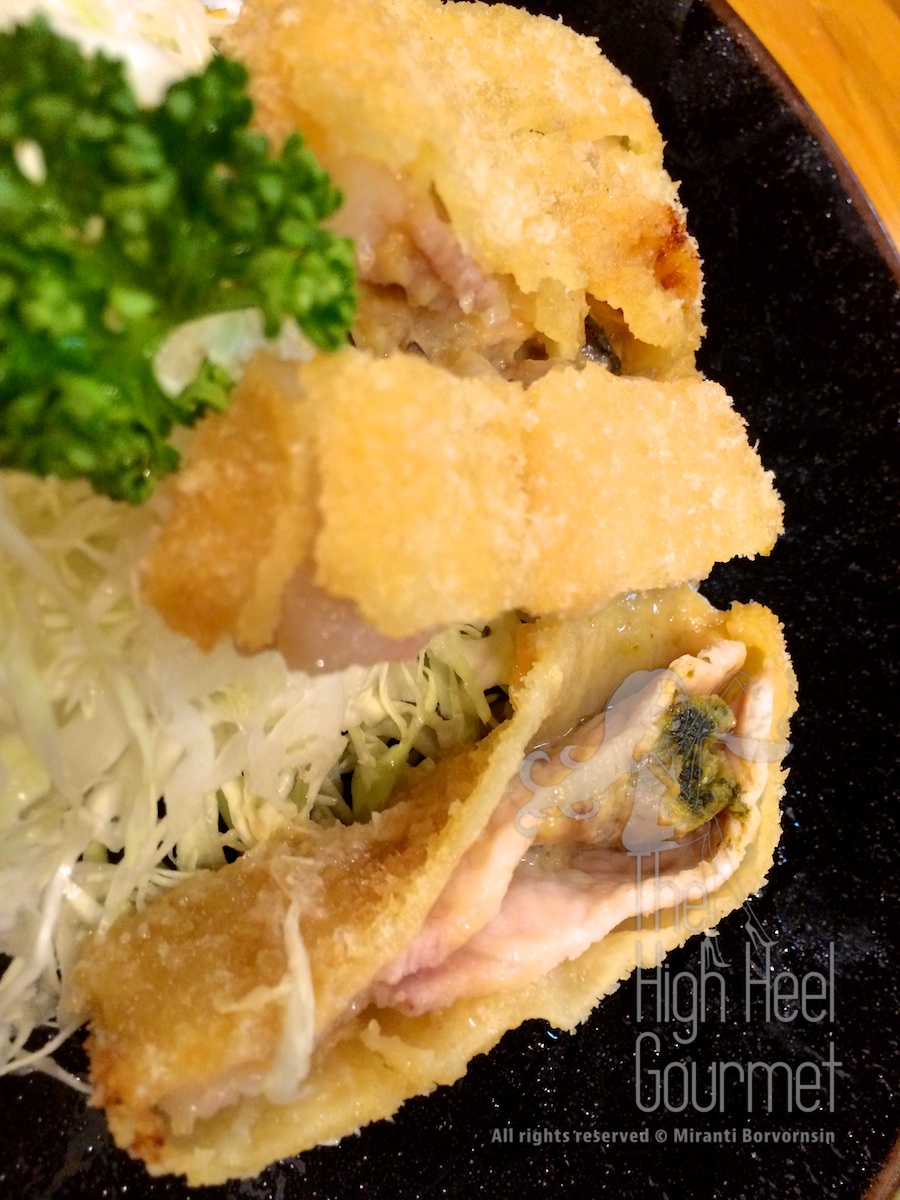 NOTE #1 Panko is the flaky bread crumbs used in Japanese cuisine. How special is this? Panko is made from very airy bread that is baked by passing an electric current through the dough without using heat, hence there is no crust before they crumble it. The crumbs would of course have an airier texture than Italian bread crumbs or most Western bread crumbs and the result is less oil absorbed and a much lighter coating.
Preview: the next post will be my food adventure in Singapore.