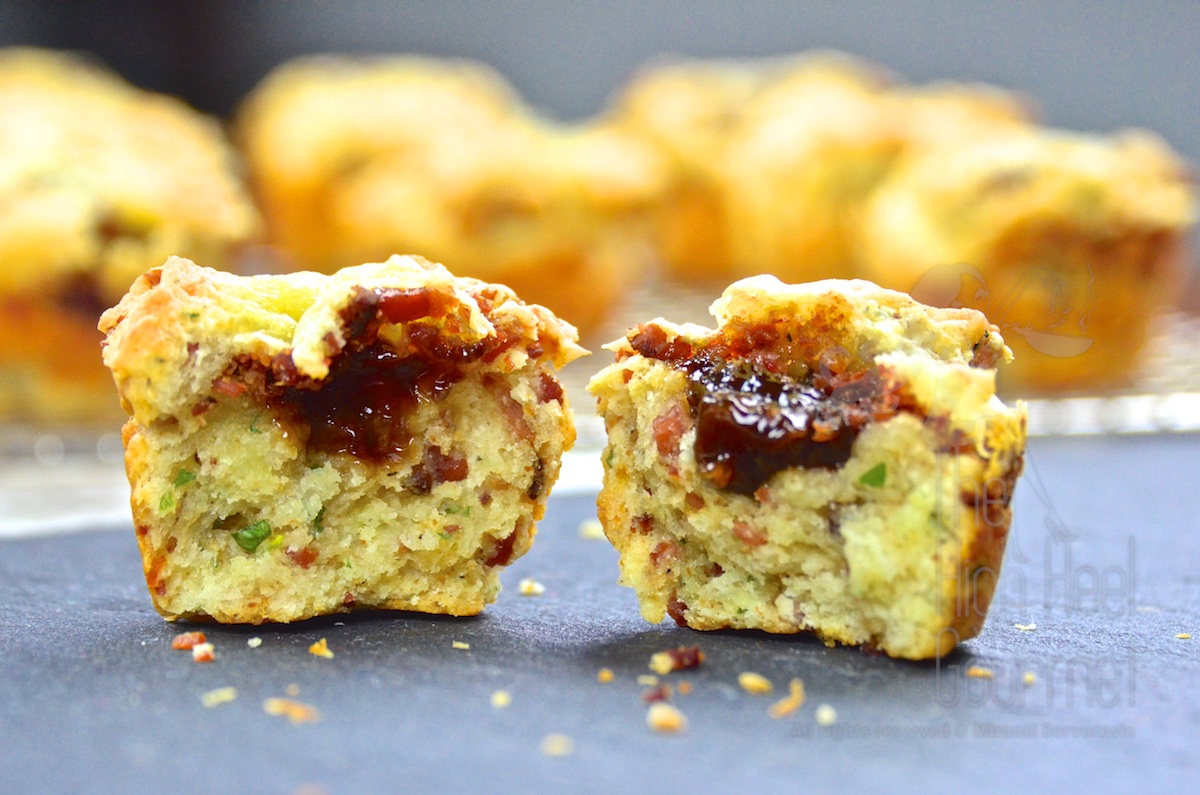 What is "Scuffin"? It doesn't sound like Thai or any known language, does it?
Scuffin is a hybrid dessert. It's dad is the Scone and it's mom is the Muffin. Scone dough baked in a muffin tin with the middle filled in with jam is the exact description of the mutt, the Scuffin.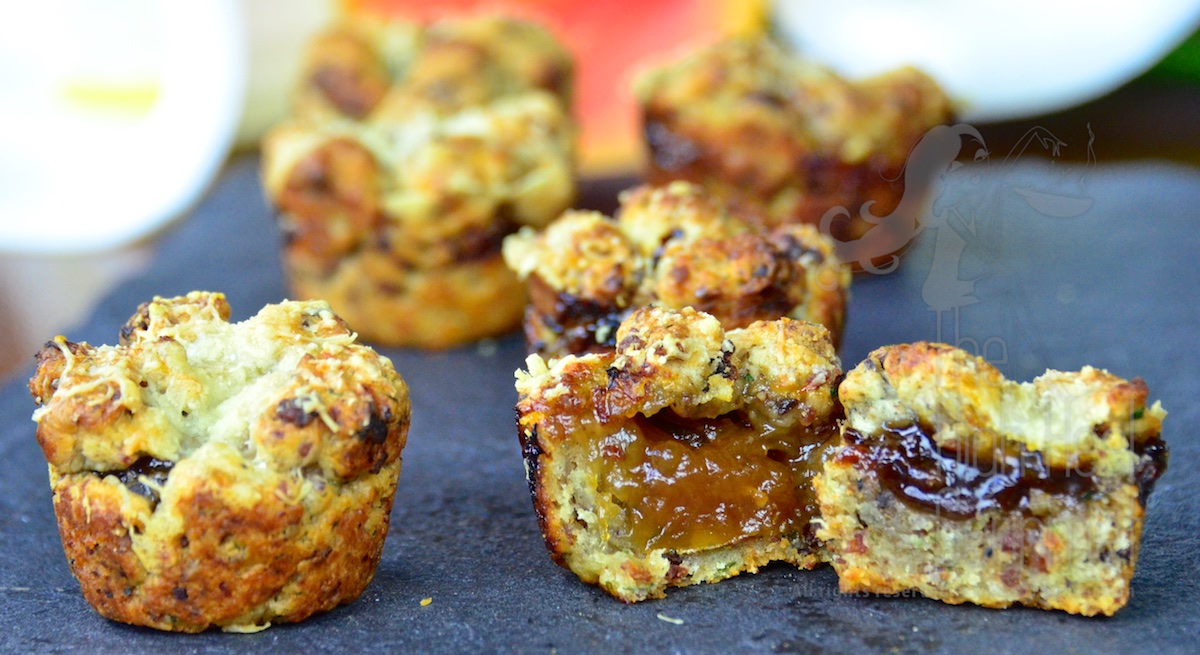 According to history, Frog Hollow Farm, an orchard in Northern CA who produces organic fruits, invented the original Scuffin. They also have a cafe in the Ferry Building Market Place in San Francisco that sells baked goods and jam.
A Thai girl who loves to make her own jam saw the potential of this hybrid and invented a savory breakfast or afternoon snack, and here it comes…the bacon and cheese Scuffin with homemade jam!
I have to admit that I actually just wanted to eliminate an inferior batch of jam from my cupboard. If you don't already know, I make my own jam because I hate jams with added pectin with a passion. You don't get to taste the real fruit. You only taste the sugar and the commercial pectin—so gross! I can't do that. There are some batches of jam I like better than others, the same as some batches  are not my favorite: the jam is too sour, or formed too hard a jelly until it too hard to spread on the toast, or that I forgot and left in the back of the cupboard. All of these are the good candidate for my Scuffins.
For those of you who didn't know, I already wrote a detailed post about how to make your own jam with less sugar and no pectin added. With low sugar, you can taste the different delicious fruits. Try it and you won't buy jam from the supermarket shelf again. This is the link to the jam post "Basic Jam for Beginners, All Natural, Low Sugar, No Pectin Added".
Once you have your own jam, you will be ready for this Scuffin. I discriminate against store-bought jam, but if you don't have some homemade, buy the artisanal one from the farmer's market that is made in small batches. I'm still lost in the stone age  where I make everything myself…lol. Well in the future I might be making my own bacon, too. The time is getting very near. I will share with you when I do that.
What to expect?
Loads of  Yumminess!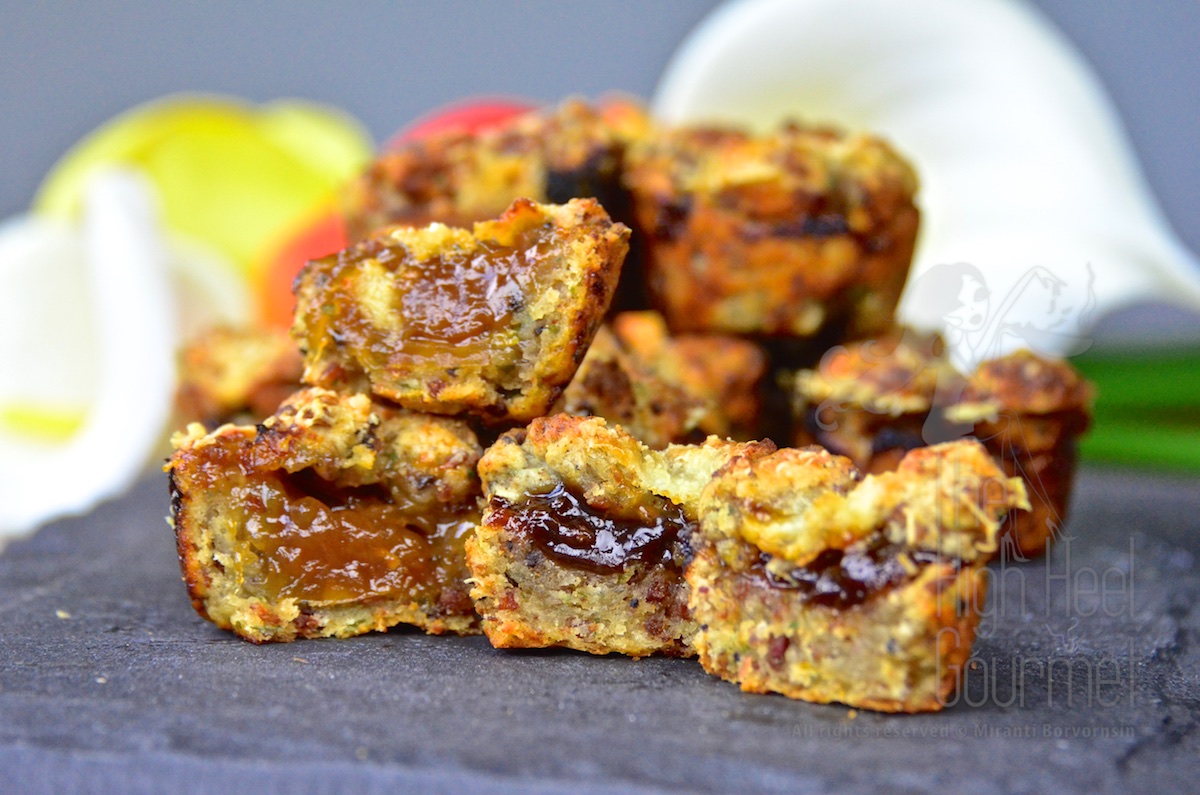 This is not a sweet scone. The recipe doesn't have a lot of sugar as you will see. Plus bacon and cheese tip the scale over to the savory side, until you add jam to the mix. Jam not only adds sweetness  to balance, but also adds the jelly texture in the middle. It's almost like eating bacon maple donuts filled with jam.
I'm done trying to tempt you. Why don't you just MAKE IT? It's easy and all the ingredients are easily found in your hometown. You have no excuse to not make it!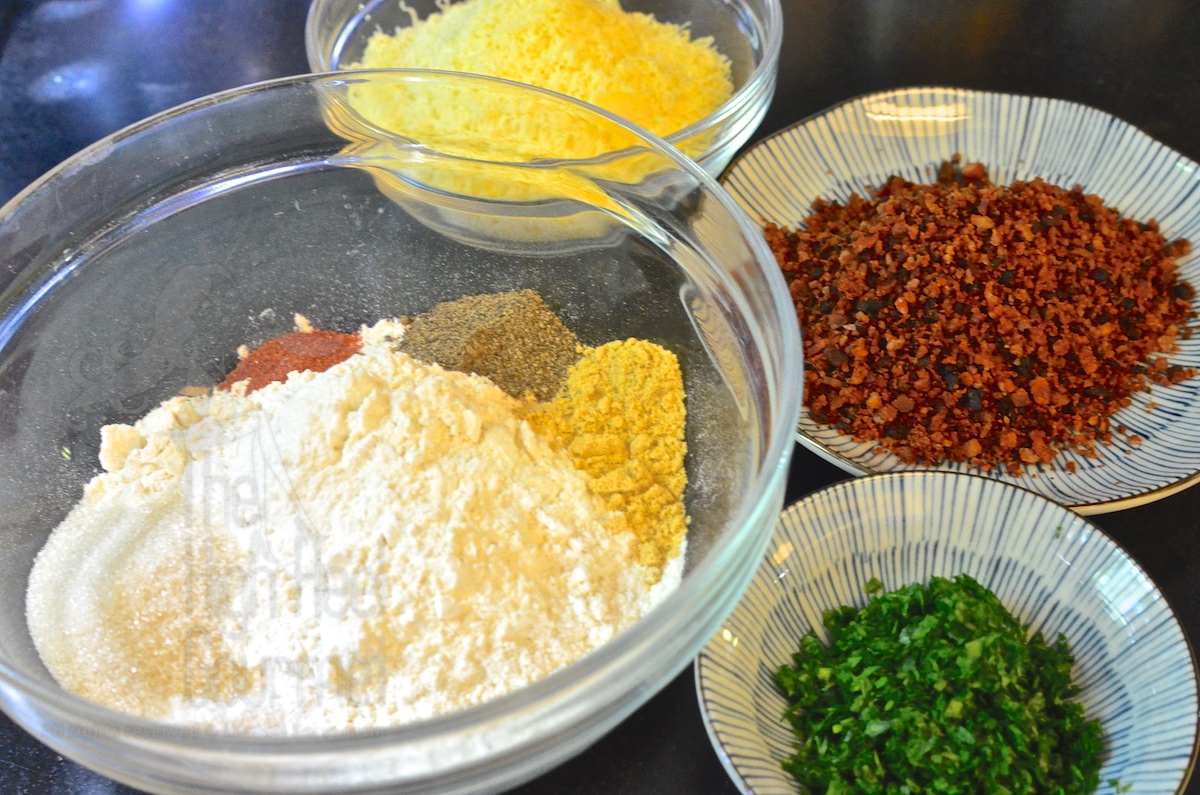 Ingredients:
Bacon of your choice,  300-400g or 1 lb. (After frying you will need 100g of crispy bacon; 65g inside the scuffin, the rest for the topping.)
All purpose flour  220g (1-1/2 cups) You can substitute with 150g whole wheat, 50g whole grain pastry flour and 20g buckwheat flour.
Baking powder  6g (1-1/2 teaspoons)
Sugar  30g (2 tablespoons)
Salt  (1/2 teaspoon)
Butter  60g (4 tablespoons)
Cheese of your choice  100g + 100g for topping
Herb of your choice 3-4 tablespoons (I used parsley)
Ground black pepper  1 teaspoon
Ground mustard  1 teaspoon
Egg, beaten  1 egg
Cream or Milk  1/2 cup (I used milk) Spare another 1/4 cup just in case your mixture is too dry.
Jam of your choice  1/2 cup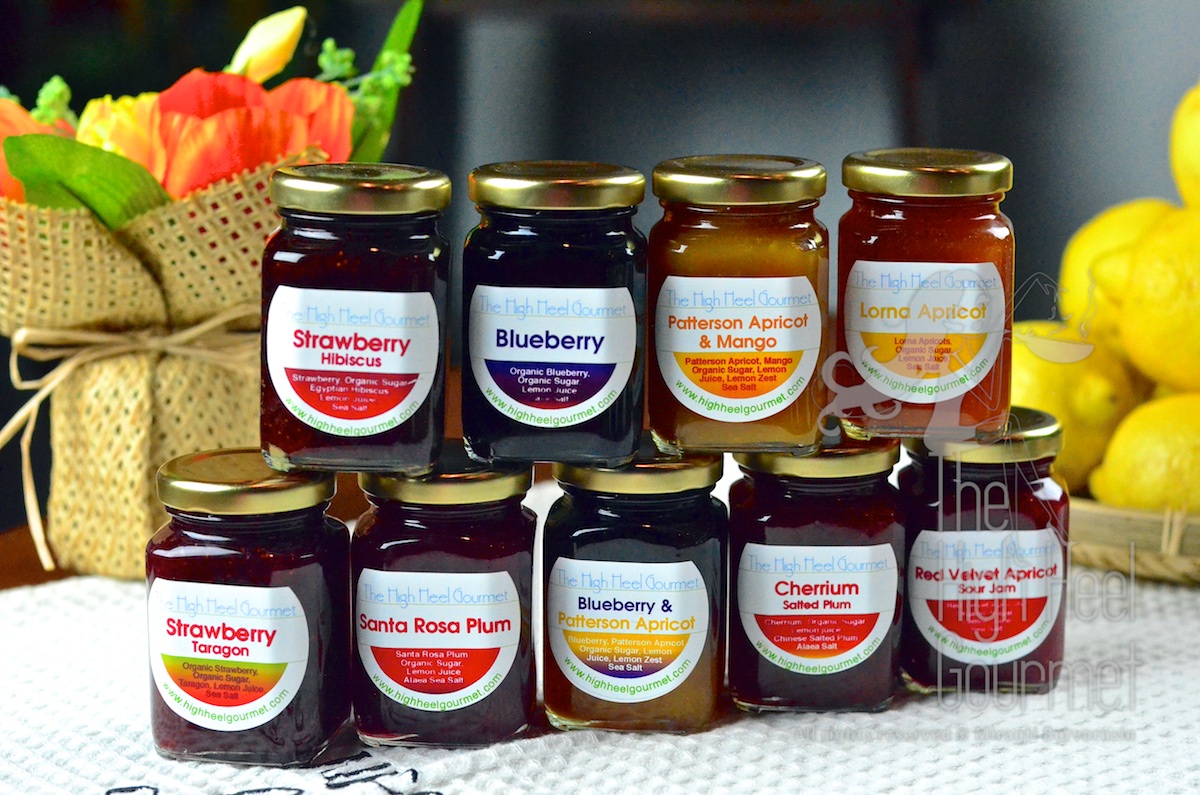 Method:
1)  Fry the bacon until crispy. Use your favorite method. I cut it into small pieces and fry in a wok. Once they're crispy, put them on a paper towel.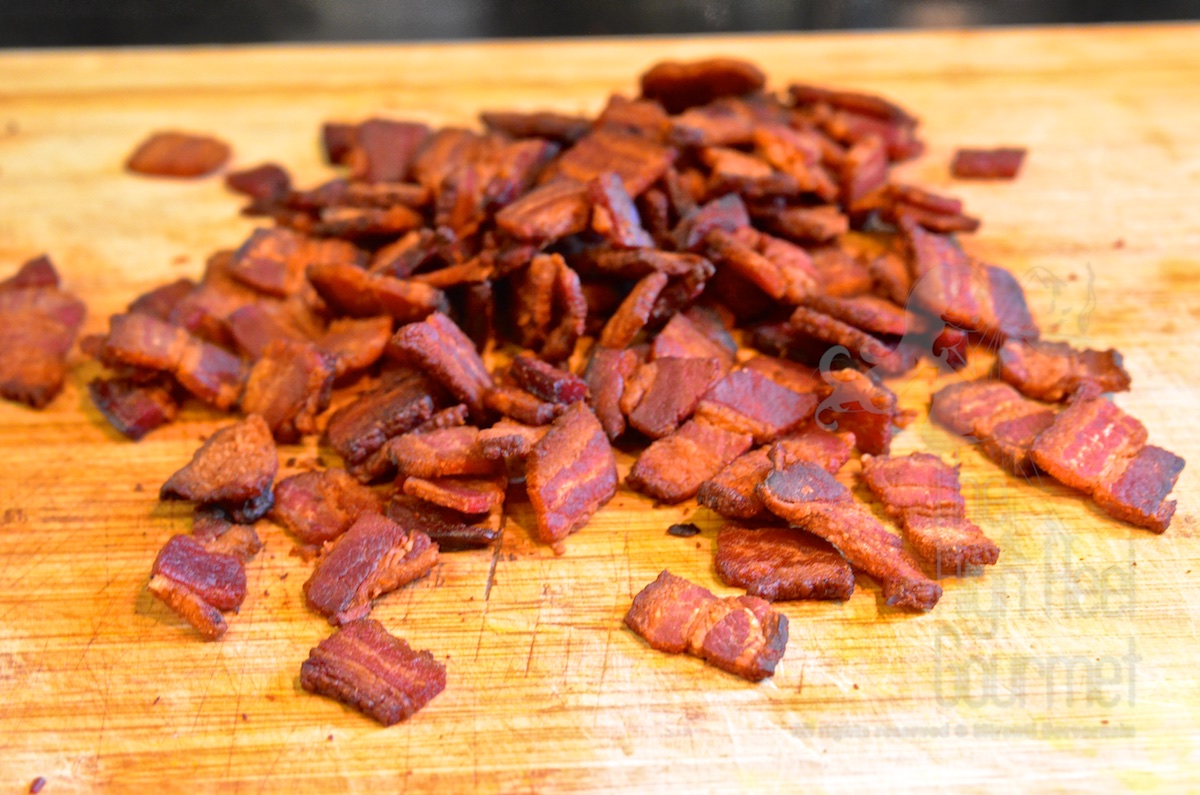 Wait until they cool down before chopping them into small pieces.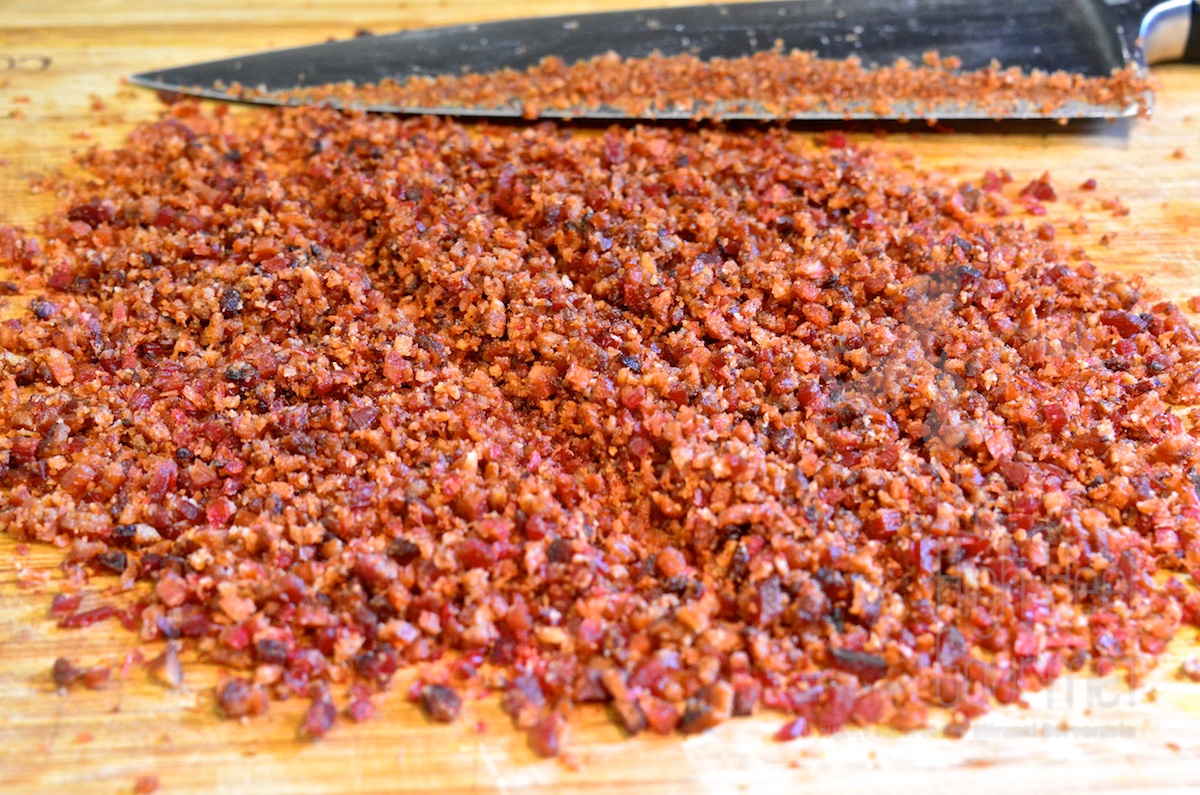 2) Grate the cheese and chop your herbs too.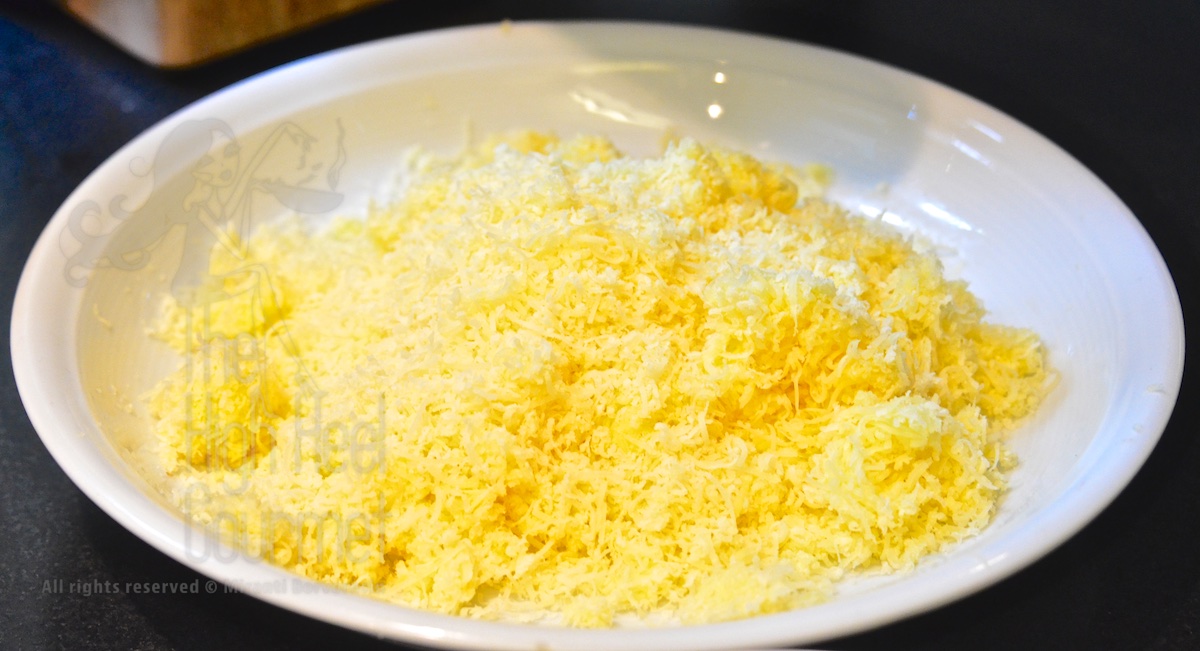 3) Preheat the oven to 400F and grease your muffin tin. I used the small 2" non-stick tin, so I didn't grease it.
4) Sift dry ingredients together: flour, sugar, salt, baking powder, ground mustard, ground black pepper.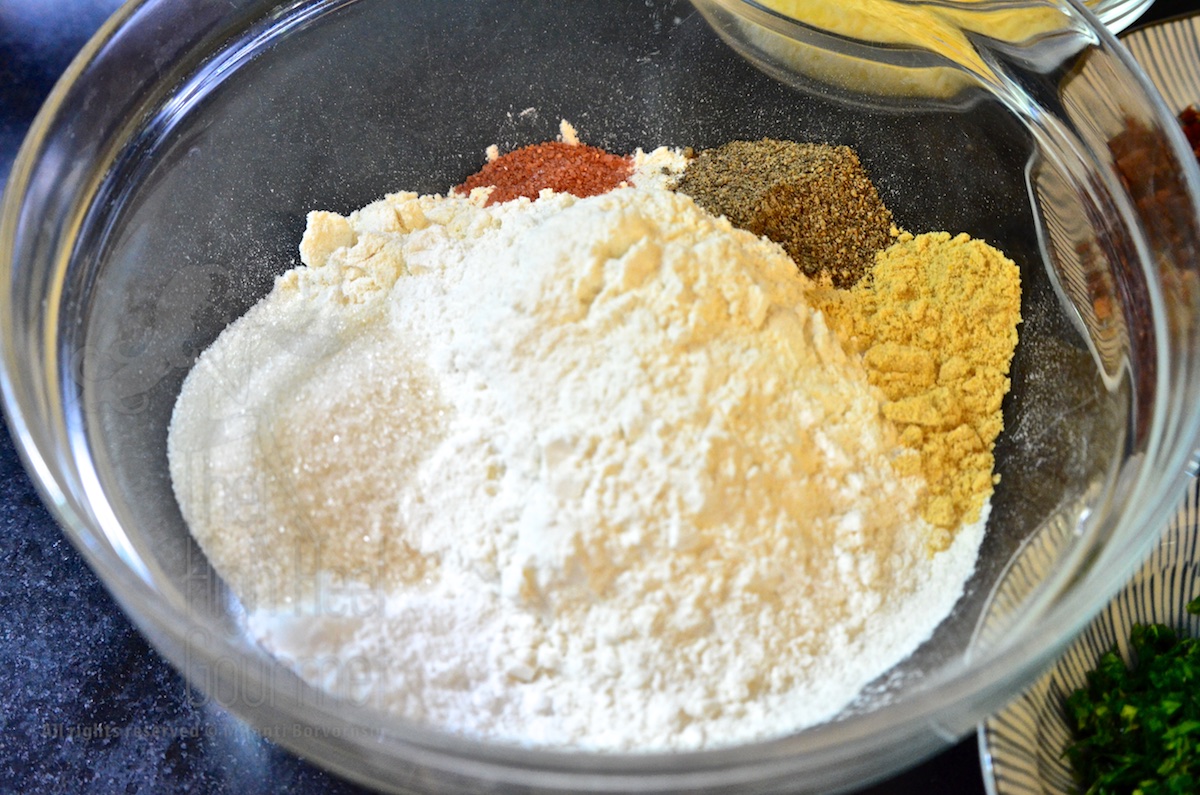 Then cut in the cold butter and cheese until it resembles a coarse meal. You can use fork, pastry blender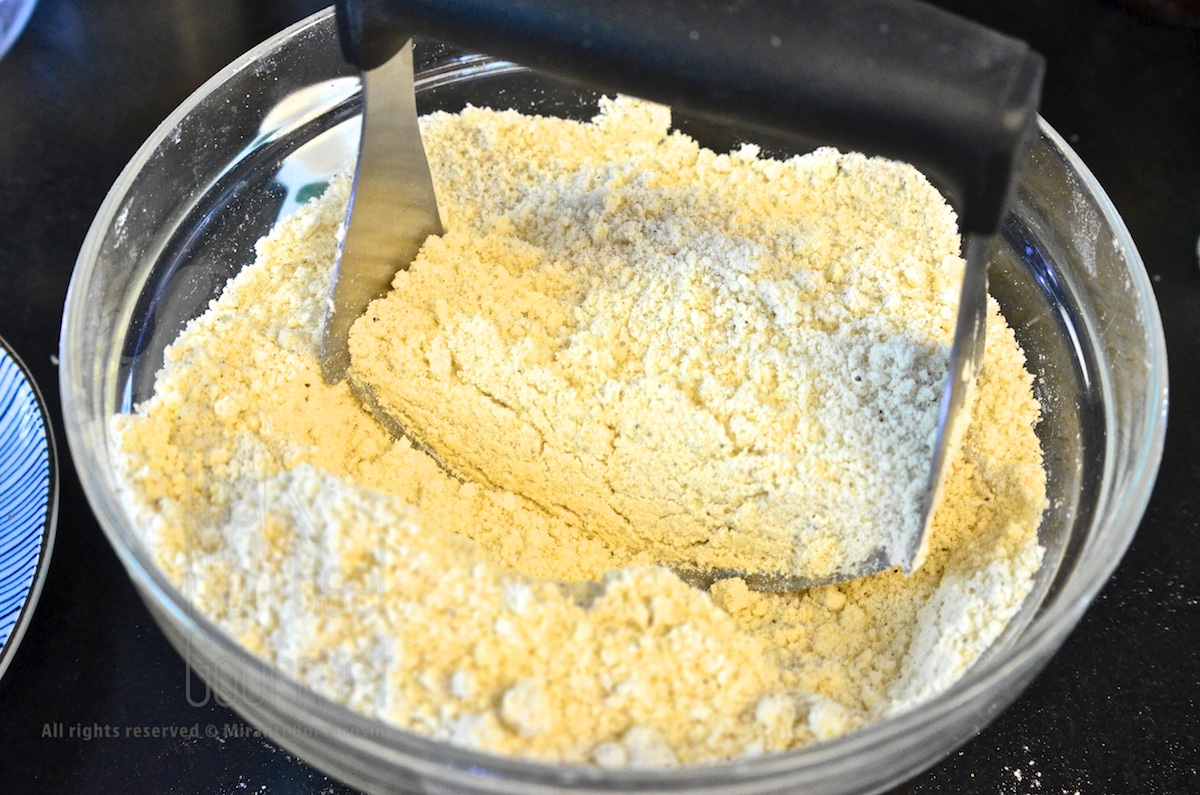 or food processor. It's up to you.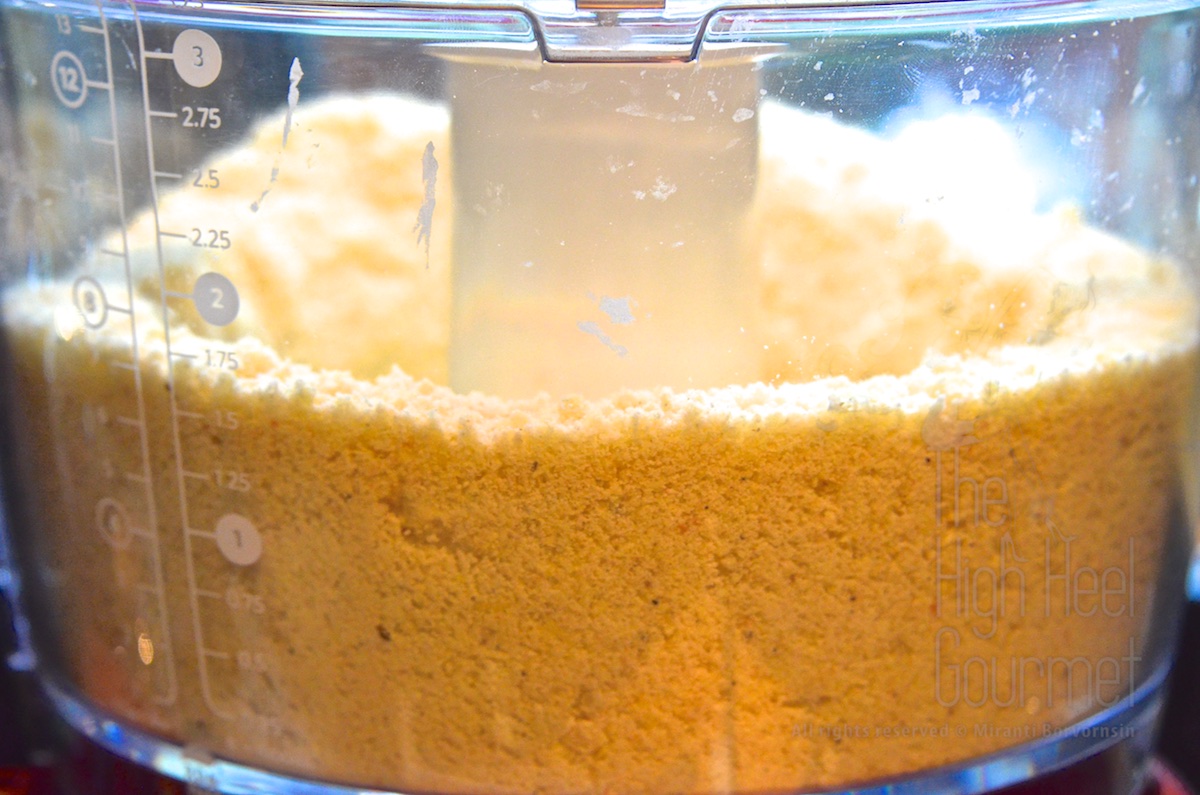 5) Add the egg, chopped bacon, herbs and just enough milk (or cream) for the dough to form.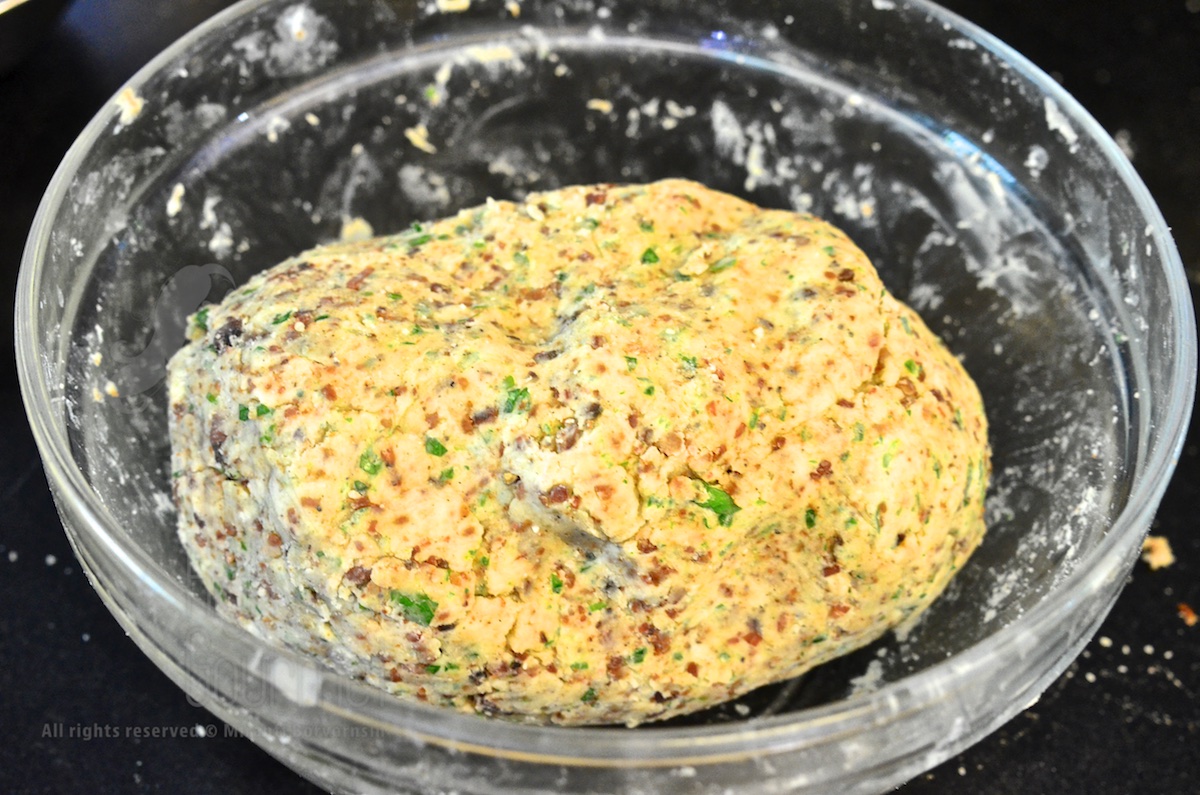 6) Divide the dough. I am a little anal about dividing the dough. I weigh the dough and calculate how many grams each ball of dough should be. You don't have to be like that.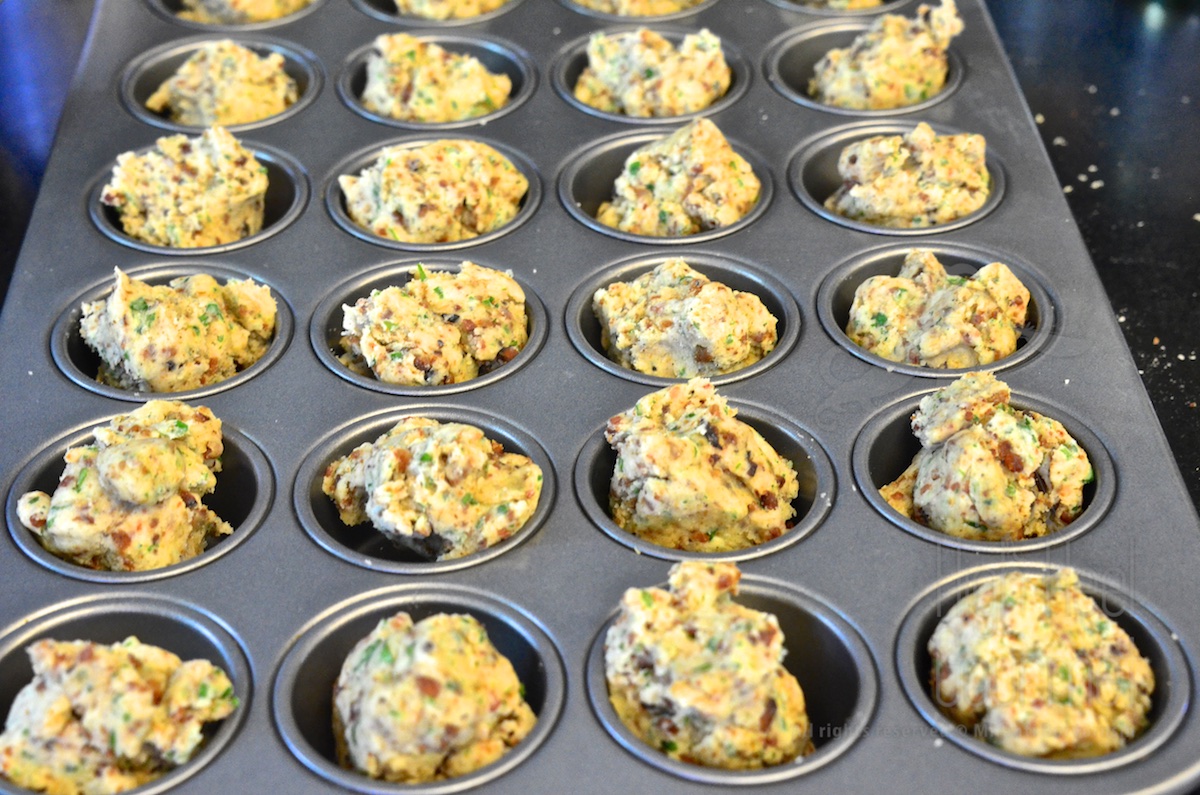 (When I was a kid, my dad had a rule for dividing foods. The one who does the dividing has to pick last. So when we were the divider we learned to protect our shares by trying to make all the portions as equal as possible. The habit lasted…too bad the dad didn't.)
7) Press 2/3 of the dough into each cup of the muffin tin, leaving a well in the center. Reserve 1/3 of the dough.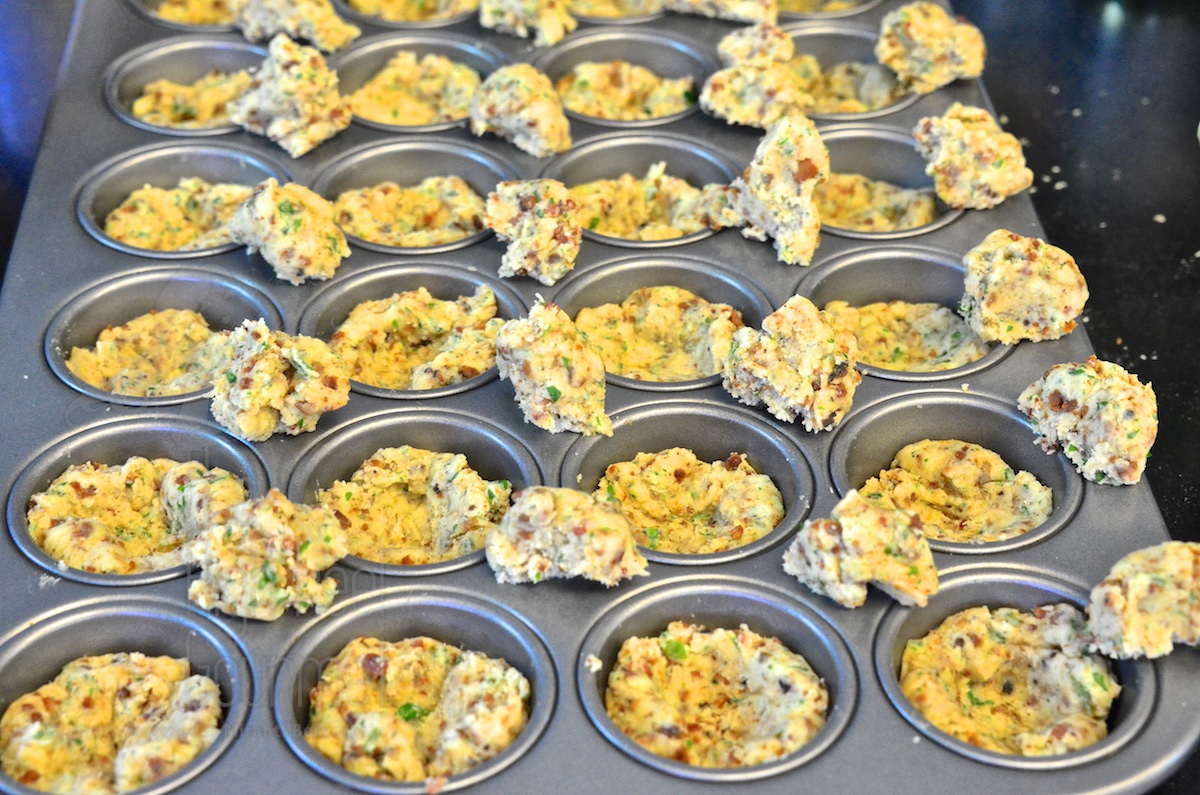 8) Fill the center with a teaspoon of jam (if you are using the same 2" muffin cup I am. If you are using regular size muffin tin, you might want to add more jam in the center.)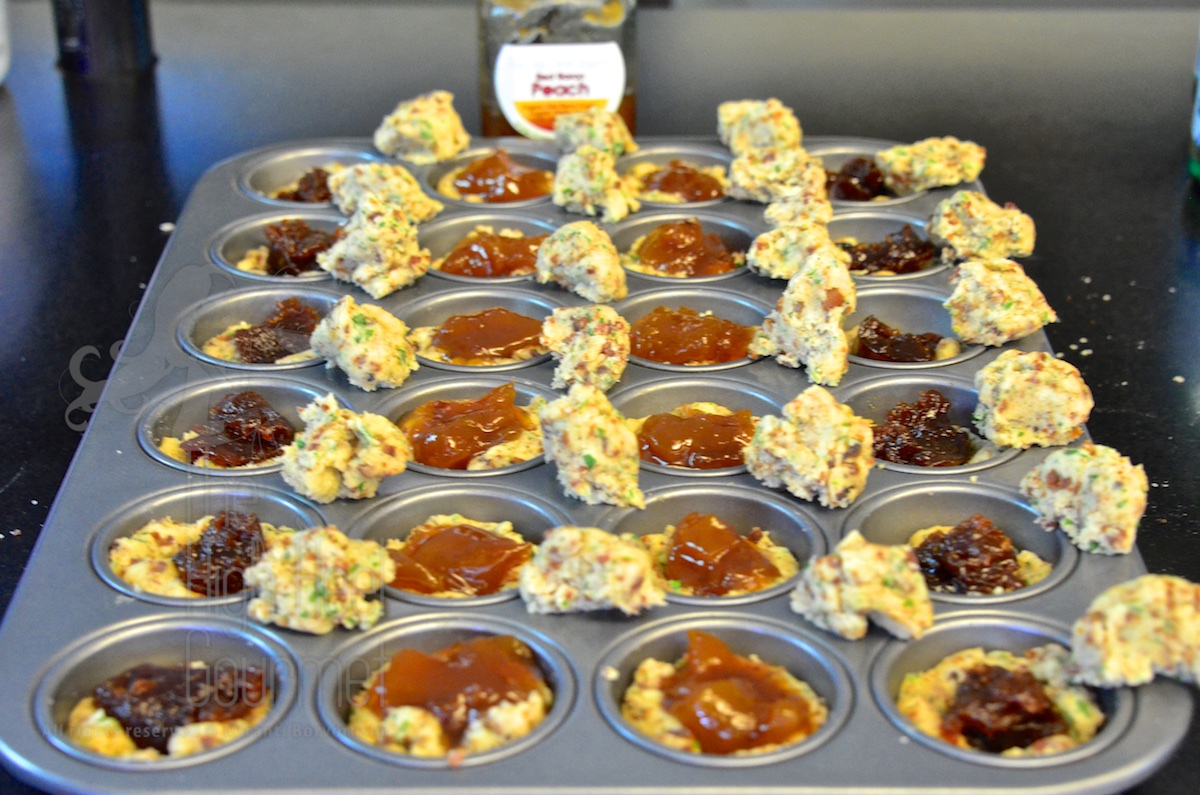 9) The rest of the dough ball that you reserved, crumble and add on top of the jam.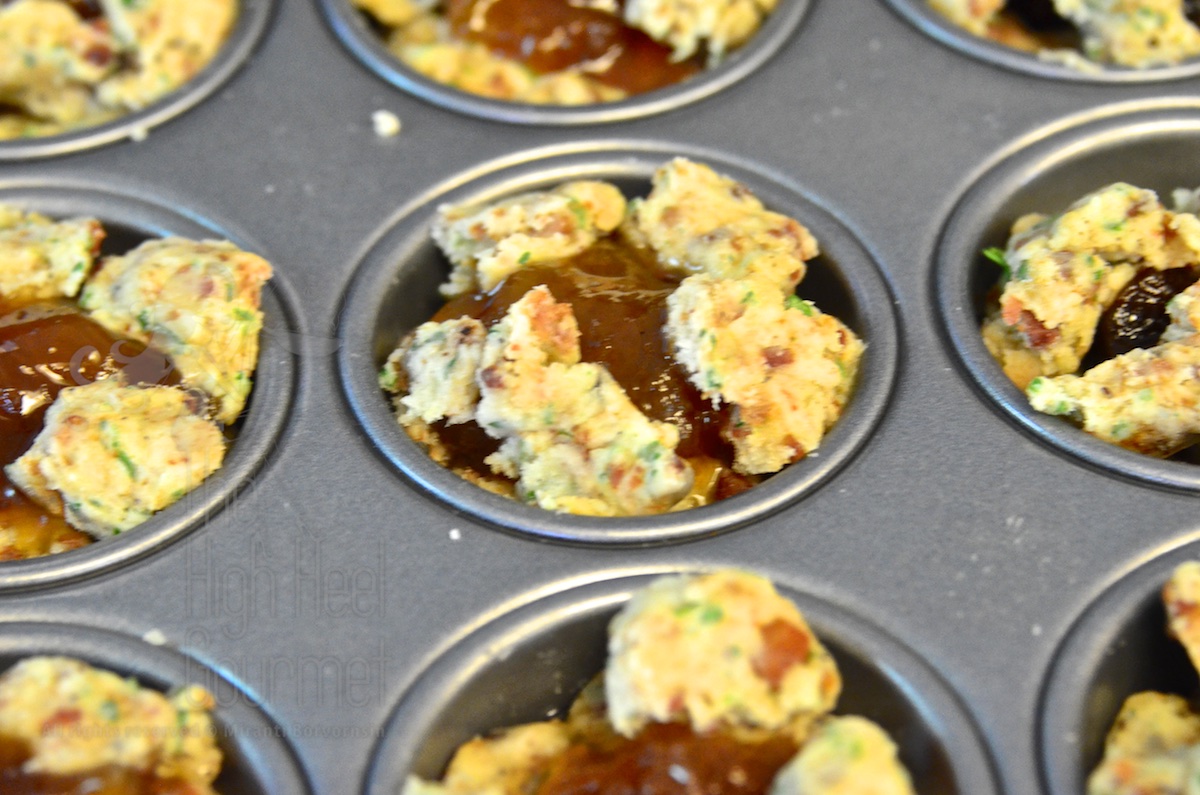 10) Fun time! Sprinkle the reserved bacon and reserved cheese on top.
11) Send them in for a sauna for 15 minutes with the fan on. If you are using the regular oven, not convection, check at 15 minutes to see if they need more time.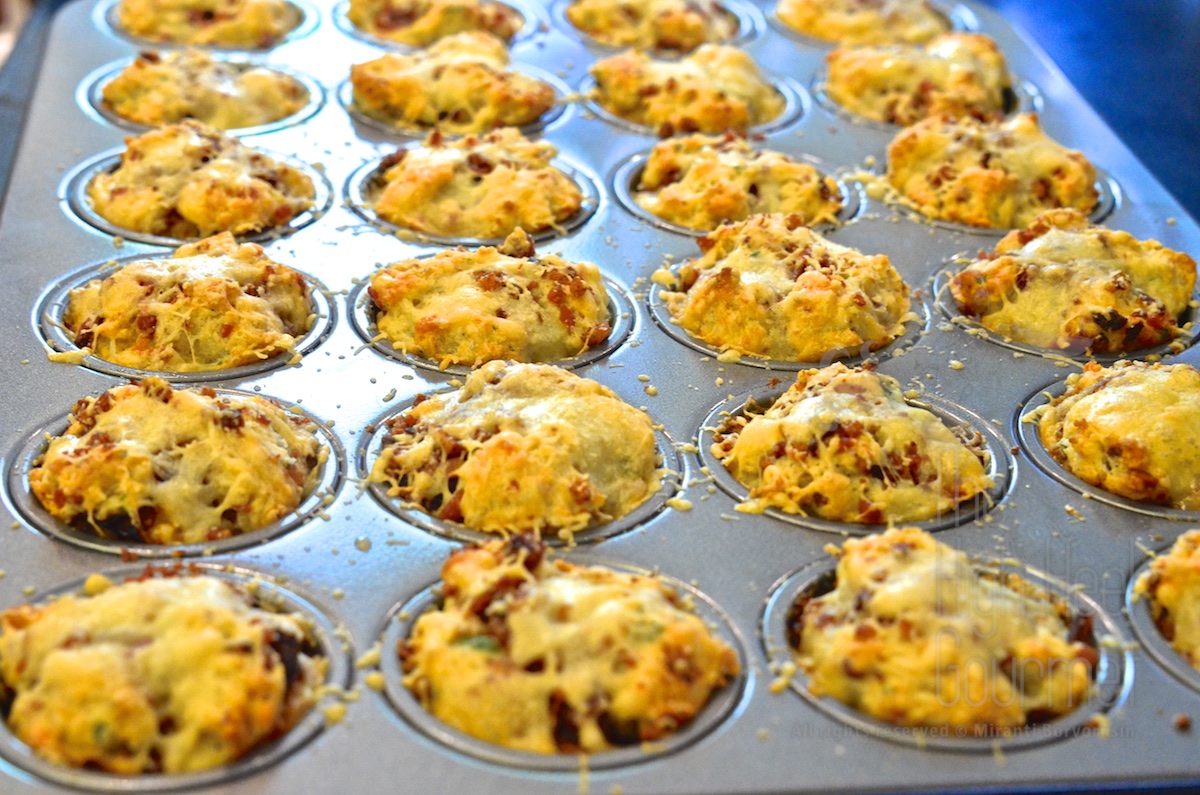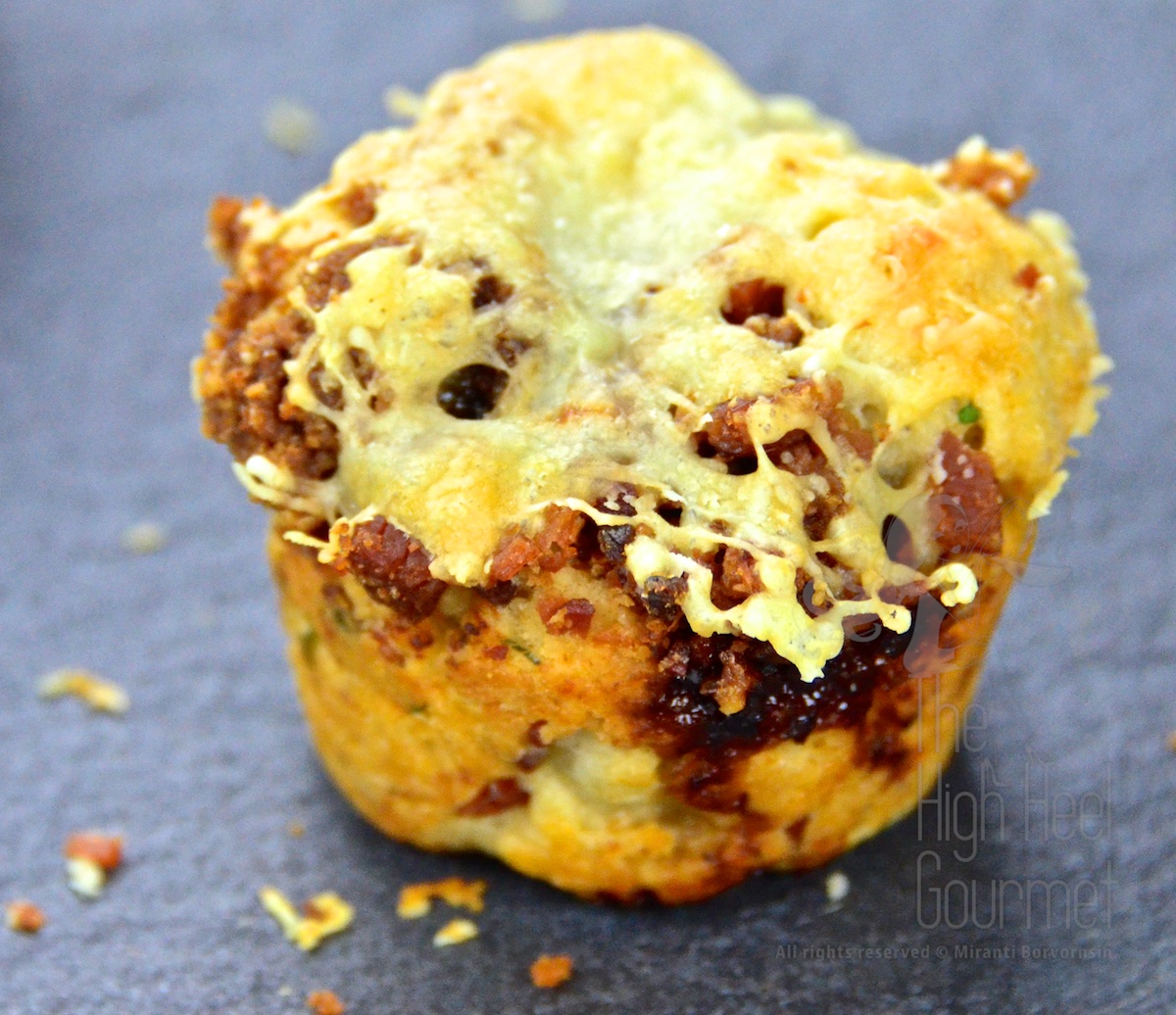 If I were to speak from my heart, I would say, "Hide and relish," but my editor said I need to say, "Share and enjoy"…Here we go this half of one for you, with love. The rest…are mine!