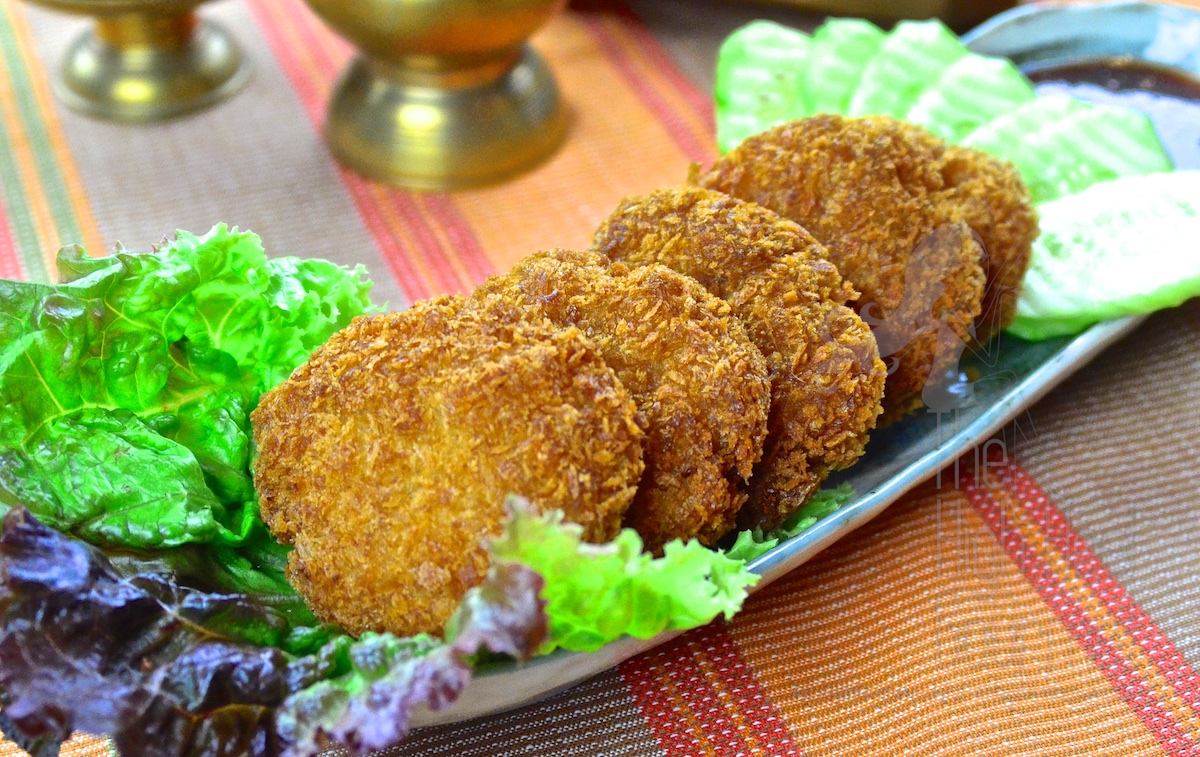 This is the "cut in front of the queue" recipe. When a pregnant woman requests a recipe, you have to do it quickly. It could  affect her pregnancy or the baby in the womb if you don't, you know. So, this recipe skipped to the front line.
She's not only requested the "authentic" Thai shrimp cake recipe, but she sent several pictures of shrimp cakes she had made from various recipes she found on the Internet, and some from recipe books.
Oh my gosh, she introduced me to so many so called "Thai recipe books" that I almost roasted the authors over an open fire, with real Thai marinade, of course! That way they can remember what "authentic" Thai recipes are and NEVER add the name "Thai" to their lousy recipes just to sell the book.
Some claimed that following his "easy" recipes would yield the result just the same as the food served on the streets of Thailand. I think he probably had landed somewhere else, because his recipes are just simply shit. I have never seen those in my country before.
No wonder my pregnant lady failed to make a shrimp cake the same way she had at a Thai restaurant in Thailand. This is a simple thing. It's not as hard as the Thai fried fish cake or Tod Mun Pla that I already wrote about.
Of course, the shrimp cake has a Thai name. It's called Tod Mun Goong.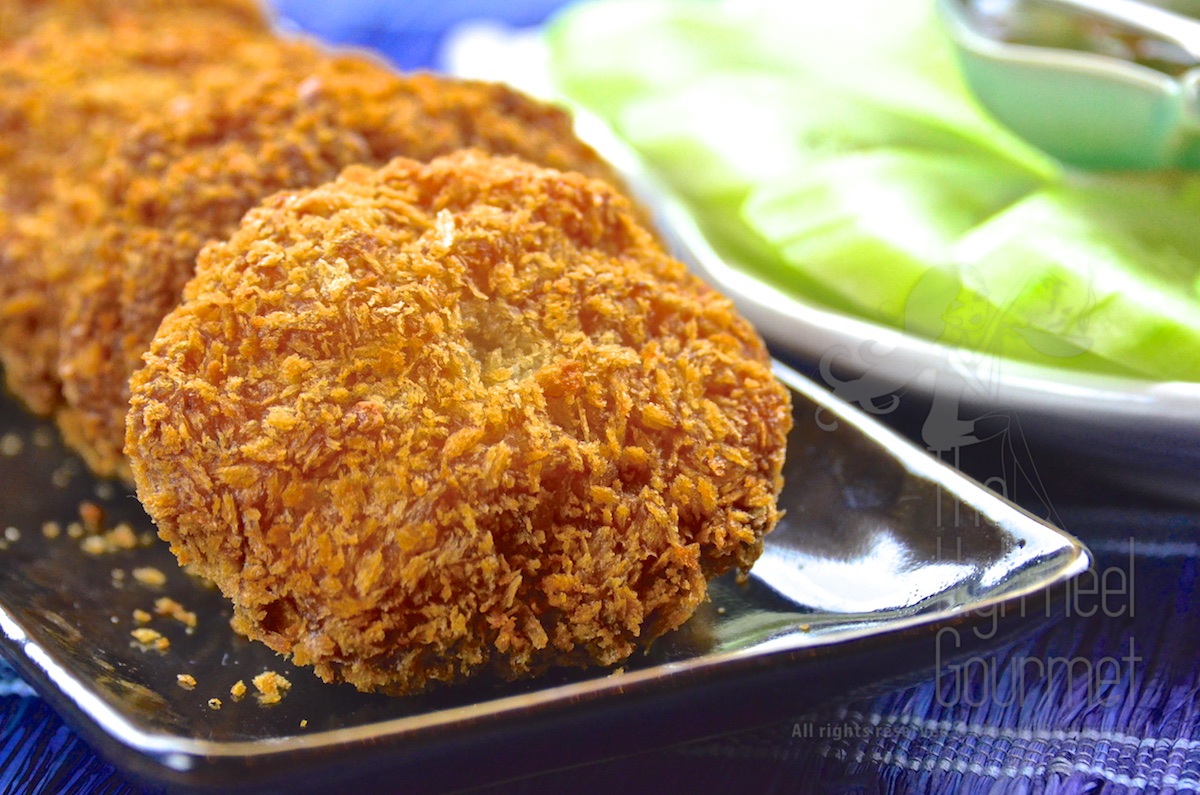 I love a shrimp cake because it's not spicy. When I was little, this is a typical "kid's meal" at a restaurant. The same way as french fries or spaghetti and meatballs are. If you see the family table at a Thai restaurant in Thailand, one end of the table usually is the kid's section. And on the table in front of them, I can almost guarantee that shrimp cakes, Thai omelettes and pork with garlic and pepper are sure to take the leading roles there.
This is my childhood favorite dish, even though I don't make them as often nowadays because I am already a grown up. LOL…I'm kidding. It's because one of the ingredients isn't the typical item that I can just go to the market and buy right off the shelf. And when I do buy it, I have to buy it in such a big bulk. This ingredient is also high in calories, too. I don't want to burst anyone's bubble yet that the shrimp cake isn't a "clean" or "healthy" food…stay tuned. I will tell you the secret ingredient later in the next few paragraphs. Let me rant first.
It is painful to see those people who use their brain just to keep both ears apart ruining my childhood favorite recipe. They make me mad, very, very maddddddddd! I don't know if they ever even had a "real" shrimp cake. They seem to make up a random recipe and slap the name "Thai shrimp cake" on it.
If they are more respectful and just leave out the name "Thai", I won't fuss about this as much, but they chose not to. I guess they probably don't have any better way to make money. They are worse than the Chinese who made those fake eggs.
There is no lemongrass, curry paste, chili, corn, kaffir lime leaf, mint leave, ginger, basil, or cilantro in a shrimp cake, alright?
The recipe that my pregnant lady reader rated the closest to the authentic one is the recipe belongs to another famous Thai blogger who also writes for a famous food site, too. I took a look at the recipe and found out that she missed out on that secret ingredient, too. I don't know if she intended to or she couldn't find that ingredient in her town.
She used baking soda to make her shrimp cake tender. Originally in Thailand they used…(Are you ready? Here we are—the cat is out!)…pork fat!…No, please don't scream just yet. Try it first and you will understand.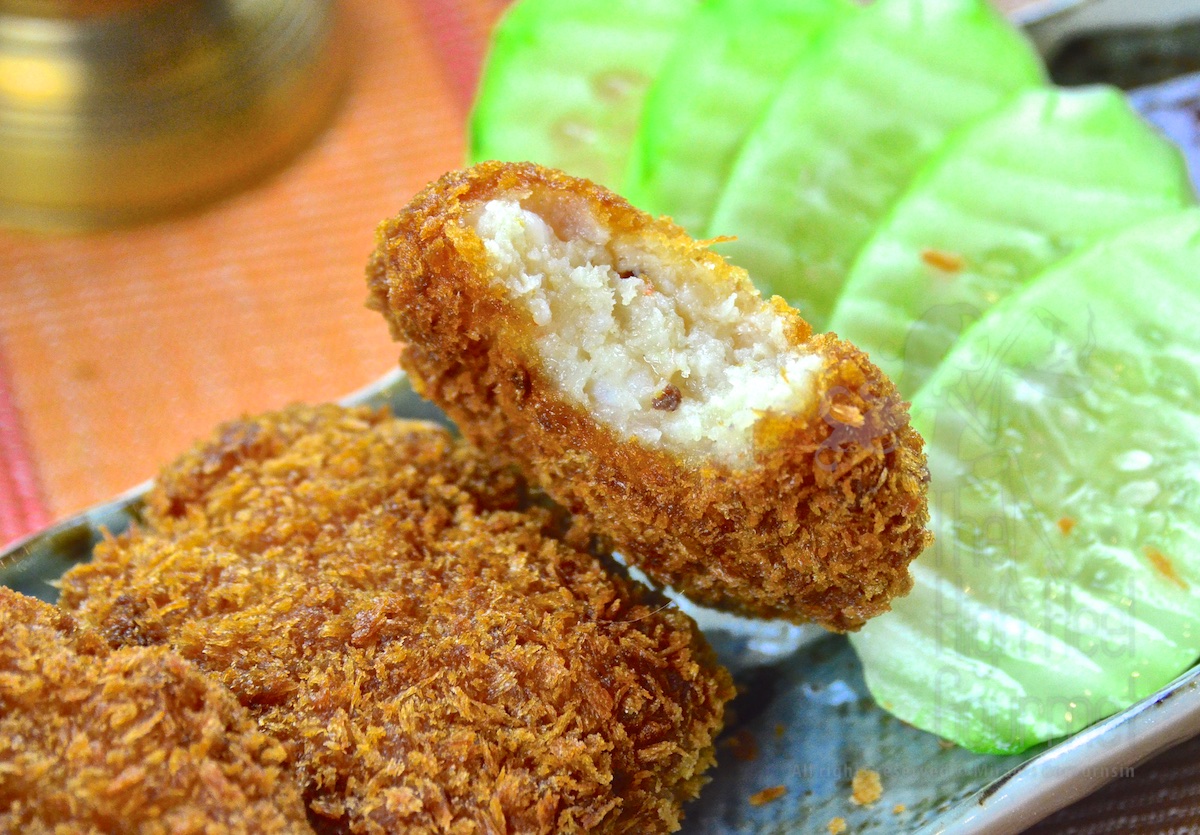 Dense protein of any kind needs something else to hold the moisture while it cooks. You might say that meatloaf only uses bread crumbs soaked in milk and meatballs use just bread crumbs. Why does the shrimp cake have to use something with such high calories as pork fat?
Have you ever try making shrimp balls without any additive? If you had done so, you would understand. Shrimp has no fat. When you grind them to make a block of shrimp meat and cook them, it just turns in to a brick. It happens a little less with beef, chicken or pork because those meats have fat in their grain already. With shrimp you need something to leaven the density of the pure lean meat.
And the assistant is the pork fat! I'm not talking about lard or the fat that will melt when it touches  heat. I'm talking about the real fat from the pig, the fat from the belly. So, if you really want to make this authentic shrimp cake, go to the butcher and ask them for the pork belly without the skin. If you can only find one with skin on, buy it and trim the skin off.
Once you have gotten the important ingredient, then we can start.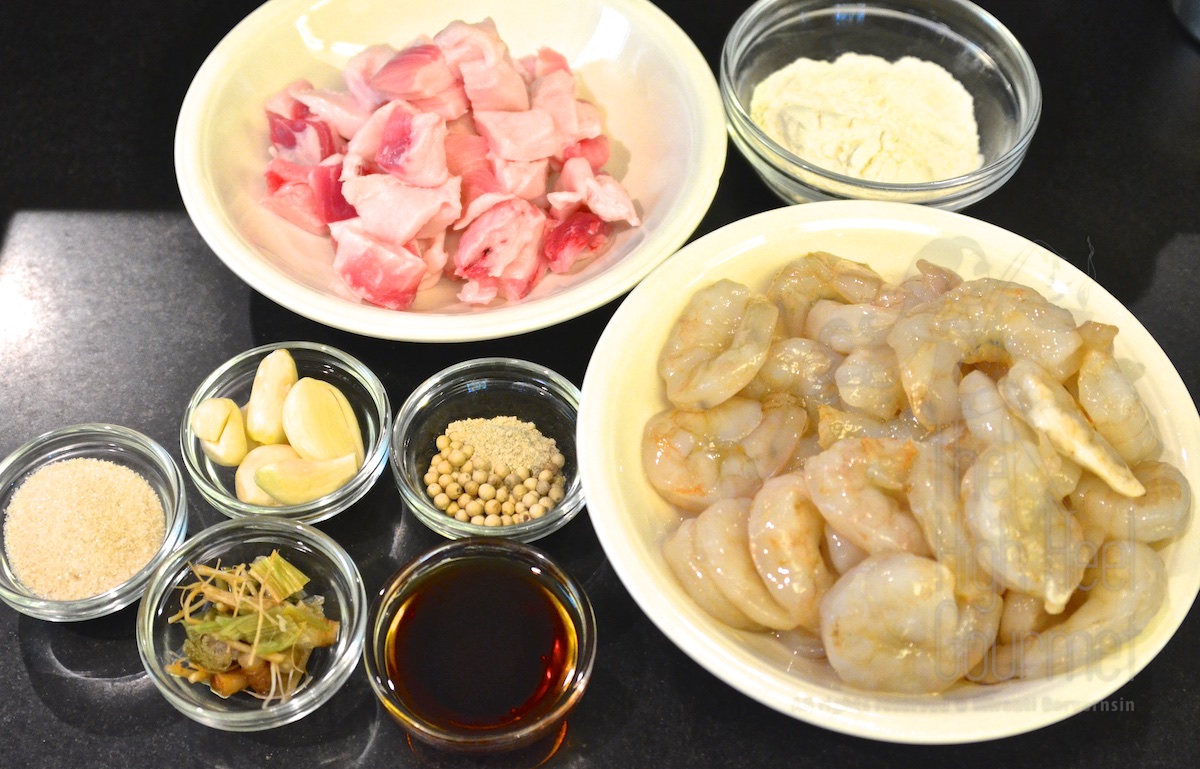 Ingredients:
Shrimp meat 500g
Pork belly (including the meat layer if you want but I like to cut that off) 200g
All purpose flour 40g
Egg 2 small eggs or 1-1/2 large eggs (75g ,and you can use all egg white but you can't use all the yolk)
Sugar 4 teaspoons
Light soy sauce 2 tablespoons
Ground white pepper 1 teaspoon
(Optional for the pepper lovers) Whole white pepper 1 teaspoon
Cilantro root 1 root (If you can't find it, use the stem where it close to the root)
Garlic 5-6 cloves or chopped 1 tablespoon
Panko bread crumbs (You have to use Panko ,which is different than other bread crumbs because it is made from only the white crumbs, no crust) roughly about 1 1/2 – 2 cups
Oil for frying
Method:
1) Cut the pork belly in cubes
2) In a food processor, grind the pork belly with garlic, pepper and cilantro root.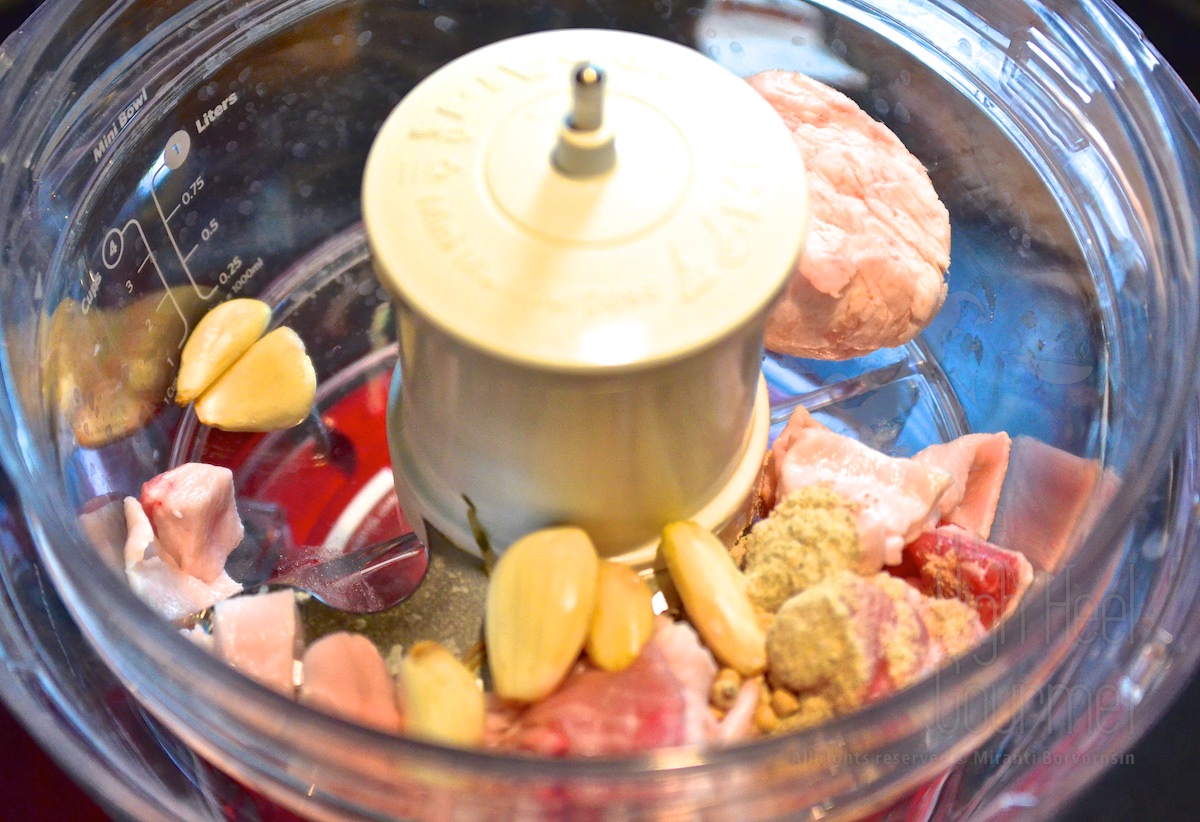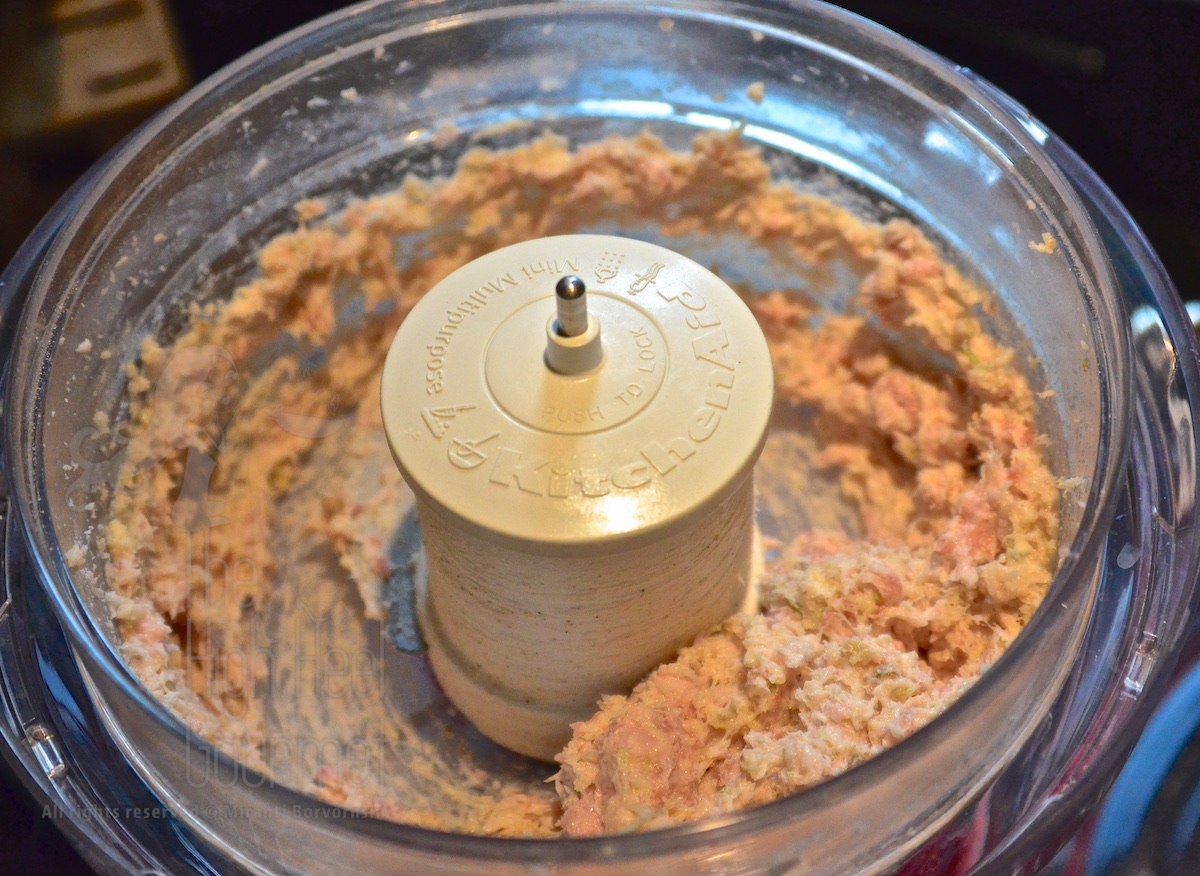 3) Add 1/3 of the shrimp, eggs, sugar, soy sauce, flour into the food processor bowl and grind them all together.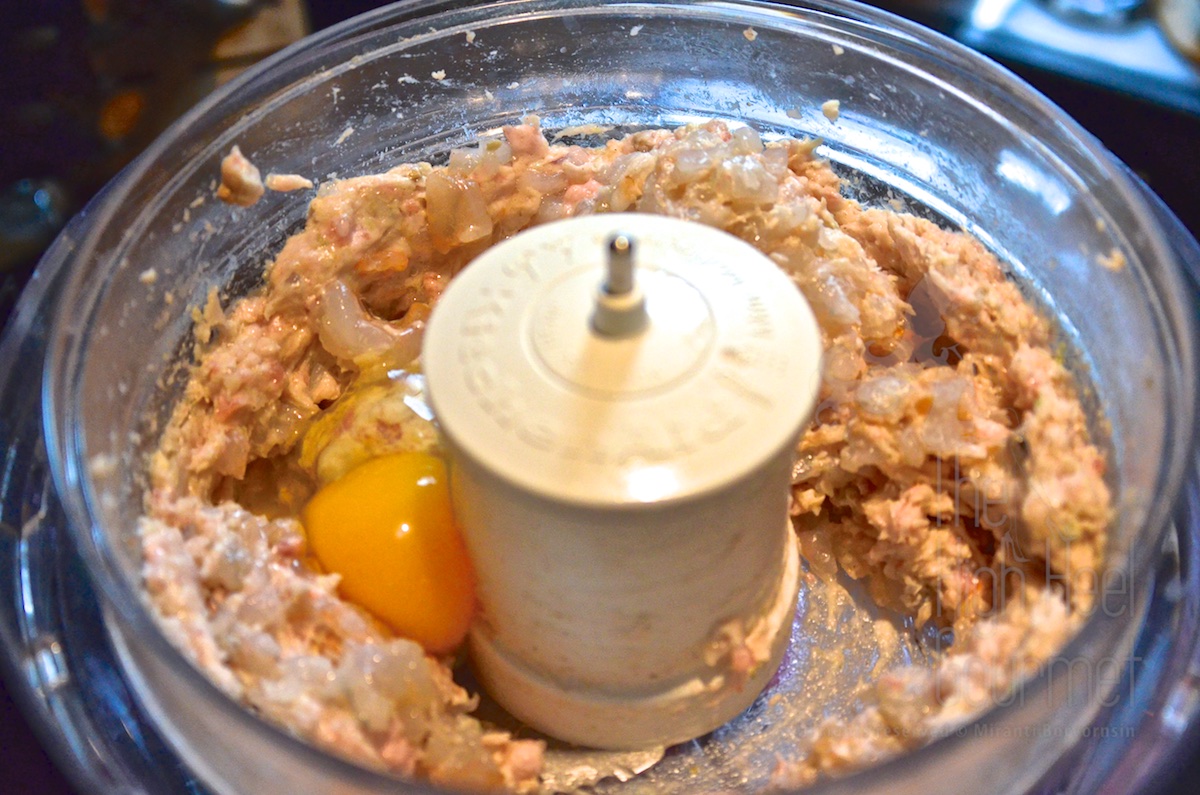 4) Add the rest of the shrimp and just pulse the food processor a few times.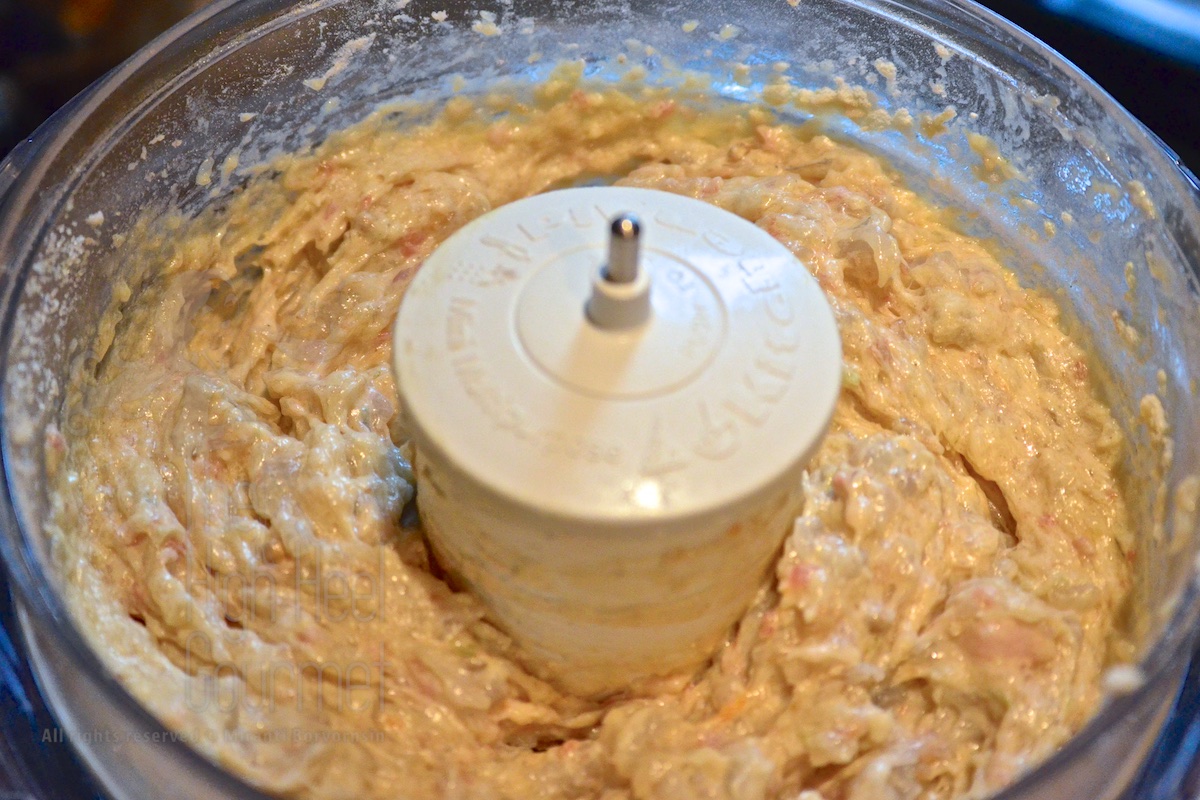 5) You can taste test it by scooping about a teaspoon of the mixture and putting it in microwave for 15 seconds or until cooked. Taste it and see if you need to add more salt or sugar.
6) Now you are ready to fry the shrimp cake.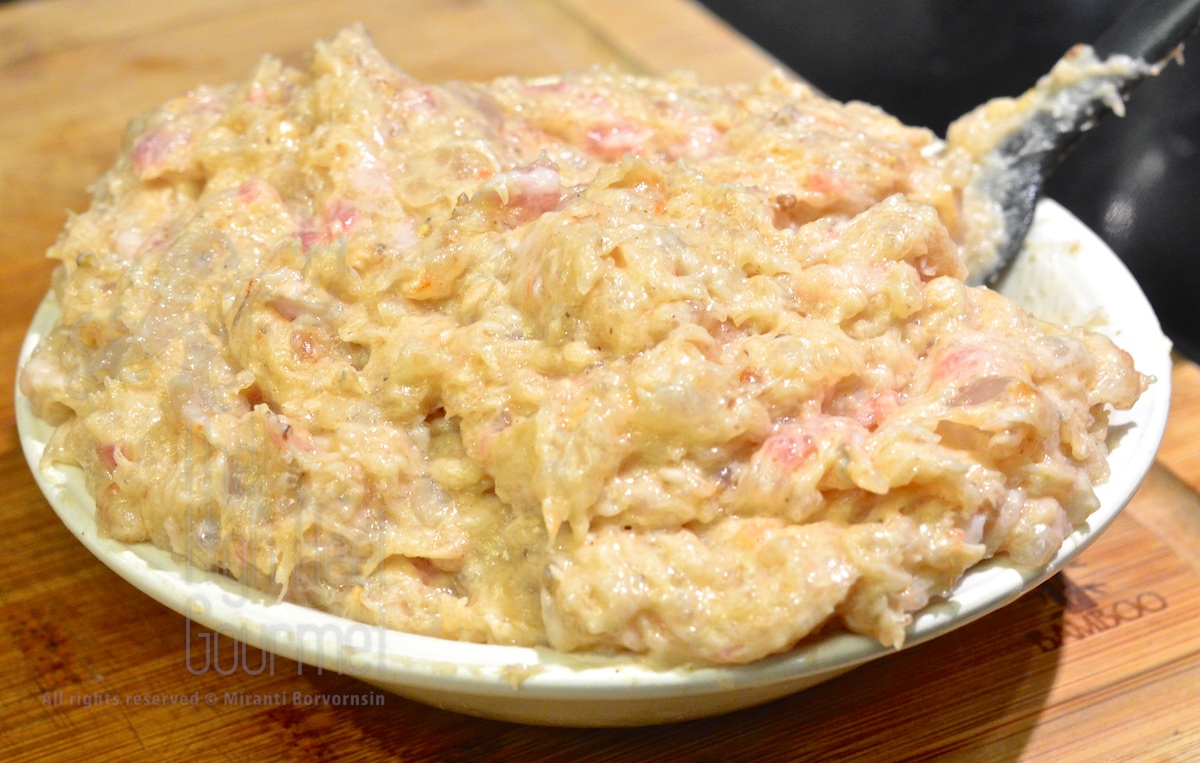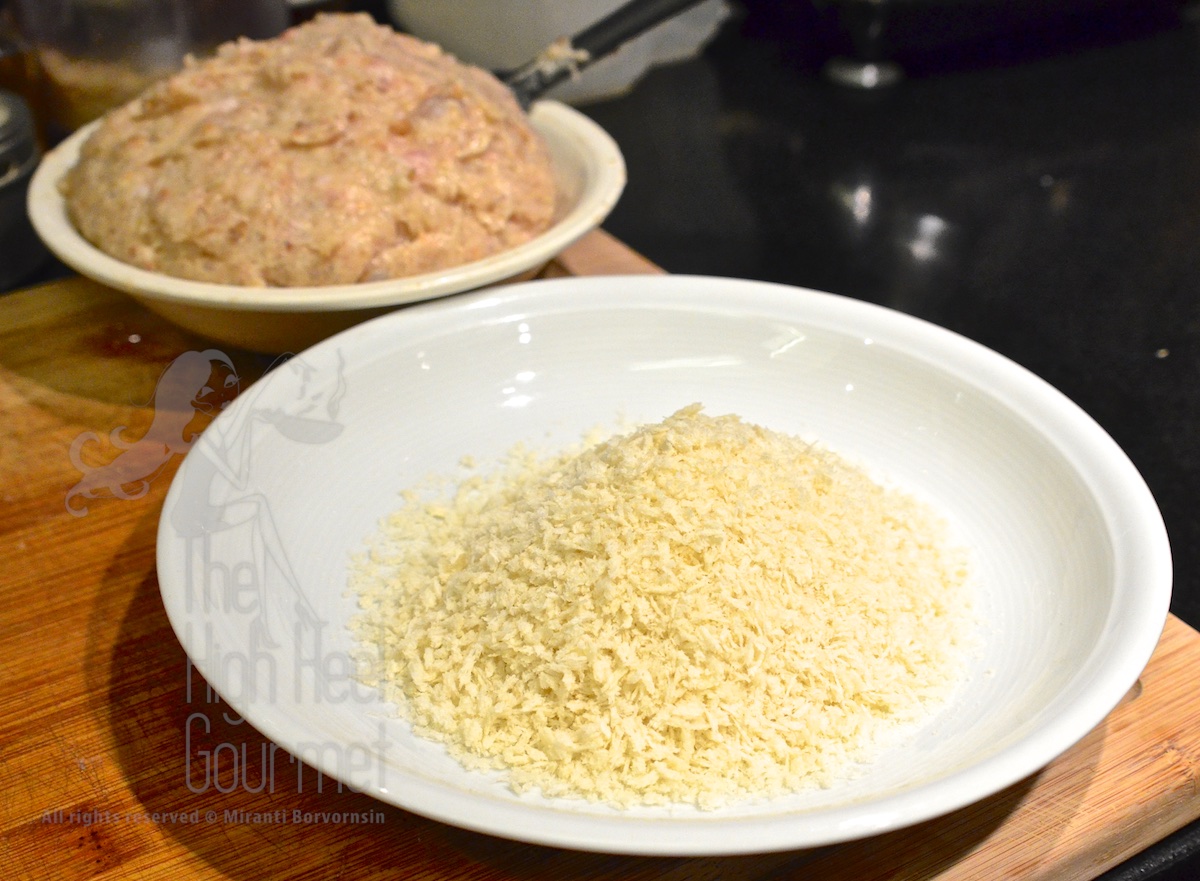 You need about a cup or more of oil in the wok or pot. The oil should be one inch deep. I use a wok. Set the wok over medium heat and wait until the oil gets hot, about 300ºF.
7) Scoop 2 tablespoons of the shrimp mixture and pat it down. Put half a cup of Panko bread crumbs on a plate and drop the shrimp mixture on top.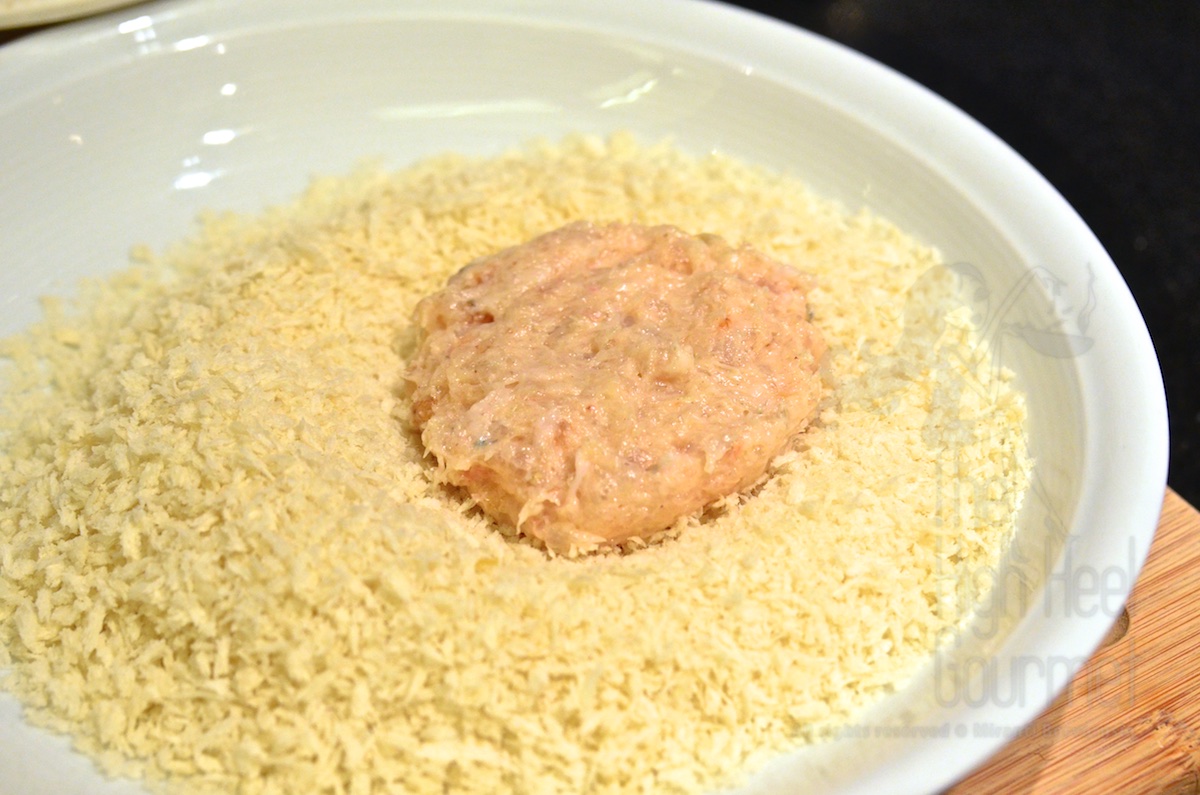 Cover the shrimp mixture with the bread crumbs all over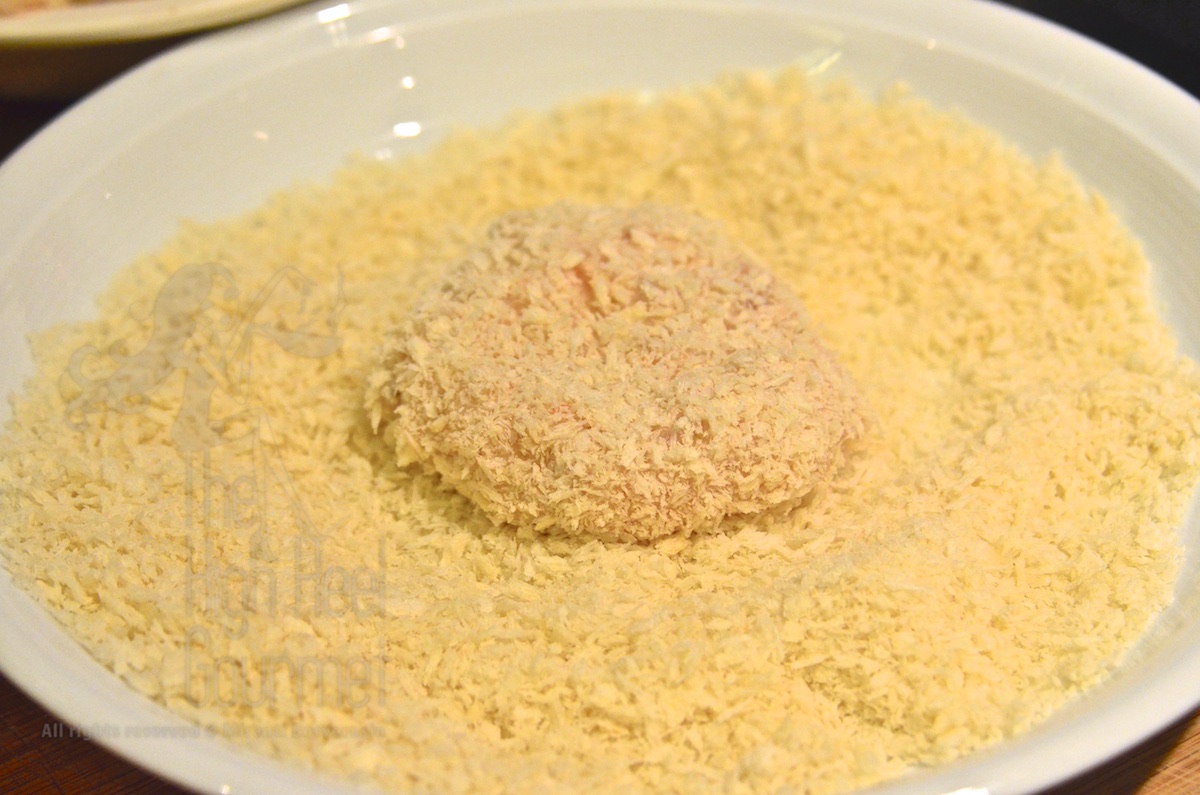 before you drop the shrimp cake in the hot oil to fry.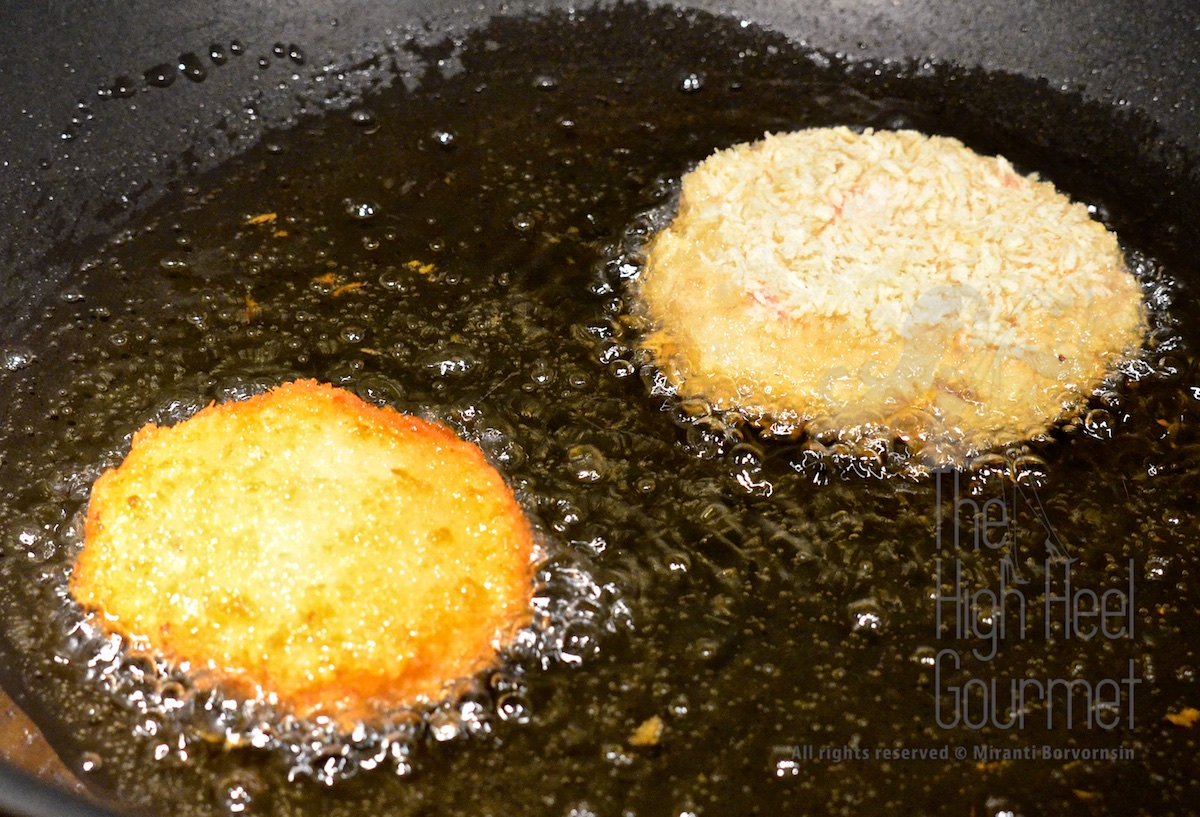 8) Turn the shrimp cake in the hot oil a couple times, until both sides get golden. If the heat is too high the shrimp cake will turn golden before the inside is cooked. You need to lower the heat.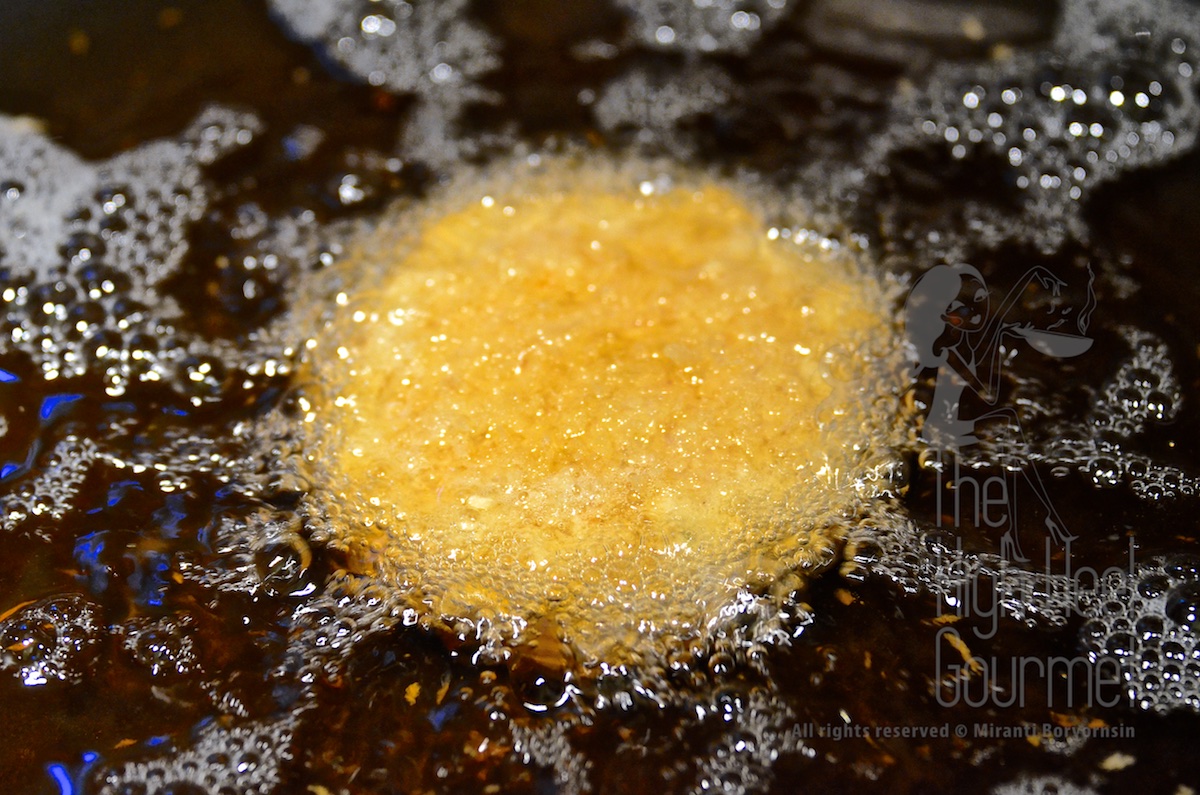 9) Take the shrimp cake out of the oil and let it drain on a paper towel.
10) Serve the shrimp cakes with sweet chili sauce (Nam Jim Gai) or sweet plum sauce (see the recipe for the sweet plum sauce below). You can also serve it with strawberry sauce by using strawberry jam mixed with salt and vinegar, too.
Recipe for the sweet plum sauce:
Japanese salted pickled plum  1 plum
Sugar 5 tablespoons
Vinegar 1 tablespoon1
Water 2-3 tablespoons (adjust the consistency accordingly)
1) Mush the plum and add all the ingredients into a small pot
2) Boil everything together until the acid evaporates from the vinegar and the contents in the pot turn into syrup