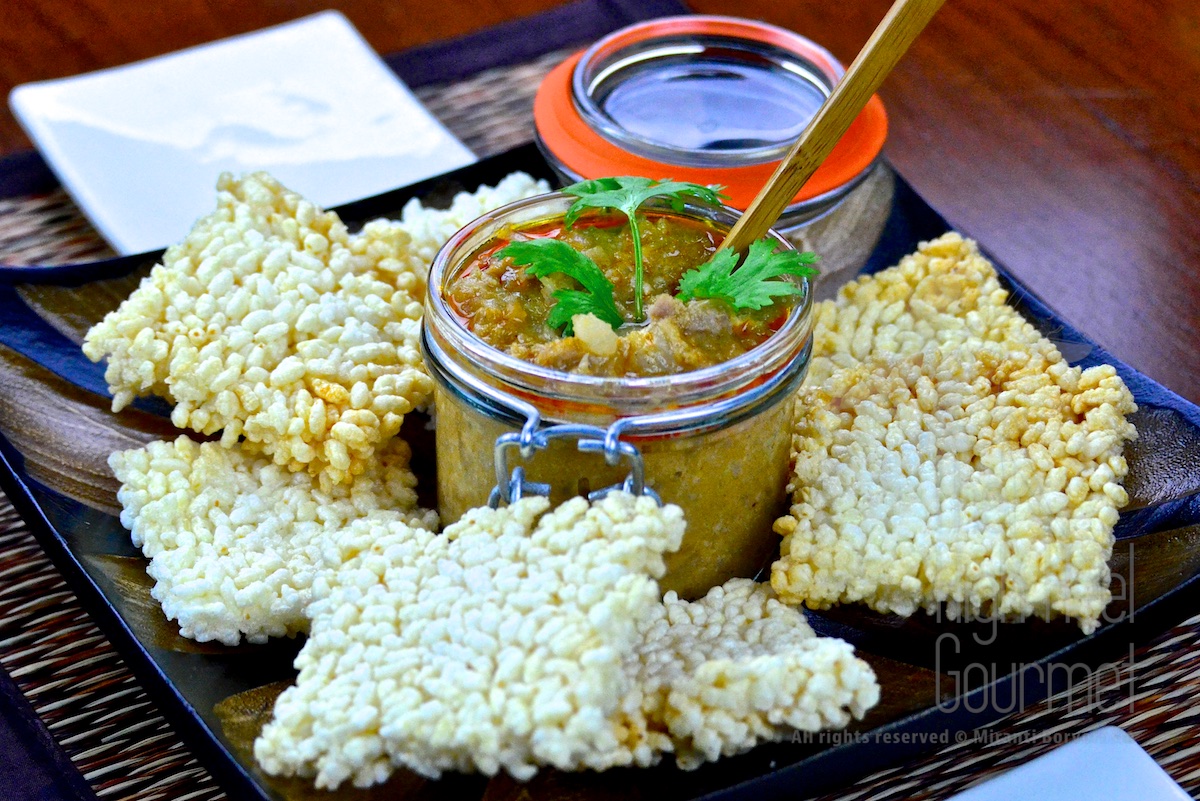 This post wasn't requested by anyone, but I want to dedicate this post as a remembrance to my beloved father who passed away nearly 14 years ago. I almost can't believe I have lived this long without him. I normally don't miss him all the time, but once in a while I do. Especially when I have to go through a tough time when I really need love and support from someone I know that from every cell of his heart and body only wants the best for me. (I can only count on his intention but not the results, because his projects for me sometimes, errr…yielded quite questionable results…LOL…but he loved me absolutely.)
Why is this post dedicated to him?
Because this is one of his all time favorite snacks. The dish is called "Khao Tung Na Tung". It's just a rice crispy cracker called "Khao Tung" with the coconut milk base, with pork, shrimp and peanut dip. The dip mixture is called "Na Tung". The consistency of the dip is too thick to be called Kaeng=soup, or Pad=stir-fried and mostly dry. It's half way in between both.
The taste of it is a combination of salty, sweet and a hint of sourness. This is a very hearty afternoon snack.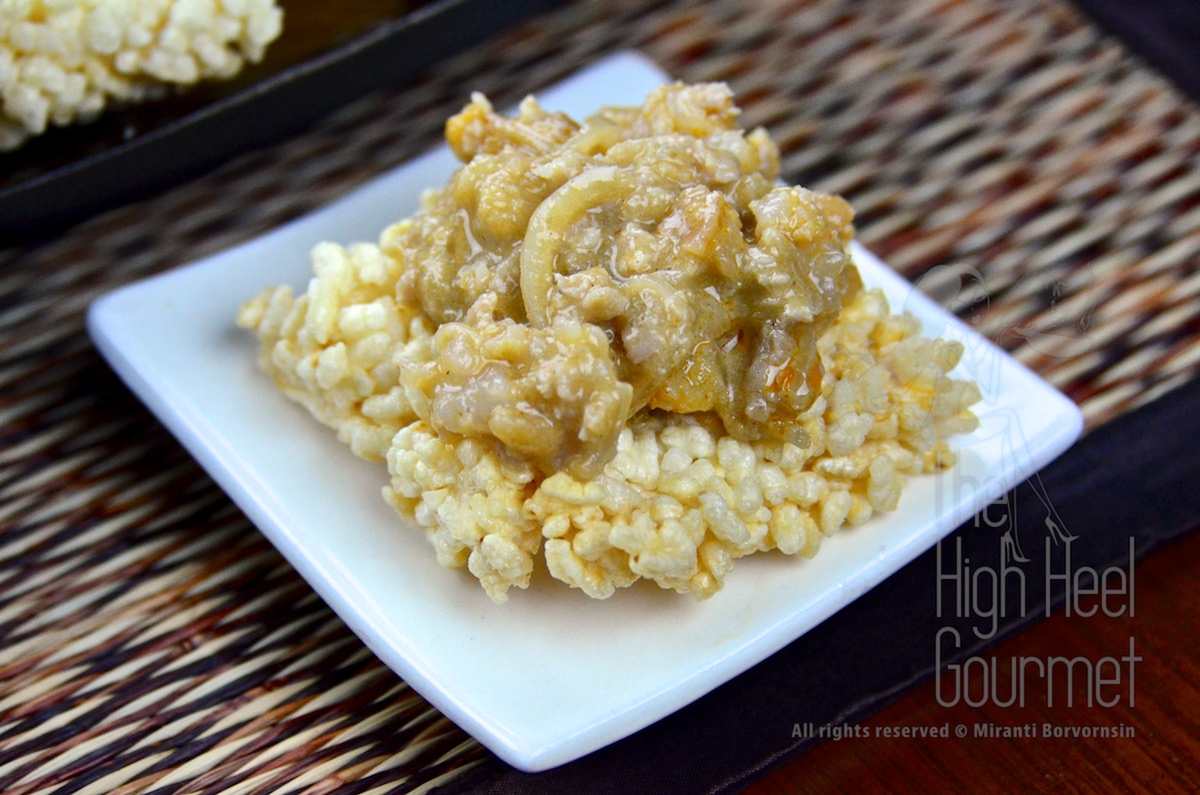 Start with Thai Khao Tung. Khao Tung is cooked dried rice formed into a sheet or chips. But first, understand that Thais family structure is a complex family which involves more than just two adults. You might call it an extended family culture. Grandparents, parents, aunts, uncles, cousins are all living in the same commune and would share the same kitchen.
So, the cook will have to cook for everyone, including the workers. Imagine cooking rice in such a gigantic pan. Usually it's a wok-like shape, but it's a wok about three feet in diameter. Some families might cook in a smaller wok, but many are cooking for more than twenty people that all eat rice as a base for their meals.
The result of cooking rice in that type of container is that before the rice in the whole wok gets cooked, the bottom is nearly burned. Thus it becomes a crust at the bottom that you can't eat. The cook has to scoop the whole layer out, cut it in chips and dry them in the sun. The dried rice chips are "Khao Tung".
When they want to use Khao Tung, they just fry them in hot oil. The dry rice grains will expand, and that is what we use to eat with Na Tung, the dip.
You can make your own Khao Tung, or buy them from the market these days. You don't have to cook such a big load of rice like in old times. The new Khao Tung are as good as the old ones and you can shape them the way you like, too. There are many manufacturers in Thailand making the pre-dried Khao Tung and selling them in bags. If you can spot them on the shelf, you're lucky. I bought mine. If you want to make your own, please, see the note below. Sorry I didn't make it myself this time.
Once you got Khao Tung, then you are ready to make "Na Tung".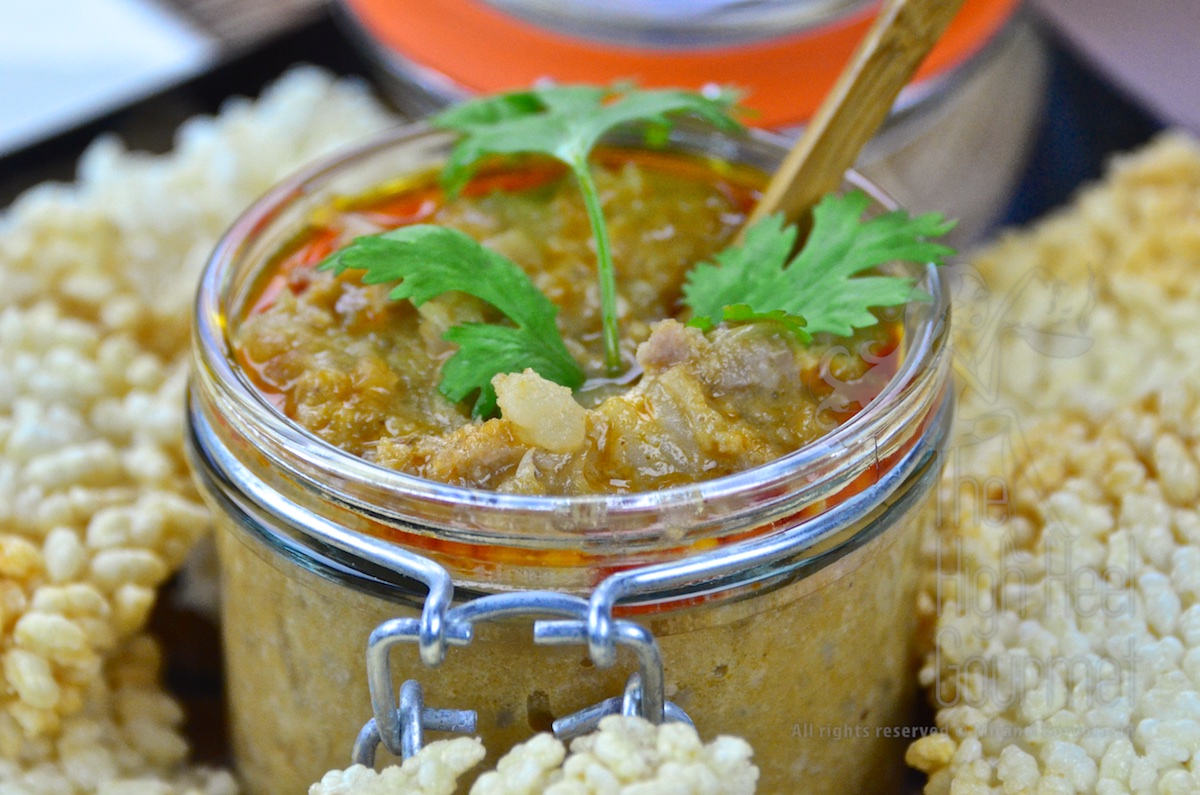 Ingredients:
Ground pork  1/2 cup  120g
Roughly chopped shrimp  1/2 cup  120g
Coconut milk  1 cup
Sliced shallots  1/2 cup
Crushed peanuts or roughly chopped peanuts  1/2 cup
Fish sauce  2 tablespoons
Palm sugar  1-1/2 tablespoons
Tamarind  1 tablespoon
Thai Trio  1 tablespoon (Cilantro root, Garlic, White Pepper all equal in portion, mushed or ground until fine)
(Optional) Shrimp paste with soy bean oil  2 tablespoons
Cilantro stems and maybe red chili, for garnish
NOTE: You can make this a vegan or vegetarian snack by substituting the meat with tofu. I recommend using two different kinds of tofu–soft and fried–for texture, and substitute the fish sauce with soy sauce. Also eliminate the shrimp paste, too.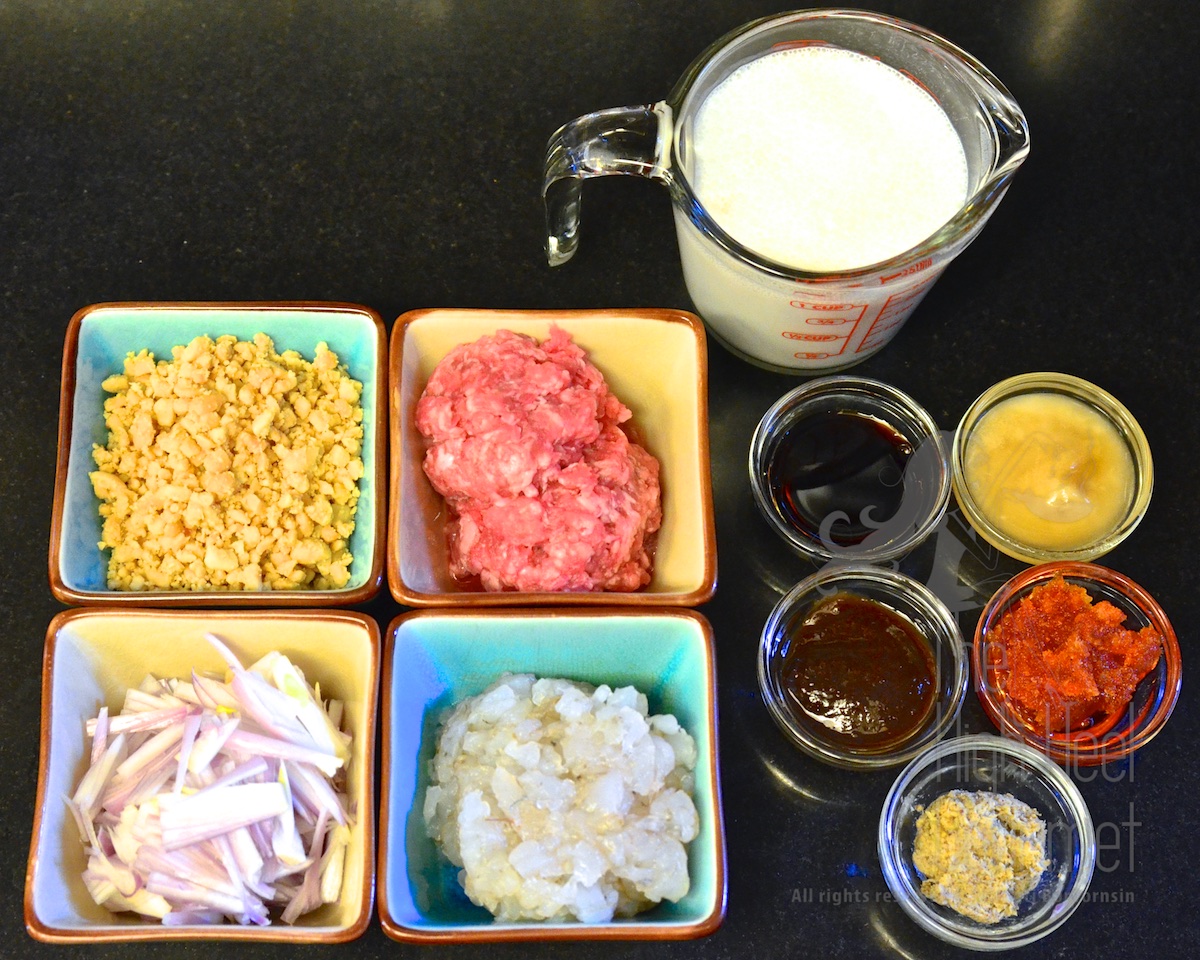 Method:
0) If you don't want to use the shrimp paste with soy bean oil, you should buy shrimp with the shells and heads on, peel the shells and pull the heads off the shrimp and boil the shells and heads with coconut milk. Let the coconut milk boil for 2-3 minutes, strain the shells and the heads out, and keep the coconut milk.
1) Put the coconut milk in a small pot and add the Thai trio. Let the mixture boil until fragrant.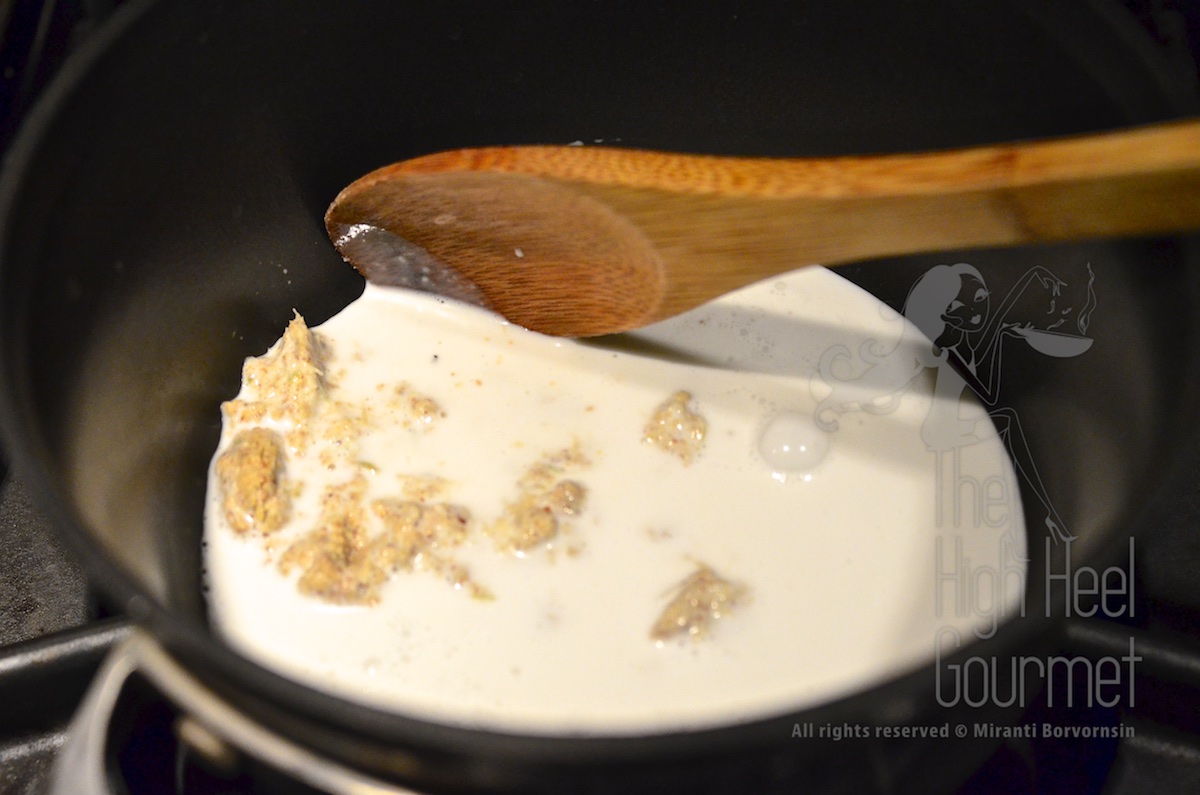 2) Add ground pork and more coconut milk, cook until done, breaking the chunks down to small pieces.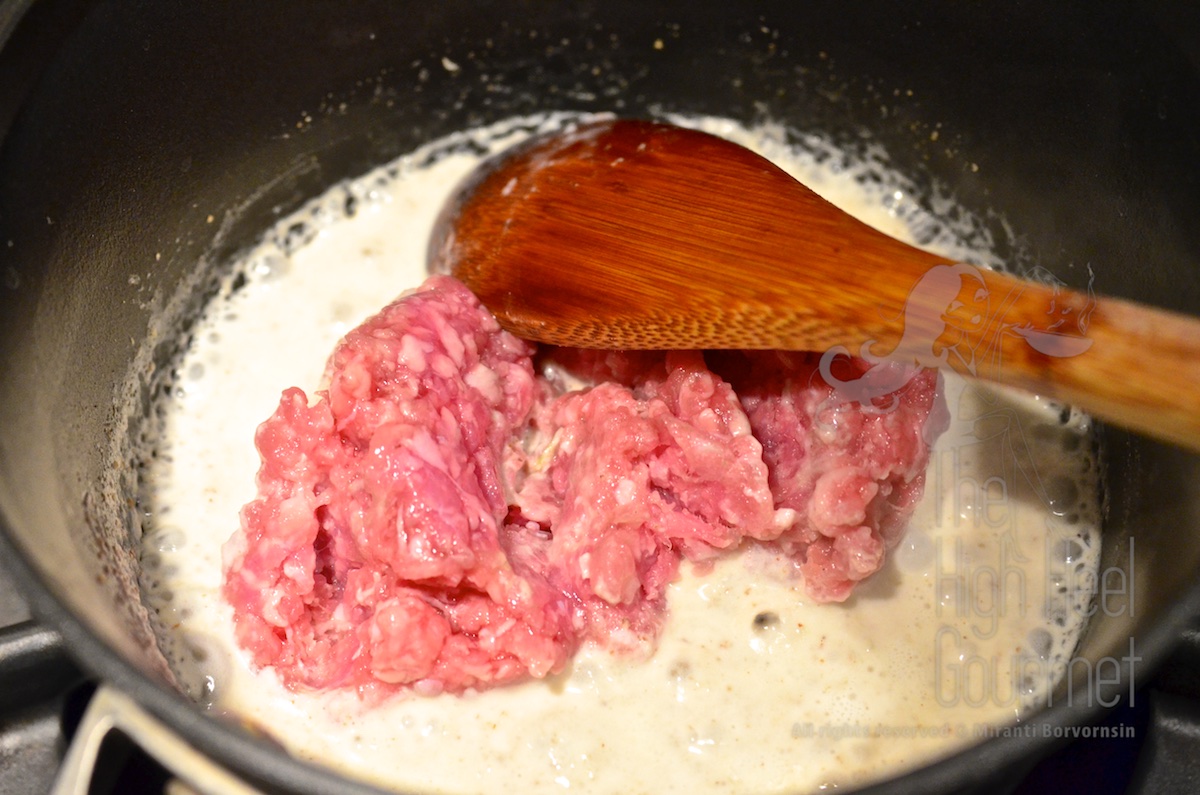 3) Add all the condiments, fish sauce, sugar, tamarind and chopped shrimps and shallots, and add all the coconut milk. Wait until it bubbles,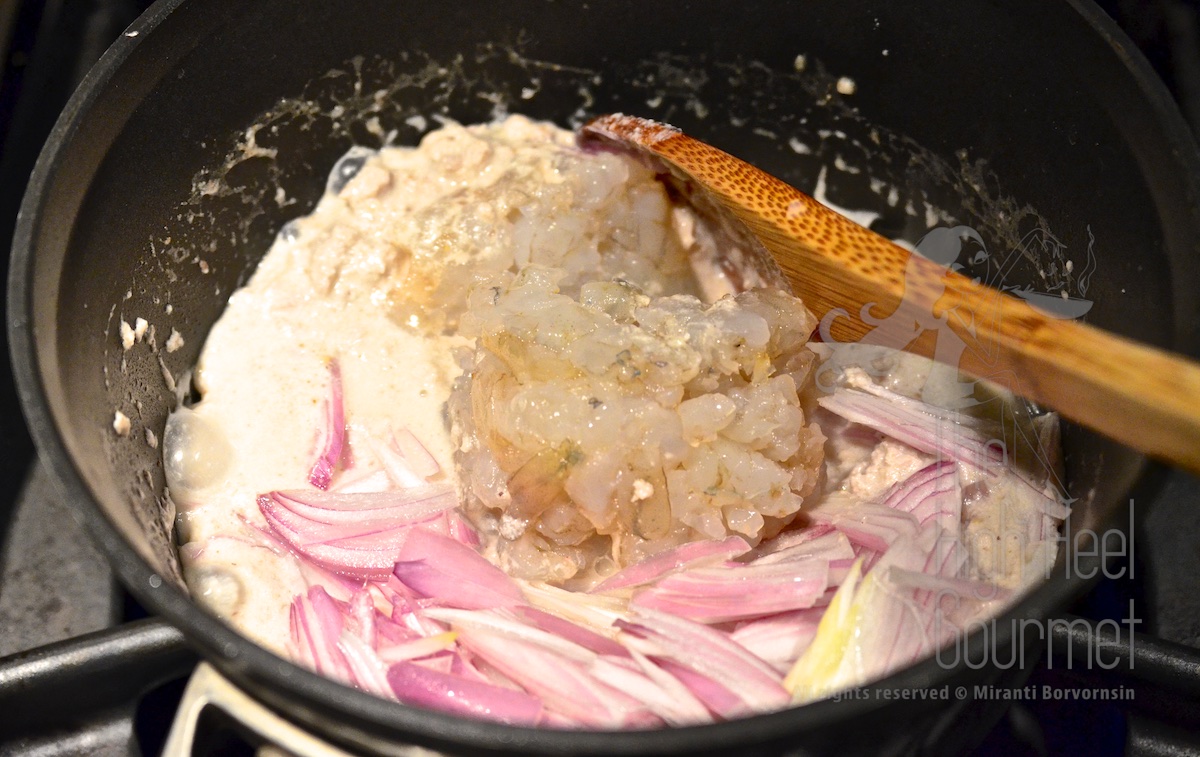 then add chopped peanuts and shrimp paste in oil.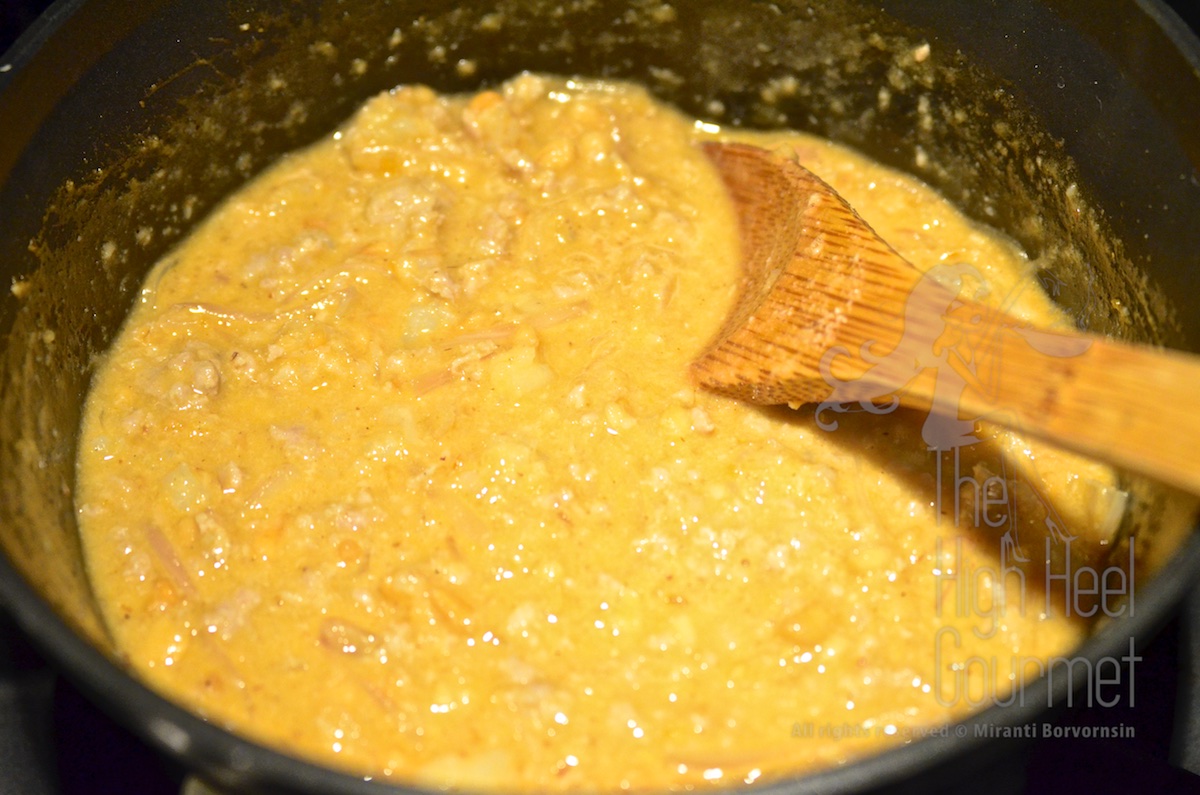 4) Taste test it and adjust.  Then you can put it in a bowl garnished with cilantro and chili, and serve it with the crispy rice crackers.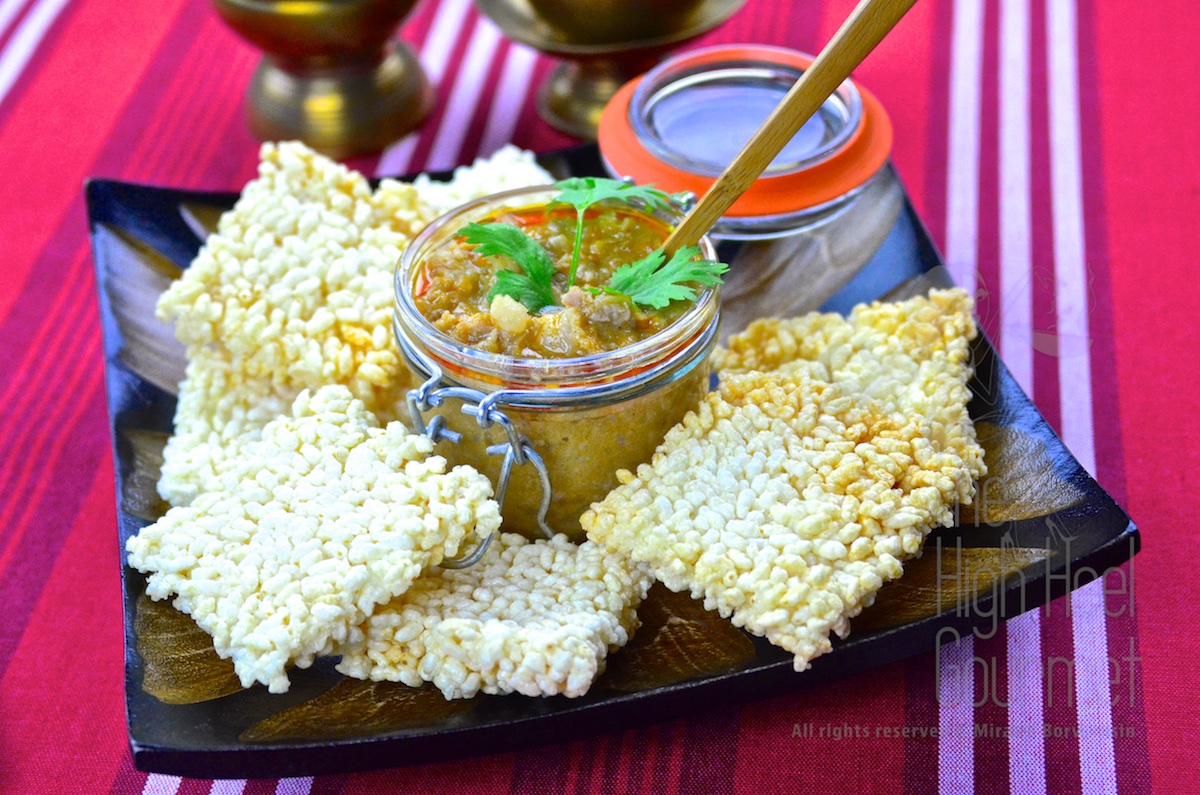 NOTE
How to make Khao Tung?
Ingredients:
Jasmine rice  3/4 cup
Sticky rice or glutinous rice  1/4 cup (This is optional to make the rice stick together for you. I normally use all jasmine rice without sticky rice)
Water 2 cups
Method:
1) Soak the sticky rice overnight.
2) The next morning put the sticky rice and jasmine rice together in a pot with all the water. Set it over high heat, wait until the water reach es a boil, then lower the heat to the lowest possible.
3) Cook for another 15-20 minutes until the rice grains absorb all the liquid. You can also steam the rice for 20-30 minutes as an alternative method.
4) Let the rice cool down enough to be handled, but not cold. You need to form the rice into shapes while it still hot because at the cold stage the starch won't bind the rice together. You either shape it into rounds or squares, or the whole spread and cut, all up to you.
I normally wet my hands and shape the rice into balls and flatten them down and put the patties on a tray, but this might not be easy for the beginner. You can use a ring mold to shape it or just simply press the rice about 1/4"-1/3" thick on the tray.
5) Leave to dry for a couple of days. Alternate turning the patties so the wetter side is always up.
You can also bake them in an oven set on low temperature to dry the patties, or the perfect thing is a food dehydrator. Set the oven or food dehydrator temperature to 205ºF or 95ºC and also alternate turn the patties, too.
It's very important that the rice is completely dry before use.
6) Store in airtight container until you're ready to use them.
7) To fry, add about an inch deep of oil in a wok or pan, set it to medium heat and fry a very short time until all of the rice is puffed up. Drain on a paper towel.